Why Progressives Need to Rethink the Rural-Urban Divide and Build a Coalition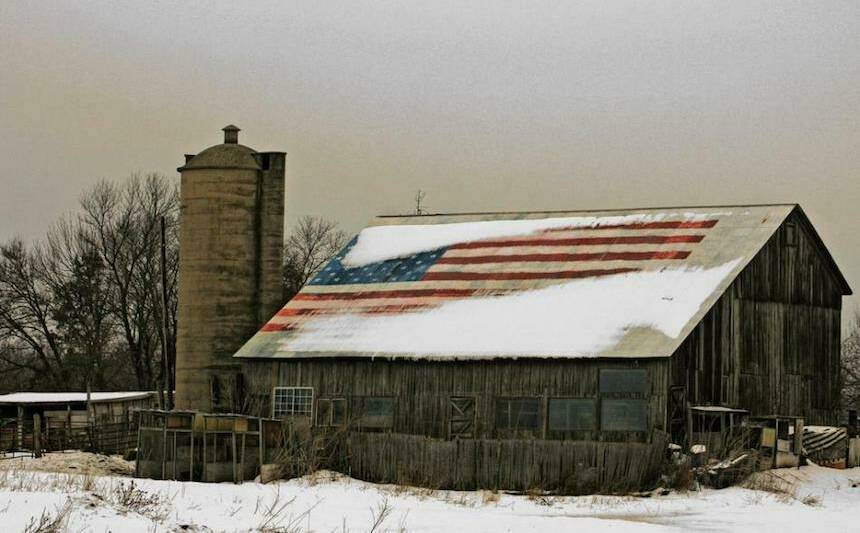 I thought I knew some­thing about Wis­con­sin pol­i­tics. I assumed the state was neat­ly divid­ed between blue cities, like Madi­son and Mil­wau­kee, and solid­ly red rur­al areas that twice elect­ed Gov­er­nor Scott Walk­er, one of the nation's most right-wing gov­er­nors, and went for Don­ald Trump in 2016.
Turns out there's a lot I didn't know. And the assump­tions and stereo­types that I — and many oth­ers — hold are divid­ing us and harm­ing our chances of build­ing pow­er­ful coali­tions across rur­al – urban divides.
In ear­ly Feb­ru­ary, I vis­it­ed the town of Wis­con­sin Dells to give a keynote pre­sen­ta­tion at the Wis­con­sin Farm­ers Union pre-con­ven­tion gath­er­ing, ​"Groundswell." I stayed for the con­ven­tion, where the Farm­ers Union mem­bers dis­cussed their agen­da for the com­ing year. Many of these fam­i­lies have been on the land for gen­er­a­tions. Some farm organ­i­cal­ly, many do not. They raise dairy cat­tle, hogs, and grow fruits, veg­eta­bles and grains. Some mar­ket via coop­er­a­tives, like Organ­ic Val­ley, some via com­mer­cial enter­pris­es or through farm­ers mar­kets and Com­mu­ni­ty Sup­port­ed Agriculture.
I met farm­ers who spoke of their respon­si­bil­i­ty to think ahead for the next sev­en gen­er­a­tions and their work to pro­tect the state's pre­cious sources of fresh water.
They also spoke of the strug­gle of stay­ing on the land at a time when the costs of the inputs they require — like seeds and fer­til­iz­er — are high, and the prices they are paid are low.
Many referred to pow­er­ful and wealthy inter­ests mov­ing in, buy­ing up land, tap­ping lim­it­ed ground water sup­plies, and build­ing giant con­fined ani­mal feed­ing operations.
John Ikerd, a rur­al econ­o­mist and author who grew up on a small dairy farm in south­west Mis­souri, used his keynote to rail against what he described as the eco­nom­ic col­o­niza­tion fac­ing rur­al America:
"A pro­gres­sion of laws pro­tect­ing fac­to­ry farms from pub­lic scruti­ny and exempt­ing indus­tri­al agri­cul­ture from envi­ron­men­tal and pub­lic health reg­u­la­tions reveal a cor­po­rate strat­e­gy to turn rur­al areas into ​'agri­cul­tur­al sac­ri­fice zones,' " he told the crowd. ​"The qual­i­ty of life of rur­al and town res­i­dents alike is threat­ed by the relent­less, unbri­dled cor­po­rate col­o­niza­tion of Amer­i­can agriculture."
His speech received a pro­tract­ed stand­ing ovation.
These farm­ers are resist­ing this cor­po­rate appro­pri­a­tion while also work­ing to rebuild rur­al economies. They're advo­cat­ing for broad­band, high-qual­i­ty schools, renew­able ener­gy, and the rights of immi­grant work­ers to dri­vers' licens­es, health care, edu­ca­tion and fam­i­ly-scale wages. They pro­mote civil­i­ty by work­ing against hate speech and for ​"gen­der and minor­i­ty" equal­i­ty. They favor pub­lic financ­ing of cam­paigns and an end to ger­ry­man­der­ing. And they sup­port reduc­tions in green­house gas emis­sions and research into ways farm­ers can con­tribute to car­bon seques­tra­tion and adapt to cli­mate change. These and oth­er posi­tions are debat­ed and adopt­ed at their annu­al con­ven­tion, and then become the basis of advo­ca­cy through­out the year.
Still, many of the farm­ers are strug­gling — west­ern Wis­con­sin had the nation's high­est rate of farm bank­rupt­cies in 2017, a casu­al­ty of ris­ing land prices, low com­mod­i­ty prices, and debt, accord­ing to a Jan­u­ary 24 report by Wis­con­sin Pub­lic Radio.
"I don't think the estab­lish­ment in [either par­ty] gets it," Sarah Lloyd, dairy farmer and co-chair of Wis­con­sin Our Rev­o­lu­tion, told me when I inter­viewed her at the convention.
This is a state where Bernie Sanders won 72 of 73 coun­ties because he ​"con­nect­ed with peo­ple who are strug­gling," she said.
Wis­con­sin lat­er went for Don­ald Trump. Yet just last month, Demo­c­rat Pat­ty Schacht­ner won a spe­cial elec­tion to the state Sen­ate from a rur­al dis­trict held by Repub­li­cans since 2001. She won in spite of being out­spent by the Repub­li­can can­di­date, who was sup­port­ed by the Koch-fund­ed advo­ca­cy group Amer­i­cans for Pros­per­i­ty. Says Lloyd, ​"She under­stands that it's real­ly hard out there, that peo­ple are strug­gling economically."
It's true that there are vast dif­fer­ences in cul­ture and ways of life in rur­al and urban Wis­con­sin, but there are also sim­i­lar­i­ties. Many strug­gle to pay their bills and raise fam­i­lies, and they want good health care, edu­ca­tion, and infra­struc­ture. Like many urban res­i­dents, the farm fam­i­lies I met are look­ing to regain some local con­trol over their economies, to cre­ate inclu­sive cul­tures, and to pro­tect their environment.
My days with the Wis­con­sin Farm­ers Union remind­ed me, once again, to beware of stereo­typ­ing and not to allow Fox News and the NRA to define groups of peo­ple. Instead, when I lis­ten with an open mind and heart, I dis­cov­er com­mon­al­i­ties of expe­ri­ence and aspirations.
I believe the foun­da­tion for pow­er­ful col­lab­o­ra­tion is there, if we choose to build on it.
(​"I Was Wrong About the Rur­al-Urban Divide" was writ­ten for and orig­i­nal­ly pub­lished by Yes! Mag­a­zine. To read more about Sarah van Gelder's work, click here.)