Though the rur­al-urban divide has exist­ed for decades, it is more pro­nounced now than it has been in gen­er­a­tions. Our geog­ra­phy enforces an ​"us vs. them" dichoto­my that, for many on both sides, makes polit­i­cal, eco­nom­ic and cul­tur­al dif­fer­ences seem stark and sim­ple. But the divide is more com­plex than many real­ize, and the slang too often used to describe rur­al Amer­i­cans is imbued with contradictions.
When Pres­i­dent Trump won the elec­tion, under­stand­ably frus­trat­ed oppo­nents fell back on words like ​"hill­bil­ly," ​"red­neck" and ​"white trash" to describe his rur­al vot­er base. Yes, Trump won most of rur­al America's votes, but what do these words real­ly mean, and why do peo­ple use them?
In short, they are con­ve­nient. Stereo­types revolve around the process of ​"oth­er­ing," which occurs when peo­ple men­tal­ly char­ac­ter­ize an indi­vid­ual or mem­bers of a group as out­siders. Rather than accept oth­er peo­ple as com­plex indi­vid­u­als, like we see our­selves, some­times it can be eas­i­er to gen­er­al­ize and dis­miss them as less than ful­ly human. But when ​"hill­bil­ly," ​"red­neck" or ​"white trash" is used to dis­tance one­self from the rur­al ​"oth­er," the fact that these words have flu­id mean­ings and deep his­to­ries is con­ve­nient­ly ignored.
Hill­bil­ly
Accord­ing to the Oxford Dic­tio­nary, the word ​"hill­bil­ly" is defined as ​"an unso­phis­ti­cat­ed coun­try per­son, orig­i­nal­ly asso­ci­at­ed with remote regions of Appalachia." Com­mon stereo­types asso­ci­at­ed with a hill­bil­ly include some­one who is une­d­u­cat­ed, poor or armed with rifles. The stereo­type also extends to char­ac­ter­ize the moral­i­ty of hill­bil­lies, often asso­ci­at­ing them with inbreed­ing, alco­hol abuse and violence.
How­ev­er, the word ​"hill­bil­ly" did not always have neg­a­tive con­no­ta­tions. When Scots-Irish peo­ple immi­grat­ed to Amer­i­ca, many of them set­tled in Appalachia. The word ​"hill­bil­ly" orig­i­nal­ly came from their words ​"hill" and ​"bil­lie," which was a syn­onym for fel­low. So, in the ear­ly 20th cen­tu­ry, ​"hill­bil­ly" sim­ply meant ​"hill folk." Hill­bil­ly music, now known as folk music, orig­i­nat­ed in Appalachia, and was char­ac­ter­ized for its use of the fid­dle, ban­jo and gui­tar. How­ev­er, the term soon took on more mean­ing, as the Scots-Irish became famous for their tight­ly knit clans and fam­i­ly struc­tures. Thus, the term ​"hill­bil­ly" was asso­ci­at­ed with tra­di­tion, inde­pen­dence and strong home values.
The icon­ic ​

"

duel­ing ban­jos" scene from the

1972

film Deliv­er­ance.
(Video: Z
1
D
04
U / YouTube)
But because the Scots-Irish clan struc­ture was so tight­ly knit and because geo­graph­ic iso­la­tion lent itself to pover­ty and, even­tu­al­ly, post Civ­il War strug­gles, the region grew more insu­lar. And soon ​"out­siders," or peo­ple not belong­ing to Scots-Irish clans, began to sim­pli­fy, gen­er­al­ize and stereo­type this com­plex group of people.
In his book, Hill­bil­ly Ele­gy, J.D. Vance com­ments on the com­plex con­tra­dic­tions of the term: ​"This dis­tinc­tive embrace of cul­tur­al tra­di­tion comes along with many good traits — an intense sense of loy­al­ty, a fierce ded­i­ca­tion to fam­i­ly and coun­try — but also many bad ones. (Hill­bil­lies) do not like out­siders or peo­ple who are dif­fer­ent from (them)."
Vance writes about aspects of the hill­bil­ly that apply to his fam­i­ly. He was, for exam­ple, taught that ​"hill peo­ple" and ​"poor peo­ple" gen­er­al­ly meant the same thing. But he also speaks to the com­plex­i­ty of this lan­guage and takes pride in his hill­bil­ly ances­try — view­ing his fam­i­ly as ​"hill­bil­ly roy­al­ty" and admir­ing their sense of ​"hill­bil­ly jus­tice." This involves ​"good vs. evil" sto­ries of fam­i­ly mem­bers who punched some­one for insult­ing their moth­er, stood up to their sister's bad boyfriend or made a crim­i­nal pay for his crime. For Vance, the word ​"hill­bil­ly" is not good or bad, but rather a com­plex term steeped in class and stereotypes.
Red­neck
Like ​"hill­bil­ly," the word ​"red­neck" is also loaded with con­tra­dic­tions. The Cam­bridge Dic­tio­nary defines ​"red­neck" as a poor white per­son, with­out edu­ca­tion, espe­cial­ly one liv­ing in the south­ern Unit­ed States, who is believed to have prej­u­diced ideas and beliefs. The term has since evolved to char­ac­ter­ize any work­ing-class white racist from any rur­al region. But when ​"red­neck" was orig­i­nal­ly coined, it was not pejo­ra­tive. First used in South Africa in the late 19th cen­tu­ry, ​"red­neck" described any Eng­lish­man and was ​"drawn from the fact that the back of an Englishman's neck is burnt red by the sun."
The term gained its polit­i­cal con­no­ta­tions in the 20th cen­tu­ry when min­ers fought the indus­try that was exploit­ing their rights. They wore red ban­danas around their necks to iden­ti­fy them­selves with the pro-union move­ment. In this sense, many south­ern­ers claimed the term ​"red­neck" as a badge of polit­i­cal pride. In the 1970s, ​"red­neck" became a fash­ion­able term. ​"Red­neck chic" was a fad where trendy white Amer­i­cans dressed up in Levi's and cow­boy boots, sipped Lone Star and watched hit west­ern movies, like Urban Cow­boy. ​"Red­neck" became a sym­bol of class patri­o­tism and authenticity.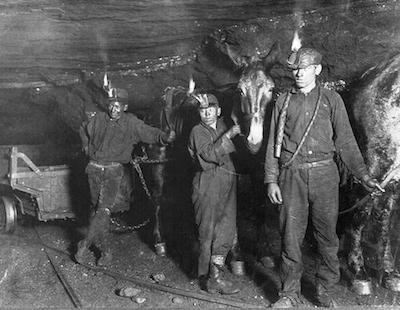 An archived pho­to­graph of West Vir­ginia coal min­ers. (Image: wvpub​lic​.org)
The word has evolved con­sid­er­ably since then, though. Now, ​"red­neck" is polit­i­cal­ly charged, as it is asso­ci­at­ed with Pres­i­dent Trump. Many urban peo­ple use the word ​"red­neck" to denounce rur­al peo­ple who they think are prej­u­diced or hold ret­ro­grade polit­i­cal beliefs. But using a stereo­type to fight prej­u­dice is illog­i­cal and coun­ter­pro­duc­tive. Call­ing some­one a red­neck does not dis­tance urban peo­ple from rur­al Amer­i­ca; it does not make them more edu­cat­ed or polit­i­cal­ly informed. On the con­trary, the word reveals urban American's own prej­u­dices and hypocrisy.
In short, using a word, like ​"red­neck" to insult a rur­al per­son for hav­ing prej­u­di­cial beliefs is like call­ing some­body else ​"lazy" as you recline on a couch, eat­ing pota­to chips.
White trash
The Mer­ri­am Web­ster Dic­tio­nary defines ​"white trash" as a phrase that is usu­al­ly dis­parag­ing or offen­sive: ​"a mem­ber of an infe­ri­or or under­priv­i­leged white social group."
Accord­ing to Nan­cy Isen­berg, the author of White Trash: The 400-Year Untold His­to­ry of Class in Amer­i­ca, the phrase first appeared in newsprint in the 1820s. How­ev­er, in an inter­view with PBS, Isen­berg sug­gests that the phrase's mean­ing has a much deep­er his­to­ry. She says, ​"if we go back to some of the lead­ing pro­mot­ers of British col­o­niza­tion, when they imag­ined what were they going to do with the new world, the new world…was imag­ined as a wilder­ness, what they called a waste­land." Isen­berg describes this new world as the ​"per­fect place for lit­er­al­ly dump­ing the idle poor, and these peo­ple were referred to as waste people."
Nan­cy Isen­berg explains the ori­gins of ​

"

white trash."
(Video:
PBS New­shour
/ Youtube)
It is iron­ic that many peo­ple use the words ​"hill­bil­ly, ​"red­neck" and ​"white trash" in attempt to sim­pli­fy groups of peo­ple when, in real­i­ty, the con­no­ta­tions and ety­molo­gies make these words com­plex. ​"Hill­bil­ly" can be asso­ci­at­ed with folk music and pover­ty; ​"red­neck" can mean both polit­i­cal pride and polit­i­cal prej­u­dice, and ​"white trash" can denote the prej­u­dices of both colo­nial and present day rul­ing class cul­ture. Because this deroga­to­ry lan­guage is rid­dled with con­tra­dic­tions, people's attempts to dis­tance them­selves from rur­al Amer­i­ca through ​"oth­er­ing" ulti­mate­ly fail.
Fur­ther­more, when peo­ple dis­miss the his­to­ry and flu­id def­i­n­i­tions of ​"hill­bil­ly," ​"red­neck" and ​"white trash" — when they use these words as stereo­types, specif­i­cal­ly aimed at dis­parag­ing peo­ple who live in rur­al areas — they shame­ful­ly reveal the depth of their own prejudices.
The ide­al­ized rural
It should go with­out say­ing that not all urban peo­ple use deroga­to­ry lan­guage when talk­ing about rur­al Amer­i­ca. But some­times even ide­al­ized lan­guage fur­ther com­pli­cates the rur­al-urban divide.
Take, for exam­ple, clas­sic lit­er­a­ture. Many of America's most respect­ed writ­ers ide­al­ized the nat­ur­al, rur­al world. For many lit­er­ary icons, rur­al places are asso­ci­at­ed with agency, thought, reflec­tion and free­dom. Hen­ry David Thore­au wrote, ​"I went to the woods because I wished to live delib­er­ate­ly." Ralph Wal­do Emer­son wrote, ​"I have no hos­til­i­ty to nature, but a child's love to it." And John Muir: ​"The clear­est way into the Uni­verse is through a for­est of wilder­ness." Or Leonar­do Di Vin­ci: ​"I roamed the coun­try­side search­ing for answers to things I did not under­stand." And, final­ly, Oscar Wilde: ​"Any­one can be good in the country."
Though these words were writ­ten in the past and the writ­ers them­selves have passed, we con­tin­ue to learn from clas­sic lit­er­a­ture because the themes and lessons are time­less. As The New York Review of Books puts it: ​"a clas­sic is a book that has nev­er fin­ished say­ing what it has to say." But not only is the idyl­lic rur­al rep­re­sent­ed in lit­er­ary clas­sics, it is preva­lent in today's culture.
Marlboro's icon­ic ​"Marl­boro Man," for exam­ple, used the image of a cow­boy to sell cig­a­rettes. Some ads showed a chis­el-faced cow­boy smok­ing, lean­ing against a clas­sic red barn, or a sto­ic cow­boy lead­ing his horse through a snowy mead­ow, shield­ing his cig­a­rette light from the wind. The ads evoke ideas of Amer­i­can grit, man­li­ness and bold­ness. Some ads were accom­pa­nied by the slo­gan: ​"Come to where the fla­vor is. Come to Marl­boro Coun­try." Of course, ​"Marl­boro Coun­try" is not an actu­al place; rather, it is rep­re­sen­ta­tive of any glo­ri­fied rur­al place. Addi­tion­al­ly, the rep­e­ti­tion of the word ​"come" invites view­ers to be part of this rur­al image — even if they live in a city. Accord­ing to the ad, in order to ​"come to Marl­boro Coun­try" and iden­ti­fy with a grit­ty cow­boy, all one must do is buy a pack of cig­a­rettes. And this log­ic worked. The Marl­boro Man quick­ly became the most pow­er­ful mas­cot in Amer­i­can tobac­co mar­ket­ing his­to­ry. One year after his 1954 debut, sales hit $5 bil­lion — an over 3000 per­cent increase.
The Marl­boro Man was not a hill­bil­ly nor a red­neck, and he cer­tain­ly wasn't white trash. Rather, his sto­ic image and pop­u­lar slo­gan cap­i­tal­ized on people's ten­den­cy to ide­al­ize, and even idol­ize, aspects of rur­al America.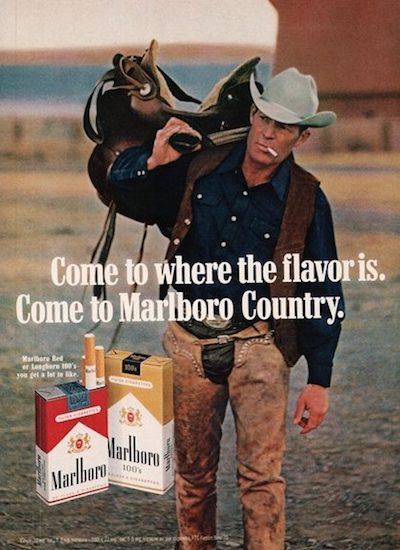 An adver­tise­ment fea­tur­ing the now infa­mous Marl­boro Man. (Image: ada​holic​.com)
Adver­tise­ments and lit­er­a­ture are not the only places where peo­ple use lan­guage to roman­ti­cize rur­al Amer­i­ca. Anoth­er exam­ple is the pop­u­lar ​"Farm-to-Table" move­ment, which pro­motes the sourc­ing, sell­ing and serv­ing of local food. Also known as Farm-to-Fork, it is cur­rent­ly one of the culi­nary world's biggest trends. While the move­ment has become some­what con­tro­ver­sial due to a debate over the true mean­ing of ​"local," its pop­u­lar­i­ty is undis­putable. In 2014, local foods gen­er­at­ed $11.7 bil­lion in sales and, accord­ing to Pack­aged Facts, a mar­ket research firm, they are expect­ed to rise to $20.2 bil­lion by 2019.
Of course, there are many rea­sons peo­ple like to eat local food: they want to sup­port small farm­ers, they believe it tastes bet­ter and that the food is health­i­er. But anoth­er rea­son many peo­ple sup­port this move­ment is revealed in its name — Farm-to-Table. It is not called ​"Farm-to-Fac­to­ry-to-Table" or ​"Farm-to-Food Plant-to-Pro­cess­ing-to-Pack­ag­ing-to-Table." Rather, restau­rants are employ­ing sim­pli­fied lan­guage to por­tray the rur­al as nat­ur­al, healthy, and above all, close.
For good rea­sons, peo­ple like the idea that their food has few­er miles to trav­el between a local farm and their table. Because local food trav­els short dis­tances, farm­ers can focus on mak­ing it health­i­er, rather than focus­ing on mak­ing it resilient to long trav­el peri­ods. Accord­ing to a study per­formed by the Leopold Cen­ter for Sus­tain­able Agri­cul­ture at Iowa State Uni­ver­si­ty, pro­duce in the con­ven­tion­al sys­tem trav­els an aver­age of 1,518 miles from a farm to a con­sumer. By con­trast, local­ly sourced food trav­elled an aver­age of 44.6 miles.
This sense of close­ness, as rep­re­sent­ed through both the ​"Farm-to-Table" move­ment and name, direct­ly con­trasts urban people's attempts to dis­tance them­selves from the rur­al through the lan­guage of stereo­types. In oth­er words, although peo­ple like to believe that their food is close, that the Marl­boro Man's image is attain­able, and that lit­er­ary leg­ends guide their stud­ies, peo­ple who use stereo­types to describe rur­al Amer­i­cans simul­ta­ne­ous­ly pre­fer hill­bil­lies, red­necks and white trash Amer­i­cans be as far as pos­si­ble from their table.
Ulti­mate­ly, whether urban peo­ple want rur­al Amer­i­cans to be close or far, one thing is true: for bet­ter and worse, the farms (fam­i­ly and cor­po­rate), the Marl­boro Man, the famous writ­ers, and deroga­to­ry stereo­types are all part of what defines rur­al Amer­i­ca. Fur­ther­more, it is not up to any­one to decide whether rur­al Amer­i­ca is ​"far" or ​"close," or whether it should be crit­i­cized or ide­al­ized. Rather, it is everyone's respon­si­bil­i­ty to under­stand that the rur­al-urban ​"divide" is com­plex and not as stark as we may have thought.
Nora Mabie
is a fall
2017
Rur­al Amer­i­ca In These Times edi­to­r­i­al intern.