In Washington State, the Supreme Court Will Test U.S. Commitment to Native American Treaties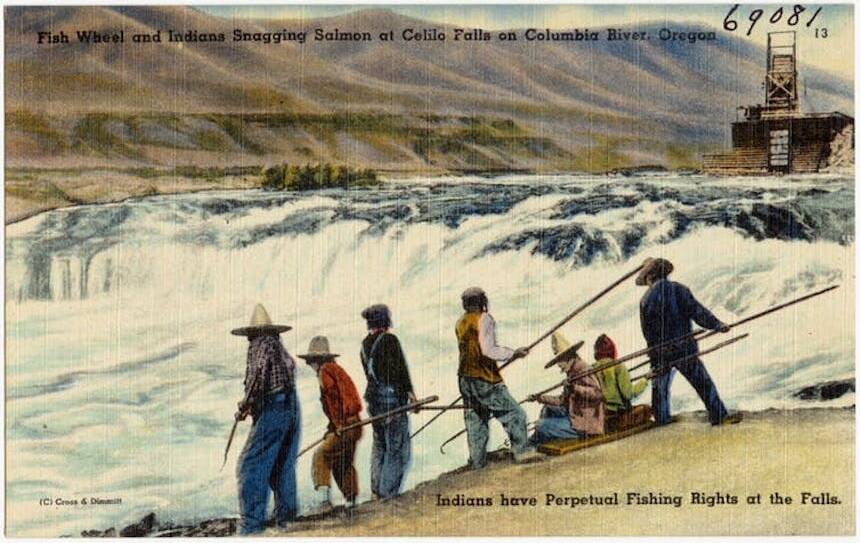 On April 18, the Unit­ed States Supreme Court will hear oral argu­ments in Wash­ing­ton v. Unit­ed States, which pits the state of Wash­ing­ton against the Unit­ed States and 21 Indi­an tribes. The main ques­tion in the case is nar­row — whether the state must quick­ly replace hun­dreds of cul­verts that allow the flow of water under roads but also block salmon migra­tion. Yet the under­ly­ing issue is far broader.
At stake in the case is the Supreme Court's ongo­ing role as the nation's high­est arbiter of jus­tice. Despite immense changes, that role remains ground­ed in a 229-year-old Con­sti­tu­tion premised on the suprema­cy of fed­er­al treaties and indi­vid­ual rights.
In pre­vi­ous cas­es, the Supreme Court upheld the tribes' rights to fish salmon, spelled out by var­i­ous treaties entered in the 1850s. But, hav­ing insu­lat­ed those rights from destruc­tion pre­vi­ous­ly, the court must now decide their mean­ing for the 21st cen­tu­ry and beyond. That deci­sion may say more about what jus­tice means in our mod­ern legal sys­tem than it does about tribes, salmon or culverts.
In the mid-1800s, the Unit­ed States' zeal for expan­sion and growth result­ed in the removal of Indi­an peo­ple and the acqui­si­tion of their ter­ri­to­ry, often through the use of treaties.
Isaac Stevens, the first gov­er­nor of the ter­ri­to­ry of Wash­ing­ton, nego­ti­at­ed treaties on behalf of the Unit­ed States with tribes across the Pacif­ic North­west and did so using sim­i­lar treaty forms and lan­guage. In the heart of salmon coun­try, Stevens rec­og­nized the impor­tance of fish­ing to the tribes and, to per­suade them to cede vast swaths of land, he empha­sized lan­guage in the treaties that would pre­serve the trib­al ​"right of tak­ing fish, at all usu­al and accus­tomed grounds and stations…in com­mon with all cit­i­zens of the Ter­ri­to­ry." In fact, while nego­ti­at­ing one treaty, Stevens promised the tribes that the ​"paper secures your fish."
There was an abun­dance of salmon at the time. How­ev­er, the explo­sion of set­tlers in the late 1800s and the pro­lif­er­a­tion of can­ner­ies and com­mer­cial fish­ing oper­a­tions quick­ly cre­at­ed com­pe­ti­tion with trib­al rights. With­in decades, tribes' rights to salmon were threat­ened by non-Indi­an inter­fer­ence and declin­ing fish pop­u­la­tions. The Unit­ed States, act­ing on the tribes' behalf, went before before the Supreme Court seek­ing to pro­tect the terms of the treaties.
In 1905, the court was asked to resolve the ques­tion of whether non-Indi­ans who erect­ed fish wheels to cap­ture salmon could fence off an area, there­by exclud­ing trib­al fish­er­men who sought to fish at their usu­al and accus­tomed ground. The court, say­ing it inter­pret­ed the treaties ​"as jus­tice and rea­son demand," upheld the treaty claims.
Rec­og­niz­ing their fed­er­al suprema­cy, the court reject­ed argu­ments that the admis­sion of Wash­ing­ton to the Union on equal foot­ing with oth­er states destroyed the rights tribes pre­vi­ous­ly secured in agree­ments with the Unit­ed States. Accord­ing to the court, the treaties ​"seemed to promise more, and give the word of the nation for more" than just fish­ing like all oth­er citizens.
Mod­ern chal­lenges to old rights
Despite that ear­ly vic­to­ry, both trib­al treaty rights and salmon pop­u­la­tions con­tin­ued to be threat­ened. In the 1960s and 1970s, the state of Wash­ing­ton engaged in a con­cert­ed effort to den­i­grate trib­al rights, lead­ing to ​"fish-in" protests by natives, mul­ti­ple arrests, and violence.
Once again, the courts were called upon to ren­der jus­tice. The cen­tral case, brought by tribes and the Unit­ed States on their behalf against Wash­ing­ton, was filed in 1970. And as in 1905, courts hon­ored trib­al rights, decid­ing that tribes were enti­tled to half of the salmon har­vest. In 1979, the Supreme Court affirmed this. Lat­er deci­sions even includ­ed fish raised in hatch­eries.
But salmon pop­u­la­tions con­tin­ued to plum­met, putting more and more pres­sure on tribes' abil­i­ty to exer­cise their rights. As a result, in 2001, 21 tribes in Wash­ing­ton revived the 1970 lit­i­ga­tion by ask­ing the fed­er­al courts to decide whether the state of Wash­ing­ton was vio­lat­ing the treaties by build­ing roads across salmon streams using cul­verts that closed off upstream migra­tion. In doing so, the tribes relied upon a 1997 study show­ing that hun­dreds of cul­verts blocked fish pas­sage and that replac­ing even half of the cul­verts would pro­duce 200,000 more salmon each year.
Accord­ing to the tribes, though ear­li­er deci­sions had pre­served their rights, with­out addi­tion­al pro­tec­tions for salmon habi­tat and pop­u­la­tions, they would only retain the right to wit­ness wild salmon go extinct.
Both the fed­er­al tri­al court and the Ninth Cir­cuit Court of Appealsagreed with the tribes. Indeed, the tri­al court entered a per­ma­nent injunc­tion requir­ing the state to replace hun­dreds of cul­verts with­in the next 17 years. Echo­ing the 1905 Supreme Court, the Ninth Cir­cuit deter­mined that the treaties promised more than just access to fish­ing sites. The treaties also promised that there would be fish ​"suf­fi­cient to sus­tain them."
The state of Wash­ing­ton claims the treaties did not promise that much. They point to oth­er actions of the fed­er­al gov­ern­ment that hurt salmon pop­u­la­tions and argue that com­ply­ing with the injunc­tion would require real­lo­cat­ing bil­lions of addi­tion­al dol­lars, and now ask the Supreme Court to reverse those low­er court deci­sions. In the state's view, the rights claimed by the tribes and rec­og­nized by the low­er courts are ​"new" and not con­tem­plat­ed by the 160-year-old treaties.
More than culverts
The Supreme Court will now decide whether, despite hav­ing aged near­ly two cen­turies, those 20 fate­ful words of the Stevens treaties from the 1850s still guar­an­tee greater pro­tec­tion for trib­al interests.
Its deci­sion will have impact far beyond Wash­ing­ton state. While the ​"right to take fish" lan­guage of the Stevens treaties is unique to the tribes of the North­west, tribes across the coun­try con­tin­ue to exer­cise treaty rights to hunt and fish in their his­tor­i­cal homelands.
For exam­ple, the deci­sion could pro­vide more legal ammu­ni­tion for those sup­port­ing recent trib­al move­ments in sup­port of Bears Ears or to stop the Dako­ta Access pipeline. Even if the court sides with Wash­ing­ton, the case is already prompt­ing broad­er dis­cus­sion of trib­al rights nation­al­ly and could lead to more state-trib­al coop­er­a­tion to avoid sim­i­lar chal­lenges in the future.
More impor­tant­ly, resolv­ing this case demands an account­ing of ​"the word of the nation," which the court has large­ly hon­ored since that 1905 deci­sion. Although much has changed, the words of treaties remain, in the Constitution's words, the ​"supreme law of the land." But, with­out mean­ing­ful pro­tec­tion like that sought by the tribes in Wash­ing­ton v. Unit­ed States, arguably those words will soon be ren­dered meaningless.
Supreme law or not, what good is the ​"right to take fish" if there are no more fish to take? There­fore, the cru­cial ques­tion before the Supreme Court is whether, beyond sim­ply pre­serv­ing the words of treaty rights, doing right by our Con­sti­tu­tion­al ideals — doing jus­tice — demands more.
(​"Supreme Court case tests weight of old Native Amer­i­can treaties in 21st cen­tu­ry" was first pub­lished on The Con­ver­sa­tion and is repost­ed on Rur­al Amer­i­ca In These Times thanks to a Cre­ative Com­mons license. Monte Mills does not work for, con­sult, own shares in or receive fund­ing from any com­pa­ny or orga­ni­za­tion that would ben­e­fit from this arti­cle, and has dis­closed no rel­e­vant affil­i­a­tions beyond his aca­d­e­m­ic appoint­ment.)
Monte Mills
is an Assis­tant Pro­fes­sor and Co-Direc­tor of the Margery Hunter Brown Indi­an Law Clin­ic at the Alexan­der Blewett III School of Law at the Uni­ver­si­ty of Mon­tana. He teach­es a vari­ety of Indi­an law cours­es and works with clin­i­cal stu­dents on a range of legal mat­ters in the Indi­an Law Clinic.