How Dare Samantha Power Scrub the Yemen War From Her Memoir
Power backed the disastrous U.S. intervention in Yemen. But you wouldn't know that from reading her much-lauded memoir.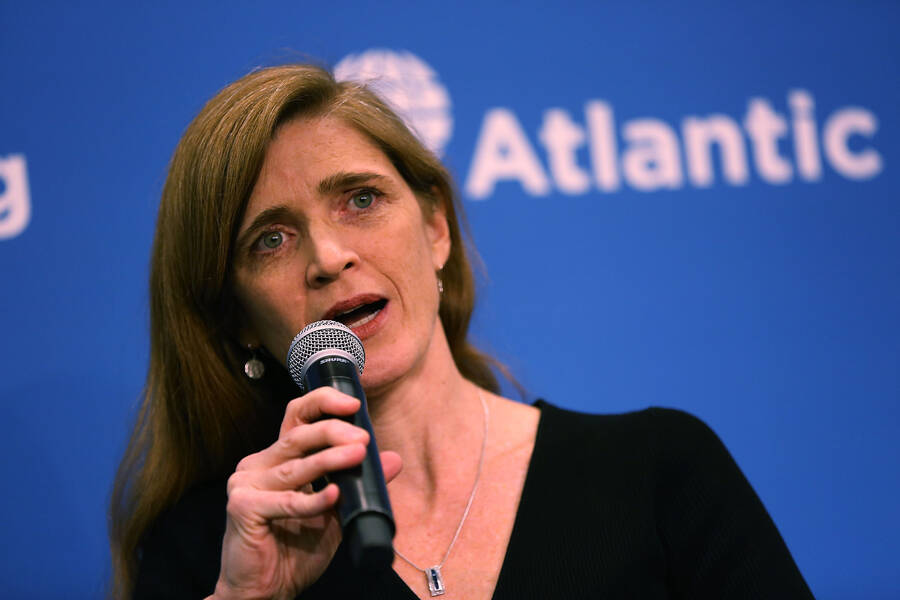 Before serv­ing as the U.S. Ambas­sador to the Unit­ed Nations, Saman­tha Pow­er served on Pres­i­dent Obama's Nation­al Secu­ri­ty Coun­cil, where she was instru­men­tal in advo­cat­ing for inter­ven­ing mil­i­tar­i­ly in the Libyan civ­il war. While serv­ing as UN Ambas­sador dur­ing Obama's sec­ond term, she con­tin­ued to advo­cate for mil­i­tary inter­ven­tions, this time in the Syr­i­an war. In both cas­es, she framed her case for inter­ven­tion as a moral one — a ​"human­i­tar­i­an inter­ven­tion" nec­es­sary for sav­ing Libyans and Syr­i­ans from their dictators.
Despite this glaring omission, her memoir has received mostly positive reviews that fail to criticize her for helping turn Yemen into the world's worst humanitarian crisis.
These inter­ven­tions, how­ev­er, were any­thing but human­i­tar­i­an: They led to a sharp increase in the loss of human lives, exac­er­bat­ed a refugee cri­sis, enabled extrem­ist groups, and caused an over­all exac­er­ba­tion of already-ten­u­ous civ­il con­flicts. Yet, in her recent­ly-pub­lished mem­oir, The Edu­ca­tion of an Ide­al­ist, Pow­er down­plays her role in the blood­shed that fol­lowed in Libya, and she goes as far as lament­ing Obama's inac­tion ear­li­er in the Syr­i­an Civ­il War. Though these inter­ven­tions are cer­tain­ly career-defin­ing, they are also not the only for­eign pol­i­cy injus­tices by which Pow­er should be remembered.
The most strik­ing thing about Power's mem­oir is her com­plete omis­sion of her role in what became the world's worst human­i­tar­i­an cri­sis: the ongo­ing U.S. inter­ven­tion in Yemen.
In 2011, two years before Power's tenure as Ambas­sador to the UN began, Yeme­nis protest­ed against long-time dic­ta­tor Ali Abdul­lah Saleh who even­tu­al­ly resigned and trans­ferred pow­er to his then-vice pres­i­dent (and now pres­i­dent) Abdu Rab­bu Man­sour Hadi. By the time Pow­er took office in August 2013, U.S. pol­i­cy in Yemen was defined by drone war­fare, while Yeme­nis await­ed an elec­tion fol­low­ing Hadi's two-year term. Then in late 2014, the Houthi rebel group marched to the cap­i­tal Sana'a, in what many saw as a coup, there­by threat­en­ing Sau­di Arabia's inter­ests in Yemen. Months lat­er, a coali­tion con­sist­ing of Sau­di Ara­bia, the Unit­ed Arab Emi­rates and oth­er neigh­bor­ing coun­tries launched a sur­prise attack on Yemen, osten­si­bly aimed at restor­ing Hadi to power.
Ambas­sador Pow­er sup­port­ed this intervention.
Her sup­port did not waver when evi­dence sur­faced that the Saud­is and Emi­ratis were fight­ing along­side mem­bers of al-Qae­da. By the end of her tenure, at least 10,000 Yeme­nis were dead and at least 80% of the pop­u­la­tion was in need of human­i­tar­i­an aid. Despite this, there were no pub­lic state­ments made by Pow­er at the time indi­cat­ing wan­ing sup­port for the dis­as­trous U.S. inter­ven­tion in Yemen.
In June 2016, Ambas­sador Pow­er was asked to com­ment on then-UN Secretary-General's Ban Ki-moon's stun­ning admis­sion that Sau­di threats to UN fund­ing led him to remove Sau­di Ara­bia from a list of armies respon­si­ble for killing and wound­ing chil­dren (Sau­di Ara­bia was ini­tial­ly on that list for its role in tar­get­ing Yemeni chil­dren). Pow­er and her staff report­ed­ly ignored a journalist's ques­tions about this. ​"Since news broke of Ban's deci­sion, I have asked Power's office for a direct response to Sau­di fund­ing threats," jour­nal­ist Samuel Oak­ford wrote for Politi­co in July 2016. ​"Nei­ther she nor her staff has ever replied."
Years lat­er, Pow­er still prefers in her mem­oir to look away from Yemen rather than con­front her role in enabling the Saud­is to kill inno­cent Yeme­nis when she had the pow­er to oppose such aggression.
Yemen is men­tioned twice in her book, with nei­ther ref­er­ence hav­ing any­thing to do with the war in Yemen. Such a glar­ing omis­sion can only be seen as a lack of reck­on­ing and account­abil­i­ty for her actions as a rep­re­sen­ta­tive of the Unit­ed States at the UN at the onset of the war in Yemen. Dur­ing her crit­i­cal role at the UN, the Oba­ma admin­is­tra­tion sup­port­ed the Sau­di and UAE coali­tion mil­i­tar­i­ly through tar­get­ing assis­tance, intel­li­gence, midair refu­el­ing, arms sales and train­ing. Fur­ther­more, Pow­er helped pro­vide cov­er for the Saud­is and the Emi­ratis at the Unit­ed Nations, allow­ing them to inves­ti­gate their own crimes, and enabling them to car­ry out atroc­i­ties against civil­ians with impunity.
Her omis­sion of Yemen is indeed sur­pris­ing giv­en her new-found crit­i­cism of the U.S. role in the war in Yemen. Months after leav­ing office, Ambas­sador Pow­er began tweet­ing against the war in Yemen, even going as far as open­ly acknowl­edg­ing that it was wrong for the Oba­ma admin­is­tra­tion to sup­port the Sau­di-led coali­tion while it killed civil­ians and imposed a famine-induc­ing block­ade on the coun­try. Yet, when writ­ing her own sto­ry, she chose to ignore Yemen altogether.
Despite this glar­ing omis­sion, her mem­oir has received most­ly pos­i­tive reviews that fail to crit­i­cize her for help­ing turn Yemen into the world's worst human­i­tar­i­an cri­sis. And while the press and Con­gress have become much more crit­i­cal of the war in Yemen since Trump's elec­tion, Oba­ma and his offi­cials remain rel­a­tive­ly unscathed by crit­i­cism for their role in launch­ing the U.S. inter­ven­tion in the Yemen back in 2015. Had there been more out­rage and calls for account­abil­i­ty at the onset of Obama's uncon­sti­tu­tion­al inter­ven­tion in Yemen, per­haps Trump would not have had a war to inher­it. Per­haps near­ly 100,000 Yeme­nis would not have been killed. And per­haps 85,000 Yemeni chil­dren would not have starved to death.
In choos­ing to entire­ly ignore one of her most glar­ing fail­ures — as a self-pro­claimed activist and diplo­mat — Ambas­sador Pow­er missed a cru­cial oppor­tu­ni­ty to set the record straight on her hor­rif­ic actions and inac­tions as ambas­sador. In the eyes of this Yemeni-Amer­i­can, Ambas­sador Pow­er remains nei­ther edu­cat­ed nor an idealist.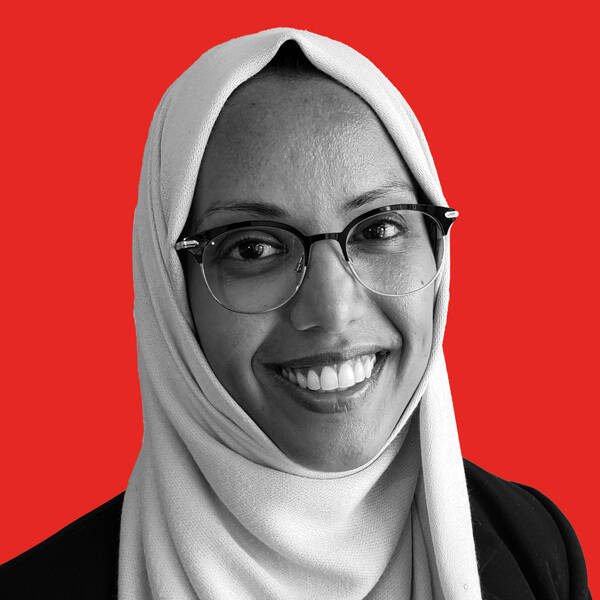 Shireen Al-Adei­mi
is an assis­tant pro­fes­sor of edu­ca­tion at Michi­gan State Uni­ver­si­ty. Hav­ing lived through two civ­il wars in her coun­try of birth, Yemen, she has played an active role in rais­ing aware­ness about the U.S.-supported, Sau­di-led war on Yemen since
2015
. Through her work, she aims to encour­age polit­i­cal action among fel­low Amer­i­cans to bring about an end to U.S. inter­ven­tion in Yemen.