Southern Cities Are Passing Paid Sick Leave—But Republicans Won't Let Them Have It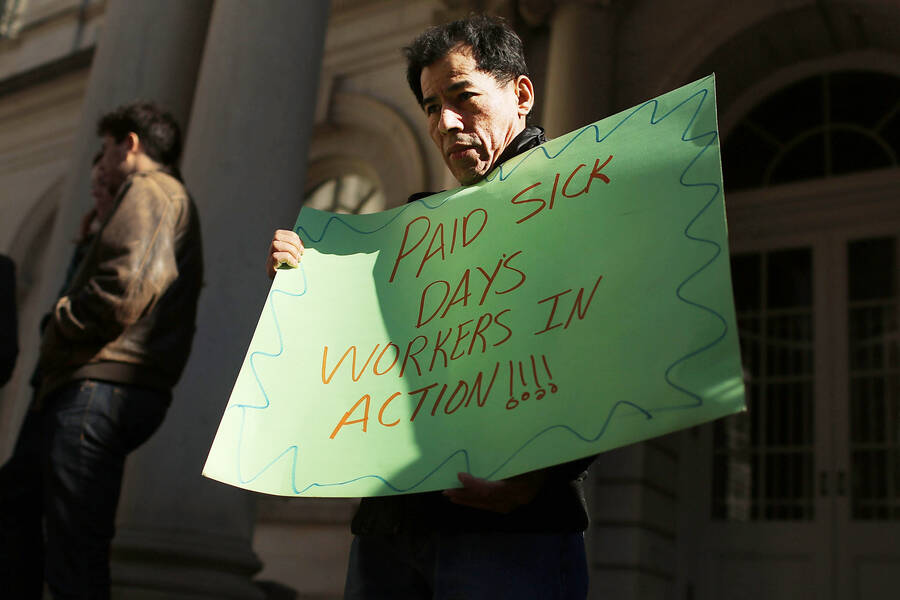 On August 16, the San Anto­nio city coun­cil vot­ed 9 – 2 to pass a paid sick leave ordi­nance that will allow res­i­dents to earn an hour of time off for every 30 hours worked up to six days a year at small employ­ers and eight at larg­er ones.
The Unit­ed States is alone among 22 wealthy coun­tries in hav­ing no nation­al guar­an­teed paid sick-leave pol­i­cy. As a result, states are left to pass their own laws, and in those like Texas where GOP leg­is­la­tures stand opposed to paid sick leave, it's up to the cities.
San Anto­nio became the 33rd city in the coun­try to take such a step, and the sec­ond in the South after Austin passed a sim­i­lar law in February.
The San Anto­nio law is sup­posed to go into effect in Jan­u­ary, and Austin's was sched­uled to go into effect in Octo­ber. But the fate of both laws is up in the air.
The very day after San Antonio's ordi­nance passed, an appeals court tem­porar­i­ly put Austin's law on hold in the midst of a law­suit brought by the con­ser­v­a­tive Texas Pub­lic Pol­i­cy Foun­da­tion— a mem­ber of the Koch-backed State Pol­i­cy Net­work — that claims the law vio­lates the Texas Min­i­mum Wage Act.
Even if that law­suit fails, many Repub­li­can mem­bers of the Texas leg­is­la­ture have vowed to pass leg­is­la­tion to block such local pro­gres­sive laws through­out the state. Law­mak­ers are expect­ed to take up broad pre­emp­tion leg­is­la­tion as a top pri­or­i­ty when the next leg­isla­tive ses­sion begins in the new year.
Texas cities have watched the state erase their laws before. After he took office in 2015, Gov. Greg Abbott pledged to pre­empt cities' abil­i­ty to pass their own ordi­nances. In 2017 he explained this deci­sion would ​"con­tin­ue our lega­cy of eco­nom­ic free­dom" and ​"lim­it the abil­i­ty of cities to Cal­i­for­nia-ize the great state of Texas." In 2015, the state blocked cities from reg­u­lat­ing oil and gas drilling activ­i­ty, includ­ing frack­ing, and it has also banned local laws that would cre­ate sanc­tu­ary cities.
It's a grow­ing trend in leg­is­la­tures con­trolled by Repub­li­cans. At least 25 states have passed pre­emp­tion laws that block cities from rais­ing the min­i­mum wage, and 20 have banned cities from insti­tut­ing paid sick leave. The major­i­ty of these laws have been enact­ed since 2013 and advo­cates for high­er work­place stan­dards say the trend is only accel­er­at­ing.
Texas advo­cates for paid sick leave haven't giv­en up hope, how­ev­er. They plan to wield the sheer amount of pop­u­lar sup­port for these ordi­nances in their favor and against the state politi­cians who block them. ​"Our state lead­er­ship is out of touch with what the major­i­ty of Tex­ans believe and want for their com­mu­ni­ties," says Michelle Trem­il­lo, exec­u­tive direc­tor of the Texas Orga­niz­ing Project, a com­mu­ni­ty orga­niz­ing group behind the paid sick leave ordinance.
Two years ago, the Texas Orga­niz­ing Project began sur­vey­ing work­ing fam­i­lies in San Anto­nio about what issues were most impor­tant to them and what would most improve their lives. ​"It was very clear…that issues address­ing eco­nom­ic secu­ri­ty were at the very top of the list," Trem­il­lo says. Num­ber one was access to jobs that pay well, but in Texas only the state can raise the min­i­mum wage, fol­lowed by ben­e­fits and the abil­i­ty to get paid time off for ill­ness, under­stand­able since an esti­mat­ed 350,000 city res­i­dents don't have access to paid sick days.
Advo­cates also eager­ly watched what hap­pened in Austin. ​"It just made sense that we would fig­ure out how to make that hap­pen in San Anto­nio as well," Trem­il­lo says.
Her group and oth­ers decid­ed to take the issue direct­ly to city res­i­dents. In San Anto­nio, any­one can put an issue before the city coun­cil by col­lect­ing sig­na­tures from 10 per­cent of the eli­gi­ble vot­ing pop­u­la­tion in the pre­vi­ous munic­i­pal elec­tion. If they suc­ceed, the city coun­cil can either decide to vote on the top­ic direct­ly or reject it, thus send­ing it to the bal­lot for vot­ers to weigh in on. To hit the 10 per­cent require­ment, paid sick leave advo­cates need­ed to col­lect at least 70,000 sig­na­tures to force the issue.
With­in ten weeks they man­aged to col­lect more than dou­ble that num­ber, even­tu­al­ly receiv­ing more than 144,000. ​"The response was force­ful. Peo­ple want­ed to sign it," Trem­il­lo says. ​"Peo­ple under­stand imme­di­ate­ly how impor­tant that basic right is, it is a basic right to take care of your­self and your family."
It was the first time in Rey Saldaña's sev­en years on the city coun­cil that he saw any issue get above the 70,000-signature thresh­old, he says. ​"It was an easy sell, eas­i­er than many folks had actu­al­ly thought," he says. Sur­prised at the lev­el of sup­port behind the issue, the may­or and Saldaña's fel­low coun­cil mem­bers decid­ed to take it up and pass the ordi­nance themselves.
Sal­daña, who sup­port­ed paid sick leave from the begin­ning, chalks the sup­port up to the fact that so many peo­ple in the city work in the ser­vice indus­try where paid sick day are uncom­mon. ​"Many of them know what it feels like to have to make deci­sions between going in sick or tak­ing a pay cut that week," he says. "[But] they didn't real­ize that they had that pow­er to try to ask the gov­ern­ment to step in and inter­vene on some of the pres­sures they have in life."
That sup­port, he believes, will make it hard for state law­mak­ers to reverse the progress made. ​"The time is going to expire on the state of Texas's abil­i­ty to ignore that issue," he says.
"Unfor­tu­nate­ly we have a state lead­er­ship that is deter­mined to inter­fere with our cities' abil­i­ty to do what's best for their cit­i­zens," Trem­il­lo says. ​"We have a state lead­er­ship that is not at all con­cerned about improv­ing con­di­tions for work­ing people."
"The state has turned its back on work­ing Tex­ans and turned its back on solu­tions," Sal­daña agrees. ​"It does not sur­prise the city of San Anto­nio, just like it does not sur­prise Austin or Dal­las or Hous­ton, that the state wants to step in and keep cities from inno­vat­ing and apply­ing rules and laws that sup­port the work­ing men and women who prop up our economies."
But that only adds urgency to the cam­paign to pro­tect the laws that cities have passed on their own. Advo­cates pledge to keep up the momen­tum no mat­ter what the state does. ​"We will con­tin­ue to fight at the city lev­el and at the state lev­el for what peo­ple real­ly need and want," Trem­il­lo says.
And she notes that San Antonio's expe­ri­ence, with over a hun­dred thou­sand peo­ple voic­ing their sup­port, shows that the state is up against a swell of pop­u­lar sup­port. ​"These are large num­bers of vot­ers and peo­ple in our com­mu­ni­ty who are demand­ing improve­ments to work­ing con­di­tions," she says. ​"I think our num­bers are only going to get big­ger. I think peo­ple are going to stand up against our state lead­er­ship… We'll con­tin­ue to increase the num­ber of peo­ple par­tic­i­pat­ing in our democracy."
She adds, ​"They should stay out of inter­fer­ing with what our cities are doing and they should start lis­ten­ing to the needs of reg­u­lar Texans."
Bryce Covert
, a con­tribut­ing op-ed writer at the
New York Times
, has writ­ten for
The New Repub­lic, The Nation,
the
Wash­ing­ton Post
, the
New York Dai­ly News
,
New York Mag­a­zine
and
Slate
, and has appeared on ABC, CBS, MSNBC and NPR. She won a
2016
Excep­tion­al Mer­it in Media Award from the Nation­al Women's Polit­i­cal Caucus.