Working Families Party: Sanders Needs Warren in the Race
Warren supporters argue her presence helps win more voters to a progressive agenda.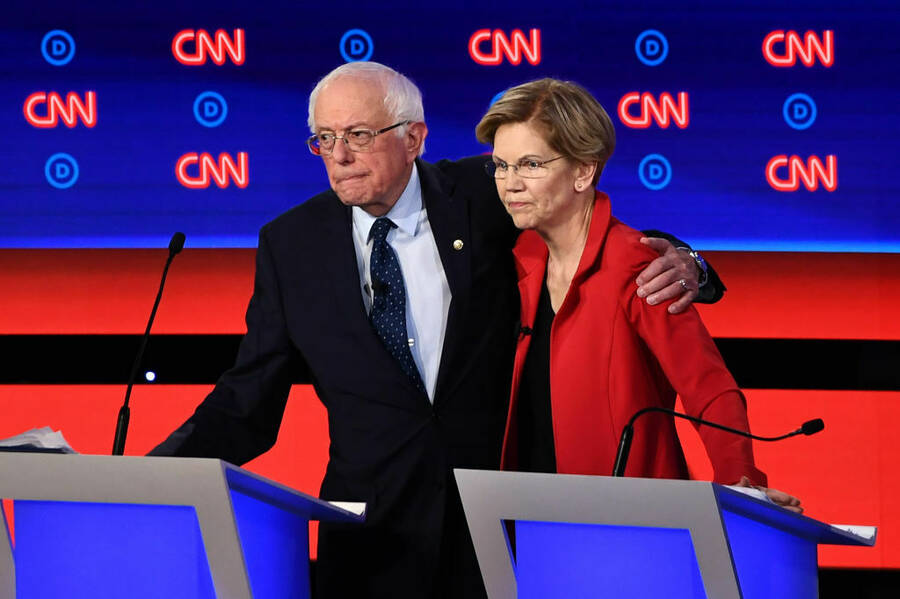 This sto­ry was first pub­lished at the Inter­cept.
"Her stiffest criticism of Bernie is effectively that they agree on everything, and she thinks she can get it done better," said WFP's Joe Dinkin.
THE LAST FEW days have seen a rapid con­sol­i­da­tion of the estab­lish­ment behind Joe Biden, fol­low­ing his expect­ed but deci­sive win in South Car­oli­na. Both for­mer South Bend May­or Pete Buttigieg and Sen. Amy Klobuchar dropped abrupt­ly out of the race and threw what weight they had behind the for­mer vice pres­i­dent. Many of their high-dol­lar donors announced they'd be fol­low­ing suit. Beto O'Rourke and a host of oth­er high-pro­file Democ­rats, includ­ing for­mer Sen­ate Major­i­ty Leader Har­ry Reid and Sen. Tam­my Duck­worth, then came out with their own pub­lic endorse­ments of Biden. After months of inde­ci­sion, the Demo­c­ra­t­ic estab­lish­ment had made up its mind — though the ques­tion of for­mer New York City May­or Mike Bloomberg and his bil­lions still looms.
Some on the left, in turn, ramped up their calls for Sen. Eliz­a­beth War­ren to drop out and endorse Sen. Bernie Sanders. Since Sanders is lead­ing, their argu­ment goes, the pro­gres­sive move­ment needs to show a uni­fied front against the new­ly formed estab­lish­ment bloc. War­ren stay­ing in, then, risks split­ting the pro­gres­sive vote. Ahead of Super Tues­day, some voic­es on the left equat­ed her refusal to drop out with a betray­al of the pro­gres­sive move­ment — ampli­fied fur­ther by her recent embrace of Super PAC assis­tance. They even go so far as to sug­gest that War­ren is only in the race to under­mine Sanders at this point and per­haps to win some con­so­la­tion prize from Biden.
Joe Dinkin, a spokesper­son for the Work­ing Fam­i­lies Par­ty, which backed Sanders in 2016 but is behind War­ren in 2020, argued that such an assess­ment was con­fused on mul­ti­ple fronts. Sanders and War­ren, he said, still need each oth­er both in the race, and when it comes to the con­ven­tion, Warren's del­e­gates will wind up on the pro­gres­sive side of the equa­tion in the end.
"If you've watched War­ren close­ly, you know she first came into pub­lic life to destroy Biden's bank­rupt­cy bill. She's been in a fight with the Wall Street wing of the Demo­c­ra­t­ic Par­ty for about 15 years," Dinkin said. (The Inter­cept has pre­vi­ous­ly writ­ten on the bank­rupt­cy bill fight.) ​"It's total­ly obvi­ous to me that War­ren is a pro­gres­sive and will work to ensure we have a pro­gres­sive nominee."
THE ARGU­MENT THAT War­ren should drop out rests on a few assump­tions that could very well be mis­tak­en. The first is that her doing so now would be bet­ter for Sanders than it would be for Biden — an assump­tion that involves com­pli­cat­ed assess­ments of del­e­gate math and sec­ond choices.
A Quin­nip­i­ac poll from ear­ly Feb­ru­ary showed that 33 per­cent of War­ren sup­port­ers said Sanders would be their sec­ond choice. That's sub­stan­tial, but about 7 per­cent of War­ren vot­ers said they'd pick Klobuchar as their sec­ond choice, 25 per­cent said they'd pick Buttigieg, and 8 per­cent said they'd go for Biden. So Sanders could get a third of War­ren votes if she dropped out now, but, if Biden receives the bulk of the Buttigieg and Klobuchar votes, Biden could get 40 percent.
Sanders has sig­nif­i­cant­ly con­sol­i­dat­ed the left and is like­ly to remain viable — that is, col­lect del­e­gates — just about every­where in the coun­try. If a can­di­date comes in below the 15 per­cent thresh­old of via­bil­i­ty, their del­e­gates are dis­trib­uted to oth­er viable can­di­dates. In Cal­i­for­nia, Texas, and Vir­ginia, War­ren is on the cusp of via­bil­i­ty. If she ends up col­lect­ing those del­e­gates tonight, she can hold on to them until the con­ven­tion and release them with an endorse­ment of Sanders. If she drops out or falls below via­bil­i­ty, those del­e­gates get split between Sanders, Biden, and Bloomberg — with Sanders tak­ing rough­ly 30 per­cent, if the polls hold, and the rest going to the estab­lish­ment can­di­dates. That gives the mod­er­ate wing of the par­ty a clear path to a col­lec­tive major­i­ty of del­e­gates, which they could and would use to deny Sanders the nomination.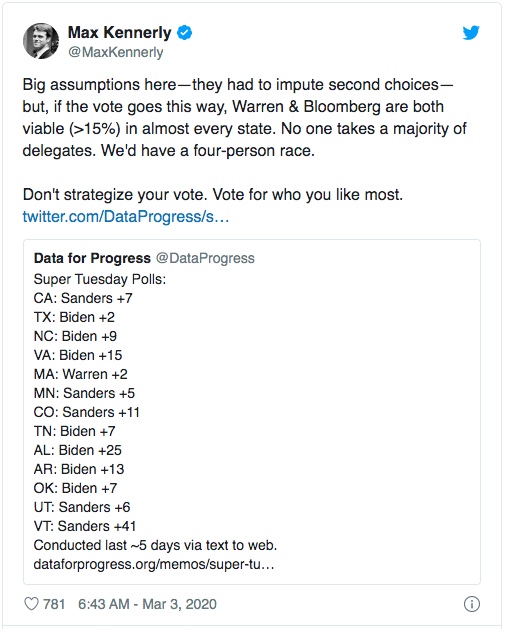 Vot­ers who are still with War­ren, Dinkin argued, are vot­ers she is keep­ing away from Biden.
"War­ren is pro­vid­ing more on-ramps for the pro­gres­sive move­ment. If War­ren is pick­ing up del­e­gates tomor­row, more pro­gres­sive del­e­gates head­ed to the con­ven­tion is a good thing for all of us, whether you sup­port War­ren or Sanders," he said.
Indeed, we've known for months that War­ren, Buttigieg, and Klobuchar have been fight­ing over the same mix of col­lege-edu­cat­ed vot­ers. And War­ren does have some key elec­toral advan­tages over the remain­ing fron­trun­ning com­peti­tors. She's the only woman run­ning, and she's the youngest can­di­date in the race.
"One of Warren's unique tal­ents is that she is bring­ing new peo­ple into the pro­gres­sive move­ment. She's been attract­ing vot­ers who could have been sup­port­ing Biden or Pete behind a can­di­date who's for Medicare for All, a wealth tax, the Green New Deal, and uni­ver­sal child care," Dinkin said.
That's a point that anoth­er pro-War­ren group, the Pro­gres­sive Change Cam­paign Com­mit­tee, is now mak­ing as well.
Anoth­er Quin­nip­i­ac poll from Feb­ru­ary found that 26 per­cent of Buttigieg vot­ers ranked Klobuchar as their sec­ond choice, and 26 per­cent ranked War­ren. Biden by con­trast, was next with 19 per­cent, and Sanders a mere 11 percent.
There has been some spec­u­la­tion, includ­ing from vocal War­ren sup­port­ers, that Warren's strat­e­gy is to go to the con­ven­tion to con­vince Biden del­e­gates to sup­port her as a com­pro­mise can­di­date to stave off Sanders's nom­i­na­tion. Her cam­paign man­ag­er, Roger Lau, even sent out a memo on Sun­day that said ​"the con­ven­tion in Mil­wau­kee is the final play" for their cam­paign, and they aim to ​"ulti­mate­ly pre­vail at the nation­al con­ven­tion in Milwaukee."

It's not hard to under­stand why some read that as War­ren say­ing her strat­e­gy rests on con­vinc­ing superdel­e­gates in the sec­ond round to back her, even if she doesn't win a sin­gle state and even if the Demo­c­ra­t­ic estab­lish­ment makes their pref­er­ence for Biden decid­ed­ly clear.
But this for­gets a cam­paign tru­ism: Every can­di­date is 100 per­cent in-it-to-win-it until the very sec­ond they drop out. Just moments before Buttigieg sus­pend­ed his cam­paign, for instance, he was pledg­ing to go all the way to the con­ven­tion. There's no oth­er way to keep sup­port­ers com­mit­ted and fired up. Sig­nal­ing a pos­si­bil­i­ty that you'll soon drop out sends vot­ers flee­ing for more sta­ble can­di­dates. The ratio­nale a can­di­date gives for stay­ing in a race should not be tak­en either seri­ous­ly or lit­er­al­ly; can­di­dates are sim­ply in until they're not.
Back­ers of Sanders, and those who hope pro­gres­sive infight­ing doesn't hand the nom­i­na­tion to Biden, wor­ry that Warren's recent attacks on Sanders sug­gest she won't be an ally in the end. That's a mis­read­ing too, Dinkin said. ​"Her stiffest crit­i­cism of Bernie is effec­tive­ly that they agree on every­thing, and she thinks she can get it done bet­ter," he said.
Still, the stiff crit­i­cism is cre­at­ing real con­ster­na­tion. ​"Sen­a­tor War­ren has been an ally of the pro­gres­sive move­ment through­out her entire career. But I hope she stops attack­ing Sen­a­tor Sanders and pub­licly com­mits to give her del­e­gates to him if he has more votes to ensure a pro­gres­sive wins the nom­i­na­tion," Alexan­dra Rojas, exec­u­tive direc­tor of Jus­tice Democ­rats, told Buz­zfeed News in a state­ment Monday.
"I'd say the same to Bernie," Rojas added. ​"Pur­su­ing the nom­i­na­tion through a con­test­ed con­ven­tion with­out accu­mu­lat­ing the most del­e­gates would be harm­ful for our move­ment, our par­ty, and the poli­cies she's spent her life fight­ing for."
If War­ren did make such a com­mit­ment though, she'd risk the sup­port of vot­ers who pre­fer her to Biden or Bloomberg, but pre­fer Biden or Bloomberg to Sanders.
ANOTH­ER REA­SON IT could be more help­ful for pro­gres­sives for War­ren to keep com­pet­ing, rather than duck out now, is because War­ren has shown her abil­i­ty to go hard on her oppo­nents and cre­ate tests for them that they fail. While Biden did fine in the South Car­oli­na debate, the media, fundrais­ing class, and Demo­c­ra­t­ic estab­lish­ment are now hop­ing nobody remem­bers his abysmal, sleepy, awk­ward per­for­mances over the last year and pre­vi­ous nine debates. Sanders also has legit­i­mate trou­ble going after Biden, due to the fact that he has trou­ble attack­ing peo­ple he con­sid­ers friends. (See also: War­ren.) While Sanders's cam­paign sur­ro­gates have attacked the for­mer vice pres­i­dent for his decades­long sup­port for cuts to Social Secu­ri­ty, Sanders him­self has kept his crit­i­cisms extreme­ly mild, even apol­o­giz­ing for an op-ed one of his sur­ro­gates wrote that argued Biden had a cor­rup­tion prob­lem. ​"It is absolute­ly not my view that Joe Biden is cor­rupt in any way," Sanders said.
On Mon­day night in Min­neso­ta, on the eve of Super Tues­day, Sanders said this of Biden: ​"I mean this very sin­cere­ly: Joe Biden is a friend of mine, I've known Joe for a very long time. Joe is a decent guy. He's just wrong on the issues. He's just wrong with his vision for the future." That might not be the most com­pelling argu­ment for an elec­torate that wants more than any­thing to beat Don­ald Trump.
War­ren spent much of this cam­paign lay­ing off Biden, which has fueled the skep­ti­cism that she'll tru­ly take him on. But on Sat­ur­day night, she accused Biden of being some­one ​"so eager to cut deals with Mitch McConnell and the Repub­li­cans that he'll trade good ideas for bad ones." And on Mon­day night ral­ly in Los Ange­les, she whacked him again.
"No mat­ter how many Wash­ing­ton insid­ers tell you to sup­port [Biden], nom­i­nat­ing their fel­low Wash­ing­ton insid­er will not meet this moment," she warned. ​"Nom­i­nat­ing a man who says we do not need any fun­da­men­tal change in this coun­try will not meet this moment. Nom­i­nat­ing some­one who wants to restore the world before Don­ald Trump, when the sta­tus quo has been leav­ing more and more peo­ple behind for decades, is a big risk for our par­ty and our country."
A final advan­tage to both can­di­dates stay­ing in could be on the debate stage. An affair that pits Bloomberg as a Sanders attack dog and leaves Biden as a states­man could be a dis­as­ter for Sanders. With Sanders lay­ing out his vision for the coun­try and War­ren attack­ing Biden and Bloomberg, the play­ing field is lev­eled, if not tilt­ed toward the progressives.
"When you think about the March debate," Dinkin said, ​"wouldn't it be great to see War­ren and Sanders team up to give Biden's record the scruti­ny it deserves?"
All of that, of course, depends on War­ren con­tin­u­ing to win del­e­gates. If on Tues­day night, Klobuchar and Buttigieg refugees pushed War­ren slight­ly high­er, she has rea­son to stay in. If not — if she bot­toms out instead — there's lit­tle rea­son to persist.