Santa to Banks: Stop Evictions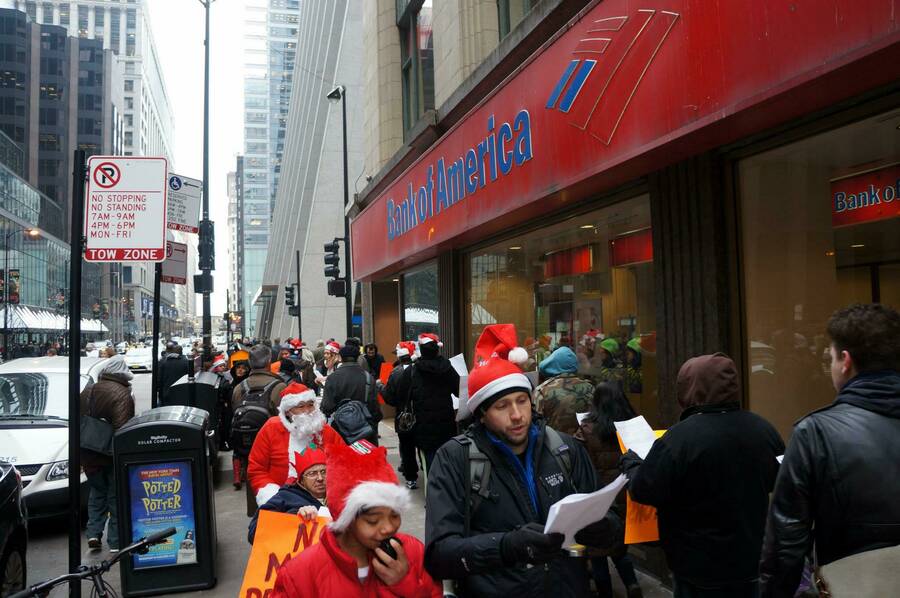 It's not unusual to see groups of Christmas carolers in downtown Chicago in mid-December. But on Tuesday a group of Chicago residents and activists, dressed in Santa hats, were singing a different sort of tune.
Organized by local groups the Albany Park Autonomous Center (Centro Autónomo) and Communities United Against Foreclosure and Eviction, about 25 people carrying protest signs and shaking jingle bells visited seven major banks downtown to sing classic Christmas carols, with lyrics adapted to challenge the banks' unfair foreclosure policies. The tunes included new takes on We Wish You a Merry Christmas (changed to We Wish You Would Not Evict Us), You're a Mean One, Mr. Grinch (You're a Mean One, Fifth Third Bank), Feliz Navidad, and others. As a demonstrator dressed as Santa Claus promised that foreclosing banks would be getting coal in their collective stockings this year, the group sang a refrain to the tune of Jingle Bells: ​"Mr. Bank, Mr. Bank, homeless Christmas Day! Oh what fun it is for you to take our homes away!"
Help keep this reporting possible by making a donation today.
The demonstration was timed to coincide with a two-week suspension on evictions granted by major banks during the holidays. Fannie Mae and Freddie Mac will both offer moratoriums on evictions until January 2. Terry Edwards, executive vice president of credit portfolio management at Fannie Mae, said in a statement, ​"We're taking this step in support of families who have faced financial challenges. The holidays are a chance to be with loved ones and we want to relieve some stress at this time of year."
Housing activists say that this is not enough, pointing out that foreclosure proceedings will still advance during the two-week period. ​"We are not fooled by publicity stunts that offer band-aid solutions," said Isabel Valenzuela of the Centro Autónomo. ​"Freddie and Fannie will still move forward in the legal process of eviction during the holidays, a slap in the face to families living under the threat of foreclosure."
The protest brought together fifteen families in foreclosure from different parts of the city, some of whom could be evicted early next year. Families went into the banks to attempt to negotiate loan modifications as the carolers offered support outside. For some, negotiation was no longer an option. Thirteen-year-old Kiki was attending the protest with her family because Bank of America had foreclosed on the house they were renting and forced them to move out earlier this year. She says the house has been sitting empty since. ​"We just want the banks to stop taking away peoples' homes," Kiki added.
About four million families lost their homes to foreclosure between the beginning of 2007 and early 2012. Evidence of fraudulent policies and sloppy record-keeping among banks has surfaced over the years, all while bank executives continue to pull in exorbitant salaries and bonuses.
The carolers' final stop was in front of Fannie Mae's regional headquarters, where five women whose homes had been sold to the government-backed mortgage lender spoke about their attempts to fight their evictions. Fannie Mae, Freddie Mac and the Federal Housing Administration guarantee about 90% of all new mortgages. Demonstrators said that the institutions have exerted this influence over the housing market in ways that have only made the foreclosure crisis worse: denying principal reductions on underwater loans, evicting families and then allowing houses to sit empty. Particularly controversial is the sale of real estate-owned homes in bulk to investors. In October, Fannie Mae sold off nearly 100 foreclosed Chicago-area homes to a New York private equity firm at a steeply-discounted rate.
Protesters called on Fannie Mae executives to come down and answer for the company's refusal to work with homeowners, but their request was refused.
Foreclosures sometimes occur even when the homeowner is able to catch up on late mortgage payments. Mary Ann Bonelli, who attended the protest despite being bound to a wheelchair, said that Fifth Third Bank suddenly stopped withdrawing her direct deposit mortgage payments in 2011. She says that she is willing and able to resume making payments on her Belmont-Cragin home. The house has been in her family for three generations (her grandparents bought it in 1921), and she has lived there with her 80-year-old sister for years. Her foreclosed home was sold to Fannie Mae this fall, and eviction proceedings will begin in January. Bonelli, who is 76 and in poor health, is worried because without the house she and her sister ​"have nowhere to go." She added, ​"It means little to me that banks are suspending evictions for two weeks when I'm celebrating Christmas knowing that I could be thrown out come January."
Josue Pina was also at the event seeking support for his fight against TCF Bank's decision to foreclose on his Rogers Park home. Though he struggled with finances while unemployed, he says he now has a job and is capable making payments, but has been unable to obtain a loan modification from TCF. ​"Sometimes [the banks] have this attitude that we're stealing from them," he said. ​"But I paid my fair share."