How Saudi Money Keeps the U.S. at War in Yemen
On the Saudi lobby juggernaut.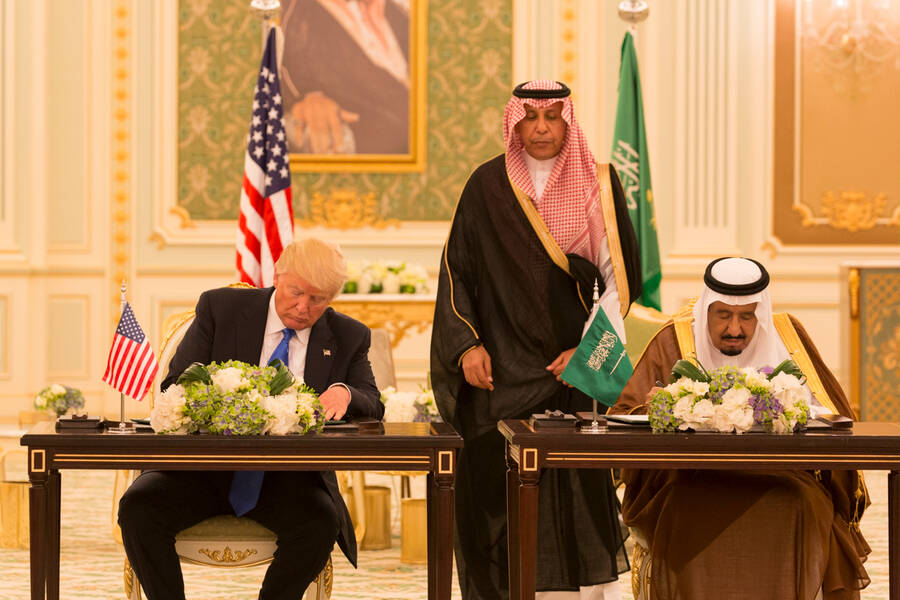 It was May 2017. The Saud­is were grow­ing increas­ing­ly ner­vous. For more than two years they had been rely­ing heav­i­ly on U.S. mil­i­tary sup­port and bombs to defeat Houthi rebels in Yemen. Now, the Sen­ate was con­sid­er­ing a bipar­ti­san res­o­lu­tion to cut off mil­i­tary aid and halt a big sale of Amer­i­can-made bombs to Sau­di Ara­bia. For­tu­nate­ly for them, despite mount­ing evi­dence that the U.S.-backed, sup­plied, and fueled air cam­paign in Yemen was tar­get­ing civil­ians, the Sau­di gov­ern­ment turned out to have just the weapon need­ed to keep those bombs and oth­er kinds of aid com­ing their way: an army of lobbyists.
Today, most lobbyists are engaged in a system of bribery, but it's the legal kind.
That year, their forces in Wash­ing­ton includ­ed mem­bers of more than two dozen lob­by­ing and pub­lic rela­tions firms. Key among them was Marc Lamp­kin, man­ag­ing part­ner of the Wash­ing­ton office of Brown­stein Hyatt Far­ber Schreck (BHFS), a com­pa­ny that would be paid near­ly half a mil­lion dol­lars by the Sau­di gov­ern­ment in 2017. Records from the For­eign Agents Reg­is­tra­tion Act (FARA) show that Lamp­kin con­tact­ed Sen­ate offices more than 20 times about that res­o­lu­tion, speak­ing, for instance, with the leg­isla­tive direc­tor for Sen­a­tor Tim Scott (R‑SC) on May 16, 2017. Per­haps coin­ci­den­tal­ly, Lamp­kin report­ed mak­ing a $2,000 con­tri­bu­tion to the senator's polit­i­cal action com­mit­tee that very day. On June 13th, along with a major­i­ty of his fel­low sen­a­tors, Scott vot­ed to allow the Saud­is to get their bombs. A year lat­er, the type of bomb autho­rized in that sale has report­ed­ly been used in air strikes that have killed civil­ians in Yemen.
Lit­tle won­der that, for this and his oth­er lob­by­ing work, Lamp­kin earned a spot on the ​"Top Lob­by­ists 2017: Hired Guns" list com­piled by the Wash­ing­ton pub­li­ca­tion the Hill.
Lampkin's sto­ry was any­thing but excep­tion­al when it comes to lob­by­ists work­ing on behalf of the King­dom of Sau­di Ara­bia. It was, in fact, very much the norm. The Sau­di gov­ern­ment has hired lob­by­ists in pro­fu­sion and they, in turn, have effec­tive­ly helped con­vince mem­bers of Con­gress and the pres­i­dent to ignore bla­tant human rights vio­la­tions and civil­ian casu­al­ties in Yemen. Accord­ing to a forth­com­ing report by the For­eign Influ­ence Trans­paren­cy Ini­tia­tive pro­gram, which I direct, at the Cen­ter for Inter­na­tion­al Pol­i­cy, reg­is­tered for­eign agents work­ing on behalf of inter­ests in Sau­di Ara­bia con­tact­ed Con­gres­sion­al rep­re­sen­ta­tives, the White House, the media, and fig­ures at influ­en­tial think tanks more than 2,500 times in 2017 alone. In the process, they also man­aged to con­tribute near­ly $400,000 to the polit­i­cal cof­fers of sen­a­tors and House mem­bers as they urged them to sup­port the Saud­is. Some of those con­tri­bu­tions, like Lampkin's, were giv­en on the same day the requests were made to sup­port those arms sales.
The role of Marc Lamp­kin is just a tiny sub-plot in the expan­sive and ongo­ing sto­ry of Sau­di mon­ey in Wash­ing­ton. Think of it as a strik­ing tale of pay-to-play pol­i­tics that will undoubt­ed­ly be revving up again in the com­ing weeks as the Sau­di lob­by works to block new Con­gres­sion­al efforts to end U.S. involve­ment in the dis­as­trous war in Yemen.
A Lob­by to Con­tend With
The roots of that lobby's rise to promi­nence in Wash­ing­ton lie in the after­math of the ter­ror­ist attacks of Sep­tem­ber 11, 2001. As you may remem­ber, with 15 of those 19 sui­ci­dal hijack­ers being cit­i­zens of Sau­di Ara­bia, it was hard­ly sur­pris­ing that Amer­i­can pub­lic opin­ion had soured on the King­dom. In response, the wor­ried Sau­di roy­als spent around $100 mil­lion over the next decade to improve such pub­lic per­cep­tions and retain their influ­ence in the U.S. cap­i­tal. That lob­by­ing facelift proved a suc­cess until, in 2015, rela­tions soured with the Oba­ma admin­is­tra­tion over the Iran nuclear deal. Once Don­ald Trump won the pres­i­den­cy, how­ev­er, the Saud­is saw an unpar­al­leled oppor­tu­ni­ty and launched the equiv­a­lent of a full-court press, an aggres­sive cam­paign to woo the new­ly elect­ed pres­i­dent and the Repub­li­can-led Con­gress, which, of course, cost real money.
As a result, the growth of Sau­di lob­by­ing oper­a­tions would prove extra­or­di­nary. In 2016, accord­ing to FARA records, they report­ed spend­ing just under $10 mil­lion on lob­by­ing firms; in 2017, that num­ber had near­ly tripled to $27.3 mil­lion. And that's just a base­line fig­ure for a far larg­er oper­a­tion to buy influ­ence in Wash­ing­ton, since it doesn't include con­sid­er­able sums giv­en to elite uni­ver­si­ties or think tanks like the Arab Gulf States Insti­tute, the Mid­dle East Insti­tute, and the Cen­ter for Strate­gic and Inter­na­tion­al Stud­ies (to men­tion just a few of them).
This mete­oric rise in spend­ing allowed the Saud­is to dra­mat­i­cal­ly increase the num­ber of lob­by­ists rep­re­sent­ing their inter­ests on both sides of the aisle. Before Pres­i­dent Trump even took office, the Sau­di gov­ern­ment signed a deal with the McK­eon Group, a lob­by­ing firm head­ed by Howard ​"Buck" McK­eon, the recent­ly retired Repub­li­can chair­man of the House Armed Ser­vices Com­mit­tee. His firm also rep­re­sents Lock­heed Mar­tin, one of the top providers of mil­i­tary equip­ment to the King­dom. On the Demo­c­ra­t­ic side, the Saud­is inked a $140,000-per-month deal with the Podes­ta Group, head­ed by Tony Podes­ta, whose broth­er John, a long-time Demo­c­ra­t­ic Par­ty oper­a­tive, was the for­mer chair­man of Hillary Clinton's pres­i­den­tial cam­paign. Tony Podes­ta lat­er dis­solved his firm and has alleged­ly been inves­ti­gat­ed by Spe­cial Coun­sel Robert Mueller for serv­ing as an unreg­is­tered for­eign agent.
And keep in mind that all this new fire­pow­er was added to an already for­mi­da­ble arse­nal of lob­by­ing out­fits and influ­en­tial pow­er bro­kers, includ­ing for­mer Repub­li­can Sen­ate Major­i­ty Leader Trent Lott, who, accord­ing to Lee Fang of the Inter­cept, was ​"deeply involved in the [Trump] White House hir­ing process," and for­mer Sen­a­tor Norm Cole­man, chair­man of the pro-Repub­li­can Super PAC Amer­i­can Action Net­work. All told, dur­ing 2017, Sau­di Ara­bia inked 45 dif­fer­ent con­tracts with FARA-reg­is­tered firms and more than 100 indi­vid­u­als reg­is­tered as Sau­di for­eign agents in the U.S. They proved to be extreme­ly busy. Such activ­i­ty reveals a clear pat­tern: Sau­di for­eign agents are work­ing tire­less­ly to shape per­cep­tions of that coun­try, its roy­als, its poli­cies, and espe­cial­ly its grim war in Yemen, while simul­ta­ne­ous­ly work­ing to keep U.S. weapons and mil­i­tary sup­port flow­ing into the Kingdom.
While the term ​"for­eign agent" is often used as a syn­onym for lob­by­ist, part of the work per­formed by the Kingdom's paid rep­re­sen­ta­tives here resem­bles pub­lic rela­tions activ­i­ty far more than straight­for­ward lob­by­ing. For exam­ple, in 2017, Sau­di for­eign agents report­ed con­tact­ing media out­lets more than 500 times, includ­ing sig­nif­i­cant out­reach to nation­al ones like the New York Times, the Wash­ing­ton Post, the Wall Street Jour­nal, and PBS, which has aired mul­ti­ple doc­u­men­taries about the King­dom. Also includ­ed, how­ev­er, were small­er papers like the Pitts­burgh Post-Gazette and more spe­cial­ized out­lets, even ESPN, in hopes of encour­ag­ing pos­i­tive stories.
The Kingdom's image in the U.S. clear­ly con­cerned those agents. Still, the lion's share of their activ­i­ty was focused on secu­ri­ty issues of impor­tance to that country's roy­als. For exam­ple, Sau­di agents con­tact­ed offi­cials at the State Depart­ment, which over­sees most com­mer­cial arms trans­fers and sales, near­ly 100 times in 2017, accord­ing to FARA fil­ings. Above all, how­ev­er, their focus was on Con­gress, espe­cial­ly mem­bers with senior­i­ty on key com­mit­tees. As a result, at some point between late 2016 and the end of 2017, Sau­di lob­by­ists con­tact­ed more than 200 of them, includ­ing every sin­gle Senator.
The ones most often dealt with were, not sur­pris­ing­ly, those with the great­est lever­age over U.S. rela­tions with Sau­di Ara­bia. For exam­ple, the office of Sen­a­tor Lind­sey Gra­ham (R‑SC), who sits on both the appro­pri­a­tions and armed ser­vices com­mit­tees, was the most con­tact­ed, while that of Sen­a­tor Chris Coons (D‑DE) was the top Demo­c­ra­t­ic one. (He sits on the appro­pri­a­tions and for­eign rela­tions committees.)
Fol­low­ing the Mon­ey from Sau­di Ara­bia to Cam­paign Coffers
Just as there's a clear pat­tern when it comes to con­tact­ing con­gres­sion­al rep­re­sen­ta­tives who might help their Sau­di clients, so there's a clear pat­tern to the lob­by­ing mon­ey flow­ing to those same mem­bers of Congress.
The FARA doc­u­ments that record all for­eign-agent polit­i­cal activ­i­ty also list cam­paign con­tri­bu­tions report­ed by those agents. Just as we did for polit­i­cal activ­i­ties, the For­eign Influ­ence Trans­paren­cy Ini­tia­tive pro­gram con­duct­ed an analy­sis of all cam­paign con­tri­bu­tions report­ed in those 2017 fil­ings by firms that rep­re­sent­ed Sau­di inter­ests. And here's what we found: more than a third of the mem­bers of Con­gress con­tact­ed by such a firm also received a cam­paign con­tri­bu­tion from a for­eign agent at that firm. In total, accord­ing to their 2017 FARA fil­ings, for­eign agents at firms rep­re­sent­ing Sau­di clients made $390,496 in cam­paign con­tri­bu­tions to con­gres­sion­al fig­ures they, or anoth­er agent at their firm, con­tact­ed on behalf of their Sau­di clients.
This flow of mon­ey is best exem­pli­fied by the 11 sep­a­rate occa­sions we uncov­ered in which a firm report­ed con­tact­ing a con­gres­sion­al rep­re­sen­ta­tive on behalf of Sau­di clients on the same day some­one at the same firm made a cam­paign con­tri­bu­tion to the same sen­a­tor or House mem­ber. In oth­er words, there are 10 oth­er cas­es just like Marc Lampkin's, involv­ing for­eign agents at Squire Pat­ton Bog­gs, DLA Piper, and Hogan Lovells. For instance, Hogan Lovells report­ed meet­ing with Sen­a­tor Bob Cork­er (R‑TN) on behalf of the Roy­al Embassy of Sau­di Ara­bia on April 26, 2017, and that day an agent at the firm made a $2,700 con­tri­bu­tion to ​"Bob Cork­er for Sen­ate 2018." (Cork­er would lat­er decide not to seek reelection.)
While some might argue that con­tri­bu­tions like these look a lot like bribery, they turn out to be per­fect­ly legal. No law bars such an act, and while it's true that for­eign nation­als and for­eign gov­ern­ments are pro­hib­it­ed from mak­ing con­tri­bu­tions to polit­i­cal cam­paigns, there's a sim­ple work-around for that, one the Saud­is obvi­ous­ly made use of big time. Any for­eign pow­er hop­ing to line the pock­ets of Amer­i­can politi­cians just has to hire a local lob­by­ist to do it for them.
As Jim­my Williams, a for­mer lob­by­ist, wrote: ​"Today, most lob­by­ists are engaged in a sys­tem of bribery, but it's the legal kind."
The Sau­di Lob­by Today
Fast for­ward to late 2018 and that very same lob­by is now fight­ing vig­or­ous­ly to defeat a House mea­sure that would end U.S. sup­port for the Sau­di war in Yemen. They're flood­ing con­gres­sion­al offices with their requests, in effect ask­ing Con­gress to ignore the more than 10,000 civil­ians who have died in Yemen, the U.S. bombs that have been the cause of many of those deaths, and a civ­il war that has led to a resur­gence of al-Qae­da in the Ara­bi­an Penin­su­la, or AQAP. They'll prob­a­bly men­tion Sec­re­tary of State Mike Pompeo's recent ​"cer­ti­fi­ca­tion" that the Saud­is are now sup­pos­ed­ly tak­ing the nec­es­sary steps to pre­vent more civil­ian casu­al­ties there.
What they're not like­ly to men­tion is that his deci­sion was report­ed­ly dri­ven by the head of the leg­isla­tive affairs team at the State Depart­ment who just hap­pens to be a for­mer for­eign agent with BGR Gov­ern­ment Affairs, one of 35 FARA reg­is­trants work­ing for Sau­di Ara­bia at this moment. Such lob­by­ists and pub­li­cists are using the deep pock­ets of the Sau­di roy­als to spread their pro­pa­gan­da, high­light­ing the char­i­ta­ble work that gov­ern­ment is doing in Yemen. What they fail to empha­size, of course, are the Sau­di block­ade of the coun­try and the Amer­i­can-backed, armed, and fueled air strikes that are killing civil­ians at wed­dings, funer­als, school bus trips, and oth­er civil­ian events. All of this is, in addi­tion, help­ing to cre­ate a grotesque famine, a poten­tial dis­as­ter of the most extreme sort and the very rea­son such human­i­tar­i­an assis­tance is needed.
In the end, even if the facts aren't on their side, the dol­lars are. Since Sep­tem­ber 2001, that real­i­ty has proven remark­ably con­vinc­ing in Wash­ing­ton, as copi­ous dol­lars flowed from Sau­di Ara­bia to U.S. mil­i­tary con­trac­tors (who are mak­ing bil­lions sell­ing weapons to that coun­try), to lob­by­ing firms, and via those firms direct­ly into Con­gres­sion­al coffers.
Is this real­ly how U.S. for­eign pol­i­cy should be determined?
This arti­cle first appeard in TomDis­patch.
Ben Free­man
is the direc­tor of the For­eign Influ­ence Trans­paren­cy Ini­tia­tive at the Cen­ter for Inter­na­tion­al Pol­i­cy (CIP).