Scoundrel Time At Kaiser, as SEIU/NUHW Election Showdown Continues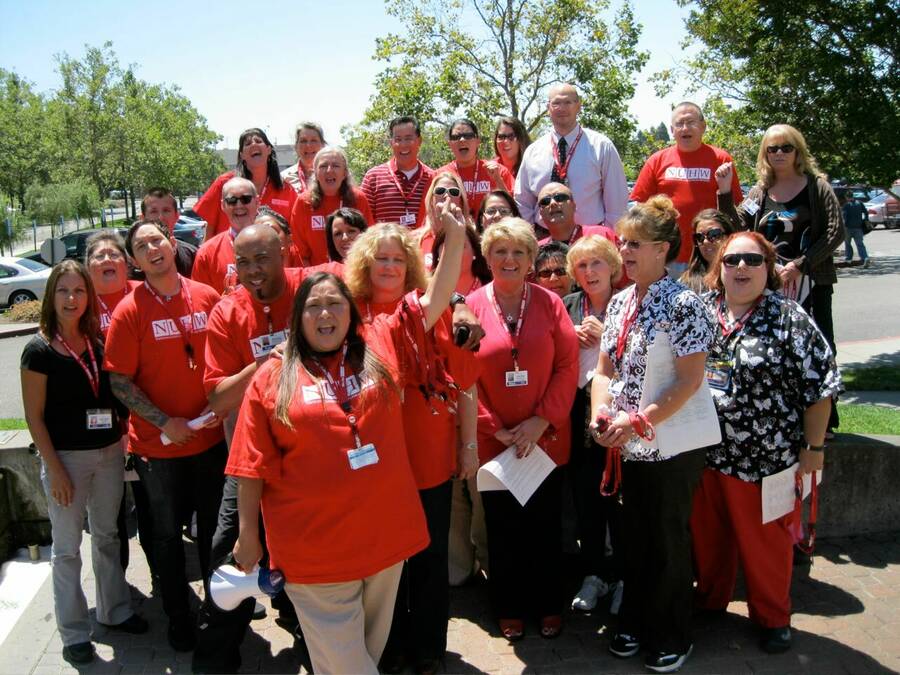 Union hope and fear col­lide In Cal­i­for­nia healthcare
SAN FRAN­CIS­CO — The stereo­typ­i­cal union bat­tles of the past were fought by burly work­ing-class heroes, on the pick­et-line and the prover­bial ​"shop floor." Think of tough-look­ing guys, wear­ing scal­ly caps (and wield­ing base­ball bats, when nec­es­sary), while march­ing along the San Fran­cis­co water­front in 1934.
Their ene­mies were many – the long-shore boss­es and ship­ping com­pa­nies, the courts and politi­cians, a cor­rupt and man­age­ment-friend­ly east coast union, that sought to under-cut their strike and bar­gain behind their back. They shut down the port any­way, and oth­ers along the west coast. They ral­lied fel­low work­ers, briefly trig­gered a gen­er­al strike, and end­ed up break­ing away to form a new union, under far greater rank-and-file con­trol. It was the depths of the great Depres­sion – the kind of econ­o­my where you don't want to take risks, as SEIU tells Kaiser work­ers today. The founders of the Inter­na­tion­al Long­shore and Ware­house Union took risks any­way, along with many casu­al­ties. But, in the end, they won, mak­ing a bet­ter life for them­selves and sub­se­quent generations.
It's now 2010. Union activists wear pink and blue hos­pi­tal scrubs and, if they work in the oper­at­ing room, what looks like a show­er cap on their head. Their strug­gle for the hearts and minds of 44,000 co-work­ers at Kaiser Per­ma­nente (KP) was most vis­i­ble last week in hos­pi­tal cafe­te­rias across California.
There, pur­ple-clad mem­bers of the Ser­vice Employ­ees Inter­na­tion­al Union (SEIU) and red-wear­ing sup­port­ers of the Nation­al Union of Health­care Work­ers (NUHW) gath­ered around rival infor­ma­tion tables like fra­ter­ni­ties or soror­i­ties com­pet­ing for new mem­bers dur­ing rush week. (At Kaiser, the anal­o­gy is not that far-fetched since work­ers often call their place of work ​"the campus.")
Their recruit­ment activ­i­ty was intense because bal­lots had just gone out (on Sep­tem­ber 13) in the biggest union rep­re­sen­ta­tion vote since 1941, when the San Fran­cis­co gen­er­al strike was not a dis­tant mem­o­ry. They will be count­ed on Octo­ber 6.
As David Moberg report­ed for In These Times last week, Kaiser employ­ees already ​"pledged" to one union or the oth­er could be iden­ti­fied eas­i­ly, based on the lan­yard around their neck, the but­tons and stick­ers that adorned their var­i­ous out­fits, or what col­or they were sport­ing, in response to a sched­uled day of union T‑shirt wearing.
Those still sit­ting on the fence (or con­ceal­ing their pref­er­ence) blend­ed in more eas­i­ly with scores of non-bar­gain­ing unit employ­ees, like doc­tors or admin­is­tra­tors, oth­er union mem­bers, like the nurs­es, plus patients, friends, and fam­i­ly mem­bers who all shared the same eat­ing space.
Pur­ple piz­za party
SEIU and NUHW stal­warts tend to stake out sep­a­rate turf at lunchtime, eying each oth­er sus­pi­cious­ly. They do lit­tle inter­min­gling – except when lines form for the ​"free" food offered by SEIU. (And, I'm not talk­ing here about the very un-appe­tiz­ing cup­cakes I saw wrapped in plas­tic and cov­ered with pur­ple icing at a KP facil­i­ty in sub­ur­ban Wal­nut Creek last week). Befit­ting the high­er culi­nary stan­dards of down­town San Fran­cis­co, the incum­bent union fare at Kaiser's big Med­ical Cen­ter on Geary Boule­vard was high-end piz­za, with thin crust and exot­ic top­pings like pineapple.
Box­es of these pricey pies were piled high last Wednes­day next to cam­paign fly­ers warn­ing work­ers that, if they vote to switch from SEIU to NUHW, they may lose the 3% annu­al wage increas­es nego­ti­at­ed ear­li­er this sum­mer by SEIU offi­cials who replaced the elect­ed offi­cers of Unit­ed Health­care Work­ers-West last year.
Not coin­ci­den­tal­ly, one of those oust­ed lead­ers – in fact, the for­mer pres­i­dent of UHW, Sal Rossel­li – stood next to the NUHW table, warm­ly greet­ing a stream of rank-and-file vis­i­tors of every col­or and nation­al­i­ty. With a hand­shake, a hug, or a slap on the back, he urged them all to get a piece of piz­za first and then come back to talk. ​"After all," he said with an imp­ish grin, ​"your dues mon­ey paid for it!"
Rosselli's good-humored approach belied the obvi­ous fray­ing of Kaiser's much tout­ed exper­i­ment in ​"non-adver­sar­i­al" labor rela­tions. The bit­ter com­pe­ti­tion between SEIU and the union rival formed after the UHW trustee­ship is now con­sum­ing mil­lions of dues dol­lars – most col­lect­ed and spent by SEIU. While claim­ing to be neu­tral, the employ­er side of the KP ​"labor-man­age­ment part­ner­ship" has assist­ed SEIU in many ways, rein­forc­ing the per­cep­tion among dis­grun­tled dues-pay­ers that they are sad­dled with a ​"com­pa­ny union."
In the view of NUHW sup­port­ers, work­place con­di­tions and union rep­re­sen­ta­tion have both declined since their local was seized by SEIU Pres­i­dent Andy Stern in Jan­u­ary, 2009. Hun­dreds of UHW stew­ards and staff mem­bers resigned or were oust­ed as a result. Whole Kaiser stew­ards' coun­cils were deplet­ed and KP ​"unit-based teams" ceased to func­tion as they had before, when the union was more pro-active about work­place prob­lem-solv­ing. New­ly appoint­ed SEIU ​"con­tract spe­cial­ists" –who do full-time union work at Kaiser expense – have been much less effec­tive than their pre­de­ces­sors who were purged for ​"dis­loy­al­ty."
The nation­al union staff who assumed con­trol of high­er-lev­el nego­ti­a­tions caved in to KP demands for a cost­ly pen­sion plan give-back and weak­er job secu­ri­ty pro­tec­tions. SEIU's new three-year con­tract was set­tled four months before the old one expired this Fall, with lit­tle mobi­liza­tion of Kaiser work­ers and no bar­gain­ing about local issues, as UHW had always done in the past. Accord­ing to the NUHW (and a wor­ried Cal­i­for­nia Nurs­es Asso­ci­a­tion, whose own Kaiser agree­ment is up for re-nego­ti­a­tion next Spring), the new con­tract opens the door for future health­care cost-shifting.
All of these issues have been much debat­ed and dis­put­ed in the bliz­zard of phone call­ing, mail­ing, and leaflet­ing dur­ing the three-week vot­ing peri­od that ends Octo­ber 4. What moti­vat­ed Julia Tec­pa-Moli­na, a unit clerk in car­di­ol­o­gy, to spend her day off aid­ing NUHW last week was some­thing more fun­da­men­tal– sim­ple work­place solidarity.
A native of El Sal­vador, Julia came to Cal­i­for­nia in 1989, as a civ­il war refugee, when she was twelve years old. She has worked for Kaiser 11 years now, lives in Rich­mond in the east bay, and want­ed to be with her co-work­ers on their big ​"wear red" day. Her hus­band urged her to stay home because she was not sched­uled to work; she made up a sto­ry about hav­ing to vote at the hos­pi­tal, instead of by mail, and head­ed for the BART train with her two-year old daugh­ter in tow.
At the time of the trustee­ship, Julia's hos­pi­tal had 1,600 UHW bar­gain­ing unit mem­bers. A sub­se­quent ​"re-bal­anc­ing" of the statewide work­force (Kaiser jar­gon for 1,500 job cuts) plus attri­tion, has reduced the local head count by near­ly ten per­cent, lead­ing to job com­bi­na­tions, speed-up, under-staffing, and reas­sign­ments that would have vio­lat­ed the old contract.
"Senior­i­ty doesn't count for any­thing any­more," she told me. ​"SEIU hasn't helped us so we don't believe in them." Julia's friend, Gladys Cortez-Castil­lo, has been out­side the hos­pi­tal before work, leaflet­ing at 6 A.M. in the morn­ing. She described under­staffing in the ICU that leaves its unit assis­tants bad­ly over-stretched. ​"We need some­thing bet­ter to pro­tect us, the kind of union it was before. With these peo­ple, we don't have a chance," she said, cast­ing a con­temp­tu­ous glance at the SEIU staffers from out-of-state who were busy serv­ing piz­za pur­chased with mon­ey deduct­ed from her paycheck.
Con­trast­ing campaigns
The red‑T shirt wear­ers far-out­num­bered the SEIU loy­al­ists on this par­tic­u­lar day in the cafe­te­ria. The full-time staffers man­ning the SEIU table, with a hand­ful of work­ers at their side, looked a bit tense and belea­guered. One arranged for me to inter­view the ​"con­tract spe­cial­ist" for the hos­pi­tal, who NUHW sup­port­ers say has been cam­paign­ing for SEIU on com­pa­ny time, a vio­la­tion of fed­er­al law.
Gabriel­la Padil­la insists that she does so only dur­ing her breaks and lunch-hour. ​"I want some­body who has pow­er,' Padil­lia explains, cit­ing SEIU's claimed North Amer­i­can mem­ber­ship of 2.2 mil­lion. ​"If NUHW wins, how are they going to get a con­tract?" She hints dark­ly that the rival union is ​"plan­ning to go on strike" but ​"they don't want tell mem­bers that because it would turn them off."
NUHW had just got­ten a strong boost from rank-and-file nurs­es in the same med­ical cen­ter, who have struck Kaiser more recent­ly than the last SEIU walk-out, which was in 1986. Even though their Oak­land-based lead­er­ship is still coop­er­at­ing with SEIU on out-of-state orga­niz­ing with­in Health­care Cor­po­ra­tion of Amer­i­ca, the nurs­es' union bul­letin board, just out­side the cafe­te­ria, has, under glass, a full selec­tion of NUHW cam­paign literature.
In a let­ter to their fel­low RNs, CNA mem­bers Don­na Good­man, Pamela Ful­ton, and Pas­cal Wilburn declared that ​"we can­not afford to stand on the sidelines…We are ask­ing nurs­es to wear their CNA red this Fri­day to show our co-work­ers that we are stand­ing with them. The lead­ers of NUHW have a proven track record. For years, the old UHW was a strong mem­ber-run union, very much like CNA."
The mem­ber-dri­ven nature of NUHW's low-bud­get cam­paign was empha­sized by many work­ers I inter­viewed, includ­ing Kelela Moberg, an out­spo­ken phar­ma­cy tech. She had been quot­ed by Steven Green­house, in a Sept. 14 New York Times sto­ry about the Kaiser vote, that fol­lowed his vis­it to same hos­pi­tal two weeks ago. Green­house is par­tial to SEIU and prone to bad ​"fram­ing" – as in trans­form­ing a strug­gle involv­ing thou­sands of work­ers into a mere piss­ing match between rival union offi­cials (one of whom, he wrote last week, was known for ​"using brass knuck­les on his for­mer colleagues.")
In addi­tion to that dis­grace­ful descrip­tion of Rossel­li, he report­ed that Moberg was a ​"Rossel­li sup­port­er" – as if she were back­ing a San Fran­cis­co may­oral can­di­date. ​"I'm not a Rossel­li sup­port­er," she told me indig­nant­ly, after see­ing The Times piece for the first time. ​"I'm an NUHW sup­port­er!" It's a dis­tinc­tion lost on the nation's fore­most labor reporter.
The impres­sive degree of rank-and-file vol­un­teerism involved in the NUHW effort stands in sharp con­trast to the mul­ti-mil­lion dol­lar ​"blitz" being employed by SEIU to main­tain its grip on the largest group of union­ized Kaiser work­ers. Esti­mates vary, but clear­ly more than 1,000 nation­al and local union staffers and ​"lost-timers" (stew­ards on leave from their own jobs in oth­er SEIU bar­gain­ing units) have been flown in from around the country.
They are stay­ing in hotels, dri­ving around in rental cars, col­lect­ing per diems, and those with new Kaiser ID badges have even been turned loose on the union's cap­tive mem­ber­ship in patient care areas of hos­pi­tals. Among the can­vassers assigned to vis­it mem­bers at home are laid-off U.S. cen­sus work­ers and oth­ers with lit­tle or no union back­ground who get hired through a temp agency called Tru­Corps. It lists for­mer SEIU long term care divi­sion direc­tor Jim Philliou as a ​"strate­gic advisor."
SEIU's out-of-town­ers
In Roseville, north of Sacra­men­to, where NUHW also looks strong among 2,300 Kaiser work­ers in the area, some out-of-state vis­i­tors won't even tell work­ers their last name. One, who is just ​"George," arrived four weeks ago from SEIU in New York and does give out his cell phone num­ber. But few believe he will stay around after the elec­tion, like he claims. Among NUHW sup­port­ers, George's shift­ing cast of col­leagues are main­ly known by the places they hail from. (As in, ​"Hey, did you see Neva­da over there?" or ​"where's Col­orado been spot­ted today?)
SEIU's cam­paign coor­di­na­tor at Roseville is a nation­al staffer I last saw in Port­land, Maine, ten years ago dur­ing an unsuc­cess­ful SEIU orga­niz­ing dri­ve among nurs­es, that my wife was asked to assist. He help­ful­ly intro­duces me to a stew­ard in the women's health depart­ment, obvi­ous­ly an SEIU strong­hold. (On the day of my vis­it, the OB/GYN staff of twen­ty or more all trooped into the cafe­te­ria, in pur­ple, and ate togeth­er at one long table.)
Danielle Wanger has two chil­dren, is study­ing to become a nurse, and seems eager to be done with all the ​"chaos and mis­in­for­ma­tion" of the last 18 months. Hired by Kaiser in 2004, she became a stew­ard only after the trustee­ship, but does a good job of sum­ming up what may be the atti­tude of oth­er new­er employ­ees. In her depart­ment, ​"we weren't angry and don't have many issues with man­age­ment," she told me. ​"Most­ly, it's the angry peo­ple who sup­port NUHW. Those of us who are pret­ty con­tent are not will­ing to risk change."
NUHW's rank-and-file com­mit­tee at Roseville – which some jok­ing­ly call ​"the stew­ards coun­cil in exile" – was indeed angry on the morn­ing of my vis­it. Scat­tered around their ​"cam­pus" was a fly­er, print­ed on red paper, head­lined: ​"STRIKE?!!! Are You Seri­ous?!!!! In This Econ­o­my?? No Way!!!"
This anony­mous pro­duc­tion appar­ent­ly by some­one on the SEIU side – both Wanger and her lead orga­niz­er dis­claimed any respon­si­bil­i­ty for it – quot­ed eight local NUHW activists. All the state­ments attrib­uted to them, by name, are com­plete fab­ri­ca­tions, asser­tions like: ​"In order for change to hap­pen, some blood must be shed" or ​"I want a union that will burn cars and be mil­i­tant" or ​"I hate the Kaiser part­ner­ship because we can't strike." Recent­ly fired 15-year EVS depart­ment employ­ee Jonathan Welch is quot­ed omi­nous­ly as say­ing: ​"Right now, EVS is ready to strike."
NUHW's full-time orga­niz­er on the scene is a soft-spo­ken, neat­ly-groomed 35-year old native of south Texas named Mar­ti Garza. Ear­li­er this year, he was back in his home state help­ing CNA win some elec­tions at HCA but their joint work with SEIU was hard for him to stom­ach. Mar­ti intro­duces me to some of the alleged Roseville strike plan­ners. They are a feisty, inde­pen­dent-mind­ed group but a lot more thought­ful and lev­el-head­ed than the red-bait­ing fly­er of the day suggests.
NUHW sup­port­ers include a num­ber of Repub­li­cans but, accord­ing to Garza, ​"whether Repub­li­can or Demo­c­rat, these work­ers want a good, hon­est union that respects their opin­ions." In this regard, they seemed a lot like the always diverse Team­sters for a Demo­c­ra­t­ic Union, who face sim­i­lar chal­lenges buck­ing man­age­ment and their own unre­spon­sive union at the same time. There are no perks and few pro­mo­tions for those who choose this dif­fi­cult path, only lots of hard work and the chance to be anony­mous­ly smeared.
Lin­da Antonel­li, a 21-year employ­ee, has tak­en two vaca­tion days to help with the GOTV effort for NUHW. She and oth­ers report that SEIU has put all pend­ing griev­ances on hold, while its paid oper­a­tives devote every wak­ing hour to the cam­paign, leav­ing Welch's dis­charge case in lim­bo. ​"It didn't used to be this way," report­ed Dina Tay­lor-West, a for­mer stew­ard with more twen­ty years at Kaiser. ​"We had pow­er. I was edu­cat­ed and knew the con­tract. It was enforced by a real union."
She also recalled the days when there were month­ly mem­ber­ship meet­ings in Roseville, held away from the hos­pi­tal, after work, and not just restrict­ed to stew­ards. New mem­bers were induct­ed, griev­ances were dis­cussed, union strat­e­gy was debat­ed. Peo­ple came on their own time. Today, these gath­er­ings are stew­ards-only affairs, held on the clock, cour­tesy of Kaiser or SEIU. ​"New mem­bers don't have a clue about the con­tract," Tay­lor-West says, look­ing for­ward to the day when ​"every­one will be uni­fied again, on the same page, so we can get things done."
At near­by Park­way Admin­is­tra­tive Cen­ter, the thir­ty Kaiser staffers who sched­ule Roseville patients for surgery were under­stand­ably wary of both unions. Main­ly white, female, and mid­dle-class sub­ur­ban­ites, they invit­ed rep­re­sen­ta­tives of SEIU and NUHW to come and make pre­sen­ta­tions and answer ques­tions. Their group behav­ior was very pro­fes­sion­al but more typ­i­cal of an inde­pen­dent employ­ee asso­ci­a­tion, con­sid­er­ing whether to affil­i­ate with a nation­al union.
One ques­tion dealt with the $1.5 mil­lion jury ver­dict obtained by SEIU in March against 16 for­mer UHW lead­ers and staffers, includ­ing Garza. Thanks to this law­suit (which has cost SEIU mem­bers more than $10 mil­lion in legal fees so far) Mar­ti now owes SEIU $36,600 – an amount equal to his cur­rent annu­al salary from NUHW. In Octo­ber, 25% of his pay will be gar­nisheed, for the first time, and every month there­after until he sat­is­fies the judg­ment, posts an expen­sive bond, or the ver­dict against him gets over­turned on appeal.
In its pro­pa­gan­da, SEIU has turned Garza's civ­il lia­bil­i­ty – for coura­geous­ly help­ing UHW mem­bers resist Andy Stern's trustee­ship – into a crim­i­nal act, a ​"theft" of mem­ber­ship dues mon­ey, as one bel­liger­ent SEIU offi­cial claimed in front of the Kaiser admin­is­tra­tive work­ers. Garza qui­et­ly pre­sent­ed his side of the sto­ry, point­ing out that he was not in jail and was guilty only of ​"insub­or­di­na­tion" to nation­al union direc­tives opposed by the work­ers who paid his salary. Impressed with his per­son­al sac­ri­fice and com­mit­ment to the mem­ber­ship, the admin­is­tra­tive work­ers vot­ed as a group to sup­port NUHW.
On the day of my vis­it to Roseville, their self-activ­i­ty was con­tin­u­ing. They had pro­duced their own home-made ​"Vote NUHW" fly­er, dis­trib­uted it wide­ly, and only called Garza to let them know what they had done after they had done it. He couldn't have been more pleased.
Steve Ear­ly worked for 27 years as an orga­niz­er and inter­na­tion­al rep­re­sen­ta­tive for the Com­mu­ni­ca­tions Work­ers of Amer­i­ca. He is the author of sev­er­al books, includ­ing Refin­ery Town: Big Oil, Big Mon­ey, and the Remak­ing of an Amer­i­can City (Bea­con Press).