SeaTac Workers Fight for Their 15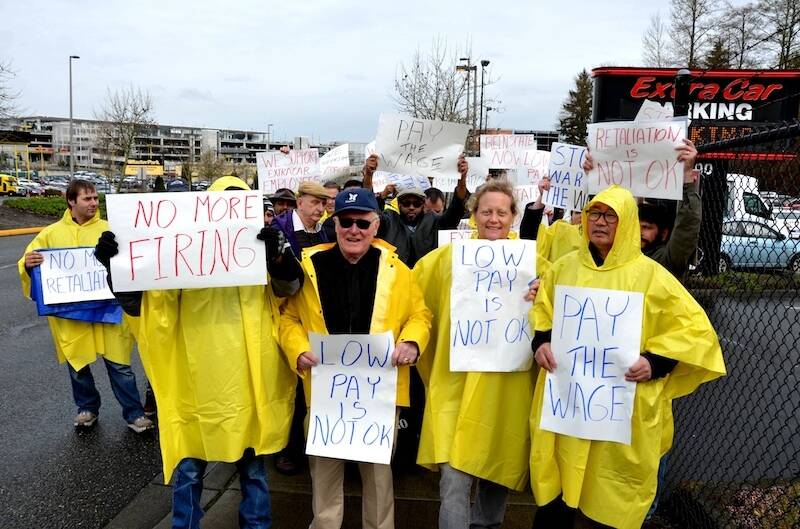 Early this year, the city of SeaTac, Washington inaugurated the highest minimum wage in the country: $15 an hour. The law already suffered a setback when a judge ruled that airport employees — who make up the majority of the city's workforce — would not be eligible for the higher wage. Yet among the SeaTac workers who do qualify for a raise, a number have had to take the enforcement of the new standards into their own hands.
On Wednesday morning, four recently-terminated employees of Extra Car Airport Parking, a parking service that serves the Seattle-Tacoma Airport in SeaTac, rallied in front of their former workplace. The workers were joined by a group of about 30 supporters, drawing attention to the company's alleged wrongdoings, which include shirking the new $15 wage floor and engaging in retaliatory firings against workers who have voiced complaints.
According to the press release for a class-action lawsuit also announced Wednesday, an estimated 40 current and former Extra Car workers earn or earned between $10 and $11 an hour — or at least $4 less than required by law. Attorney Martin Garfinkel — who represents fired Extra Car worker Lou Lehman and may soon be representing other former and current Extra Car employees who have been invited to join the suit — said in a Wednesday press release that ​"the SeaTac living wage ordinance is in full force and effect outside the boundaries of the Airport, and must be followed….There is no excuse for Extra Car's unlawful conduct."
The suit is the first to be brought by the city's workers against an employer in an attempt to enforce the city's months-old minimum wage ordinance, according to Heather Weiner, a spokesperson for the advocacy group Yes! for SeaTac. Funded by SEIU and the Teamsters, Yes! for SeaTac was a key player in the campaign for Proposition 1, the referendum that made headlines across the country in the city's November elections when it ushered in the nation's highest municipal minimum wage.
But the passage of Prop 1 was not without complications. Weeks after voters approved the ordinance, a superior court judge ruled that SeaTac's largest employer — the Seattle-Tacoma International Airport, which employs three-quarters of the town's workforce that would in theory have been covered be the new law — would be exempt from the new wage floor. Peripheral employers, however, still have to comply, including all hotels with at least 100 rooms and 30 non-managerial employees, as well as all parking lots with at least 100 spaces and 25 non-managerial employees.
The Seattle Times reports that the law has a gray area: ​"A complete list of employers that must comply is elusive: The city of SeaTac provides no such list." Yet, according to Weiner, Extra Car fits squarely in the category of affected parking lots. If there is an argument against the lot being required to pay $15 an hour, Weiner says she's at a loss for what that argument could be. ​"One of the [Extra Car] employees told me today that they have over 1,000 spaces. And they have about 40 employees."
The press release for the lawsuit did not mention retaliatory firings, but one demand of Wednesday's rally was for the reinstatement of all workers allegedly fired for organizing in the workplace earlier in the month. In the first week of March, 13 workers filed a complaint with the city against Extra Car, asking the city to investigate the company's noncompliance with minimum wage law. SeaTac City Manager Todd Cutts informed local media that he sent a letter to the head of Extra Car telling him to comply, but workers say the situation has only changed for the worse. Of the original group that signed the complaint, the workers say, five have been fired so far.
Wayne Armstrong, 84, says he lost a customer's key while parking their car in early March, costing Extra Car over $200. But Armstrong says he had not been reprimanded for the incident until a manager pulled him into his office last Friday to tell him he was being terminated, citing the loss of the key. ​"That was the reason they used to fire me," Armstrong alleges. ​"But actually the real reason is because I signed the petition."
According to Armstrong, when his friend and co-worker Dan Park decided to complain to management over what Park viewed as Armstrong's unwarranted firing, he was in turn fired on the spot. ​"I wouldn't go back for $20 an hour," says Armstrong, ​"because of the type of people they are."
In the same press release, attorney Garfinkle adds that ​"Extra Car is not only being unjust to its own employees; it also is unfairly competing with other parking lot companies that are following the law and paying their workers $15 an hour."
Yet suppressing labor costs may not turn out to be the best PR decision for Extra Car. In plain view of Wednesday's demonstrators, competitor Master Parking displayed a large banner that read, ​"Accepting Applications: $15 per hr."
​"I thought that was great," says Armstrong about the banner. ​"Why anybody would want to work at Extra Car is beyond me."
Extra Car could not be reached for comment, but City Manager Cutts told The Seattle Times that Extra Car's ​"belief is that the ordinance does not apply to them," and that ​"we're having a dialogue with them about whether or not that's the case." Cutts added that the company is the first employer to be accused of violating the new minimum wage ordinance.
Workers are still waiting for further action from the city in response to the complaint they filed against Extra Car earlier this month. In the meantime, Lehman and her lawyers are inviting other current and former employees of the company to join the lawsuit, which could recuperate lost wages and has the potential to pressure Extra Car into compliance with the minimum wage law.
Support progressive media
As a nonprofit, reader-supported publication, In These Times depends on donations from people like you to continue publishing. Our final, end-of-year fundraising drive accounts for nearly half of our total budget. That's why this fundraising drive is so important.
If you are someone who depends on In These Times to learn what is going on in the movements for social, racial, environmental and economic justice, the outcome of this fundraising drive is important to you as well.
How many readers like you are able to contribute between now and December 31 will determine the number of stories we can report, the resources we can put into each story and how many people our journalism reaches. If we come up short, it will mean making difficult cuts at time when we can least afford to do so.
If it is within your means, please make a tax-deductible donation today, to ensure that In These Times can continue publishing in the year ahead.

Amien Essif
is a regular contributor to Working In These Times and maintains a blog called The Gazine, which focuses on consumerism, gentrification, and technology with a Luddite bent. His work has also appeared on the Guardian and CounterPunch. You can find him using Twitter reluctantly: @AmienChicago
This is important
As a nonprofit, reader-supported publication, In These Times depends on our end-of-year fundraising drive for nearly half of our total budget. That's how important this fundraising drive is. If you support progressive media, please consider making a tax-deductible donation today to ensure that In These Times can continue publishing in the year ahead.