The Case For Giving Every American $25 "Democracy Vouchers" For Every Election
Refusing corporate donations is just a start—we need real campaign finance reform to revive democracy. A radical experiment in Seattle may point the way forward.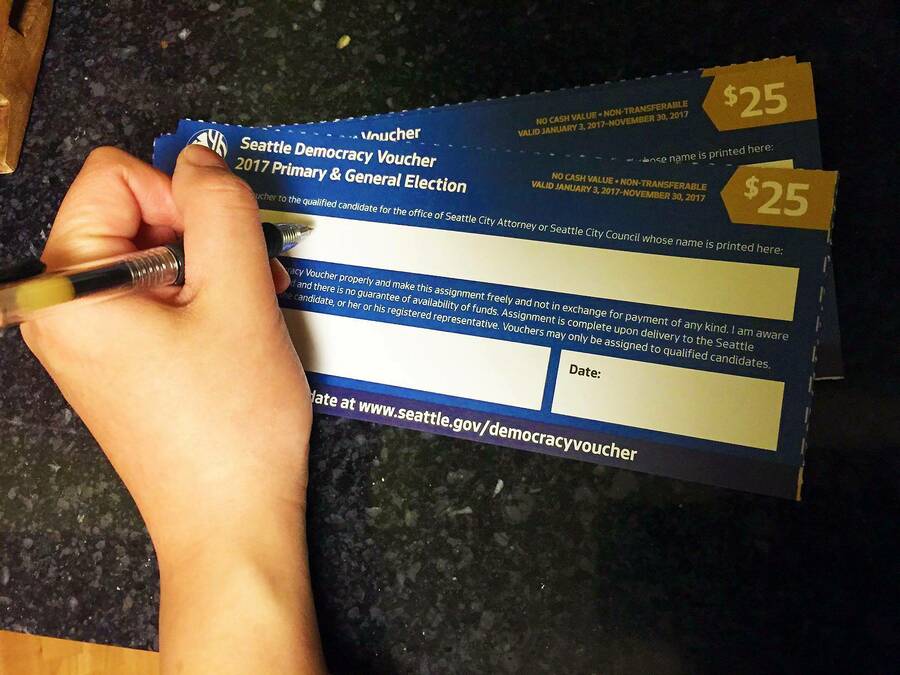 With the Novem­ber midterms just weeks away, more and more media out­lets and lib­er­al pun­dits are pre­dict­ing huge elec­toral gains for Democrats.
Unlike matching funds, democracy vouchers require no out-of-pocket donation. Therefore, anyone, regardless of wealth, can participate. This is a radical expansion of political inclusion.
While much report­ing has focused on the poten­tial of such a ​"blue wave" to flip con­trol of Con­gress, anoth­er less cov­ered aspect of this Demo­c­ra­t­ic insur­gency is the ever-grow­ing list of can­di­dates refus­ing to accept cor­po­rate money.
In fact, almost 200 can­di­dates across the coun­try — includ­ing high pro­file names such as Demo­c­ra­t­ic Sen­ate chal­lenger Beto O'Rourke in Texas, Sen. Eliz­a­beth War­ren (D‑Mass.), Sen. Kirsten Gilli­brand (D‑N.Y.), and Sen. Bernie Sanders (I‑Vt.) — have tak­en some ver­sion of a no-cor­po­rate-mon­ey pledge.
These pledges all speak to the fes­ter­ing anger cit­i­zens feel toward our bro­ken cam­paign finance system.
But while refus­ing indi­vid­ual cor­po­rate dona­tions is laud­able, it's not enough. Indi­vid­ual actions will not change struc­tur­al pres­sures that dis­tort our pub­lic pol­i­cy. And they do not make the cur­rent donor class any less pow­er­ful or break down the bar­ri­ers women and peo­ple of col­or face when run­ning for office.
Rather, clean cam­paign finance pledges are mere­ly the gate­way to real struc­tur­al reform. To turn these pledges into con­crete pro­gres­sive action, we should heed the words of Har­vard Law pro­fes­sor Lawrence Lessig: ​"Their words mean noth­ing unless they have a plan to fix this democ­ra­cy. First."
If they are seri­ous about chang­ing the sta­tus quo, can­di­dates who refuse cor­po­rate mon­ey must also act imme­di­ate­ly to over­haul our cam­paign finance system.
Unde­ni­ably, achiev­ing such sys­temic reform presents chal­lenges. Over the past forty years, start­ing with Buck­ley v. Valeo (1976) — a case strik­ing down can­di­date spend­ing caps and inde­pen­dent expen­di­ture lim­its — the Supreme Court has shack­led our abil­i­ty to reg­u­late polit­i­cal spend­ing. With Brett Kavanaugh now on the bench, a del­uge of lit­i­ga­tion will like­ly fur­ther restrict our abil­i­ty to rein in big mon­ey in politics.
The good news is that we don't actu­al­ly have to lim­it spend­ing to fix our democ­ra­cy. Rather, we can lift up the voic­es of non-wealthy Amer­i­cans to match the influ­ence of cur­rent donors through pub­lic financ­ing for con­gres­sion­al and state elections.
While large­ly over­looked, there are numer­ous pub­lic financ­ing mod­els in cities and states across the coun­try. The Unit­ed States even has a pub­lic financ­ing sys­tem for pres­i­den­tial elec­tions—one that helped fos­ter healthy polit­i­cal com­pe­ti­tion dur­ing the 1970s and 1980s. The pro­gram, nev­er ade­quate­ly updat­ed, became obso­lete with the ris­ing cost of elec­tions, cul­mi­nat­ing in 2012, when, for the first time, nei­ther major par­ty pres­i­den­tial can­di­date used the sys­tem in the gen­er­al election.
Cam­paign finance reform advo­cates have long focused on two sys­tems of pub­lic financ­ing. The first is mod­eled after a pro­gram in New York City, which match­es small-dol­lar con­stituent dona­tions to par­tic­i­pat­ing can­di­dates at a rate of 6‑to‑1. This sys­tem boosts the pow­er of small mon­ey, giv­ing donors of all back­grounds a greater voice in our democracy.
The sec­ond sys­tem, based off of an exist­ing one in Maine, is full pub­lic financ­ing of elec­tions. Under this pro­gram, once a can­di­date rais­es a spec­i­fied small dol­lar con­tri­bu­tion from a select num­ber of con­stituents, the state will pro­vide a grant to fund a candidate's entire cam­paign. Par­tic­i­pat­ing in this pro­gram is option­al, but once can­di­dates take pub­lic mon­ey, they can no longer accept any pri­vate money.
These pro­grams have oper­at­ed with suc­cess. Can­di­dates in states with full pub­lic financ­ing spend less time fundrais­ing and more time with their con­stituents. More­over, under pub­lic financ­ing sys­tems, there is more can­di­date and donor diver­si­ty. The impact of small donors is also increased.
What's most excit­ing for reform advo­cates is that, as of 2017, a new pub­lic financ­ing sys­tem has been added to our toolk­it. And it has game-chang­ing potential.
In 2015, Seat­tle vot­ers approved a first-of-its-kind pub­lic financ­ing sys­tem that gives every city res­i­dent four $25 vouch­ers, or, ​"Democ­ra­cy Dol­lars," that can be allo­cat­ed to qual­i­fy­ing munic­i­pal can­di­dates. To ensure max­i­mum par­tic­i­pa­tion, every reg­is­tered vot­er is mailed the vouch­ers. (Non-reg­is­tered, eli­gi­ble vot­ers can apply for a voucher.)
Unlike match­ing funds, democ­ra­cy vouch­ers require no out-of-pock­et dona­tion. There­fore, any­one, regard­less of wealth, can par­tic­i­pate. This is a rad­i­cal expan­sion of polit­i­cal inclusion.
And while mod­est polit­i­cal giv­ing may seem rou­tine or incon­se­quen­tial, it can have pro­found impli­ca­tions for how cit­i­zens con­nect to our polit­i­cal insti­tu­tions — and to soci­ety as a whole.
"The Democ­ra­cy Vouch­er pro­gram made me feel like becom­ing vis­i­ble in our local democ­ra­cy," Susan Rus­sell, an afford­able hous­ing advo­cate and for­mer­ly home­less Seat­tle res­i­dent, explained to Wash­ing­ton Can, a Wash­ing­ton-based com­mu­ni­ty orga­ni­za­tion. ​"It made [me] feel like I was val­ued. I got to donate to a can­di­date who made clear my voice mat­tered. It was huge. These vouch­ers gave me a voice."
In ear­ly 2017, Jon Grant, a can­di­date for the Seat­tle City Coun­cil who lost in the gen­er­al elec­tion, helped enroll mem­bers of the city's home­less pop­u­la­tion in the pro­gram. In March of that year, he explained in a press release: ​"Seat­tle has been par­tic­u­lar­ly cru­el to its home­less com­mu­ni­ty mem­bers by con­stant­ly sweep­ing encamp­ments. If the home­less were brought into the polit­i­cal process and could access democ­ra­cy vouch­ers to fund can­di­dates who fight for their inter­ests Seat­tle might start tak­ing a more com­pas­sion­ate approach." Home­less donors, among oth­ers, helped the Grant cam­paign raise $300,000 in vouch­ers over the course of the campaign.
The vouch­er exper­i­ment is still young — we only have data from one elec­tion cycle — and there is clear­ly room for improve­ment, but the ear­ly results speak for themselves.
In the first year of the pro­gram, the total num­ber of donors approx­i­mate­ly tripled from 2013. Near­ly 90 per­cent of vouch­er users were new local elec­tion donors and low- or mod­er­ate-income vot­ers and vot­ers under age thir­ty were bet­ter rep­re­sent­ed among vouch­er users than cash donors.
Vouch­er-col­lect­ing can­di­dates also raised a much high­er per­cent­age of their over­all funds from con­stituents than their non-vouch­er and pre-vouch­er coun­ter­parts. More­over, evi­dence shows that vouch­ers encour­aged more can­di­dates to run.
Fol­low­ing Seattle's suc­cess, the con­cept of vouch­ers is start­ing to spread. The New York City Coun­cil is con­sid­er­ing sup­ple­ment­ing its pub­lic financ­ing pro­gram with vouch­ers. And the cities of Austin, Texas and Albu­querque, New Mex­i­co are also exam­in­ing the idea.
In New Hamp­shire, cam­paign finance reform advo­cates have launched a cam­paign to imple­ment ​"Democ­ra­cy Dol­lars" for state elec­tions. The New Hamp­shire leg­is­la­ture failed to pass such a sys­tem in 2017, but Olivia Zink, exec­u­tive direc­tor of Open Democ­ra­cy, a non-par­ti­san, pro-democ­ra­cy orga­ni­za­tion, explains to In These Times that, ​"We feel opti­mistic about our changes in the upcom­ing year."
On the nation­al lev­el, Cal­i­for­nia Rep. Ro Khan­na has endorsed imple­ment­ing vouch­ers for U.S. Con­gres­sion­al elections.
Ulti­mate­ly, whether it's vouch­ers, match­ing funds or full fund­ing, a com­mit­ment to pub­lic financ­ing is far more sig­nif­i­cant — in terms of last­ing, sys­temic change and break­ing down bar­ri­ers — than any indi­vid­ual campaign's refusal to accept cor­po­rate PAC money.
Rail­ing against the cur­rent cam­paign finance sys­tem is just the first step for can­di­dates who believe our elec­toral sys­tem is fun­da­men­tal­ly bro­ken. To change the sta­tus quo, can­di­dates must pair their con­dem­na­tion with con­crete pol­i­cy solu­tions. And while many Demo­c­ra­t­ic chal­lengers seem to now under­stand this real­i­ty, we must con­tin­ue to hold their feet to the fire — for only such sys­temic reform can help revive Amer­i­can democracy.
Adam Eichen
is Cam­paigns Manger at Equal Cit­i­zens and co-author of Dar­ing Democ­ra­cy: Ignit­ing Pow­er, Mean­ing, and Con­nec­tion for the Amer­i­ca We Want (Bea­con Press,
2017
) with Frances Moore Lap­pé. Fol­low him on Twit­ter @adameichen.