Secondhand Store Workers Push for First-Rate Treatment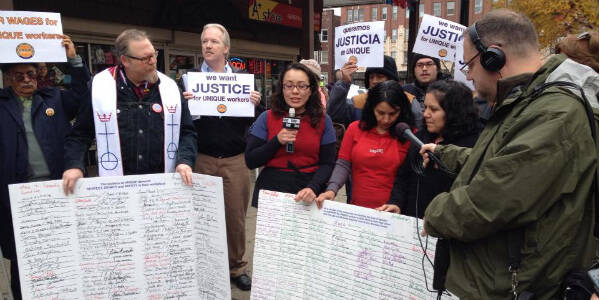 CHICAGO — Ana Laura Lopez has working at Unique Thrift Store in Chicago's Uptown neighborhood down to a science. She's sorted through loads of donated goods to determine what is sellable, priced the merchandise, put it out for customers and worked the cash register. But after eight years of working at the store, Lopez, a 38-year-old mother of six, earns just $9 per hour — 75 cents more than Illinois' minimum wage. She'd love a raise, she says, but what she wants most of all is respect on the job.
​"We receive rude treatment from managers," Lopez says. ​"They push us very hard — faster, faster, faster."
In addition to the unreasonable pace, Lopez says many of her co-workers suffer from asthma and allergies due to handling a high volume of dusty donations, and that she herself has encountered rats (both dead and alive) and soiled diapers while separating goods that can be re-sold from what should be recycled. ​"You can find anything," she says. Though Lopez and her co-workers have spoken to management about these concerns, says Arise Chicago, they were instructed to use gloves.
And after almost a decade, Lopez has had enough. Along with her co-workers, a majority of whom recently signed a petition to hold a union election with the National Labor Relations Board, she is taking on management to push for better working conditions, wages and benefits at Unique.
Last December, after attending labor rights workshops a month prior put on by the interfaith workers' rights organization Arise Chicago, a group of Unique employees, Lopez included, decided it was time to act. Frustrated with managers whom they say ignored verbal and written requests to respect workers and improve health and safety standards, they walked off the job in protest. An impromptu discussion with management about workers' demands followed that day in the middle of the store, with assistance from Arise Chicago staff.
But even after the walkout, Lopez says, nothing changed until workers began publicly organizing to unionize the store this year. Since filing for the union election in October, some things have improved — the store heeded staff requests for a dedicated lunchroom, for example, with new microwaves for the store's 60 or so employees. Lopez isn't satisfied, however: She's convinced union representation will make a bigger difference.
If a majority of Unique employees agree with Lopez when they vote on December 4th, their store will not only become one of the country's first unionized thrift stores. It will also be the first-ever union shop owned by parent company Savers, Inc., the world's largest for-profit secondhand retailer, which also operates stores under the names Savers, Value Village and Valu Thrift Stores. (A store in the Bronx unionized in June 2013; its name is also Unique Thrift, but it is not part of Savers.)
​"We support our employees' right to decide and will continue to provide our team members with the information necessary to cast an informed ballot in the secret ballot vote," Sara Gaugl, a spokesperson for the private Bellevue, Wash.-based company, wrote in an email last week.
​"Savers recognizes the value our team members contribute to the success of our business, and our culture, pay and benefits practices reflect that philosophy," Gaugl continued. ​"It is for this reason that none of our 330-plus stores or nearly 20,000 team members have felt the need to elect a third-party union to represent their employment needs. We have always and will continue to value our direct relationship with each of our employees."
A unique for-profit model
A large donation bin for the Vietnam Veterans of America stands at Unique's entrance and a sign asking for donations of household goods and clothing is in the store's window. The store offers donors tax write-off receipts upon request, on behalf of VVA. Lopez thinks this contributes to a misperception among many customers. ​"People give donations thinking that it's all for charity, but they don't know the reality of [for-profit] secondhand stores," Lopez says.
Savers Inc., which will be 60 years old next year, helped pioneer a for-profit thrift store business model entirely reliant on donated goods. Savers pays local nonprofit partner organizations a bulk per-pound rate for donated goods, whether they're trucked to a store en masse or hand-delivered by a donor. As Savers notes on its website, ​"Partnering with local nonprofits is not a byproduct of our business — it's how we do business."
Savers says that it has paid more than 140 nonprofits $1.5 billion in the last 10 years, and $180 million last year alone. The arrangement brings significant revenue to nonprofits while allowing them to avoid selling donated goods through retail operations like Savers' well-known nonprofit competitors Goodwill and The Salvation Army do. In return, Savers attracts the support and donations of members of the public who want to support its partners.
But Savers itself is no charity operation — it's big business, with stores in Canada and Australia as well as across the United States. In 2012, two private equity firms — Leonard Green & Partners and TPG, who have also invested in more up-market retail operations like J. Crew, Petco and Sports Authority—took a nearly 50 percent ownership stake in the company. That same year, Savers reached $1 billion in sales revenue for the first time. The milestone had a lot to do with the company's rapid expansion through purchases of regional thrift chains, including the 12 Unique Thrift Stores in the Chicago area that Savers bought in October 2012.
As a private company, Savers doesn't report its profits. But a June 2012 Reuters story reported that between 2006 and 2012, the company's annual ​"EBITDA margin," which is basically earnings minus operating expenses, doubled to $163 million — an indicator that its profits have grown substantially in recent years.
And that climb is unlikely to slow anytime soon. Reuters reported, ​"Our outlook for the thrift industry remains positive in the intermediate term, as customers remain frugal in the still-weak economy and merchandise reuse and recycling garner growing acceptance."
A new start in a new year?
But investors' optimism doesn't seem to be shared by Unique employees, many of whom in the Chicago area are currently making minimum wage without any benefits. ​"It's very difficult to live on $8.25," Lopez says, noting that some of her co-workers are single mothers with second jobs. ​"It's not enough money for heat, clothes, shelter, everything."
For its part, Savers says the company is in the process of improving compensation and benefits at the stores it acquired last October to bring them in line with standards at all the company's U.S. locations.
"[A]s we have done with all acquisitions, we began rolling out a process to raise the standard … and transition all Chicago-area stores onto Savers programs, procedures and systems," Gaugl says.
Although some workers will still start at minimum wage, benefits available starting summer 2014 will give full-time employees access to free life insurance, a 401(k) plan and a ​"bundled" medical/​dental/​vision/​prescription plan, Gaugl says. The cheapest plan will cost $70 per month. As for compensation, she says, a ​"pay-for-performance philosophy" will allow for annual merit wage increases ​"competitive for the retail industry" and quarterly sales bonuses for hourly employees. (The average quarterly bonus for a full-time U.S. Savers employee was $195 in 2013.)
Lopez thinks, however, that everyone should be paid a starting living wage, whether or not they receive a quarterly bonus. With this in mind, she's determined to make immediate improvements at her store through organizing.
Despite her persistence, though, implementing a union may not be easy. Lopez says that management has told workers in recent staff meetings that unions — in this case Workers United-SEIU, which filed for the election — only want workers' money. Asked what she thinks the outcome of the December 4th vote will be, Lopez says: ​"With the company having all these meetings against unions, I'm not so sure."
On November 21st, Unique workers, Arise Chicago and WU-SEIU tried to keep momentum going by bringing clergy together in front of the store at 4445 N. Sheridan Ave. to present management with a ​"community pledge of support" in the form of hundreds of signatures on giant pledge cards and to call for a union election free of company interference.
Lopez hopes that actions like these will encourage customers to stand up for Unique employees. ​"We don't want people to stop shopping at Unique," she says. ​"But maybe they can let the company know they support us."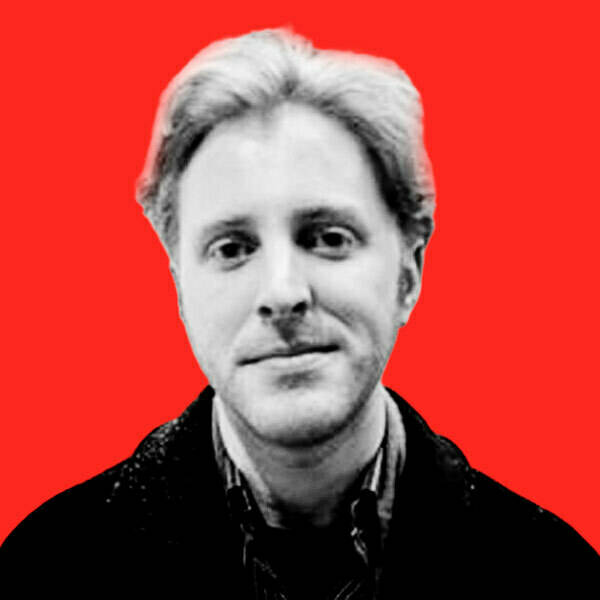 Jeremy Gantz is an In These Times contributing editor working at Time magazine.