Why Is SEIU Backing Hillary Clinton When Only Bernie Sanders Backs the Fight for 15 Campaign?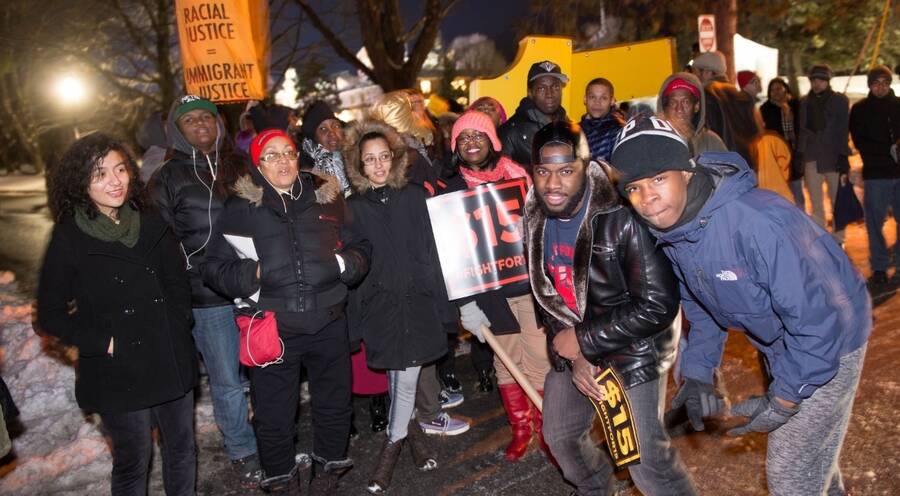 GOFF­S­TOWN, NEW HAMP­SHIRE — The ​"protest pit" out­side the Repub­li­can Pres­i­den­tial Debate at Saint Anselm Col­lege on Sat­ur­day evening was a fenced-in area in a field about a quar­ter mile down the road from the main entrance to the campus.
Bumper to bumper traf­fic ran in front of the pit. Odd giv­en that NH State Police were let­ting few cars onto the cam­pus. Most were told to turn around. No one that Repub­li­can lead­er­ship didn't want in was get­ting any­where near the Carr Cen­ter where the debate was tak­ing place.
Pow­er­ful lights shone down on the scene from one side — lend­ing it an eerie cast. Behind the fence fac­ing the road were a cou­ple hun­dred sup­port­ers for a few of the Repub­li­can can­di­dates. But that was just the first lay­er. Behind them were about 500 activists with the Fight for 15 cam­paign — orga­nized and bankrolled for $30 mil­lion as of last August by the Ser­vice Employ­ees Inter­na­tion­al Union (SEIU), whose lead­ers had bused in SEIU staff and mem­bers, stu­dent activists, and allies from oth­er unions and immi­grant orga­ni­za­tions from around the region. At least 13 bus­loads from south­ern New Eng­land over­all, accord­ing to the campaign's reg­is­tra­tion form for the event.
A respectable show­ing, if not the ​"mas­sive crowd of under­paid work­ers" that SEIU's press release had promised.
So there they were. Sup­port­ers of a $15 an hour fed­er­al min­i­mum wage. A fair­ly diverse group. Stand­ing in a snowy field on a back road, enthu­si­as­ti­cal­ly wav­ing ban­ners — some quite cre­ative, cylin­dri­cal and glow­ing from with­in like Japan­ese lanterns — and peri­od­i­cal­ly trad­ing chants with the most­ly white right-wing activists in front of them.
Their pres­ence was part of SEIU's cur­rent tac­tic to raise the pro­file of the Fight for $15 cam­paign by protest­ing pres­i­den­tial debates and oth­er high pro­file events like the Super Bowl in recent months. Which makes sense as far as it goes.
What doesn't make sense is why SEIU pulled out 500 peo­ple onto a chilly windswept hill in sub­ur­ban New Hamp­shire to protest for a laud­able reform that their cho­sen pres­i­den­tial can­di­date, Hillary Clin­ton, absolute­ly does not support.
Clin­ton, like Barack Oba­ma, has come out in favor of a $12 an hour min­i­mum wage. Bernie Sanders, the only can­di­date whose pol­i­tics are in line with labor unions like SEIU, is also the only can­di­date who pub­licly sup­ports the Fight for $15 campaign's main goal — a $15 an hour min­i­mum wage. Bare­ly a liv­ing wage at all in many parts of the coun­try. Hard­ly the huge ask that oppo­nents make it out to be. Espe­cial­ly giv­en the wage freeze imposed on most Amer­i­cans by cor­po­ra­tions and our polit­i­cal duop­oly since the 1970s.
Yet the lead­ers of the 1.9 mil­lion mem­ber SEIU backed Clin­ton last Novem­ber. Join­ing the heads of a num­ber of oth­er large Amer­i­can unions in sup­port­ing the can­di­date with a proven record of push­ing poli­cies com­plete­ly anti­thet­i­cal to union demands. Like the insur­ance indus­try scam known as Oba­macare instead of ​"Medicare for all." And they have already pumped mil­lions to Clin­ton Super PACs over the heads of their large­ly voice­less members.
In response, a coali­tion of pro­gres­sive unions and activist union mem­bers has formed Labor for Bernie to win as many union endorse­ments for Sanders as pos­si­ble. Even as Sanders has amassed a $75 mil­lion warch­est from most­ly small dona­tions — with­out the truck­loads of cash that labor unions have tra­di­tion­al­ly lav­ished on Demo­c­ra­t­ic can­di­dates over the past few decades.
With Sanders doing very well in the NH polls as of this writ­ing, and clear­ly capa­ble of stay­ing in the race all the way to this summer's Demo­c­ra­t­ic Nation­al Con­ven­tion, it appears that SEIU lead­er­ship made a seri­ous mis­cal­cu­la­tion this elec­tion. And the fall­out from that mis­cal­cu­la­tion is already play­ing out in the very state where they orga­nized the stand­out for their Fight for $15 cam­paign over the weekend.
Two New Hamp­shire SEIU locals — 560 (Dart­mouth Col­lege work­ers) and 1984 (NH State Employ­ees' Asso­ci­a­tion) — broke ranks with SEIU lead­er­ship last fall and backed Sanders for Pres­i­dent. Both locals were present in Goff­s­town on Saturday.
Whether Bernie Sanders wins the nom­i­na­tion and elec­tion or not, cur­rent SEIU lead­er­ship — and the lead­er­ship of every union march­ing in lock­step with the worst ele­ments of the Demo­c­ra­t­ic Par­ty — is going to face increas­ing pres­sure from its rank-and-file mem­bers to stop sup­port­ing pro-cor­po­rate anti-labor can­di­dates like Clin­ton. This anger is like­ly to cul­mi­nate in major grass­roots insur­gent cam­paigns aimed at remov­ing union lead­ers per­ceived as sell­outs — as has hap­pened on many occa­sions in labor his­to­ry. It remains to be seen whether such inter­nal reforms will hap­pen before the major unions col­lapse under the death of a thou­sand cuts being inflict­ed on them by their tra­di­tion­al polit­i­cal ene­mies and their erst­while allies alike.
SEIU and less demo­c­ra­t­ic unions like it could fore­stall the loom­ing civ­il war in their own ranks — and increase the Amer­i­can labor movement's chance of sur­vival — by learn­ing from the more demo­c­ra­t­ic prac­tices of the 700,000 mem­ber Com­mu­ni­ca­tion Work­ers of Amer­i­ca (CWA) — whose lead­er­ship stepped aside last year and let their mem­bers direct­ly decide: a) If they should endorse any can­di­dates for POTUS, and b) Which can­di­date they should endorse.
CWA mem­bers, some 30 per­cent of whom are Repub­li­cans, vot­ed to back Sanders in Decem­ber.
This report was pro­duced by the Boston Insti­tute for Non­prof­it Jour­nal­ism and is part of their ​"Man­ches­ter Divid­ed" cov­er­age of the mad­ness lead­ing up to the 100th New Hamp­shire pres­i­den­tial pri­ma­ry. Copy­right 2016 Jason Pra­mas. Licensed for use by the Boston Insti­tute for Non­prof­it Jour­nal­ism and media out­lets in its network.
In These Times edi­to­r­i­al staff are mem­bers of the Com­mu­ni­ca­tions Work­ers of Amer­i­ca. The CWA is also a spon­sor of In These Times. Spon­sors play no role in edi­to­r­i­al con­tent.