SEIU's Mega-Local Meltdown: Size Matters, But Members Matter More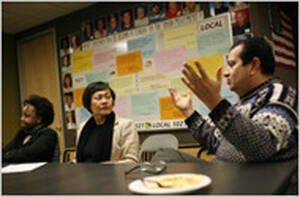 Near­ly one year after Mass­a­chu­setts local makeover, Cal­i­for­nia fol­lows suit
When rank-and-file mem­bers run for office in the Ser­vice Employ­ees Inter­na­tion­al Union (SEIU), it's not easy to win — or even run. And that's not by accident.
In Los Ange­les Local 6434, for exam­ple, offi­cials installed by Pres­i­dent Andy Stern adopt­ed an elec­tion rule found ille­gal by the U.S. Depart­ment of Labor, but approved by Stern. The by-laws required would-be can­di­dates to col­lect near­ly 5,000 names on nom­i­nat­ing peti­tions. In a ​"local" of 160,000 — most of whom are home-based work­ers who nev­er see oth­er mem­bers — this was fool­proof incum­bent pro­tec­tion. It was also a for­mu­la for uncon­test­ed elec­tions ad infini­tum and lack of lead­er­ship account­abil­i­ty to the rank-and-file. (Not coin­ci­dent­ly, 6434 soon became the scene of a major 2008 cor­rup­tion scan­dal involv­ing the local's top offi­cer, Tyrone Free­man, who mis­ap­pro­pri­at­ed near­ly $1 mil­lion from its trea­sury.)

Even in SEIU ​"mega-locals" where there's no steal­ing, lack of account­abil­i­ty to the mem­ber­ship is still a big prob­lem. When pre­vi­ous­ly sep­a­rate locals are merged to cre­ate new ones cov­er­ing a whole state or region of the coun­try — a wide­spread prac­tice in Stern's union — the offi­cial ratio­nale is that such con­sol­i­da­tion ​"builds pow­er for workers."
But a num­ber of recent­ly-restruc­tured SEIU locals, run with­out ben­e­fit of elect­ed lead­ers — who were removed in favor of appoint­ed offi­cers and staff — have proven to be extreme­ly dys­func­tion­al and unpop­u­lar with dues-pay­ers. On both coasts, SEIU-rep­re­sent­ed work­ers, par­tic­u­lar­ly in the pub­lic sec­tor, are say­ing that ​"pow­er" was tak­en away from them, in their own union, and they want it back — so they can deal more effec­tive­ly with their employers.
Mass mega local's makeover

The trend of reclaim­ing big pub­lic employ­ee locals from dis­cred­it­ed and increas­ing­ly incom­pe­tent Stern appointees began last Spring in Mass­a­chu­setts. The 10,000-member Local 888 was the prod­uct of SEIU restruc­tur­ing that shuf­fled work­ers around like pieces of fur­ni­ture for sev­er­al years; through a com­bi­na­tion of trustee­ships and then merg­ers, some mem­bers were deprived of the right to vote for local offi­cers for as long as five years.
By ear­ly 2009, Local 888 was in bad shape finan­cial­ly and lit­er­al­ly com­ing apart at the seams. Angry mem­bers in some of its 207 sep­a­rate state, coun­ty, and munic­i­pal bar­gain­ing units were peti­tion­ing the labor rela­tions com­mis­sion to decer­ti­fy the union. In 2005, the local's largest unit, com­posed of 2,000 work­ers at U‑Mass, was so dis­grun­tled that, after a long strug­gle, it was allowed to leave and join the Mass­a­chu­setts Teach­ers Association/​NEA).

888's stew­ard sys­tem was in dis­ar­ray. High staff turn-over con­tin­u­al­ly dis­rupt­ed con­tract nego­ti­a­tions and enforce­ment. When mem­bers had a work­place prob­lem, they were told to con­tact 888's ​"call cen­ter" which was not good at return­ing calls. Due to local fis­cal crises through­out the state, gov­ern­ment work­ers were at risk of los­ing jobs, pay, or ben­e­fits. But that didn't stop Susana Segat, a loy­al ally of Andy Stern on SEIU's nation­al exec­u­tive board (who was orig­i­nal­ly appoint­ed by him to run 888), from award­ing her­self a whop­ping pres­i­den­tial salary increase.

After a dif­fi­cult cam­paign, the sec­ond of its kind against Segat, the Change888 slate suc­ceed­ed in oust­ing her last April, by a two-to-one mar­gin, with 22 per­cent of the mem­ber­ship vot­ing. (For a full account, see ​"Mem­bers of a Mass­a­chu­setts SEIU Local Dis­lodge an Incum­bent," by Bruce Boc­cardy.) Unlike Segat, who was nev­er a work­ing mem­ber of 888 — a not uncom­mon but often unhelp­ful lead­er­ship cre­den­tial in SEIU — her chal­lenger, Bruce Boc­cardy, had spent many years in SEIU bar­gain­ing units as a Boston city employ­ee and active stew­ard. Since tak­ing over the local with a like-mind­ed group of reform­ers, he has expand­ed stew­ard train­ing and recruitment.
The local now tries to keep every­one bet­ter informed with reg­u­lar newslet­ters, fly­ers, and an e‑bulletin called The Spark, which is reach­ing 3,000 mem­bers at their home email address­es. Work­er par­tic­i­pa­tion in bar­gain­ing, orga­niz­ing, and polit­i­cal action has been active­ly encour­aged and would-be defec­tors have been urged to give SEIU anoth­er chance.

Unlike his aloof and impe­ri­ous pre­de­ces­sor, Boc­cardy makes fre­quent work­place vis­its. He has cut his own salary, empow­ered the exec­u­tive board, and invit­ed mem­bers and their fam­i­lies to vis­it the union office. He is also try­ing hard to repair 888's dam­aged rela­tions with a wide range of com­mu­ni­ty-based orga­ni­za­tions, includ­ing Jobs With Jus­tice, the work­ers' rights coali­tion that 888 aban­doned under Segat. (Last Sat­ur­day, the local even host­ed a well-attend­ed JWJ train­ing ses­sion attend­ed by 100 mem­bers of SEIU, IBEW, CWA, AFSCME, AFT, AFGE, and oth­er unions.)
"Our goal," Boc­cardy explained in a recent open let­ter, is to ​"trans­form [888] into a mod­el for oth­er SEIU locals….We believe that none of our goals and objec­tives will be real­ized with­out a high­ly active membership."
California's vic­to­ri­ous change slate

As report­ed in the last sev­er­al days by Labor Notes and Randy Shaw's Beyond Chron, ​"Change888" has now been joined by ​"Change1021," a com­plete­ly sep­a­rate but sim­i­lar­ly inspired move­ment of north­ern Cal­i­for­nia pub­lic work­ers to reclaim their local as well. Local 1021 posed an even big­ger chal­lenge for reform­ers, who swept 26 out of 28 elect­ed posi­tions there last Friday.
As its num­ber implies, 1021 is the prod­uct of an even grander Stern con­sol­i­da­tion of ten locals into one, three years ago. The com­bined mem­ber­ship — five times larg­er than 888's — extends all the way from the Bay Area to the Ore­gon border.
As San Fran­cis­co EMT Lar­ry Brad­shaw, 1021's new­ly-elect­ed third vice-pres­i­dent explains, the International's orig­i­nal merg­er sce­nario was to tight­en head­quar­ters con­trol over the local's affairs — for the ben­e­fit of the mem­ber­ship, of course.
"Stern jus­ti­fied his cen­tral­iz­ing agen­da on the claim that ​'big­ger equals stronger,'" says Brad­shaw. A pro­tégé and loy­al lieu­tenant — in this case, Dami­ta Davis-Howard — was picked to run the merged local. Per usu­al, he says,
the appointee faces no elec­tion for three years and uses the pow­er of the pres­i­den­cy, and patron­age, to build a base and tran­si­tion seam­less­ly into becom­ing an elect­ed leader. [But] Stern's for­mu­la was dys­func­tion­al from the begin­ning, with many staff vacan­cies and no one over­see­ing con­tract issues for thou­sands of city and coun­ty workers.
Then came the reces­sion. ​"In the face of bud­get deficits and aggres­sive employ­ers, Local 1021 proved dis­or­ga­nized as lead­ers con­ced­ed to almost any demands by employ­ers for con­ces­sions," Brad­shaw says. Many mem­bers began to con­clude that ​"big­ger seems to mean more bureau­crat­ic,' not more effec­tive or responsive.
In late Jan­u­ary, a 1,500-worker 1021 unit in Marin Coun­ty did what small­er 888 groups start­ed to do in Mass­a­chu­setts under Segat — they peti­tioned to replace SEIU with an inde­pen­dent union.

Change1021 hopes to dis­cour­age this exo­dus and revi­tal­ize the local, draw­ing on the skills and expe­ri­ence of its lead­ers and sup­port­ers. Their oppo­si­tion tick­et includ­ed clas­si­fied school employ­ees, munic­i­pal work­ers, nurs­es, tran­sit work­ers, and staffers at non­prof­its, like the Ten­der­loin Hous­ing Clin­ic in San Fran­cis­co, where new pres­i­dent Rox­anne Sanchez, a for­mer BART union activist, works. She won by a 2 to 1 mar­gin. Mean­while, her run­ning-mate for local ​"CEO," Sin Yee Poon, a rank-and-file leader from San Francisco's Human Ser­vices Agency, defeat­ed Davis-Howard by 700 votes out of 5,300 cast a 4‑way race.
'Extra­or­di­nary disaffection'
The plat­form of Change1021 echoes that of Change888. It calls for greater ​"democ­ra­cy and account­abil­i­ty," ​"finan­cial trans­paren­cy," ​"rebuild­ing from the bot­tom up," ​"bet­ter com­mu­ni­ca­tion and access to infor­ma­tion," resis­tance to con­tract con­ces­sions, and restor­ing mem­ber­ship pride in the union.
The 1021 reform­ers also made a point of declar­ing that they ​"will not spend a pen­ny" of ​"pre­cious local resources" to ​"raid or attack oth­er unions." They crit­i­cized SEIU for ​"spend­ing tens of mil­lions of our dues dol­lars" on such fights — a ref­er­ence to Stern's cost­ly and con­tro­ver­sial wars with UNITE HERE and the new Nation­al Union of Health­care Work­ers (NUHW), which is gain­ing ground on SEIU in Cal­i­for­nia health care.

As Poon told Labor Notes read­ers: ​"We will have to deal with a huge task of rebuild­ing a union in a new direc­tion." ​"Even in bet­ter times this was dif­fi­cult," Sanchez agrees. ​"But, with our local union in such dis­or­der and our Inter­na­tion­al union so estranged from its mem­bers, it will be a for­mi­da­ble challenge."
One observ­er wish­ing them well and applaud­ing their achieve­ment is a Bay Area NUHW founder. He was part of the tal­ent­ed and ded­i­cat­ed lead­er­ship cadre oust­ed by Stern a year ago dur­ing SEIU's dis­as­trous take-over over of Unit­ed Health­care Work­ers (UHW), which remains in trustee­ship, with thou­sands of its mem­bers poised to join NUHW in upcom­ing decer­ti­fi­ca­tion votes.

This long­time union activist, who wished to remain anony­mous, was struck by the ​"extra­or­di­nary dis­af­fec­tion and demo­bi­liza­tion of the work­ers" rep­re­sent­ed by 1021, as reflect­ed in very low vot­er turn-out.
"In what, by trade union stan­dards, was a hot­ly con­test­ed elec­tion, tak­ing place in the mid­dle of a fis­cal cri­sis with wages, ben­e­fits, and thou­sands of jobs on the line, only 5,407 bal­lots were returned (5,360 valid) out of more than 42,000 eli­gi­ble to vote and a claimed mem­ber­ship of 54,000?" With this kind of hol­lowed-out union­ism, how long will it be, he asked, ​"before boss­es and politi­cians fig­ure out that ​'the SEIU jug­ger­naut' is a paper tiger" — in Cal­i­for­nia and too many oth­er places as well.
Steve Ear­ly worked for 27 years as an orga­niz­er and inter­na­tion­al rep­re­sen­ta­tive for the Com­mu­ni­ca­tions Work­ers of Amer­i­ca. He is the author of sev­er­al books, includ­ing Refin­ery Town: Big Oil, Big Mon­ey, and the Remak­ing of an Amer­i­can City (Bea­con Press).