The Senate GOP Healthcare Bill Is Lethal for the Poor and Elderly. The Answer Is Medicare-for-All.
The fight against the Senate's deadly healthcare bill must also include the demand for a single-payer system.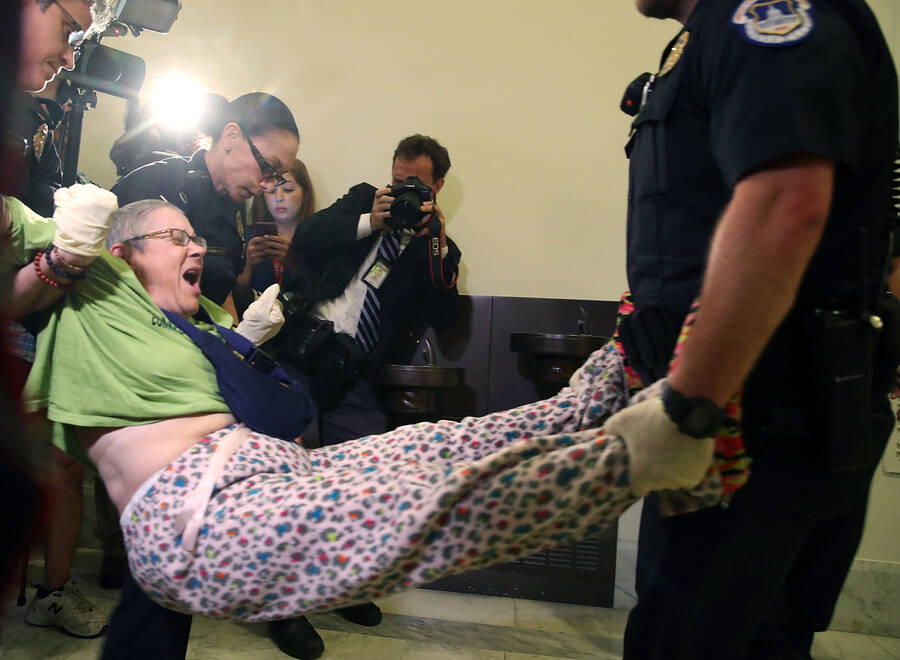 Pres­i­dent Don­ald Trump's long-promised repeal of Oba­macare, or the Afford­able Care Act, edges clos­er to real­i­ty, as the Sen­ate releas­es its secret­ly writ­ten ver­sion of the House's Amer­i­can Health Care Act — the very bill that Trump first cham­pi­oned, then recent­ly report­ed­ly called ​"mean." The Repub­li­can major­i­ty in the Sen­ate is intent on pass­ing the bill before the July Fourth hol­i­day. Oba­macare has led to tens of mil­lions of Amer­i­cans get­ting at least some health insur­ance, but it has prob­lems of its own. Since health care rep­re­sents one-sixth of the U.S. econ­o­my, the polit­i­cal debate between the very bad Repub­li­can bill and the less bad Oba­macare may cre­ate an open­ing for the sen­si­ble solu­tion enjoyed in just about every devel­oped nation out­side the US: sin­gle-pay­er health care.
Sin­gle-pay­er is already in prac­tice in the U.S., and is immense­ly pop­u­lar. It's called Medicare, the tax­pay­er-fund­ed pro­gram that guar­an­tees health care for seniors and peo­ple with per­ma­nent dis­abil­i­ties. Pub­lic polling soon after World War II showed wide­spread sup­port for the pro­pos­al; Medicare became law in 1965. Trump, in his noto­ri­ous June 2015 cam­paign announce­ment in which he attacked Mex­i­cans as ​"rapists," also promised: ​"Save Medicare, Med­ic­aid and Social Secu­ri­ty with­out cuts. Have to do it."
If the cur­rent bill con­tin­ues on its tra­jec­to­ry and gets passed, Don­ald Trump will have to decide if he is going to break that promise. While the bill has to first pass the Sen­ate and then go through a process in which the Sen­ate and House bills are rec­on­ciled, it will, at the very least, mas­sive­ly cut Medicaid.
The rea­son why many oppo­nents call Trump­care ​"wealth care not health care" is the elim­i­na­tion of an Oba­macare tax on the wealth­i­est Amer­i­cans. They'll get a tax cut, while tens of mil­lions will lose insur­ance. Oth­ers will remain unable to afford it, or will be forced to buy hol­low plans that offer min­i­mal cov­er­age, or plans with enor­mous deductibles and copays. Peo­ple with so-called pre-exist­ing con­di­tions will find them­selves vir­tu­al­ly unin­sur­able in most states. A recent study by the Kaiser Fam­i­ly Foun­da­tion esti­mates that there are over 52 mil­lion non-elder­ly peo­ple with pre-exist­ing con­di­tions. Kaiser spec­i­fies ​"non-elder­ly," as the elder­ly, cov­ered by Medicare, can't be exclud­ed because of pre-exist­ing conditions.
Cur­rent­ly, 57 mil­lion seniors and peo­ple with dis­abil­i­ties are on Medicare, out of a U.S. pop­u­la­tion of 320 mil­lion. There is no ratio­nal rea­son why Medicare couldn't be expand­ed to cov­er all Amer­i­cans, regard­less of age, from birth to death. This is what sin­gle-pay­er health care advo­cates call ​"Medicare for All."
Medicare for All would main­tain the cur­rent sys­tem of pri­vate and non­prof­it hos­pi­tals, doc­tor offices and all the oth­er famil­iar aspects of the U.S. health sys­tem. The sin­gle most impor­tant dif­fer­ence is that health insur­ance com­pa­nies as we know them would cease to exist. Insur­ance com­pa­nies don't actu­al­ly deliv­er health care. They act as admin­is­tra­tors, pro­cess­ing bills, mak­ing uncon­scionable prof­its off people's pain and pay­ing enor­mous exec­u­tive salaries. The sav­ings would be extra­or­di­nary, and the sys­tem would most like­ly be as pop­u­lar as Medicare is today.
There are hope­ful signs for sin­gle-pay­er. Rep­re­sen­ta­tive John Cony­ers, the longest-serv­ing mem­ber of Con­gress (he's been in office since 1965, the year Medicare launched), has put forth H.R. 676, the Expand­ed & Improved Medicare for All Act. It cur­rent­ly has a remark­able 112 co-spon­sors (all Democ­rats). Since the Repub­li­can majori­ties in both hous­es are unlike­ly to sup­port this bill, activists are tak­ing the fight to the states. The Healthy Cal­i­for­nia Act, SB 562, would cov­er all res­i­dents of Cal­i­for­nia, and has already passed the state Sen­ate there. The Demo­c­ra­t­ic-con­trolled Assem­bly is con­sid­er­ing it now. In New York state, a sim­i­lar bill has passed the Assem­bly and will be debat­ed in the state Sen­ate, where Repub­li­cans con­trol the cham­ber by one vote.
Behind all the leg­is­la­tion is a diverse and grow­ing grass-roots move­ment. Nation­al groups have been work­ing on it for years, includ­ing Health­care-NOW!, Physi­cians for a Nation­al Health Pro­gram and unions like Nation­al Nurs­es Unit­ed. Statewide coali­tions edu­cate, orga­nize, lob­by and pres­sure law­mak­ers, and promi­nent politi­cians like Bernie Sanders ral­ly the troops, build­ing momentum.
Canada's Medicare sys­tem, which cov­ers all res­i­dents, start­ed in the rur­al province of Saskatchewan and then went nation­al. As Trump­care ver­sus Oba­macare dom­i­nates the cable news chan­nels, the unre­port­ed move­ment for sin­gle-pay­er health care grows. As with all great shifts in his­to­ry, when the peo­ple lead, the lead­ers follow.