Amid a Fast-Food Industry Plagued By Sexual Harassment, This Mother and Daughter Said "No More"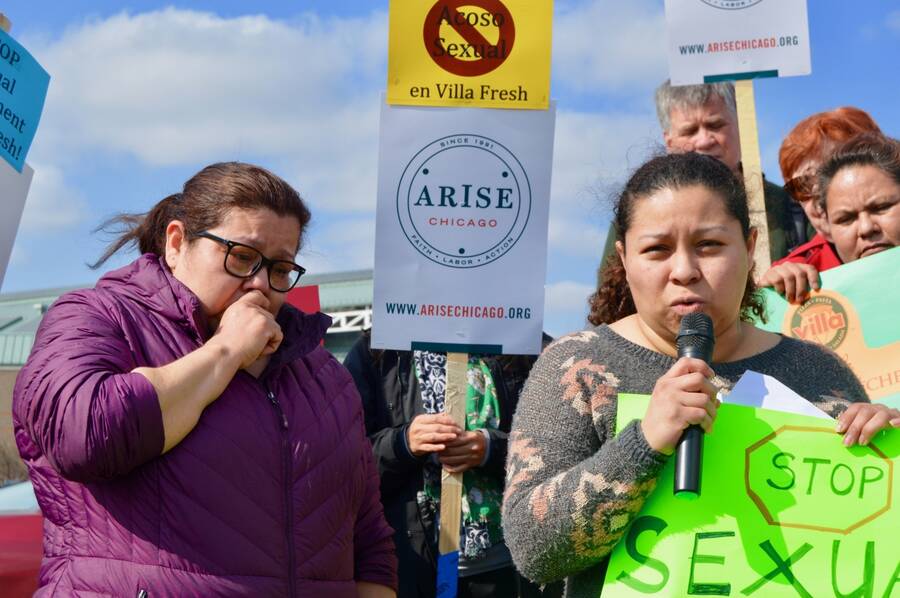 In the sum­mer of 2017, Tere­sa Acevedo's male cowork­er at a Lin­col­nwood, Ill., loca­tion of the fast-food chain Vil­la Ital­ian Kitchen was pro­mot­ed to assis­tant man­ag­er, mak­ing him her super­vi­sor. But once he gained that pow­er, accord­ing to Aceve­do, he start­ed to flex it in inap­pro­pri­ate ways. ​"When he became man­ag­er was when he start­ed to abuse his pow­er," she says.
"He would try to hug me strong­ly or he would request that I greet him with a hug and a kiss," she tells In These Times, speak­ing in Span­ish through a trans­la­tor. ​"He looked for any rea­son or excuse to stand real­ly close to me or try to touch me or grab me, so I had to avoid it. I was always aware." He would call her nick­names like ​"Amor," Span­ish for love. ​"He just real­ly wasn't treat­ing me with respect," she says.
Aceve­do made it clear that she wasn't inter­est­ed. ​"I asked him to calm down, to call me by my name… and not the names he was call­ing me," she says. Her moth­er, Bal­bi­na Ortiz, also works at the restau­rant, and when she saw what was hap­pen­ing to her daugh­ter she stood up to the new man­ag­er. Aceve­do says that her moth­er would tell him, ​"Don't do that, she's not play­ing those games with you."
The moth­er and daugh­ter also wit­nessed the same man­ag­er sex­u­al­ly harass oth­er female employ­ees. But rather than do any­thing about it, those women left their jobs at the restaurant.
Aceve­do and Ortiz didn't want to leave, so they tried to report the harass­ment to high­er-ups at the Vil­la Restau­rant Group. Based in Mor­ris­town, N.J., the fam­i­ly-owned com­pa­ny is run by two broth­ers Bia­gio ​"Ben" Scot­to and Antho­ny Scot­to and has near­ly 350 out­lets in six coun­tries. Ini­tial­ly, the women couldn't fig­ure out how to get in touch with the appro­pri­ate author­i­ties. They say that there was no employ­ee hand­book giv­en to work­ers explain­ing the company's sex­u­al harass­ment pol­i­cy or to whom to report inci­dents. The phone num­ber post­ed inside the restau­rant to con­tact human resources was a wrong number.
Even­tu­al­ly, they reached the human resources depart­ment, and Aceve­do says she and her cowork­ers made numer­ous com­plaints about the manager's behav­ior over the phone.
The two women say that in response they both suf­fered retal­i­a­tion. Before the manager's inap­pro­pri­ate behav­ior began, Aceve­do and her moth­er were both work­ing enough hours to con­sti­tute full-time employ­ment. After they com­plained, their hours were reduced. In Decem­ber, Aceve­do was fired. ​"Unjust­ly and with­out a rea­son," she says. While she now works clean­ing homes, she's not earn­ing near­ly the same as what she did at Vil­la Fresh. This has made it more dif­fi­cult to sup­port her family.
"I was earn­ing the major­i­ty of the wages that we were bring­ing into the house," she says. So her fir­ing has made a ​"huge difference."
In response to a request for com­ment, pub­lic rela­tions account exec­u­tive Michelle LoGuer­cio sent In These Times a state­ment from Vil­la Restau­rant Group, which owns Vil­la Fresh, say­ing, ​"The safe­ty and over­all well-being of our employ­ees and guests is our top pri­or­i­ty. As part of our stan­dard employ­ment pol­i­cy, man­agers are man­dat­ed to par­tic­i­pate in an exten­sive harass­ment and pos­i­tive work envi­ron­ment train­ing pro­gram." The com­pa­ny refused to com­ment on the specifics of Aceve­do and Ortiz's alle­ga­tions, cit­ing the fact that a for­mal com­plaint was made.
What the moth­er and daugh­ter have been through is all-too-com­mon in the fast food indus­try. A 2016 nation­al sur­vey of women work­ing non-man­age­r­i­al posi­tions in fast food found that 40 per­cent had expe­ri­enced unwant­ed sex­u­al behav­ior at work, includ­ing sex­u­al jokes or remarks and unwant­ed hug­ging or touch­ing. Two per­cent said they had been sex­u­al­ly assault­ed or raped. More than one in five had faced mul­ti­ple kinds of harassment.
While 40 per­cent of the women who had been harassed said they report­ed it through offi­cial chan­nels, one in five was retal­i­at­ed against, includ­ing 11 per­cent who had their hours cut and two per­cent who were fired. More com­mon­ly, women react­ed to harass­ment by try­ing to avoid their harassers, some reduced their own hours or changed their sched­ules in order to do so.
But the #MeToo move­ment may be chang­ing things, and it helped Aceve­do feel more com­fort­able going pub­lic. ​"I think with this move­ment peo­ple will take this more seri­ous­ly and peo­ple will be lis­ten­ing," she says. ​"This won't just go away."
Aceve­do and her cowork­ers have now turned to Arise Chica­go, a worker's rights orga­ni­za­tion, which has sup­port­ed them in their cam­paign. Arise con­tact­ed the company's region­al man­ag­er, who ini­tial­ly com­mit­ted to meet with the work­ers but nev­er con­firmed that meet­ing despite mul­ti­ple fol­low-ups. So the work­ers decid­ed to take their fight pub­lic, hold­ing a protest on Wednes­day out­side of the Vil­la Fresh Ital­ian Kitchen where the harass­ment happened.
"I don't want this to keep hap­pen­ing to the peo­ple work­ing there or who will be work­ing there," Aceve­do explains about her deci­sion to speak out. ​"We felt like we were just pushed into a sit­u­a­tion where we had to do some­thing more, we had to take it to an addi­tion­al step where we had pub­lic action. … I'm not just fight­ing for my rights, but for all women's rights to ensure that this doesn't con­tin­ue to happen."
The com­pa­ny still hadn't respond­ed by the time work­ers held their protest, although rep­re­sen­ta­tives for the mall where the restau­rant is locat­ed asked to meet with Aceve­do and said they would also try to inter­vene with the com­pa­ny. The man­ag­er who harassed Aceve­do still works at the restau­rant in the same man­age­r­i­al position.
It hasn't been easy to speak up. ​"Many of us are very ner­vous, my mom is ner­vous to take this kind of action," Aceve­do says. ​"But we need to fight."
The work­ers have now sent the com­pa­ny a list of demands, which include rein­stat­ing Aceve­do to her job and pay­ing her for the weeks she missed at work, rein­stat­ing Ortiz's hours to full time and also com­pen­sat­ing her for lost wages, dis­ci­plin­ing the abu­sive super­vi­sor, cre­at­ing a com­pa­ny hand­book with clear anti-harass­ment poli­cies and a pro­to­col for report­ing it to be dis­trib­uted to all employ­ees, requir­ing manda­to­ry anti-harass­ment train­ing for all man­agers, and hold­ing ​"reg­u­lar meet­ings between com­pa­ny rep­re­sen­ta­tives and employ­ees to ass­es for ongo­ing prob­lems and dis­cuss poten­tial solu­tions." They've giv­en the com­pa­ny until the end of the day Mon­day to respond.
"It's in God's hands at this point," Aceve­do says. ​"Jus­tice will come. Jus­tice will prevail."
Bryce Covert
, a con­tribut­ing op-ed writer at the
New York Times
, has writ­ten for
The New Repub­lic, The Nation,
the
Wash­ing­ton Post
, the
New York Dai­ly News
,
New York Mag­a­zine
and
Slate
, and has appeared on ABC, CBS, MSNBC and NPR. She won a
2016
Excep­tion­al Mer­it in Media Award from the Nation­al Women's Polit­i­cal Caucus.