Amid a Fast-Food Industry Plagued By Sexual Harassment, This Mother and Daughter Said "No More"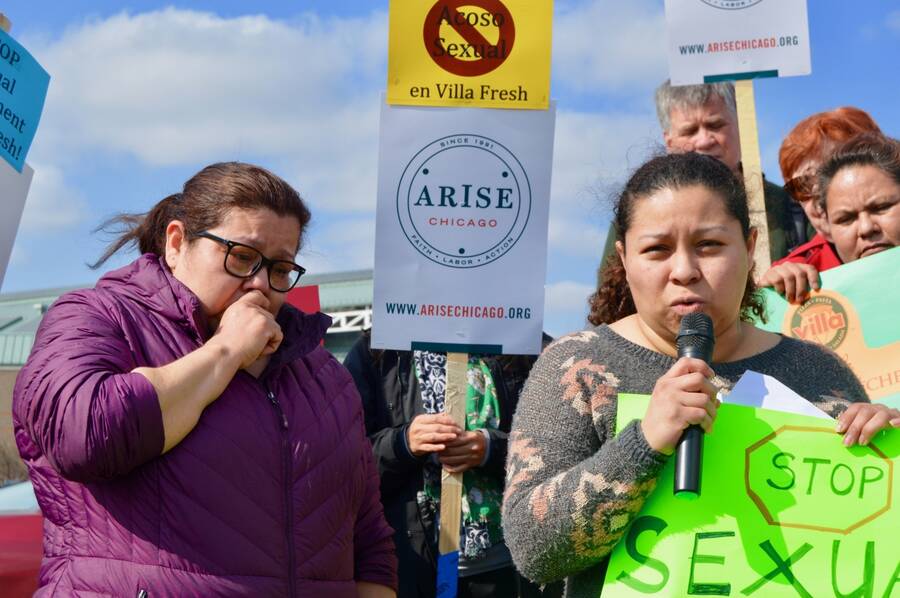 In the summer of 2017, Teresa Acevedo's male coworker at a Lincolnwood, Ill., location of the fast-food chain Villa Italian Kitchen was promoted to assistant manager, making him her supervisor. But once he gained that power, according to Acevedo, he started to flex it in inappropriate ways. ​"When he became manager was when he started to abuse his power," she says.
"He would try to hug me strongly or he would request that I greet him with a hug and a kiss," she tells In These Times, speaking in Spanish through a translator. ​"He looked for any reason or excuse to stand really close to me or try to touch me or grab me, so I had to avoid it. I was always aware." He would call her nicknames like ​"Amor," Spanish for love. ​"He just really wasn't treating me with respect," she says.
Acevedo made it clear that she wasn't interested. ​"I asked him to calm down, to call me by my name… and not the names he was calling me," she says. Her mother, Balbina Ortiz, also works at the restaurant, and when she saw what was happening to her daughter she stood up to the new manager. Acevedo says that her mother would tell him, ​"Don't do that, she's not playing those games with you."
The mother and daughter also witnessed the same manager sexually harass other female employees. But rather than do anything about it, those women left their jobs at the restaurant.
Acevedo and Ortiz didn't want to leave, so they tried to report the harassment to higher-ups at the Villa Restaurant Group. Based in Morristown, N.J., the family-owned company is run by two brothers Biagio ​"Ben" Scotto and Anthony Scotto and has nearly 350 outlets in six countries. Initially, the women couldn't figure out how to get in touch with the appropriate authorities. They say that there was no employee handbook given to workers explaining the company's sexual harassment policy or to whom to report incidents. The phone number posted inside the restaurant to contact human resources was a wrong number.
Eventually, they reached the human resources department, and Acevedo says she and her coworkers made numerous complaints about the manager's behavior over the phone.
The two women say that in response they both suffered retaliation. Before the manager's inappropriate behavior began, Acevedo and her mother were both working enough hours to constitute full-time employment. After they complained, their hours were reduced. In December, Acevedo was fired. ​"Unjustly and without a reason," she says. While she now works cleaning homes, she's not earning nearly the same as what she did at Villa Fresh. This has made it more difficult to support her family.
"I was earning the majority of the wages that we were bringing into the house," she says. So her firing has made a ​"huge difference."
In response to a request for comment, public relations account executive Michelle LoGuercio sent In These Times a statement from Villa Restaurant Group, which owns Villa Fresh, saying, ​"The safety and overall well-being of our employees and guests is our top priority. As part of our standard employment policy, managers are mandated to participate in an extensive harassment and positive work environment training program." The company refused to comment on the specifics of Acevedo and Ortiz's allegations, citing the fact that a formal complaint was made.
What the mother and daughter have been through is all-too-common in the fast food industry. A 2016 national survey of women working non-managerial positions in fast food found that 40 percent had experienced unwanted sexual behavior at work, including sexual jokes or remarks and unwanted hugging or touching. Two percent said they had been sexually assaulted or raped. More than one in five had faced multiple kinds of harassment.
While 40 percent of the women who had been harassed said they reported it through official channels, one in five was retaliated against, including 11 percent who had their hours cut and two percent who were fired. More commonly, women reacted to harassment by trying to avoid their harassers, some reduced their own hours or changed their schedules in order to do so.
But the #MeToo movement may be changing things, and it helped Acevedo feel more comfortable going public. ​"I think with this movement people will take this more seriously and people will be listening," she says. ​"This won't just go away."
Acevedo and her coworkers have now turned to Arise Chicago, a worker's rights organization, which has supported them in their campaign. Arise contacted the company's regional manager, who initially committed to meet with the workers but never confirmed that meeting despite multiple follow-ups. So the workers decided to take their fight public, holding a protest on Wednesday outside of the Villa Fresh Italian Kitchen where the harassment happened.
"I don't want this to keep happening to the people working there or who will be working there," Acevedo explains about her decision to speak out. ​"We felt like we were just pushed into a situation where we had to do something more, we had to take it to an additional step where we had public action. … I'm not just fighting for my rights, but for all women's rights to ensure that this doesn't continue to happen."
The company still hadn't responded by the time workers held their protest, although representatives for the mall where the restaurant is located asked to meet with Acevedo and said they would also try to intervene with the company. The manager who harassed Acevedo still works at the restaurant in the same managerial position.
It hasn't been easy to speak up. ​"Many of us are very nervous, my mom is nervous to take this kind of action," Acevedo says. ​"But we need to fight."
The workers have now sent the company a list of demands, which include reinstating Acevedo to her job and paying her for the weeks she missed at work, reinstating Ortiz's hours to full time and also compensating her for lost wages, disciplining the abusive supervisor, creating a company handbook with clear anti-harassment policies and a protocol for reporting it to be distributed to all employees, requiring mandatory anti-harassment training for all managers, and holding ​"regular meetings between company representatives and employees to asses for ongoing problems and discuss potential solutions." They've given the company until the end of the day Monday to respond.
"It's in God's hands at this point," Acevedo says. ​"Justice will come. Justice will prevail."
Bryce Covert is an independent journalist writing about the economy. She is a contributing writer at The Nation. Her writing can be found in the New York Times, Time Magazine, The New Republic, the Washington Post, the New York Daily News, New York Magazine and Slate. She has also appeared on ABC, CBS, MSNBC and NPR. She won a 2016 Exceptional Merit in Media Award from the National Women's Political Caucus.