To a nation of kids, Grey De Lisle is bigger than Britney. A chatty 30-year-old Californian, De Lisle is one of the more successful cartoon voiceover artists working today. She has played characters on children's TV staples like ​"Fairly Odd Parents," ​"What's New, Scooby Doo?"and the ​"Powerpuff Girls."
Strangely enough, De Lisle also is a remarkably good singer of old-time country songs, a skill she demonstrates on her heartbreakingly beautiful new record, The Graceful Ghost.
De Lisle's day job would seem to have little to do with her singing career, but that is not the case at all. In fact, it is her work in cartoons that has liberated her from the commercial pressures that so often weigh down potentially great musicians.
"It takes the commerce out of music making," De Lisle said in a recent interview. ​"I don't go into the studio and think, ​'Oh, I have to make a hit.' I don't think about radio, I don't think about whether people are going to buy it or whether the record company is even going to like it. The cartoons really take the money factor out of everything."
The Graceful Ghost, De Lisle's fourth album, will not land her on MTV and it will not put a platinum record on her wall. But in its charming guilelessness, its unabashed reverence for traditional country music and its sepia-tinged balladry, it is surely one of the best records of the year thus far.
Backed by a band that includes her husband Murry Hammond, a member of country rock band The Old 97's, De Lisle sings songs about broken-hearted folks, working-class woes and families who've lost loved ones. Sometimes she nods in the direction of turn-of-the-century spirituals. Elsewhere, she proves herself a true devotee of country legends like the Carter Family, Loretta Lynn and Marty Robbins.
"On a cold November evening ​'cross the bitter plains we ran," she sings on a song called ​"Sharecroppin' Man." ​"Far from that ol' shotgun in our copper wedding bands."
Said De Lisle: ​"This has always been a part of my musical upbringing and my mental musical roots. Every third song I would write would be one of these old-time songs."
De Lisle plays a small stringed instrument called an autoharp, but it is her voice that makes this a memorable record. Over the course of the record's 12 songs and 36 minutes, she never makes a vocal misstep. Whether inhabiting the role of a bereft bride or luckless drunk, she imbues each song with a vulnerability that is altogether irresistible.
This is De Lisle's first album for Nashville-based Sugar Hill Records, but unlike the vast majority of contemporary artists, she says her goal was not to land a record deal.
"I was really afraid of a label," De Lisle said. ​"I was really afraid that they were going to tell me what type of record to make. I just had this picture of fat men in suits who listen to Britney Spears all day."
But Sugar Hill assuaged her concerns and allowed De Lisle to make her album without interference. The result is an honest record that is as compelling as it is decidedly uncommercial.
"Money and music have nothing to do with each other," she said. ​"The money has no business being next to the music."
Some of De Lisle's musical peers have suggested that she quit her cartoon work and concentrate on music. But it is the cartoons that have freed her to the point where she can sing whatever songs she wants. And why should she have to pick one or the other? Look at June Carter Cash, says De Lisle: She trained with famed acting coach Lee Strasberg and also managed to have a great singing career. So what's to say that it can't be the same for De Lisle?
"I hope I never have to quit anything," she said. ​"I love acting just as much as I love music. I just feel like if you're an artist, you're an artist, no matter what you choose to do at any moment."
For a limited time: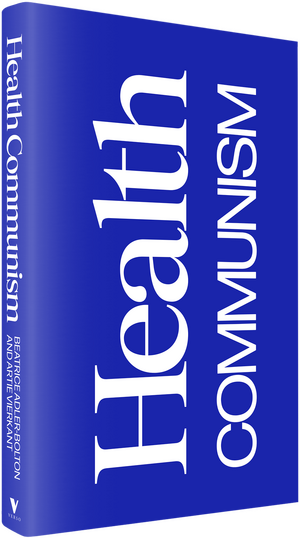 Donate $25 or more to support In These Times and we'll send you a copy of Health Communism.
A searing analysis of health and illness under capitalism from hosts of the hit podcast "Death Panel," Health Communism looks at the grave threat capitalism poses to global public health, and at the rare movements around the world that have successfully challenged the extractive economy of health.
"This is a book you should read before you die, because the ideas synthesized by Adler-Bolton and Vierkant could save our collective lives." –Jon Shaffer