Shooting Down the Breeze
The promise of wind power has been impeded by species-protection scandals and a lack of public trust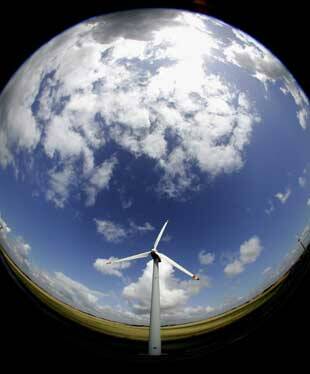 Faced with news that its wind tur­bines were killing thou­sands of bats at two wind farms on Appalachi­an moun­tain ridge­lines, the nation's largest wind pow­er com­pa­ny react­ed quickly.
The com­pa­ny, FPL Ener­gy, barred sci­en­tists from pur­su­ing fol­low-up work, pulled their $75,000 con­tri­bu­tion from the research coop­er­a­tive study­ing bat mor­tal­i­ty and end­ed the doc­tor­al work of a grad­u­ate stu­dent who had pro­duced two years of data show­ing unusu­al­ly high rates of bat death at the sites.
The move stunned bat biol­o­gists and con­ser­va­tion­ists who had joined a coop­er­a­tive sci­en­tif­ic effort with the com­pa­ny. Known as the Bat and Wind Ener­gy Coop­er­a­tive, it is made up of indus­try mem­bers, gov­ern­ment agen­cies and bat researchers. The group released a peer-reviewed study in June that esti­mat­ed up to 2,900 bats died last fall at the farms in West Vir­ginia and Pennsylvania.
The company's deci­sion reject­ed the study's favored rec­om­men­da­tion, which pro­posed shut­ting down select­ed tur­bines briefly at the sites to see if sta­tion­ary blades would reduce bat fatalities.
"This is an argu­ment on eco­nom­ics," says Ed Arnett, a con­ser­va­tion sci­en­tist who direct­ed the cooperative's work, because halt­ing some tur­bines for the bat study would mar­gin­al­ly affect pow­er production.
But the com­pa­ny may be even more con­cerned with the prece­dent the rec­om­men­da­tion sets: If stop­ping blades dur­ing cer­tain weath­er con­di­tions and times of day dra­mat­i­cal­ly cuts bat death, wind pow­er com­pa­nies could be forced to imple­ment sim­i­lar restric­tions on oth­er tur­bines in the region. About 700 tur­bines have been approved or pro­posed to be built in the mid-Atlantic.
FPL Ener­gy spokesman Steve Sten­gel dis­putes that the com­pa­ny is stymieing research, not­ing that its con­tri­bu­tion hinged on the type of research con­duct­ed, and that sci­en­tists were only offered access to the company's prop­er­ty to pur­sue the approach­es it sup­port­ed. But bat biol­o­gists with­in and out­side the research coop­er­a­tive dis­par­age the company's solu­tion – acoustic deter­rents to dri­ve bats away – say­ing that it's unproven and poten­tial­ly counterproductive.
"My judg­ment is that they real­ly don't want to know the answer," says Tom Kunz, a bat biol­o­gist at Boston Uni­ver­si­ty who sits on the cooperative's sci­en­tif­ic advi­so­ry panel.
The con­tro­ver­sy casts doubt on how wind pow­er, cham­pi­oned as the green­est of renew­able ener­gy sources, will over­come a lack of pub­lic trust as it rapid­ly expands.
Puny, but promising
The envi­ron­men­tal cre­den­tials of wind pow­er are remark­able. Besides pro­duc­ing no air pol­lu­tion or car­bon diox­ide, wind pow­er does not clear forests, flood canyons, poi­son soil, or leave behind per­ma­nent or tox­ic waste.
"If we want to be around as long as oth­er civ­i­liza­tions have last­ed, we need to think ahead 1,000 years," says James Man­well, direc­tor of the Uni­ver­si­ty of Mass­a­chu­setts at Amherst's Renew­able Ener­gy Research Lab­o­ra­to­ry. ​"And you can't do it with coal, oil or nuclear."
Cur­rent­ly, wind pow­er is tiny in the Unit­ed States, respon­si­ble for less than 1 per­cent of ener­gy pro­duc­tion. The nation has about 16,000 wind tur­bines pro­duc­ing enough elec­tric­i­ty for 1.6 mil­lion house­holds, accord­ing the Amer­i­can Wind Ener­gy Association.
Since the days of home­made, back­yard wind­mills, the tech­nol­o­gy of wind ener­gy has advanced dra­mat­i­cal­ly, with effi­cien­cy improv­ing about 5 per­cent every year. New tur­bines can rise as tall as a 40-sto­ry build­ing, pro­duce pow­er at wind speeds around 13 mph and gen­er­ate as much as 4.5 megawatts of elec­tric­i­ty – enough for 1,200 households.
Fed­er­al sup­port for the indus­try is still dwarfed by the $18.4 bil­lion in sub­si­dies that the non­par­ti­san group Tax­pay­ers for Com­mon Sense esti­mates the coal, oil, gas and nuclear pow­er indus­tries will receive in the recent­ly-signed ener­gy bill. But thanks in part to a fed­er­al tax cred­it extend­ed two more years by the ener­gy bill, the indus­try is grow­ing tremen­dous­ly, by as much as a third this year alone. Some esti­mates pre­dict it will pro­duce 6 per­cent of the country's pow­er by 2020. The tech­nol­o­gy is decen­tral­ized – mak­ing it hard­er to attack or dis­rupt – viable across large swaths of the coun­try and, with the tax cred­it, the most afford­able way to pro­duce renew­able ener­gy avail­able today.
Grow­ing pains
But despite this promise, wind pow­er has been plagued by per­sis­tent prob­lems with wildlife. While wildlife-impact stud­ies have estab­lished no sig­nif­i­cant impact across swaths of the Mid­west and West, the deaths of birds of prey at wind har­vest­ing farms in north­ern California's Alta­mont Pass have led to a law­suit and neg­a­tive pub­lic­i­ty world­wide. An inves­ti­ga­tion into reports of bat deaths on an Okla­homa wind farm was quashed by FPL Energy's research ban, and anoth­er site in Ten­nessee will also go unstudied.
With the growth of wind pow­er, indus­try habits have emerged that trou­ble the sci­en­tists try­ing to under­stand why wildlife col­lide with turbines.
In August, researchers at England's Uni­ver­si­ty of Birm­ing­ham released a sur­vey of all wildlife-impact stud­ies world­wide that ham­mered wind com­pa­nies, say­ing they set­tle for poor-qual­i­ty sci­ence and restrict access to their data on eco­nom­ic grounds.
"They're used to work­ing with con­sul­tants, so the indus­try owns the data," says Jes­si­ca Kerns, the Uni­ver­si­ty of Mary­land doc­tor­al stu­dent whose degree was cut short. ​"It's a kind of a rough posi­tion to be in. You nev­er real­ly know that the ground is sol­id under­neath you."
Con­sol­i­da­tion is also fol­low­ing the industry's expan­sion. Major cor­po­ra­tions, like Shell, Gen­er­al Elec­tric and John Deere, are mov­ing into wind, chas­ing con­tracts enabled by state laws man­dat­ing that min­i­mum per­cent­ages of pow­er must come from renew­able sources.
Some con­ser­va­tion­ists wel­come wind's con­sol­i­da­tion. Jeff Miller is Bay Area wild­lands coor­di­na­tor for the Cen­ter for Bio­log­i­cal Diver­si­ty, one of the groups suing wind com­pa­nies in the Alta­mont Pass. He says some of the small­est com­pa­nies have been most intran­si­gent and that size mat­ters less than recog­ni­tion of larg­er envi­ron­men­tal responsibility."Companies that aren't going to address this in their busi­ness plan aren't going to sur­vive out there," he says.
The deci­sions of a few exec­u­tives at these cor­po­ra­tions dra­mat­i­cal­ly affect the for­tunes of wind pow­er. One com­pa­ny, Win­er­gy, set off pan­ic along the East­ern seaboard when it announced plans – before meet­ing shore­line res­i­dents or pol­i­cy­mak­ers – to install almost 3,000 off­shore tur­bines. The com­pa­ny has yet to actu­al­ly build any­thing, but its flur­ry of press releas­es was enough to prompt New Jer­sey to place a 15-month mora­to­ri­um on off­shore wind turbines.
Strange bed­fel­lows
Oppo­si­tion to wind pow­er has its pre­dictable sources, like the Cato Insti­tute, which receives part of its fund­ing from oil com­pa­nies, and Glenn Schleede, a for­mer senior vice pres­i­dent for the Nation­al Coal Asso­ci­a­tion, who has since moved on to a career as a free­lance hit­man set on whack­ing renew­able ener­gy sources.
But to the con­tin­u­ing delight of such foes, oppo­si­tion also comes from envi­ron­men­tal­ists, whether the head of Maryland's Audubon group or Robert Kennedy Jr., who has object­ed to plans for an off­shore wind farm in Cape Cod, near the family's sum­mer house.
A com­mon thread ties togeth­er the hell-bent ide­o­logues and oth­ers who share such con­cerns as loss of views, open space or wildlife. Both sides include locals who weren't con­sult­ed, and don't like the idea of out­siders, espe­cial­ly face­less com­pa­nies, prof­it­ing from their land.
Mike Tid­well, exec­u­tive direc­tor of the Chesa­peake Cli­mate Action Net­work and a vocal wind pow­er sup­port­er, says these argu­ments are smoke­screens for parochial con­cerns. Wind farm pro­pos­als under­go local review, allow­ing for com­mu­ni­ty par­tic­i­pa­tion that some­times derails projects.
"Until the anti-wind peo­ple are as con­cerned about moun­tain-top removal, nat­ur­al gas pipelines that go up and over moun­tains, acid rain, code-red smog days and asth­ma," he says, ​"they just don't have a lot of credibility."
Whether or not wind oppo­nents act in good faith, their cri­tique is bol­stered by cor­po­rate deci­sions that are per­ceived to place rev­enue over oth­er values.
Den­mark does it better
Wind pow­er has devel­oped as a vital part of com­mu­ni­ties else­where. The major­i­ty of Denmark's wind tur­bines are com­mu­ni­ty-held coop­er­a­tives. Some pro­hib­it any­one who doesn't live around the tur­bine from buy­ing a share in the coop­er­a­tive, pre­vent­ing con­sol­i­da­tion under out­side own­er­ship. Today, wind gen­er­ates 18 per­cent of the country's pow­er and is expect­ed to pro­duce 50 per­cent by 2030.
But Den­mark is much dif­fer­ent polit­i­cal­ly – and small­er geo­graph­i­cal­ly – than the Unit­ed States, where long dis­tances between the best wind-gen­er­at­ing areas and big ener­gy con­sumers hin­der wind devel­op­ment. The Dako­tas, for instance, have enough wind to gen­er­ate one-third of the nation's elec­tric­i­ty, but lack trans­mis­sion lines tying them to urban centers.
The prob­lems raised by wind's own­er­ship, both eco­nom­ic and com­mu­nal, have been labeled ​"small truths." But if wind is the ener­gy solu­tion, they may become too large to bear. Legit­i­mate or not, wind is being held to a high­er stan­dard, and if it appears to behave with the casu­al dis­re­gard of oth­er, more entrenched indus­tries, it may fail to fly.

Mis­cha Gaus
is an edi­tor of
Labor Notes
mag­a­zine, the largest inde­pen­dent union pub­li­ca­tion in the Unit­ed States.