Should BP CEO Tony Hayward Go to Prison?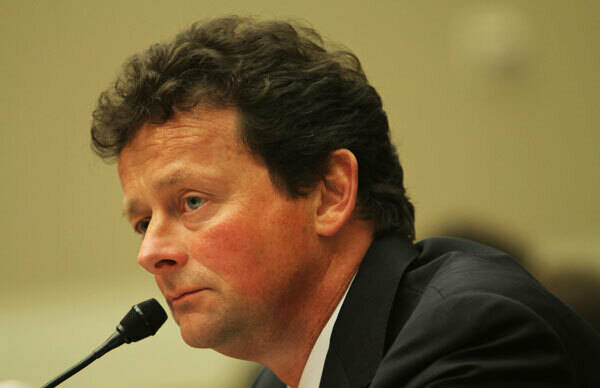 In the wake of the Gulf of Mex­i­co oil spill dis­as­ter, many have called for BP CEO Tony Hay­ward and oth­er top exec­u­tives of the Lon­don-based ener­gy giant to go to prison. Most of this is just anger, but the idea deserves con­sid­er­a­tion. Indeed, in May the U.S. Depart­ment of Jus­tice opened crim­i­nal and civ­il inves­ti­ga­tions into what caused the spill. ​"We will pros­e­cute to the fullest extent of the law any­one who has vio­lat­ed the law," Attor­ney Gen­er­al Eric Hold­er said June 1.

But the fact that 11 work­ers died in the April 20 Deep­wa­ter Hori­zon oil rig explo­sion doesn't auto­mat­i­cal­ly mean than Hay­ward or oth­er BP exec­u­tives should go to jail. Some­times work­ers are hurt even when man­age­ment is care­ful — and even if they're not, neg­li­gence isn't enough for a crim­i­nal con­vic­tion in U.S. courts.

I say this from per­son­al expe­ri­ence. When I worked as a busi­ness exec­u­tive, a work­er lost three fin­gers on a pow­er saw and almost bled to death, despite the fact we had hand guards on every machine and no one was allowed to use them unless they were prop­er­ly trained. So how did it happen?
But Trevor came in on Sat­ur­day with­out telling his boss and tried to use the saw, on which he hadn't been trained. He took the guard off, and his hand slipped. We deserved hav­ing to pay for Trevor's med­ical expens­es, lost income while he was out of work, and the decrease in his future earn­ings. We deserved every pen­ny the Occu­pa­tion­al Safe­ty and Heath Admin­is­tra­tion (OSHA) fined us. In fact, OSHA should have increased the fine.

But I shouldn't have gone to prison because I didn't antic­i­pate this series of events. For­tu­nate­ly for me, U.S. law doesn't pro­vide prison terms for neg­li­gent man­agers and exec­u­tives. It's not enough that an acci­dent could have been pre­vent­ed, and man­age­ment wasn't as care­ful as a rea­son­able per­son would have been. For man­agers to go to jail, they must have been ​"reck­less­ly indif­fer­ent" to dan­ger. They must know that a sit­u­a­tion exists that will prob­a­bly cause harm, and do noth­ing.

What does all this mean for Tony Hay­ward? Whether BP's CEO — now rumored to be resign­ing in Octo­ber— belongs in jail depends upon whether the Deep­wa­ter Horizon's prob­lems were obvi­ous­ly going to hurt some­one, and how much Hay­ward and oth­er exec­u­tives knew about it.

BP (includ­ing Hay­ward) obvi­ous­ly knew that drilling releas­es methane gas and that methane is explo­sive. The com­pa­ny knew it had to take steps to pre­vent a fatal explo­sion. The right thing to do would have been to have two seals in the well. That way, if one seal devel­oped a leak, the methane would still be con­tained. This is what BP's own safe­ty engi­neers rec­om­mend­ed. But man­agers ignored their own experts' advice in order to save mon­ey.

The back­up plan (if seals fail) is to push a huge set of iron slabs, called a blowout pro­tec­tor, through the pipe to seal it. BP had a blowout pro­tec­tor at Deep­wa­ter Hori­zon. A man­ag­er that cared about safe­ty would have had it inspect­ed reg­u­lar­ly and stopped drilling if it wasn't work­ing prop­er­ly. BP knew there were prob­lems with blowout pro­tec­tor, but con­tin­ued to drill, not just for a few days while they fixed the prob­lem, but for 10 years, dur­ing which they paid lit­tle atten­tion to it.

The final back­up in this sit­u­a­tion is a methane gas detec­tor in the engine room. If all else fails, this will tell work­ers that they need to shut down the machin­ery before a spark caus­es an explo­sion. But the engine room on Deep­wa­ter Hori­zon didn't have a methane detec­tor.

Most of all, a com­pa­ny that cares about safe­ty would reward work­ers who report dan­ger­ous sit­u­a­tions so they can be fixed. BP report­ed­ly did the oppo­site. In 2006, tech­ni­cian Stu­art Sneed found a crack in BP's Alas­ka pipeline near a loca­tion where weld­ing was tak­ing place, told the welders to stop, and told his boss about the sit­u­a­tion. Sneed should have been reward­ed. Instead, he was fired. BP's own inspec­tors sub­stan­ti­at­ed Sneed's con­cerns about the cracked pipe. An arbi­tra­tor ruled that Sneed had been fired for report­ing the crack. But he didn't get his job back, and his legal dis­pute with the com­pa­ny is still pend­ing.

It's hard to escape the con­clu­sion that BP knew it was endan­ger­ing work­ers' lives, and didn't care. If what the media has report­ed about the Deep­wa­ter dis­as­ter is true, BP is guilty of manslaugh­ter.

But I learned long ago that you nev­er learn the entire sto­ry from news reports. That's why we have tri­als. In order to pros­e­cute Hay­ward, and not just his com­pa­ny, we need to estab­lish what he knew about the Deep­wa­ter rig and when he knew it. We can't assume that he knew every­thing that was hap­pen­ing on a rig 5,000 miles from his office in Lon­don.

But if the answers are what they appear to be, there is no doubt that the team of Jus­tice Depart­ment attor­neys Pres­i­dent Oba­ma dis­patched to the Gulf on April 30 should bring crim­i­nal charges against the respon­si­ble BP executives.