Shutting It All Down: The Power of General Strikes in U.S. History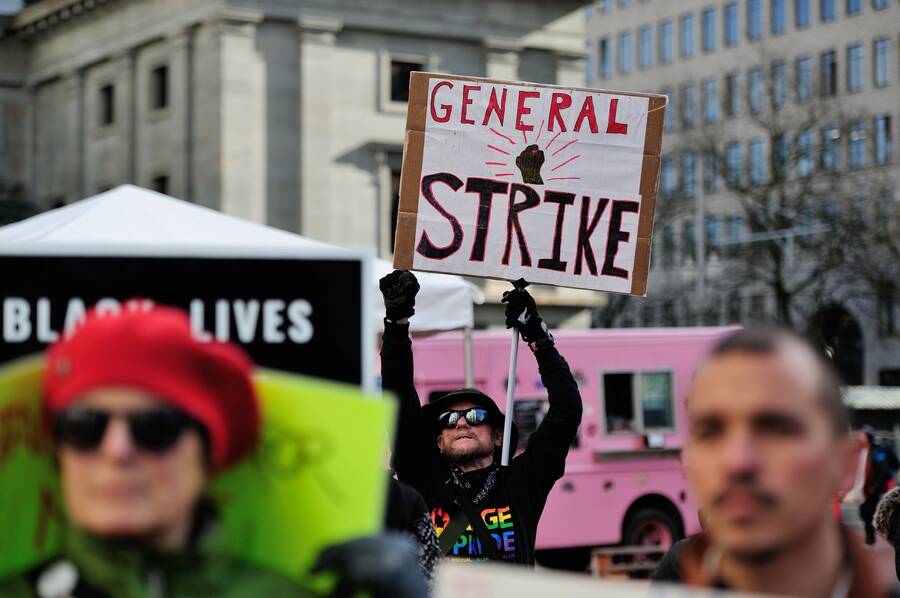 Incred­i­bly threat­en­ing to those in pow­er, they rarely suc­ceed. But they do build solidarity.
Gen­er­al strikes are rare in Amer­i­can social move­ments, because they are dif­fi­cult to coor­di­nate. On the oth­er hand, few actions offer a more direct chal­lenge to those in pow­er. What can today's pro­test­ers learn from their activist ances­tors to help par­tic­i­pants draw strength? How have gen­er­al strikes affect­ed long-term labor and social movements?

The two major gen­er­al strikes in Amer­i­can his­to­ry are the Seat­tle Gen­er­al Strike of 1919 and the Oak­land Gen­er­al Strike of 1946. In 1919, the work­ers of Seat­tle engaged in a three-day mass action call­ing all city work­ers onto the streets. This was the first city­wide col­lec­tive action in Amer­i­can his­to­ry known as a gen­er­al strike.

The Pacif­ic North­west in the ear­ly 20th cen­tu­ry was a cen­ter of rad­i­cal­ism. Hor­ri­ble work­ing con­di­tions in the tim­ber indus­try, already rad­i­cal­ized immi­grants from Scan­di­navia, activist dock­work­ers and the pop­u­lar­i­ty of the Indus­tri­al Work­ers of the World among the region's thou­sands of tran­sient work­ers made Seat­tle a fer­tile cen­ter of rad­i­cal thought that even influ­enced labor orga­ni­za­tions affil­i­at­ed with the tra­di­tion­al­ly mod­er­ate Amer­i­can Fed­er­a­tion of Labor (AFL).

The strike began with ship­yard work­ers but was quick­ly joined by work­ers around the city. By Feb­ru­ary 6, over 60,000 work­ers were on the streets where they remained for four days. In an atmos­phere fear­ful of rad­i­cal­ism after the Bol­she­vik Rev­o­lu­tion, con­ser­v­a­tives around the nation declared the strike the first step toward revolution.
Seat­tle may­or Olé Han­son took the lead in crush­ing the strike order­ing the Nation­al Guard to take con­trol of the city's light com­pa­ny. Fear­ing long-term fall­out, nation­al AFL lead­ers denounced the strike and it quick­ly fell apart. After its defeat, the labor move­ment in Seat­tle fell apart, a vic­tim of both inter­nal fight­ing and the vicious Red Scare that fol­lowed World War I.

The Oak­land gen­er­al strike came out of the mas­sive changes to the Bay Area dur­ing World War II. Hun­dreds of thou­sands of Amer­i­cans moved to San Fran­cis­co, Oak­land, Rich­mond, and oth­er cities to work in wartime indus­tries. The Con­gress of Indus­tri­al Orga­ni­za­tions (CIO) had achieved major suc­cess­es in orga­niz­ing Amer­i­can work­ers dur­ing the late 1930s. Often using com­mu­nist orga­niz­ers, the CIO built on the mil­i­tan­cy of Amer­i­can labor to become a pow­er­ful force in oppo­si­tion to both the more tra­di­tion­al AFL and con­ser­v­a­tive busi­ness interests.

Dur­ing World War II, the AFL and CIO turned their ener­gies toward defeat­ing the fas­cist men­ace of Ger­many and Japan. The admin­is­tra­tion of Franklin Roo­sevelt, want­i­ng to avoid strikes that would under­mine wartime pro­duc­tion, brought both the AFL and CIO into wartime plan­ning. But while con­sumer prices rose dur­ing the war, wages did not. The moti­vat­ed and rad­i­cal­ized work­ers want­ed to strike, but their lead­ers and the fed­er­al gov­ern­ment urged them to work through it.

When the war end­ed how­ev­er, the coun­try was over­tak­en by a wave of strikes. In 1946, 4.5 mil­lion work­ers went on strike through­out the Unit­ed States, the great­est num­ber of strik­ers in one year in Amer­i­can his­to­ry. Wages did not keep up with rapid­ly ris­ing prices and high­er wages were the core demand of almost all the strikers.

The sit­u­a­tion in Oak­land was espe­cial­ly volatile because of the city's Retail Mer­chants Asso­ci­a­tion, a pow­er­ful and deeply anti-union busi­ness orga­ni­za­tion. These depart­ment stores own­ers employed most­ly women, who they believed would accept low wages. The Depart­ment and Spe­cial­ty Store Employ­ees Union Local 1265 orga­nized work­ers at these down­town stores. Ear­ly in 1946, they won vic­to­ries at small­er stores and decid­ed to take on the biggest retail­ers, Kahn's and Hast­ings. A month-long strike ensued in the late fall of 1946. Begin­ning mere blocks from Occu­py Oakland's encamp­ment, this turned into one of the biggest chal­lenges to cor­po­rate Amer­i­ca in the post­war years.

Although the CIO had the more rad­i­cal agen­da, it was actu­al­ly the AFL who decid­ed to call for a gen­er­al strike on Decem­ber 2, 1946 in sup­port of the strik­ing depart­ment store work­ers. AFL work­ers around Oak­land walked off their jobs — bus dri­vers, team­sters, sailors, machin­ists, can­nery work­ers, rail­road porters, wait­ers, wait­ress­es, cooks. For over two days, Oak­land shut down. Over 100,000 work­ers par­tic­i­pat­ed in the strike.

The strik­ers con­trolled Oak­land. All busi­ness­es except for phar­ma­cies and food mar­kets shut down. Bars could stay open but could only serve beer and had to put their juke box­es out­side and allow for their free use. Cou­ples lit­er­al­ly danced in the streets. Recent­ly returned war vet­er­ans cre­at­ed squadrons to pre­pare for bat­tle. Union lead­er­ship took a back seat to rank and file actions.

Although it is often spun in Oak­land leg­end that the gen­er­al strike was a suc­cess­ful action, it real­ly wasn't. A major­i­ty of work­ers want­ed to con­tin­ue strik­ing and CIO unions con­sid­ered join­ing in sup­port, but the strike fell apart because of a sin­gle cor­rupt labor leader. Dave Beck, the head of the Team­sters and Jim­my Hoffa's men­tor, forced a com­pro­mise when he pulled his pow­er­ful union off the lines and endorsed a mod­er­ate set­tle­ment that accom­plished almost noth­ing and quite lit­er­al­ly did not address the depart­ment store work­ers con­cerns at all. While the still agi­tat­ed work­ers man­aged to elect sev­er­al labor rep­re­sen­ta­tives to the city coun­cil, the entire appa­ra­tus of the city used the gen­er­al strike to attack all labor. The police, the city gov­ern­ment, and the Oak­land Tri­bune com­bined to resist not only the union­iza­tion of the depart­ment stores, but all labor in Oakland.

While Oak­land remained a strong union city after this, the strikes of 1946 around the nation and espe­cial­ly the Oak­land Gen­er­al Strike led to the Taft-Hart­ley Act of 1947. Taft-Hart­ley was an open attack on the labor move­ment, lim­it­ing labor's abil­i­ty to strike, ban­ning sym­pa­thy strikes (which could make it legal­ly dif­fi­cult for today's unions to sup­port Occu­py Oakland's gen­er­al strike), and allow indi­vid­ual states to pass so-called ​"right to work" laws, mean­ing that just because there is a union at your work­place doesn't mean you have to join it.
Soon after, the McCarthy era began and rad­i­cal union­ism of any kind became sus­pi­cious, with the CIO kick­ing the com­mu­nist orga­niz­ers and entire com­mu­nist-led unions out of the fed­er­a­tion, turn­ing its back on its rad­i­cal history.

If there is one les­son to take from these gen­er­al strikes, it's that they are extreme­ly threat­en­ing to those in pow­er. If suc­cess­ful, they show that the 1% have lost the con­trol they so ardent­ly seek. They will react with feroc­i­ty against the orga­niz­ers, lay­ing bare struc­tur­al and legal inequal­i­ties in this nation. Nei­ther strike was suc­cess­ful, but we remem­ber them as moments of incred­i­ble work­er sol­i­dar­i­ty when it seemed mas­sive changes were about to hap­pen. They need to be seen as part of the larg­er strug­gles of work­ing peo­ple to achieve basic rights, decent wages, and safe liv­ing con­di­tions in this country.
Whether a gen­er­al strike suc­ceeds or not is less impor­tant than the pub­lic stand it takes against the exploita­tion of work­ing-class peo­ple. The gen­er­al strike is not the end of the road but rather one step on the path to tak­ing back our country.

Final­ly, I want to encour­age every­one who iden­ti­fies as pro­gres­sive to deeply read labor his­to­ry and the his­to­ry of social move­ments. Know­ing about your ances­tors is great, but the past offers a more direct les­son: under­stand­ing how var­i­ous tac­tics and strate­gies have worked in the past, and how they can work in the present.
Erik Loomis
is an assis­tant pro­fes­sor of his­to­ry at the Uni­ver­si­ty of Rhode Island.