For decades land use reg­u­la­tion across the U.S. has empha­sized sin­gle-fam­i­ly hous­es on large lots. This approach has priced many peo­ple out of the quin­tes­sen­tial Amer­i­can dream: home­own­er­ship. It also has pro­mot­ed sub­ur­ban sprawl―a pat­tern of low-den­si­ty, car-depen­dent devel­op­ment that has dom­i­nat­ed growth at the edges of urban areas since the end of World War II.
Now, how­ev­er, Amer­i­cans may be start­ing to ques­tion the desir­abil­i­ty of a pri­vate house. In the past year, the Min­neapo­lis City Coun­cil and the state of Ore­gon have vot­ed to allow duplex­es and oth­er types of mul­ti-unit hous­ing in neigh­bor­hoods where cur­rent­ly only sin­gle-fam­i­ly homes cur­rent­ly are allowed. Demo­c­ra­t­ic law­mak­ers in Vir­ginia, who recent­ly won con­trol of their state's leg­is­la­ture, are seek­ing to enact sim­i­lar leg­is­la­tion. And sev­er­al Demo­c­ra­t­ic pres­i­den­tial can­di­dates have includ­ed changes to zon­ing laws in their hous­ing policies.
Head­lines
have pre­dict­ed a
hous­ing rev­o­lu­tion
. But based on our research, we believe that while atti­tudes about sub­ur­ban life may be evolv­ing, the tran­si­tion away from sin­gle-fam­i­ly zon­ing will be slow and difficult.
Sprawl's heavy costs
Elect­ed offi­cials are rethink­ing sin­gle-fam­i­ly zon­ing because some of their con­stituents wor­ry that sin­gle-fam­i­ly hous­es cost too much, are waste­ful and can iso­late peo­ple from their communities.
Many researchers have shown that sin­gle-fam­i­ly zon­ing pro­motes dis­crim­i­na­tion and exclu­sion. Our research focus­es on its envi­ron­men­tal impacts. Dozens of stud­ies have shown that sprawl is ener­gy-inten­sive, main­ly for trans­porta­tion; con­sumes too much land; degrades air and water qual­i­ty; reduces species diver­si­ty; and con­tributes to cli­mate change.
We have exam­ined how Oregon's land use pol­i­cy affects res­i­den­tial den­si­ty and Oregon's hous­ing afford­abil­i­ty cri­sis. Ore­go­ni­ans are known to be pro­gres­sive and envi­ron­men­tal­ly con­scious. They hate den­si­ty because they val­ue pri­va­cy and space. But they also hate sprawl because it con­sumes valu­able agri­cul­tur­al land.
In short, Ore­gon would seem to be the ide­al start­ing point for poli­cies curb­ing sin­gle-fam­i­ly zon­ing. One of its 19 statewide land use plan­ning goals, which were adopt­ed in the ear­ly 1970s, address­es hous­ing and requires cities to include many hous­ing types. But exclu­sive sin­gle-fam­i­ly neigh­bor­hoods still dom­i­nate Oregon's land­scape today.
Sin­gle-fam­i­ly nation
In the ear­ly 1970s, in what came to be named ​"the qui­et rev­o­lu­tion in land use con­trol," some states start­ed tak­ing back author­i­ty over zon­ing that they had ced­ed to cities and towns. In 1973, Ore­gon cre­at­ed ​"urban growth boundaries"―a line of demar­ca­tion between urban and rur­al land uses―around each of its cities, along with oth­er mea­sures to con­tain growth and pre­vent sprawl.
Our research shows that this approach has helped con­tain urban growth and pro­mote more effi­cient land use. Sin­gle-fam­i­ly den­si­ty in urban growth bound­aries, as mea­sured by sin­gle-fam­i­ly hous­ing units per acre, has con­sis­tent­ly increased since the zones were cre­at­ed. Statewide, sin­gle-fam­i­ly den­si­ty increased 22% from 1993 to 2012.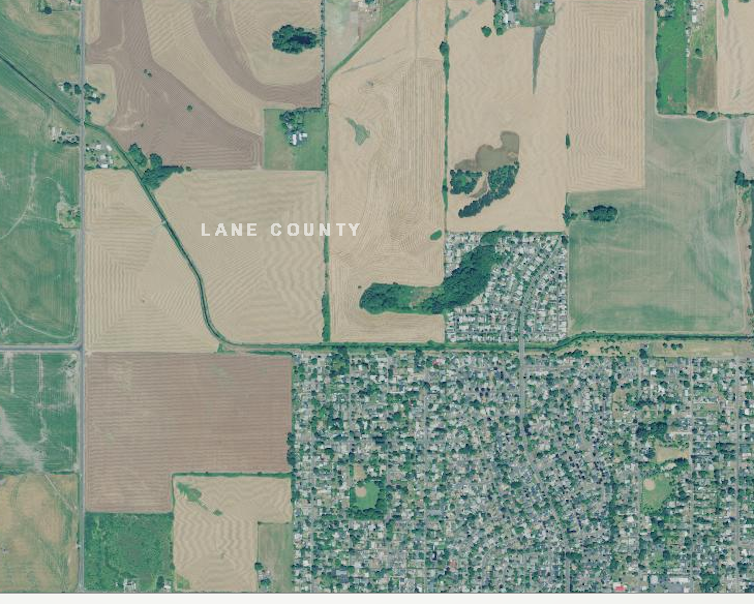 Eugene, Oregon's urban growth bound­ary has pro­tect­ed land just out­side city lim­its from devel­op­ment, but sin­gle-fam­i­ly res­i­den­tial land con­sti­tutes 87% of res­i­den­tial land inside the bound­ary. (Pho­to cour­tesy of Ore­gon Imagery Explor­er / http://​imagery​.ore​gonex​plor​er​.info/ )
Still, sprawl exists inside urban growth bound­aries. We have found that land exclu­sive­ly zoned for sin­gle-fam­i­ly homes can hold only a max­i­mum of eight to ten units per acre. And as demand for hous­es exceeds sup­ply, low­er-income fam­i­lies are pushed into cheap­er areas far from their work. Up for Growth, a nation­al coali­tion that advo­cates for denser devel­op­ment, esti­mates that only 89 hous­ing units were built in Ore­gon for every 100 house­holds formed from 2000 through 2015.
In short, hous­ing is get­ting more expen­sive. A 2019 Har­vard study con­clud­ed that the sup­ply of low-cost rental units (under $800 per month) in Ore­gon decreased by 44% between 1990 and 2017. Today 63% of Oregon's hous­ing is stand-alone hous­es or detached sin­gle-fam­i­ly units.
Hous­ing strug­gles make small­er dwellings more desirable
These issues aren't lim­it­ed to Ore­gon. Accord­ing to the Har­vard Joint Cen­ter on Hous­ing, 47% of renter house­holds nation­wide are pay­ing more than 30% of their income in hous­ing costs. And new res­i­den­tial con­struc­tion remains below pre-2008 – 2009 reces­sion era rates.
Between 2000 and 2015, the U.S. under­pro­duced 7.3 mil­lion units of hous­ing, mean­ing that fam­i­lies across the coun­try are strug­gling to find hous­ing that is afford­able and avail­able. This short­age spanned 22 states and the Dis­trict of Columbia.
Pub­lic offi­cials are rec­og­niz­ing that allow­ing only sin­gle-fam­i­ly hous­es also cre­ates equi­ty prob­lems. Sin­gle-fam­i­ly zon­ing seg­re­gat­ed neigh­bor­hoods after World War II by exclud­ing African Amer­i­can fam­i­lies, who could not afford to buy sin­gle-fam­i­ly homes, from mid­dle-class white neighborhoods.
Today demand for small­er, con­nect­ed houses―including duplex­es, triplex­es and quadplexes―within walk­ing dis­tance of ser­vices is increas­ing. Peo­ple like liv­ing this way, but as archi­tect and urban design­er Daniel Parolek has shown, reg­u­la­to­ry bar­ri­ers deter builders from pro­duc­ing more of these types of hous­ing, which he calls the ​"miss­ing mid­dle." As Parolek points out, many of the diverse hous­ing types that are com­mon in old­er neigh­bor­hoods, such as duplex­es and triplex­es, are ille­gal under most cur­rent zon­ing codes.
A mod­est but impor­tant start
All of these fac­tors helped dri­ve Min­neapo­lis and Ore­gon to move away from sin­gle-fam­i­ly zon­ing and allow more hous­ing types. But for all of the atten­tion that these actions have received, we pre­dict that they will have mod­est impact.
Hous­ing mar­kets are com­plex and are affect­ed by much more than zon­ing. One key ques­tion is whether costs will decline if pol­i­cy­mak­ers encour­age con­struc­tion of diverse ​"miss­ing mid­dle" dwelling types.
But this does not mean that chang­ing zon­ing poli­cies is mis­guid­ed. Pro­mot­ing con­struc­tion of broad­er ranges of hous­ing cre­ates more vibrant neigh­bor­hoods, reduces con­ver­sion of farm and for­est land for sub­ur­ban devel­op­ment, reduces infra­struc­ture costs and pro­vides more equi­table hous­ing oppor­tu­ni­ties for all.
Edi­tor's Note: This arti­cle is repub­lished from The Con­ver­sa­tion under a Cre­ative Com­mons license. Read the orig­i­nal arti­cle.