"The tribes aren't blinking."
That's how attor­ney Greg Lem­brich phrased the response to S.D. Gov­er­nor Kristi Noem's order to Sioux tribes in the state to remove the road­way check­points they had set up at their reser­va­tions' bor­ders to pro­tect their com­mu­ni­ties from the coro­n­avirus pandemic.
In ear­ly April, the Cheyenne Riv­er Sioux Tribe and the Oglala Sioux Tribe began check­ing vehi­cles for dri­vers and pas­sen­gers with Covid-19 symp­toms and redi­rect­ing nonessen­tial trav­el around their reser­va­tions. In May, the Rose­bud Sioux Tribe began a sim­i­lar effort.
"We will not apol­o­gize for being an island of safe­ty in a sea of uncer­tain­ty and death," Cheyenne Riv­er Sioux Trib­al Chair­man Harold Fra­zier has said.
On May 8, Noem threat­ened the tribes with unspec­i­fied ​"legal action" unless they removed their check­points. The tribes did not. No legal action was tak­en, no law­suit was filed.
"She doesn't have a legal leg to stand on," said Lem­brich, an Indi­an-law expert and the legal direc­tor of the vot­ing-rights group Four Direc­tions on the Rose­bud Sioux Reservation.
"Noem's attor­neys should explain to her that a law­suit, or legal action, has to be based on actu­al law," he said. ​"She's got nuthin'."
In a May 12 let­ter to the tribes, Noem appeared to waver again. She did not men­tion ​"legal action" this time, but rather asked the tribes to remove their check­points from ​"U.S./State High­ways" on the reser­va­tion and place them instead only on access points to these roads and on ​"Tribal/​BIA roads." The tribes have not mod­i­fied the loca­tions of their checkpoints.
Accord­ing to Lem­brich, Noem's dis­tinc­tion between the types of high­ways is incor­rect. The stand­off revolves around juris­dic­tion over high­ways with­in Sioux reser­va­tions, and all the roads in ques­tion are inside reser­va­tion bound­aries, he notes. In 1990, the Cheyenne Riv­er, Rose­bud, Oglala and Stand­ing Rock Sioux tribes won a fed­er­al law­suit chal­leng­ing the state of South Dako­ta on a sim­i­lar issue con­cern­ing juris­dic­tion over reser­va­tion high­ways. The Eighth Cir­cuit Court of Appeals combed through U.S. laws and court deci­sions and ruled that tribes are in the driver's seat on reser­va­tion roads. If states want legal con­trol there, they must get trib­al consent.
Noem's lat­est sug­ges­tions are also not remote­ly real­is­tic, accord­ing to Lem­brich. ​"It would require incred­i­ble man­pow­er [for the tribe] to cov­er all the lit­tle streets and roads and paths and dri­ve­ways that con­nect with the larg­er roads," he said.
Noem's office did not respond to requests for a com­ment on the applic­a­bil­i­ty of the 1990 deci­sion to her demands.
The Sioux tribes' deci­sions to set up the check­points have a grim con­text: At pub­li­ca­tion time, the state had the fastest ris­ing Covid-19 infec­tion rate in the nation, accord­ing to the COVID Track­ing Project, and the state gov­ern­ment had failed to take seri­ous steps to address it. Tribes nation­wide have insti­tut­ed con­trol mea­sures and under­tak­en vig­or­ous test­ing. The Nava­jo Nation has been par­tic­u­lar­ly hard hit.
Lem­brich thinks stir­ring up con­tro­ver­sy around the check­points is noth­ing more than a media ploy. He sees it as part of what appears to be Noem's ongo­ing audi­tion for a Trump admin­is­tra­tion posi­tion, described at length in the New York Times.
"She used to be a Con­gressper­son and doesn't want Wash­ing­ton to lose sight of her now that she's some­where out in South Dako­ta," he said. ​"She wants the MAGA crowd to see her as some­one who will stand up for the pres­i­dent and pick on non-white people."
Like sev­er­al Repub­li­can gov­er­nors, Noem has refused to man­date ​"dra­con­ian" coro­n­avirus-relat­ed mea­sures, such as busi­ness clo­sures and stay-at-home orders. In mid-April, when Sioux Falls, South Dako­ta devel­oped the nation's biggest Covid-19 clus­ter, with hun­dreds of sick work­ers at a pork-pro­cess­ing plant, she took it as an oppor­tu­ni­ty to announce a statewide clin­i­cal tri­al for hydrox­y­chloro­quine, an unproven Covid-19 rem­e­dy the pres­i­dent was tout­ing. The clin­i­cal tri­al has got­ten off to a slow start, with few sign­ing up, per­haps because a recent Vet­er­ans Admin­is­tra­tion study showed that the drug increas­es the like­li­hood of death in Covid-19 patients.
"We at Cheyenne Riv­er don't want hydrox­y­chloro­quine under any cir­cum­stances," said trib­al elder Marlis Afraid of Hawk. ​"We are not going to be guinea pigs. It's anoth­er form of genocide."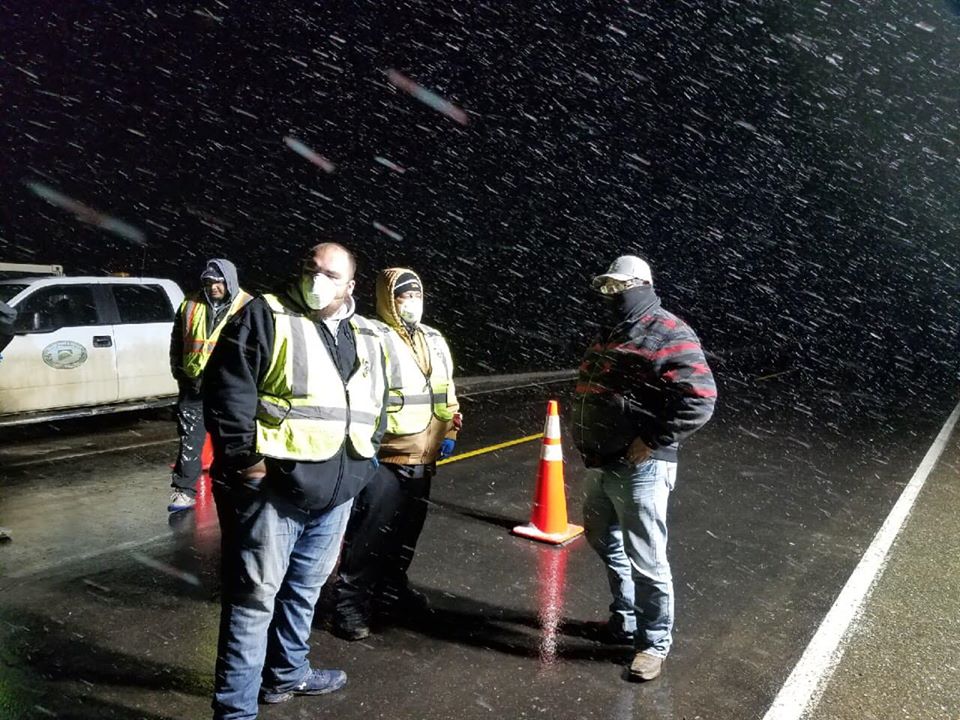 Cheyenne Riv­er Sioux Trib­al Chair­man Harold Fra­zier vis­its a Covid-19 check­point on the Cheyenne Riv­er Sioux Reser­va­tion. (Pho­to cour­tesy of Remi Bald Eagle)
Islands of Safety
At a Cheyenne Riv­er Sioux Tribe bor­der check­point, offi­cer Jor­dan Carter helps ensure that her tribe is doing what it can to pro­tect every­one liv­ing on its reser­va­tion. She ques­tions arriv­ing dri­vers and their pas­sen­gers and sep­a­rates them into those who can pro­ceed — includ­ing reser­va­tion res­i­dents and essen­tial trav­el­ers such as med­ical work­ers — and those who must choose anoth­er route.
The lat­ter group includes non-res­i­dent and non-essen­tial trav­el and is direct­ed by Carter and co-work­ers to near­by options in South Dakota's east-west­/north-south high­way grid. Choic­es include two busy inter­states and South Dakota's many pic­turesque, light­ly trav­eled two-lane road­ways, with views of rolling prairie and dis­tant buttes and mountains.
The re-rout­ing isn't a bur­den, Carter said, as ​"it usu­al­ly adds only about twelve min­utes to their trip."
In a May 12 radio broad­cast, Fra­zier said he was amazed that the check­points had gar­nered so much atten­tion, giv­en that pri­or trib­al pleas for coro­n­avirus test kits and per­son­al pro­tec­tive equip­ment for health-care work­ers had gone ignored.
"The great­est right is the right to life," Fra­zier said. Now that his peo­ple are tak­ing steps to pro­tect it, he added, they are fac­ing criticism.
Tribes have a nation-to-nation rela­tion­ship with the Unit­ed States and the right to con­trol their own affairs on their own home­lands, explained South Dako­ta Sen­ate Minor­i­ty Leader Troy Hein­ert, a Rose­bud Sioux trib­al mem­ber and a Demo­c­rat who rep­re­sents sev­er­al south-cen­tral South Dako­ta counties.
"We are the mas­ters of our des­tiny and live the way our Cre­ator intend­ed," Hein­ert said. It's called trib­al sov­er­eign­ty, and he cites treaties, Con­gres­sion­al acts, U.S. Supreme Court rul­ings, pres­i­den­tial exec­u­tive orders, and fed­er­al case law, includ­ing the 1990 Eighth Cir­cuit deci­sion. ​"Any assault on sov­er­eign­ty goes clear back to the treaties. We are nations with­in a state."
"When peo­ple of South Dako­ta trav­el to any oth­er state, they know they have to obey local laws there," he went on. ​"Why is it a sur­prise that a per­son also has to obey the laws on an Indi­an reservation?"
On May 9, Hein­ert and a bipar­ti­san group of state leg­is­la­tors sent a let­ter to Noem, object­ing to her threat­ened legal action.
"We do not wish to be par­ty to anoth­er law­suit that will ulti­mate­ly cost the peo­ple of South Dako­ta more mon­ey," they wrote. They asked for a meet­ing. ​"We wish to work with all par­ties involved for a rea­son­able, legal, and appro­pri­ate solu­tion that address­es the con­cerns of all sov­er­eigns involved."
In the mean­time, says Hein­ert, trib­al mem­bers are tak­ing great care. ​"We are wear­ing masks, hand-wash­ing, and social-dis­tanc­ing. Some of us have stay-at-home orders. This is not the first pan­dem­ic we've been through."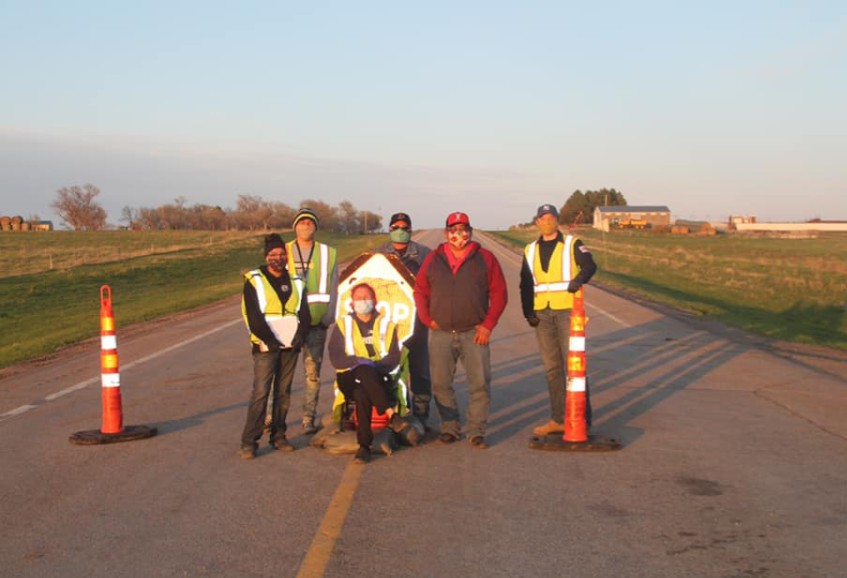 This pho­to shows a Covid-19 check­point on the Cheyenne Riv­er Sioux Reser­va­tion. (Pho­to cour­tesy of Harold Frazier)
'The tribes can't win if it comes through their borders'
Surges of dead­ly dis­ease have laid waste to Native Amer­i­can com­mu­ni­ties since the late 15th cen­tu­ry, when Euro­peans brought typhus, influen­za, diph­the­ria, measles, tuber­cu­lo­sis, small­pox, and oth­er infec­tions to which this hemisphere's mil­lions of inhab­i­tants had no immu­ni­ty. In lit­tle more than a cen­tu­ry, an over­whelm­ing major­i­ty had died.
Native vul­ner­a­bil­i­ty to these import­ed dis­eases has con­tin­ued into mod­ern times, with dev­as­tat­ing results, accord­ing to an arti­cle in the Jour­nal of Emer­gency Med­ical Ser­vices. The 1918 flu pan­dem­ic, for exam­ple, drove some Alas­ka Native com­mu­ni­ties to extinction.
The cir­cum­stances in which the tribes oper­ate today's road­way check­points are sim­i­lar­ly grave.
Under­ly­ing health con­di­tions, includ­ing dia­betes, make many trib­al mem­bers espe­cial­ly vul­ner­a­ble to Covid-19. And if they become seri­ous­ly ill with it, they may not be able to get the care they need. The hos­pi­tal on the more than 4,000-square-mile Cheyenne Riv­er Sioux Reser­va­tion has no ICU, and the near­est crit­i­cal care is three hours away, Fra­zier told CNN. As a result, Cheyenne Riv­er and oth­er tribes fear dread­ful con­se­quences if the pan­dem­ic sweeps through their com­mu­ni­ties. At pub­li­ca­tion time, the Oglala Sioux report­ed five infec­tions, and the Rose­bud Sioux report­ed fourteen.
"Once Covid-19 comes here, it'll get out of con­trol fast," said Lem­brich. ​"This is the war [the tribes] can't win if it comes through their borders."
To fend off the dan­ger, the tribes worked with the state's Depart­ment of Trans­porta­tion and local coun­ties and munic­i­pal­i­ties to design check­points for those arriv­ing at their bor­ders, says Cheyenne Riv­er spokesper­son Remi Bald Eagle. The stops went into action in ear­ly April.
And the process has worked. Lat­er that month, Cheyenne Riv­er Sioux Tribe offi­cers found that a trib­al mem­ber return­ing from Sioux Falls had Covid-19 symp­toms. The per­son, to date the reservation's only con­firmed Covid-19 case, is now hos­pi­tal­ized. Chair­man Fra­zier thanked those who had pin­point­ed the case. He insti­tut­ed a reser­va­tion-wide cur­few and stay-at-home order and asked for prayers for the patient.
"We need to stand as a fam­i­ly, stand togeth­er, stay pos­i­tive," Fra­zier said. "[This is] in our culture."
Afraid of Hawk agreed and applaud­ed Fra­zier for his deter­mi­na­tion. ​"Our chair­man is doing an awe­some job," she said.
Before the state of South Dako­ta weighed in, the Bureau of Indi­an Affairs, an Inte­ri­or Depart­ment divi­sion, had giv­en the tribes an ulti­ma­tum to close the check­points before the agency appar­ent­ly backed down. In ear­ly April, the agency told the Cheyenne Riv­er Sioux Tribe it had 24 hours to get rid of the road­way checks or face unnamed ​"con­se­quences." The tribe did not remove the check­points, and in any case the 24 hours had already expired by the time the tribe received the BIA direc­tive, says Bald Eagle.
No con­se­quences ensued. ​"We won­dered what they were," Bald Eagle says. ​"Were they going to take out the ruler, count to three?"
The BIA did not respond to requests for a com­ment on the check­point controversy.
Mean­while, Carter and her fel­low offi­cers are still watch­ing over their tribe's bor­ders. Says Carter, ​"There's noth­ing I love more than mak­ing sure my reser­va­tion is safe."