Slam of the Free, Poem of the Brave
Activism through spoken word, at the Brave New Voices Poetry Slam.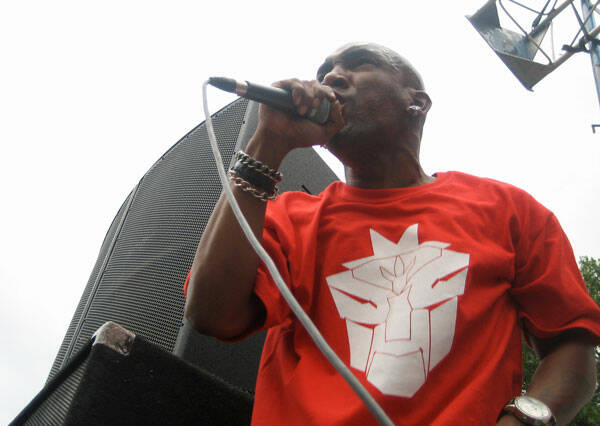 Hundreds of teenaged poets, flanked by coaches and advisors, have packed into the ornate Grand Ballroom at the School of the Art Institute of Chicago on July 14. Comprising 50 teams, with entourages of up to 30 people, they have come from as far away as the United Kingdom and Guam.
'It's difficult because I feel like a lot of poets are trying to write things for social justice,' says Kass Levy. 'But if you don't have that personal connection to it, then the poem suffers for it.'
The poets, aged 13 to 19, are representing their cities in the 12th annual Brave New Voices International Youth Poetry Slam Festival. Over the next five days, they will perform three-and-a-half minute poems on topics ranging from immigration to urban violence to environmental justice.
There are signs of civic pride – mostly in team shirts or, in the case of the team from Denver, matching gold lamé headbands – but most of the young poets are wearing this year's official festival t-shirt, the back of which bears a quote from slain Black Panther leader Fred Hampton: ​"Let me just say: Peace to you, if you're willing to fight for it."
"We want [the poets] to appreciate the words and actions that have gone before them," says Youth Speaks Executive Director James Kass, ​"and know that they're part of a continuum of writers and activists and educators, that they're stepping into it and this is their time."
While competition and artistry are central to the event, spoken word is also deeply political, and the festival is a way to voice the youth perspective, build community and dialogue about social justice. ​"It's a way to connect with problems that go on in our inner cities and even in our suburbs that are not talked about," says Milton McKinney III of the Chicago All-Stars team. ​"They're brought to a higher plateau and people all over can relate to them, and it makes people get closer to what's going on."
Central to the festival are social justice-oriented events, including a youth townhall forum, an environmentally focused slam called Speak Green, and the Life Is Living festival, a community party that promotes eco-justice and an end to urban violence. Speak Green and the Life Is Living project are the brainchildren of poet and performer Marc Bamuthi Joseph, who seeks to bring minority voices to the green movement.
"The environmental crisis really parallels a lot of the other things that are happening," says Michael Cirelli, who coaches the Urban Word team from New York City. ​"This really broadens the sphere of [young people's] activism, because aside from challenging the inequities in their school system and their communities, now they are actually seeing how the environments in these places are also disproportionately under-served and under-protected in many cases."
Nolan Eskeets, a poet representing the Santa Fe Indian School, performed a piece at Speak Green called ​"The Boy Dreams," about the damage uranium mining has inflicted upon the Navajo Nation. His soft-spoken demeanor became stern as he read: ​"He embraces Sister/​she swings from Father's venomous hands before sitting to dinner/​her kidneys will fail."
Eskeets has been using the poem as a means to network with environmental advocacy groups. ​"If the right people are listening, then obviously something will manifest," he says.
'

Life Is Living'

On July 18, residents of Chicago's Uptown neighborhood were greeted with pounding marching band drums and impassioned chants as slam participants and community members took part in the Life Is Living festival parade. Marchers carried poles with green ​"street signs" bearing the name of a Chicago youth slain this year.

The parade wound up in Clarendon Park, where the festival continued with breakdancing competitions, sports tournaments and guerrilla theatre. Meanwhile, graffiti artists painted vivid sustainability-focused murals, which Bamuthi Joseph will install in 16 locations around Chicago to unite the community and provide a tangible reminder of the event's message.

A number of hip-hop artists performed, including Pharoahe Monch, Chicago's Rebel Diaz and slam circuit legend Saul Williams. ​"Once [the poets] find their voices, they are their own healers, they are their own community's healers," Williams says. ​"So all we're doing is trying to connect them to their own source."
Young poets' society
Kevin Coval, founder of the annual Chicago youth slam Louder Than A Bomb and emcee of the BNV finals says the slam has a democratizing effect. ​"For young people to see what it's like to be from Guam or from a reservation in the Southwest or a city in the Northeast or from Chicago, I think that kind of erasure of the fear of the Other happens in this work," says Coval, an occasional In These Times contributor.
The conversation may have a tendency to repeat itself and become internalized, Coval says, but he thinks the movement has done a good job of bringing in new people. Poets draw inspiration from a variety of sources and experiences – hence the profusion of ​"Where I'm From" poems, a staple of most repertoires.
Many others opt to elaborate on headlines – almost always news stories that affected poets or were under-reported by mainstream media. The Urban Word team brought crowds to their feet with ​"Switch," a poem about homosexuality in the black community, paralleling the murders of Matthew Shepard and Rashawn Brazell: ​"Feminine tendencies won't allow me to make a fist/​A devil controlling my forearm to hang low like a lynched dream."
Though the team didn't make the finals, audience members were so moved by the piece that they demanded the poets perform it at the Chicago Theatre after the final competition.
But the most common source for inspiration is always personal experience. Sara Kass Levy, a poet from Boston, recounted an experience with sexual violence through the lens of a battlefield: ​"You kissed grenades over the warzone of my collarbones/​hissed hot bombs into my ear."
"It's difficult because I feel like a lot of poets are trying to write things for social justice," Kass Levy says. ​"But if you don't have that personal connection to it then the poem suffers for it."
Across two oceans
The night of the finals, the mood in the green room at the Chicago Theatre is ecstatic. Poets greet each other with hugs, freestyle and swap iPods as crowds clamor to get into the theater and cheer on the four teams who have made the last round: Jacksonville, Fla., Hawaii, Bay Area and Leeds, U.K.
"A festival like this is all about celebrating truth and word and different perspectives, so it makes sense to bring in as much perspective in as possible," says Joseph Buckley, a poet representing Leeds.
At the end of the evening, Team Hawaii is declared the winner, but there is no special pageantry. As Coval is quick to remind the audience, the winner of Brave New Voices gets nothing. Everyone – poets, coaches, audience – dances throughout the theater, one last burst of communal exuberance.
Team Denver's group piece was a fitting reminder of the festival's mission: ​"Together, we are 21 feet, five-and-a-half inches tall/​we are trying to make a difference/​we are more than the sum of our skeletons…"
The audience erupted in agreement with their closing line: ​"We are not as small as you think."
Videos
Slam Highlights:
Art and Activism at Life is Living Festival:
Poets on Poetry:
GET INVOLVED
Youth Speaks
Life is Living
Lindsay Eanet
is an
In These Times
editorial intern and a journalism student at the University of Missouri.