Slaughterhouse-Five at Forty
Why Vonnegut's classic novel transcends the '60s.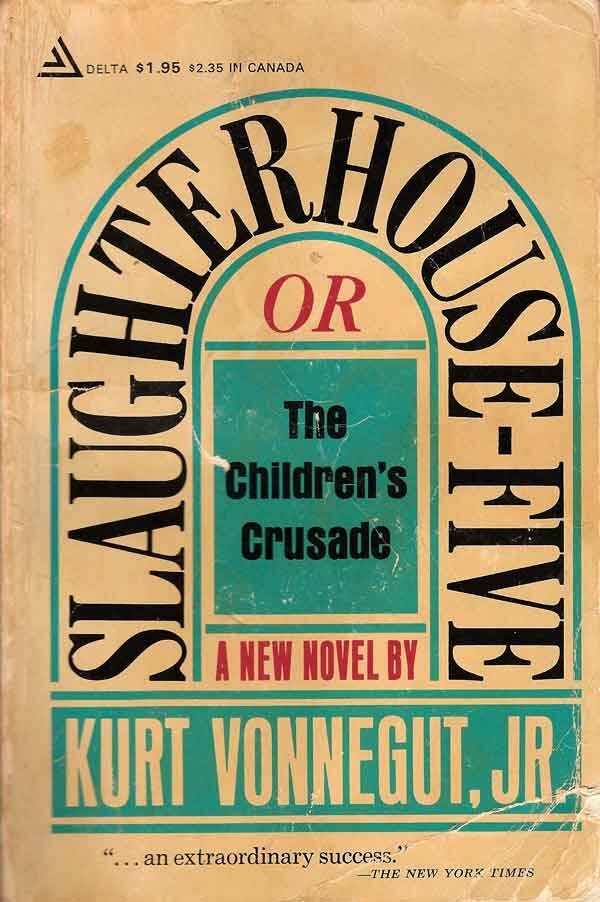 Slaugh­ter­house-Five first appeared in book­stores forty years ago, and it remains the sig­na­ture achieve­ment of Kurt Vonnegut's long and dis­tin­guished writ­ing career. Long in ges­ta­tion, it oscil­lates between real­ism and sci­ence fic­tion, mor­dant humor and grief, relieved by moments of unex­pect­ed­ly lyri­cal imagery to con­vey the author's expe­ri­ence as a young sol­dier in the Sec­ond World War.
He recounts for us his tri­als after cap­ture by the Ger­mans dur­ing their last great counter-offen­sive, in the chaos of the Bat­tle of the Bulge just before Christ­mas 1944. Through the tragi­com­ic alter-ego ​"Bil­ly Pil­grim," we learn about Vonnegut's six months as an object deprived of free will.
We are with him stand­ing in box­cars bound, in mys­te­ri­ous stop-and-start fash­ion, for unknown des­ti­na­tions. We encounter the base­ness to which peo­ple can descend, as well as the nobil­i­ty to which they some­times rise, in the most extreme sit­u­a­tions. Then we find out what it is like to go through the apoc­a­lypse – the fire­bomb­ing of the city of Dres­den on the night of Feb­ru­ary 13, 1945, which Von­negut and about one hun­dred oth­er Amer­i­cans interned there mirac­u­lous­ly survived.
Then fol­lowed days and weeks when the pris­on­ers were deployed in the process of corpse dis­pos­al – imag­ine that task, that sur­re­al land­scape. When he got home, Von­negut was shocked to find almost noth­ing about the raid and its ground-lev­el con­se­quences in news­pa­per archives, and came to the con­clu­sion that his gov­ern­ment, abet­ted by the press, could lie. The impulse to some­how tell his ​"untellable" war sto­ry, to expose it to the light, would dri­ve him for decades, and it became the focus for his most ambi­tious work of art.
Slaugh­ter­house-Five was an imme­di­ate crit­i­cal and com­mer­cial sen­sa­tion in 1969, and it has stood the test of time. It was named by the edi­to­r­i­al board of the Mod­ern Library #18 on the index of the most impor­tant Eng­lish lan­guage nov­els of the twen­ti­eth cen­tu­ry, and is now secure­ly in the canon of assigned read­ings in high schools and col­leges across the land.
Like all of Vonnegut's pub­lished works, it has remained con­tin­u­al­ly in print, and avail­able glob­al­ly in mul­ti­ple trans­la­tions. It reached the big screen in 1972, in a film adap­ta­tion the author liked. Alter­na­tive­ly, it has been con­demned and even burned by those claim­ing offense at its use of rough soldier's lan­guage, no doubt a disin­gen­u­ous excuse to quash a mes­sage some con­sid­er dan­ger­ous­ly ​"unpa­tri­ot­ic."
But giv­en the book's almost corny faith in bygone civic virtue and the demo­c­ra­t­ic tra­di­tions that lie at the heart of Vonnegut's vision, his iden­ti­fi­ca­tion with the insur­rec­tion­ist 1960s gen­er­a­tion is curi­ous in some ways. Baby boomers formed the core of his under­ground ​"cult" audi­ence before Slaugh­ter­house was pub­lished, and an acci­dent of tim­ing accounts for its deep foot­print in the midst of the Viet­nam trauma.
Young peo­ple loved Vonnegut's bag of tricks – the demys­ti­fi­ca­tion of the cre­ative process, the frac­tured nar­ra­tive, the time-trav­el and flights to extra­galac­tic plan­ets like ​"Tralfamadore." They adopt­ed to the point of cliché the fatal­ism of the novel's repeat­ed phrase, "…and so it goes." Along with fel­low vet­er­an Joseph Heller's 1961 land­mark Catch-22, Slaugh­ter­house book­ends the decade with an absur­dist deglo­ri­fi­ca­tion of the ​"Good War" narrative.
But just as a com­men­ta­tor for the Vil­lage Voice recent­ly observed that ​"Von­negut has out­last­ed the coun­ter­cul­ture that embraced him," I would argue that his most famous book tran­scends its imme­di­ate his­tor­i­cal moment. It is real­ly a med­i­ta­tion on the dig­ni­ty, courage, and shat­tered dreams of the Great Depres­sion gen­er­a­tion. Its pow­er and moral urgency come from sources far removed from the ide­o­log­i­cal wars of its time.
It is impor­tant to con­sid­er Slaugh­ter­house-Five with­in the wider arc of Vonnegut's career – and, to use anoth­er of its con­cepts, to get it ​"unstuck in time," as some­thing more than a 1960s rel­ic. Beneath the struc­tur­al gim­micks, the sar­don­ic detach­ment, the child­like prose – all adroit­ly exe­cut­ed, to be sure – lies a kind of human­ism, and even patri­o­tism, that is more endur­ing than some of its ear­ly read­ers might have suspected.
'

Poor old Edgar Derby'

Von­negut tells us in the open­ing chap­ter of Slaugh­ter­house that he strug­gled for a long time to devel­op a lan­guage that would do jus­tice to his ​"war sto­ry," and for years had no good answers about when his ​"famous Dres­den nov­el" would final­ly be com­plet­ed. He moved cau­tious­ly, ellip­ti­cal­ly toward the task, but we now can see pre­mo­ni­tions of his ulti­mate direc­tion even in ear­li­er works.

In 1961's Moth­er Night, Von­negut wres­tled at length with the moral com­plex­i­ties of his war, with a fable about Howard W. Camp­bell, Jr, an Amer­i­can actor who posed as a rabid Nazi pro­pa­gan­dist in Berlin, the bel­ly of Hitler's beast. In doing his job for army intel­li­gence so well, did Camp­bell go too far with evil in the ser­vice of good?

Two years lat­er, in Cat's Cra­dle (1963), the moral inquiry involves the sci­en­tists who cre­ate dooms­day weapons, men like those who worked for the Man­hat­tan Project, or the eccentrics Von­negut encoun­tered in his pub­lic rela­tions job at Gen­er­al Elec­tric after the war. Nar­row hori­zons some­times blind­ed them to the hav­oc wrought by their chalk­board for­mu­las and lab­o­ra­to­ry gad­gets. Cat's Cra­dle con­cludes with an ​"end of the world" chain-reac­tion, the result of a sub­stance called ice-nine. Besides evok­ing the night­mare sce­nario of the recent Cuban Mis­sile Cri­sis, it reads today a lot like what Von­negut must have seen in Dresden.

With God Bless You, Mr. Rose­wa­ter (1965), Von­negut inch­es ever clos­er to his own sto­ry. The title char­ac­ter, a World War II vet­er­an who shows all the signs of what we would now call PTSD, is a direct pre­cur­sor to Bil­ly Pil­grim in Slaugh­ter­house.

And so we come to Billy's tale, which Von­negut deter­mined would show the sol­diers he knew as the babes in arms they real­ly were, not Frank Sina­tra or John Wayne swash­buck­lers. Sub­ti­tled ​"The Children's Cru­sade," Bil­ly appears as a pas­sive, storm-tossed ves­sel, a gan­gling clown, rep­re­sent­ing the cal­low young­ster the author thought him­self to be dur­ing his time in com­bat. Soon enough Bil­ly, a ​"chaplain's assis­tant," finds him­self in a ​"Mis­sis­sip­pi of humil­i­at­ed Amer­i­cans," herd­ed to col­lec­tion points for the ride east. (In inter­views, Von­negut recalled being thrown into the dis­in­te­grat­ing lines of the Amer­i­can front in Decem­ber ​'44, an army scout wan­der­ing, lost in the snow, with a rag­tag col­lec­tion of oth­er fright­ened novices – ​"I imi­tat­ed var­i­ous war movies I'd seen," he once said.)

Bil­ly attracts the unwant­ed atten­tion of bul­lies along the way. But Von­negut con­veys the human­i­ty and broth­er­hood the pris­on­ers were able to muster, even in their col­lec­tive mis­ery. Crammed willy-nil­ly into sealed cat­tle cars to be trans­ferred into Ger­many, many died dur­ing the halt­ing ordeal. They were bombed and strafed by Allied planes, and one's sense of time was all but oblit­er­at­ed. ​"Christ­mas was in there some­where," Von­negut writes. Even with its Dante-like hor­ror (Pri­mo Levi would write in his mem­oirs of sim­i­lar things, draw­ing on expe­ri­ences on the oth­er side of Europe) the scene is also a stage for com­mu­ni­ty in its most ide­al­ized form.

Here is Vonnegut's descrip­tion, full of oth­er­world­ly won­der, of the box­car soci­ety he experienced:
Human beings in there were excret­ing into steel hel­mets which were passed to the peo­ple at the ven­ti­la­tors, who dumped them. Bil­ly was a dumper. The human beings also passed can­teens, which guards would fill with water. When food came in, the human beings were qui­et and trust­ing and beau­ti­ful. They shared.
Once at a prison camp, the Amer­i­cans seem wretched and demor­al­ized to the British sol­diers who greet them, men who have long ago adjust­ed to their con­fine­ment. Urged to choose a leader, for pur­pos­es of dis­ci­pline and self-respect, the Yanks half­heart­ed­ly elect the old­est man in their midst, an unas­sum­ing mid­dle – aged high-school teacher from Indi­anapo­lis named Edgar Der­by, who emerges as the moral cen­ter of the book.
"Poor old Edgar Der­by," as Von­negut refers to him, had pulled strings to enlist at his advanced age, and now, as a POW, takes his lead­er­ship respon­si­bil­i­ties seri­ous­ly. He finds mean­ing and pur­pose in a fate that brings out the worst in oth­ers. He is kind­ly and atten­tive, a father who looks after his charges in the camp as he wor­ries about his son serv­ing out in the Pacific.
Von­negut is, in impor­tant respects, Edgar Der­by rather than Bil­ly Pil­grim. In a let­ter from a Red Cross sta­tion in France in late May of 1945, pub­lished for the first time in the posthu­mous col­lec­tion Armaged­don in Ret­ro­spect (2008), Von­negut, still severe­ly under­weight but oth­er­wise intact, reas­sured his fam­i­ly that he was alive, and told of how he had used what lit­tle Ger­man he knew to try to defend his mates from the gra­tu­itous excess­es of their custodians.
"After des­per­ate­ly try­ing to improve our sit­u­a­tion for two months," Pvt. Von­negut typed in his account­ing, "…I told the guards just what I was going to do to them when the Rus­sians came. They beat me up a lit­tle. I was fired as group leader."
Beneath the book's structural gimmicks and childlike prose lies a kind of humanism, and even patriotism, more enduring than some of its early readers might have suspected.
An unfash­ion­able patriot
Von­negut lat­er described Dres­den as hav­ing pos­sessed the strate­gic impor­tance of a wed­ding cake. Life there was spar­tan, for civil­ians and pris­on­ers alike, but not so dis­agree­able. The Amer­i­cans were put to work every day in a plant mak­ing vit­a­min-enriched malt syrup for preg­nant women, slip­ping each oth­er clan­des­tine sam­ples under the eyes of the old men and teenagers who guard­ed them. At night they repaired to their impro­vised bil­let, Schlachthof-funf, build­ing num­ber 5 of a sprawl­ing slaugh­ter­house complex.
One night, Howard W. Camp­bell, the noto­ri­ous pro­pa­gan­dist from Moth­er Night, shows up in the bunker, spew­ing vicious­ly racist inter­pre­ta­tions of the war and seek­ing recruits to fight for Hitler on the East­ern Front. Hun­gry and ema­ci­at­ed as they were, none of the men stepped for­ward to vol­un­teer, even with the entice­ment of all the steak, mashed pota­toes and mince pie they could eat.
Out­raged by Campbell's dis­play, ​"Poor old Edgar Der­by lum­bered to his feet," Von­negut writes, ​"for what was prob­a­bly the finest moment of his life":
His stance was that of a punch-drunk fight­er. His head was down. His fists were out front, wait­ing for infor­ma­tion and bat­tle plan. Der­by raised his head, called Camp­bell a snake [and] spoke mov­ing­ly about the Amer­i­can form of gov­ern­ment, with free­dom and jus­tice and oppor­tu­ni­ties and fair play for all.
These young men, he declared with steely eyes to his smil­ing, rep­til­ian adver­sary, were unit­ed in their will­ing­ness to die for those ideals, and they would pre­vail in the end, thanks to ​"the broth­er­hood of the Amer­i­can and Russ­ian peo­ples, as they worked togeth­er to crush the dis­ease of Nazism." Der­by believed, in good faith, the declared pur­pos­es of the war, and he was ready to risk all to stand up for them.
Kurt Von­negut was not mock­ing Edgar Der­by. He was using him to voice the ide­al­ism he had learned as a boy, the civic reli­gion of Mid­west­ern­ers Lin­coln and Twain, the New Deal opti­mism he had drunk deeply and nev­er stopped defend­ing. It is true that Von­negut was a man of the left, broad­ly speak­ing. He loved the social­ism of his Ger­man-Amer­i­can fore­bears, and the labor mil­i­tan­cy of fel­low Hoosier Eugene Debs. He saw first­hand the effects of the ​"sur­vival of the fittest" cap­i­tal­ism that had wrecked so many lives dur­ing the stock crash and its after­math – an expe­ri­ence he always called, even more than the war, the defin­ing his­tor­i­cal episode of his life.
Von­negut was free­think­ing and paci­fist by incli­na­tion, inspired by the ​"Mer­chants of Death" anti-mil­i­tarism of the 1930s and opposed to knee-jerk nation­al­ism. Von­negut con­demned, ear­ly and pub­licly, the trag­ic fol­ly of the Viet­nam War and the shred­ding of the Con­sti­tu­tion that accom­pa­nied it. He was an instinc­tive com­mu­ni­tar­i­an in pol­i­tics, and approved of many aspects of the youth revolt of the 60s – civ­il rights, women's equal­i­ty, envi­ron­men­tal­ism and chal­lenges to ille­git­i­mate authority.
But through it all he remained a ​"patri­ot," of the kind that was quite unfash­ion­able when Slaugh­ter­house appeared. Von­negut dis­liked the anti-intel­lec­tu­al pro­cliv­i­ties of the lat­er New Left, the vio­lence of its rhetoric, even as his books were deployed on the insur­gent side in the polit­i­cal wars of the day. In a 1973 inter­view with Play­boy, he dis­agreed with the idea that he was a ​"rad­i­cal."
"Every­thing I believe," he said, ​"I was taught (dur­ing the Great Depres­sion…) at School 43 in Indi­anapo­lis, with the full approval of the school board…I sim­ply nev­er unlearned junior civics. I still believe in it. I got a very good grade." In short, Edgar Der­by is an expres­sion of Kurt Von­negut as what Michael Walz­er once called a ​"con­nect­ed crit­ic," a lover of his coun­ty and cul­ture even as he anguish­es about its short­com­ings and failed promise. He was a bro­ken­heart­ed Amer­i­can dream­er, not a bull-in-a-chi­na-shop revolutionist.
Beyond Viet­nam
There is much more to be said about Slaugh­ter­house on its for­ti­eth anniver­sary – about the fire­bomb­ing and its after­math, Edgar Derby's absurd death, and Bil­ly Pilgrim's trav­els in time and space, which are an escape from the oppres­sive demands of post-war domes­tic­i­ty and bread­win­ner masculinity.
But Slaugh­ter­house needs to be seen in a larg­er con­text, as an attempt (which Von­negut declared, at the start, a ​"fail­ure") to come to terms with the rav­ages of war – the one he sur­vived, and all wars. It is a com­men­tary on Viet­nam – "[e]very day," Von­negut laments in the final chap­ter, ​"my Gov­ern­ment gives me a count of corpses cre­at­ed by mil­i­tary sci­ence" – but it is more uni­ver­sal than that, and more sad than angry in its tone.
Von­negut remained proud, if trou­bled, by his ser­vice in World War II, and declared it a ​"good war," despite the many crimes com­mit­ted by the win­ning side. Speak­ing of his ingrained sense of duty, Von­negut once said that if he had been younger he prob­a­bly would have enlist­ed for ser­vice in Viet­nam, as wrong­head­ed as he thought that war to be.
Slaugh­ter­house needs to be ​"unstuck" from our con­cep­tion of it as sim­ply an arti­fact of the Viet­nam era, and instead read for its expres­sion of human­ist val­ues by a self-described ​"child of the Great Depres­sion." Call it the ethics of ​"poor old Edgar Der­by," the 1960s' most unlike­ly hero, a liv­ing sym­bol of mod­er­a­tion, decen­cy and idealism.
Gre­go­ry Sum­n­er
teach­es Amer­i­can His­to­ry at the Uni­ver­si­ty of Detroit Mer­cy. He is the author of
Dwight Mac­don­ald and the Pol­i­tics Cir­cle
(Cor­nell Press,
1996
), and is com­plet­ing
Kurt Von­negut and the Amer­i­can Dream
, a com­pan­ion to the writer's four­teen novels.