Slow but Steady: 6 Years Into Bus Driver Campaign, Teamsters Organize 32,000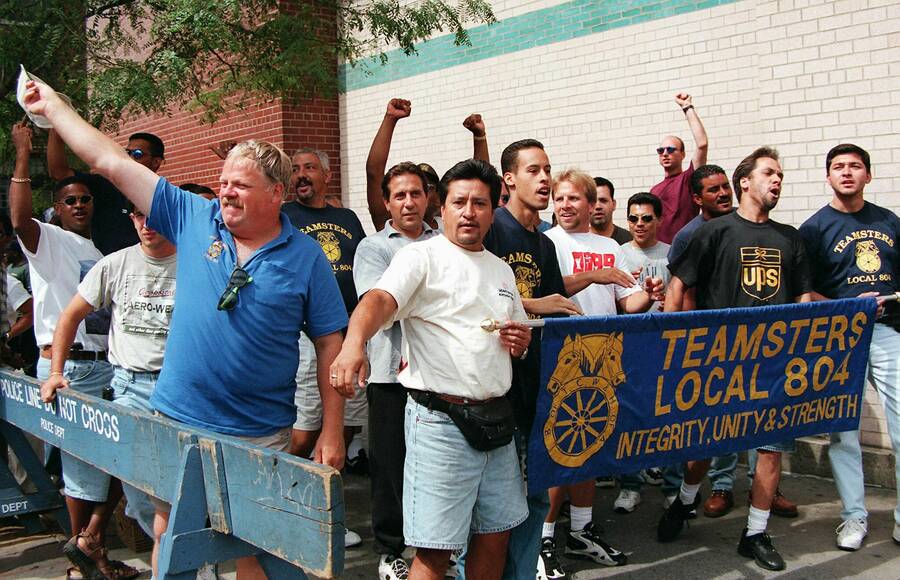 While most large labor union orga­niz­ing sto­ries of the last decade have been dark tales of hos­tile employ­ers, indif­fer­ent gov­ern­ment bureau­crats and pow­er­less work­ers, one such effort stands out in hope­ful con­trast — the nation­al school bus dri­vers cam­paign spear­head­ed by the Team­sters union.
The cam­paign marked a major mile­stone last month when it notched an elec­tion vic­to­ry in the north­ern Cal­i­for­nia towns of Hay­ward and Liv­er­more. That vote added only
159
work­ers employed by Durham School Ser­vices to the union rolls, but it also rep­re­sent­ed the
300
th
bus dri­ver elec­tion vic­to­ry for the Team­sters over the last six years. Cumu­la­tive­ly, the elec­tion wins have result­ed in the addi­tion of some
32
,
000
new union mem­bers at Team­ster locals across the country.
These num­bers are impres­sive by them­selves, but the cam­paign is far from over. If any­thing, the effort to sign up more bus dri­vers is pick­ing up steam, said Kim Keller, deputy orga­niz­ing direc­tor of the union. The Team­sters are con­fi­dent they can orga­nize the bulk of some
68
,
000
dri­vers employed by First Stu­dent Inc., the country's largest sin­gle school bus oper­a­tor. And there are many small­er com­pa­nies, includ­ing Durham, where low wages and pal­try ben­e­fits are cre­at­ing a grass­roots demand for union rep­re­sen­ta­tion, Keller said.
Orga­niz­ing suc­cess at this lev­el is not sole­ly the result of spon­ta­neous bursts of activism by bus dri­vers in the school park­ing lot, but also the fruit of years of effort prepar­ing the ground­work, accord­ing to Keller and oth­er labor observers. Ener­gy from the rank-and-file is essen­tial to suc­cess in any orga­niz­ing dri­ve, she com­ment­ed, but a sup­port net­work like the one cre­at­ed by the Team­sters can make the dif­fer­ence between a sput­ter­ing local protest and last­ing orga­niz­ing success.
For the Team­sters, that sup­port net­work has been built up care­ful­ly over the years with an ini­tial focus on First Stu­dent, a Cincin­nati-based com­pa­ny with oper­a­tions in
42
U.S. states and eight Cana­di­an provinces. First Stu­dent is said to be largest pri­vate oper­a­tor of school bus­es in North Amer­i­ca, with direct con­trol over
60
,
000
vehi­cles and a grow­ing army of employ­ees. First Stu­dent, in turn, is owned by the British trans­port con­glom­er­ate First Group.
The com­pa­ny has grown rapid­ly in the U.S. as local school sys­tems shed their own bus fleets and turn to pri­vate con­trac­tors to pro­vide trans­porta­tion for the kids. Much of the cost sav­ings from these moves comes from elim­i­nat­ing the schools' bus fleet employ­ees, who in the past had often been able to secure decent wages and benefits.
Joni Cleve­land is a bus dri­ver in Oma­ha, Neb., with a close-up view of this devel­op­ment. An employ­ee of a num­ber of dif­fer­ent bus oper­a­tors for
20
years, she saw the com­pa­ny she worked for pur­chased by First Stu­dent. Soon after, work­er dis­con­tent with the low wages, pal­try ben­e­fits and dif­fi­cult work­ing con­di­tions spurred talk among the dri­vers of form­ing a union.
​
"
I wasn't too open to join­ing a union in the begin­ning," she told
In These Times
. ​
"
Peo­ple told me that a union was just anoth­er busi­ness, and I didn't need anoth­er boss," Cleve­land said.
But her expe­ri­ence in a sec­ond job as a man­ag­er at a Ken­tucky Fried Chick­en restau­rant changed her out­look. ​
"
When you work as man­ag­er at KFC you have a con­tract with the com­pa­ny. That's just fair to the employ­ee. Every­body should have the same chance to have a con­tract" with the employ­er, she said.
The sec­ond job at KFC was nec­es­sary, accord­ing to Cleve­land, because it was impos­si­ble to live on the pay pro­vid­ed by First Stu­dent. The basic start­ing wage was $
13
.
52
an hour when the Team­ster orga­niz­ing cam­paign began in
2008
, he said, and there were no paid ben­e­fits at all. ​
"
They had a health­care plan, but you have to pay about $
300
a month for a fam­i­ly plan. Nobody can afford that on the kind the pay you earn dri­ving a bus for them," she said.
When the Oma­ha bus dri­vers were ready to talk union, the Team­sters were ready, Keller said. The union's orga­niz­ing depart­ment was expe­ri­enced in these sit­u­a­tions and Team­sters Local
554
was already there in Oma­ha with the local knowl­edge and con­tacts to move the cam­paign for­ward. Once under­way, the cam­paign moved quick­ly, Cleve­land reports, and a Nation­al Labor Rela­tions Board elec­tion showed about
80
per­cent of vot­ers favored the union.
With a union con­tract in place, start­ing wages have risen to $
15
.
62
an hour and some halt­ing progress has been made in intro­duc­ing ben­e­fits, Cleve­land said. Such improve­ments are typ­i­cal nation­al­ly, Keller added, with a union con­tract gen­er­al­ly improv­ing wages by about $
1
per hour to start. Improve­ments in work­place poli­cies affect­ing the bot­tom line also usu­al­ly fol­low a union con­tract, she said.
Key to the rapid progress, accord­ing to Keller, is a cor­po­rate labor pol­i­cy at First Stu­dent on ​
"
Free­dom of Asso­ci­a­tion." That pol­i­cy main­tains that the com­pa­ny will respect the right of work­ers to form unions and not active­ly sup­press orga­niz­ing cam­paigns, as is com­mon else­where in Amer­i­can busi­ness. The pol­i­cy was adopt­ed in
2007
, Keller reports, fol­low­ing sus­tained lob­by­ing and pres­sure by the Team­ster lead­ers in part­ner­ship with the British union UNITE, which rep­re­sents U.K. road and rail work­ers employed by First Student's par­ent com­pa­ny. Since
2007
, the two unions have worked steadi­ly to broad­en the cor­po­rate labor pol­i­cy, and estab­lish mon­i­tor­ing and safe­guard pro­ce­dures so that unions have a lev­el play­ing field for organizing.
For Keller, the Feb­ru­ary elec­tion mile­stone for the cam­paign was a cause for cel­e­bra­tion, but not for a dec­la­ra­tion of vic­to­ry. It has been one of the most suc­cess­ful orga­niz­ing ini­tia­tives in the coun­try, yet the con­di­tions faced by bus dri­vers are slow to improve. She esti­mates the nation­al aver­age for wages is still only about $
12
an hour, and the indus­try con­tin­ues to resist offer­ing mean­ing­ful ben­e­fits to most dri­vers. In one heart-break­ing episode in the recent Hay­ward-Liv­er­more cam­paign, orga­niz­ers on a home vis­it found one bus dri­ver liv­ing in a back­yard stor­age shed because the work­er couldn't afford any­thing better.
​
"
Dri­vers are ready to fight this sys­tem. They are ready to orga­nize and they are ready to fight back," Keller said. The Team­sters are press­ing on with orga­niz­ing work at First Stu­dent, she said, and are begin­ning to focus more direct­ly on a Durham. There is a great deal of work ahead, she con­clud­ed, and the bus cam­paign looks to go on for years to come.
Bruce Vail
is a Bal­ti­more-based free­lance writer with decades of expe­ri­ence cov­er­ing labor and busi­ness sto­ries for news­pa­pers, mag­a­zines and new media. He was a reporter for Bloomberg BNA's Dai­ly Labor Report, cov­er­ing col­lec­tive bar­gain­ing issues in a wide range of indus­tries, and a mar­itime indus­try reporter and edi­tor for the Jour­nal of Com­merce, serv­ing both in the newspaper's New York City head­quar­ters and in the Wash­ing­ton, D.C. bureau.