Slumlord Millionaire: Tenants Suffer While Landlord Prospers on Chicago's South Side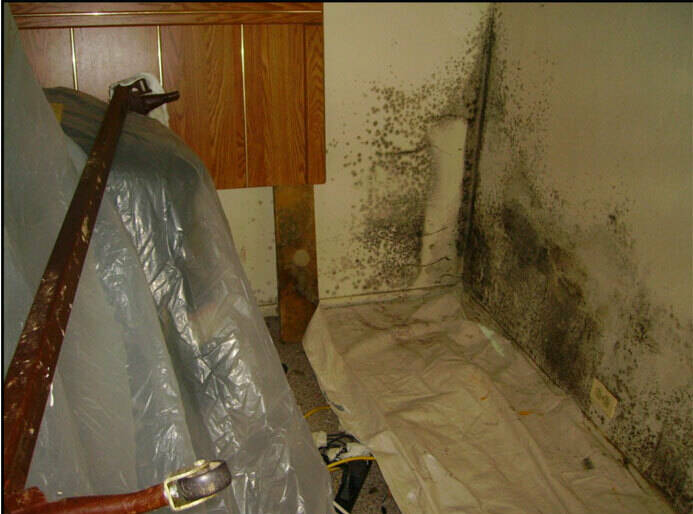 We wanted to make sure you didn't miss the announcement of our new Sustainer program. Once you've finished reading, take a moment to check out the new program, as well as all the benefits of becoming a Sustainer.

For Marietta Murphy, the pastoral setting of Princeton Park seemed like the perfect place to raise her five daughters.
&
nbsp;They could have the freedom to ride their bikes, and she could have a garden.
&
nbsp;And rents at the South Side housing complex were affordable.But nine years later, each of her girls suffers from respiratory problems, including asthma and recurring bronchitis, requiring constant treatment.
&
nbsp;Murphy blames pervasive mold in her townhome
&
ndash; and a landlord who has done nothing about repeated flooding.Standing water pools in the basement, and mold permeates the air in her home.
&
nbsp;Walls bubble from water damage, and lead chips fall from windows and door frames onto porches and into gardens.
&
nbsp;Tenants are living in unsanitary and hazardous conditions while Preston Higgins Jr, the development
&
rsquo;s owner, rakes in millions.Princeton Park tenants are organizing to improve conditions, and they
&
rsquo;ve filed a class-action lawsuit against Higgins over the mold and lead issues
&
ndash; and violations of Chicago
&
rsquo;s landlord tenant ordinance.Built in the
1940
s, the Princeton Park Homes complex occupies a six-square block west of the Dan Ryan between
91
st
and
95
th
Streets.
&
nbsp;A century ago, this was a rural area populated by Dutch settlers who cultivated the land for farming.
&
nbsp;As African Americans migrated north and Chicago grew, the racial fabric of the neighborhood changed, and the new residents needed affordable housing options.Princeton Park Homes were built to house black middle-class railroad workers and their families.
&
nbsp;Today the complex is still almost entirely African American, filled with working families that pay market-rate rent.
The development
&
nbsp;maintains
&
nbsp;much of its original appeal.
&
nbsp;Inside Princeton Park, the city
&
rsquo;s grid system is abandoned for curving streets and cul-de-sacs, and front lawns of townhomes are well manicured.
&
nbsp;Princeton Park
&
rsquo;s website boasts of the impressive gardens and fosters a healthy competition among residents vying for an annual garden and lawn award.Princeton Park residents take pride in their yards, but their sense of well-being stops at the front door.
&
nbsp;Residents report widespread problems with basement flooding and leaky windows and walls that cause mold to grow and ruin their belongings.
&
nbsp;Children test positive for lead poisoning.
&
nbsp;Rodents and insect infestations are plentiful.Lakisha Jones, a single mother of two who
&
rsquo;s lived in Princeton Park for two years, suffered six floods in just over a year.
&
nbsp;A two-foot-high water line marks the height of the most recent flood in her basement.
&
nbsp;Jones lost baby books and winter clothes, and she
&
rsquo;s had to replace a washer
&
ndash; and then purchase a new $
400
motor for the new washer after yet another flood.And after her home was flooded with water contaminated by feces and decaying animals, she and her
9
‑year-old son contracted bacterial infections that sent them to the hospital with oozing sores and fevers.Today she doesn
&
rsquo;t take any chances
&
ndash; industrial-strength bleach is a regular purchase and is used to combat the mold that creeps up walls and drips from her ceiling.
&
nbsp;Each time it rains, Jones is nervous and checks each wall and window for signs of flooding.
&
ldquo;I feel like a hurricane victim, having water run down my walls,
&
rdquo; she said.
&
nbsp;She
&
rsquo;s complained to the management office numerous times, but
&
ldquo;Princeton Park has failed to fix any of the safe and unsanitary conditions inside the property.
&
rdquo;In their lawsuit, tenants charge that Princeton Park owners pass the cost of maintenance and repairs on to tenants in violation of Chicago
&
rsquo;s Residential Landlord Tenant Ordinance.Under the ordinance, landlords are responsible for maintenance unless damage is caused by tenants; charges for general wear and tear should not be passed on the tenants.
&
nbsp;But the lease at Princeton Park states that
&
ldquo;Lessee must make his own repairs
&
hellip; at Lessee
&
rsquo;s expense.
&
rdquo;It
&
rsquo;s not for lack of money, with rents for nearly a thousand two- and three- bedroom units ranging from $
650
to $
800
a month, the owner takes in as much as $
750
,
000
each month.
&
nbsp; According to information from Dun
&
amp; Bradstreet, a company that licenses information on businesses and corporations, Preston Higgins
&
amp; Co. nets $
1
.
9
million in profits each year.Tenants charge that Princeton Park has turned the development
&
rsquo;s hazardous conditions into money-making opportunities while allowing the buildings to slowly deteriorate.
&
nbsp;In addition to their monthly rent, Princeton Park tenants pay for all repair and maintenance visits and all outside contractors.
&
nbsp;Additional fees range from $
5
to unstop a toilet to $
45
to clean grease traps, and even more for security doors, wiring or piping.
&
nbsp;Tenants end up bearing the lion
&
rsquo;s share of the financial burden for apartment condition and repair requests.A year or so into her residency, Marietta Murphy
&
rsquo;s kitchen sink needed repairs.
&
nbsp;The aging plumbing system was overburdened and regularly flooded.
&
nbsp;Princeton Park charged her for each maintenance visit.
&
ldquo;I have no idea how much extra they have charged me because its tacked onto the rent each month, and with additional fees and yearly rent increases, it
&
rsquo;s hard to keep track of,
&
rdquo; she said.In addition to paying maintenance visits each time flooding occurred, Murphy has lost three washers and dryers and a deep freezer in her nine years at Princeton Park.
&
nbsp;The owners don
&
rsquo;t really care, she said.
&
nbsp;
&
ldquo;The office told me there was nothing they could do and that I shouldn
&
rsquo;t put anything of value in the basement,
&
rdquo; she said.
&
nbsp;
&
rdquo;They told me I should get renters
&
rsquo; insurance.
&
rdquo;Murphy points out several vacant homes where former tenants voiced complaints to the management office and to Higgins to no avail.
&
nbsp;
&
rdquo;You better believe Higgins is not living like we are living out here,
&
rdquo; she said.
&
nbsp;
&
ldquo;And if he were to come out here and live one month in the summer with the floods, he
&
rsquo;d move out of here.
&
rdquo;The city has fined Preston Higgins LLC and Princeton Park LLC several times for code violations regarding flooding as well as noncompliance with lead abatement.
&
nbsp;But for Higgins, as for many landlords, such fines seem to merely be the cost of doing business.Princeton Park tenants want the city to do more.
&
nbsp;They
&
rsquo;re meeting regularly with the Metropolitan Tenant Organization and pressing city officials to help deal with the basement flooding proactively.At a recent tenant meeting, several residents expressed concern about the steps management has taken toward lead abatement.
&
nbsp;When door frames in a majority of the townhomes were found to contain lead, maintenance workers tacked aluminum strips to cover the lead paint.
&
nbsp;But tenants say the strips are flimsy and often fall off.Tenants say they wish Higgins would work with them to improve their living situation.
&
nbsp;They love Princeton Park for what it could be
&
ndash; a safe, pleasant and affordable neighborhood that fosters community.
&
nbsp;But they feel like they are investing in Preston Higgins rather than their community.
&
ldquo;I strongly believe that if Mr. Higgins would meet with this tenants once a month that this could be a much better place,
&
rdquo; said Murphy.
&
nbsp;
&
ldquo;Our rent is helping him go to Hawaii, buy luxury cars, and go to those five-star restaurants.
&
nbsp;Without us, he would be having White Castle and
&
nbsp;McDonald
&
rsquo;s
&
nbsp;like we do.
&
rdquo;
Be a Sustainer
We surveyed thousands of readers and asked what they would like to see in a monthly giving program. Now, for the first time, we're offering three different levels of support, with rewards at each level, including a magazine subscription, books, tote bags, events and more—all starting at less than 17 cents a day. Check out the new Sustainer program.
Sara Mathers
is a community organizer with the Metropolitan Tenants Organization in Chicago.