The Perils of High Fashion and the 1918 Migratory Bird Act Treaty
It's easy to imag­ine the glam­orous ear­ly 20th-cen­tu­ry woman who might wear the tiara in front of me. Del­i­cate and adorned with wispy white feath­ers that wouldn't come cheap, this aigrette (the French word for egret) would rest atop the head of a rich and fash­ion­able soci­ety fig­ure. Such an orna­ment made of feath­ers rep­re­sent­ed the height of con­tem­po­rary style.
And for many oth­ers, the tiara would be a walk­ing sym­bol of man's inabil­i­ty to respect the nat­ur­al world, for as a 1917 Field and Stream sto­ry on migra­to­ry birds and the dev­as­ta­tion fash­ion wrought upon them notes, each bunch of feath­ers on an aigrette ​"prob­a­bly means that a moth­er egret has been mur­dered and her three or four baby herons have been left to starve to death in the nest."
These birds, and their repur­pos­ing as gaudy fash­ion state­ments, are the sub­ject of a new exhib­it at the New-York His­tor­i­cal Soci­ety mark­ing 100 years since the pas­sage of the 1918 Migra­to­ry Bird Act Treaty, a piece of leg­is­la­tion that put a swift end to the hunt­ing of birds like egrets (and swans, eagles and hum­ming­birds). Open through July 15, Feath­ers: Fash­ion and the Fight for Wildlife show­cas­es a col­lec­tion of gar­ments and acces­sories made with the feath­ers, beaks, and in some cas­es, the full bod­ies of dead birds. Paint­ings by John James Audubon depict those same birds alive and in-flight, mak­ing a case for what activists, gov­ern­ments, and ordi­nary cit­i­zens can do in the face of seem­ing­ly inevitable envi­ron­men­tal destruction.
It took the feath­ers of four egrets to pro­duce one aigrette, a fact reflect­ed in the sheer num­ber of birds killed. Exhib­it co-cura­tor Debra Schmidt Bach says one set of sta­tis­tics sug­gests that in 1902, one-and-a-half tons of egret feath­ers were sold, which accord­ing to con­tem­po­rary esti­mates, cal­cu­lates to 200,000 birds and three times that many eggs. By oth­er fig­ures, the num­ber of birds being killed by hunters in Flori­da alone each year was as high as five million.
Milliners dec­o­rat­ed hats with entire birds (often dyed in rich pur­ples and blues), ear­rings made from the heads and beaks of hum­ming­birds, and a muff and tip­pet made from two Her­ring gulls, a species pushed almost to the brink of extinc­tion in the 1900s. The set is espe­cial­ly poignant because, as co-cura­tor Rober­ta Olson points out, their dis­tinc­tive red mark­ings indi­cate the gulls were har­vest­ed while they were breed­ing. ​"So it's kind of heart­break­ing," she says. ​"It's as though that's a mat­ing pat­tern that will face each oth­er for all eternity."
The demand for birds and their feath­ers reached a fever pitch at the turn of the 20th cen­tu­ry, and both cura­tors hypoth­e­size that as cities expand­ed, it was eas­i­er to feel increas­ing­ly dis­tant from nature. Iron­i­cal­ly, they saw the use of birds in fash­ion was a way to fos­ter a con­nec­tion with the ani­mal world. And while Bach acknowl­edges that women were the ​"most vis­i­ble pur­vey­ors and users of feath­ers," hunters, sci­en­tists, and col­lec­tors con­tributed equal­ly to the dec­i­ma­tion of bird populations.
That didn't stop the news media from blam­ing women for the mass die-off of migra­to­ry birds: the aigrette came to be known as the ​"white badge of cru­el­ty," and a 1917 Wash­ing­ton Post sto­ry chal­lenges bird lovers to push back against ​"self­ish­ly indif­fer­ent fol­low­ers of fashion."
Per­haps less talked about were the women — often Ital­ian immi­grants — who earned their wages direct­ly through the pro­duc­tion of these hats. The exhib­it intro­duces us to a fam­i­ly doing a kind of work called wil­low­ing — a way of extend­ing ostrich feath­ers — labor that might earn them $2.50 a week, or the equiv­a­lent of $75 in today's mon­ey, and a com­par­a­tive­ly high wage for unskilled work­ers. The work put them at risk for expo­sure to ill­ness that might come from doing dusty, repet­i­tive work in small, unven­ti­lat­ed ten­e­ment spaces. They suf­fered as well, through reduced wages, when the pub­lic demand shift­ed to bird-free alter­na­tives like the ​"Audobon­net," named after the envi­ron­men­tal­ist and made from silk and ribbon.
The pop­u­lar­i­ty of Audobon­nets and oth­er cru­el­ty-free acces­sories can be traced direct­ly to the women who cam­paigned tire­less­ly to end the use of migra­to­ry birds in fash­ion. Some, like Flo­rence Mer­ri­am Bai­ley, who as a Smith Col­lege stu­dent in 1886 orga­nized a local chap­ter of the Audubon Soci­ety, com­bined their activism with work that pushed oth­ers to appre­ci­ate the beau­ty of birds in their nat­ur­al habi­tats. Bailey's Birds Through an Opera-Glass, pub­lished in 1899, helped non-experts spot, iden­ti­fy and appre­ci­ate bird life, and over the course of her ornithol­o­gy career she'd write six bird­ing books focused pri­mar­i­ly on birds of the south­west­ern Unit­ed States.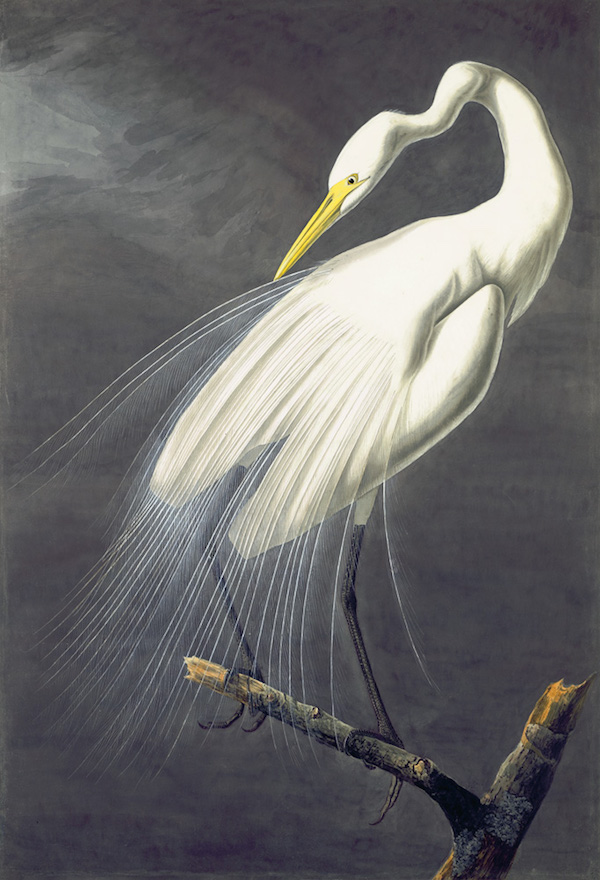 John James Audubon, Great Egret (Ardea alba),

1821

. Pur­chased for the New-York His­tor­i­cal Soci­ety by pub­lic sub­scrip­tion from Mrs. John J. Audubon,

1863

.
(Source: Smith​son​ian​.com)
Oth­ers, like Ger­man opera star Lil­li Lehmann, used their celebri­ty to bring atten­tion to the cause. ​"One of the things that she would do," Bach says, ​"is when she met her fans, or when she had dif­fer­ent kinds of audi­ences that she could speak to, she would encour­age women not to wear feath­ers, and in exchange, would offer her auto­graphs — if they made the promise not to wear feathers."
As the pub­lic took increas­ing inter­est in sav­ing and restor­ing bird pop­u­la­tions, indi­vid­ual states passed laws reg­u­lat­ing the hunt­ing and col­lec­tion of birds, eggs and feath­ers, but migra­to­ry birds — those most impact­ed by the feath­er trade — remained with­out pro­tec­tion at the fed­er­al lev­el until the pas­sage of the Migra­to­ry Bird Treaty Act of 1918. Accord­ing to the Audubon Soci­ety, the MBTA is ​"cred­it­ed with sav­ing numer­ous species from extinc­tion, such as the Snowy Egret, Wood Duck, and Sand­hill Crane, and mil­lions, if not bil­lions of oth­er birds," and while hats dec­o­rat­ed with the feath­ers of non-migra­to­ry birds like chick­ens and ostrich­es remained pop­u­lar, aigrettes and oth­er acces­sories fea­tur­ing the plumes and parts of migra­to­ry birds van­ished from the heads of fash­ion­able women.
The egret now serves as the Audubon Society's emblem, and Bach and Olson point to the naturalist's famed water­col­or por­traits of migra­to­ry birds as an exam­ple of how to cel­e­brate and admire wildlife from afar. Audobon, paint­ing in the 1820s and 1830s, was one of the first artists to cap­ture the images of birds in their nat­ur­al habi­tats and part of their suc­cess, says Olson, is how Audubon pre­sent­ed his avian subjects.
"Notice how Audubon's birds always look at you," she says. ​"They're alive, he uses the reserve of the paper to be the reflec­tion in the eye. And so you feel like you're hav­ing a rela­tion­ship with them." While Audubon died in 1851, his art and work remain cen­tral to Amer­i­can con­ser­va­tion move­ments — Bach and Olson both call his work ahead of its time and instru­men­tal in the devel­op­ment of lat­er activists, many of whom orga­nized Audubon Soci­ety chap­ters of their own.
The exhib­it, and the chance it gives us to see the majesty of these birds, comes at a cru­cial time — the Depart­ment of the Inte­ri­or recent­ly announced plans to rein­ter­pret the MBTA to weak­en pun­ish­ments for ​"inci­den­tal" destruc­tion of birds and eggs. While the gov­ern­ment sug­gests this inter­pre­ta­tion is meant to ben­e­fit aver­age cit­i­zens — a home­own­er who might acci­den­tal­ly destroy an owl's nest, for exam­ple—many in con­ser­va­tion cir­cles think it will be used as a loop­hole for cor­po­ra­tions to wreak hav­oc on bird pop­u­la­tions with lit­tle to no pun­ish­ment.
Before I leave, Olson shows me one more Audubon water­col­or, this one of an egret. ​"You can see he is lift­ing off his back flip, as though it were a windup toy. And you can see, it's just so full of ten­sion and life. And it's alive."
It shows, she says, what the Migra­to­ry Bird Treaty Act real­ly did. ​"And there is an under­cur­rent, I think, all for sus­tain­abil­i­ty. And if one is a good stew­ard of the envi­ron­ment, and of nature, we can get along."
(​"Keep­ing Feath­ers Off Hats – And On Birds" was first pub­lished on Smith​son​ian​.com and is repost­ed on Rur­al Amer­i­ca In These Times in accor­dance with the magazine's Terms of Use. To read more from this author, click here.)
Angela Ser­ra­tore
is a writer and a con­tribut­ing edi­tor at Smith​son​ian​.com. Fol­low her on Twit­ter @monodialogue