Mary Kay Henry and Smoke Signals From the Purple Vatican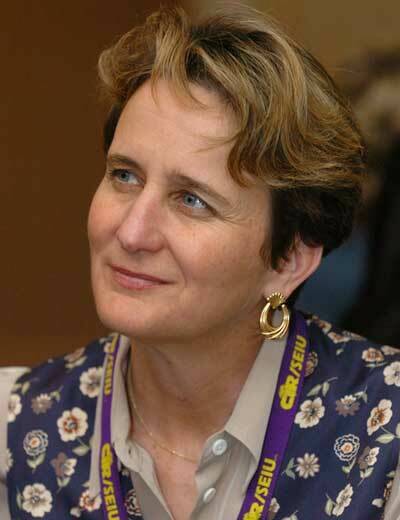 Will SEIU's West Coast ​'War­rior' be an improve­ment on Pope Andy I?


In a video mes­sage to mem­bers of the Ser­vice Employ­ees Inter­na­tion­al Union (SEIU) ear­li­er this month, their long­time pres­i­dent, Andy Stern, tried to assuage any pop­u­lar grief about his forth­com­ing retire­ment. He quot­ed from a Dr. Seuss sto­ry he often read to his chil­dren. ​"Don't cry because it's over," Stern advised. ​"Smile because it happened."
In the top ranks of the union, lit­tle time has been wast­ed on tears. Like the ever-mis­chie­vous ​"Cat in the Hat," four SEIU exec­u­tive vice pres­i­dents imme­di­ate­ly start­ed cam­paign­ing to have their 52-year old col­league, Mary Kay Hen­ry, replace Stern, rather than his old­er, more stol­id sec­re­tary-trea­sur­er Anna Burg­er.

Burg­er, in turn, urged the sev­en­ty or more Inter­na­tion­al Exec­u­tive Board (IEB) mem­bers, who will be mak­ing this deci­sion in May, to fol­low Stern's rec­om­men­da­tion and elect her pres­i­dent. While any con­test­ed vote is wel­come in a union that gen­er­al­ly dis­cour­ages them, the process of replac­ing Stern has been about as trans­par­ent as the Col­lege of Car­di­nals' method of pick­ing a new pope in Rome. Instead of watch­ing for col­or-cod­ed smoke sig­nals from the Vat­i­can, a wait­ing labor world has been deci­pher­ing mes­sages, from one side or the oth­er, as they get post­ed on the Internet.
In one of these let­ters, SEIU Health­care divi­sion chair Den­nis Rivera appealed, unsuc­cess­ful­ly, for ​"lead­er­ship uni­ty." By this, he meant that Mary Kay Hen­ry should bide her time and take the sec­re­tary-trea­sur­er job instead, while Burg­er serves out the remain­der of Andy's unfin­ished term.
But the gang of four EVPs who are pro-Hen­ry — Ger­ry Hud­son, Eliseo Med­i­na, Dave Regan, and Tom Woodruff — took a dif­fer­ent tack when court­ing their board col­leagues. They released a let­ter on April 17 that acknowl­edged grow­ing inter­nal con­cern about SEIU's loss of focus on real orga­niz­ing (as opposed to poach­ing mem­bers from oth­er unions) and its alien­ation of past labor-com­mu­ni­ty sup­port­ers around the country.
Many of you have expressed the need to return to orga­niz­ing as our top priority…We've also heard many of you say it's time to restore our rela­tion­ships with the rest of the union move­ment and our pro­gres­sive allies.
While all four sign­ers helped cre­ate these new­ly-dis­cov­ered orga­ni­za­tion­al chal­lenges, their let­ter tout­ed Hen­ry as just the right helmswoman for a rec­ti­fi­ca­tion cam­paign that would be famil­iar to cit­i­zens in any one-par­ty dic­ta­tor­ship abroad. There — just as in SEIU today – the ​"cor­rect line" can change abrupt­ly, but with­out any for­mal admis­sion that the cen­tral com­mit­tee (or, more impor­tant­ly, any­one cur­rent­ly on it) has ever made a sin­gle polit­i­cal mis­take that needs to be rec­ti­fied.

For her part, Mary Kay Hen­ry has been rapid­ly accu­mu­lat­ing plau­dits that are sim­i­lar­ly dis­con­nect­ed from real­i­ty, although wide­ly dis­sem­i­nat­ed by media out­lets rang­ing from Politi­co to The New York Times to our very own In These Times. For exam­ple, it was actu­al­ly sug­gest­ed ear­li­er this week, in The Times, that Hen­ry is ​"some­one fresh and new," when in fact she is a pro­to­typ­i­cal prod­uct of the SEIU man­age­r­i­al class first recruit­ed and installed by Stern or his pre­de­ces­sor, John Sweeney, sev­er­al decades ago.
The head­line on that same 4/26/10 sto­ry by the Times' Steven Green­house even referred to Hen­ry as the ​"Grass-Roots Choice" for SEIU pres­i­dent when, in fact, her cam­paign is about as far from the grass­roots as sky-box­es are from astro-turf in any big league sta­di­um.

In Politi­co, Ben Smith mis­tak­en­ly claimed that ​"Hen­ry would be the first woman, and the first open­ly gay leader to head one of America's largest unions." In fact, both of these ​"his­toric firsts" have already been accom­plished by Ran­di Wein­garten of the Amer­i­can Fed­er­a­tion of Teach­ers. More aware of Mary Kay's impend­ing sec­ond place fin­ish behind Ran­di, for­mer (and per­haps future?) SEIU media con­sul­tant Ray Aber­nathy laud­ed her instead as ​"a pret­ty slick dudette" — ​"a Catholic war­rior for women's rights and gay and les­bian rights" who has ​"nev­er even threat­ened to leave the church."
Mean­while, my fel­low WITT con­trib­u­tor David Moberg report­ed that Mary Kay is ​"more col­le­gial and solic­i­tous of oth­ers' opin­ions" than the ​"stiff and arro­gant" Anna Burg­er. In ​"trou­bled times" when ​"SEIU is fac­ing a grow­ing num­ber of dif­fi­cul­ties, Hen­ry may be a sooth­ing leader," the ever-hope­ful Moberg sur­mised.

In the spir­it of Krem­li­nol­o­gy-past (and Vat­i­can-watch­ing today), let me pro­vide a few more salient bio­graph­i­cal details about Sis­ter Mary Kay, the appar­ent suc­ces­sor to Andy Stern:

Unlike Stern and Burg­er — but like a major­i­ty of those ele­vat­ed to high posi­tions by them — Hen­ry has nev­er been a work­ing mem­ber of SEIU. She joined the union staff as a researcher in 1979. She man­aged to get on the IEB, as a Stern appointee, 17 years lat­er with­out ever hav­ing been elect­ed to any local union posi­tion — not shop stew­ard, nego­tia­tor, e‑board mem­ber, or pres­i­dent. She has nev­er even run a local union as a Stern-appoint­ed trustee (the usu­al path to upward mobil­i­ty in SEIU for col­lege-edu­cat­ed staffers hired from the out­side).

Over the years, Hen­ry has been involved in much head­quar­ters strate­giz­ing about and region­al coor­di­na­tion of SEIU health care orga­niz­ing. She has also dealt with sev­er­al major employ­ers about orga­niz­ing rights agree­ments and labor-man­age­ment part­ner­ship pro­grams. But long­time SEIU co-work­ers say she has had very lit­tle direct involve­ment in actu­al col­lec­tive bar­gain­ing (as in per­son­al­ly chair­ing any large elect­ed union nego­ti­at­ing com­mit­tees con­fronting man­age­ment across the table). She's report­ed­ly much bet­ter at con­duct­ing staff con­fer­ence calls than under­stand­ing or sup­port­ing work­place strug­gles. And, these crit­ics note, SEIU's health­care divi­sion mem­ber­ship achieved far greater growth under her pre­de­ces­sor, Lar­ry Fox, who was pushed aside by Stern to make way for an up-and-com­ing Mary Kay.

Henry's behind-the-scenes role with employ­ers like Tenet Health­care Cor­po­ra­tion has been quite con­tro­ver­sial, to say the least. As my friend Cal Winslow reports in his new PM Press pam­phlet, ​"Labor's Civ­il Wars in Cal­i­for­nia," Hen­ry was among those top SEIU staffers who ​"com­man­deered nego­ti­a­tions" with Tenet three years ago, by-pass­ing the elect­ed bar­gain­ing com­mit­tee structure:
In Decem­ber 2006, SEIU announced they had reached a ten­ta­tive agree­ment with Tenet for orga­niz­ing rights at 23 hos­pi­tals through­out the Unit­ed States. What had they giv­en up? SEIU rep­re­sen­ta­tives agreed to give up work­ers' right to strike in Cal­i­for­nia for ten years, to allow the com­pa­ny to sub­con­tract up to 12 per­cent of the work­force at any time, and to give away job secu­ri­ty pro­vi­sions already con­tained in the con­tract. Most exist­ing SEIU dues-pay­ers at Tenet belong to UHW and they weren't hap­py about this deal.
As Winslow reports, Tenet was soon ​"faced with the oppo­si­tion of thou­sands of mobi­lized UHW mem­bers in Cal­i­for­nia" and, in the end, ​"with­drew its con­ces­sion­ary demands." Left behind, how­ev­er, was a major inter­nal union rift over bar­gain­ing and orga­niz­ing strat­e­gy that led direct­ly to Stern's dis­as­trous Jan­u­ary 2008 takeover of UHW.

Hen­ry has done not just one, but two rel­e­vant tours of duty in SEIU trustee­ships over the same Cal­i­for­nia health­care union— orig­i­nal­ly known as Local 250 and more recent­ly renamed Unit­ed Health­care Work­ers-West (or UHW). Her track record in such assign­ments reveals a lot about what kind of pur­ple appa­ratchik may be soon be wield­ing Andy's scepter in Wash­ing­ton.

In her first go-round in the Bay Area, Hen­ry was part of a head­quar­ters crew installed by then-SEIU pres­i­dent John Sweeney to run the affairs of Local 250 after it was bank­rupt­ed by a long Kaiser strike and local lead­ers asked to be put under trustee­ship.

Mary Kay worked under SEIU orga­niz­er Mark Splain, who was hand-picked by Sweeney to become, in the usu­al SEIU fash­ion, pres­i­dent of the local when the first post-trustee­ship elec­tion of offi­cers was held in 1988. Unfor­tu­nate­ly for the Inter­na­tion­al union, the mem­ber­ship — then, as now — had oth­er ideas about who their lead­ers should be.

A group of rank-and-fil­ers and staff put togeth­er a com­pet­ing slate, head­ed by Sal Rossel­li. He was then fired, along with oth­er sup­port­ers on the local pay-roll, and the trustee­ship extend­ed for many months to give Splain more time to win. Hen­ry was a key fig­ure in the bit­ter strug­gle to keep Local 250 in head­quar­ters-approved hands. She had plen­ty of help in the form of 50 paid staffers, almost all of whom backed Splain. When the bal­lots were final­ly count­ed (a much con­test­ed process as well), Rossel­li beat Splain by a mar­gin of 49 to 46 per­cent.

By the time of Stern's take over of UHW and ouster of Rossel­li and oth­er elect­ed lead­ers 20 years lat­er, Local 250 had grown, through merg­ers and new orga­niz­ing, into SEIU's third largest affil­i­ate, 150,000 mem­bers-strong. In 2008 – 9, Hen­ry was a major cheer­leader for the occu­pa­tion army of staffers, assem­bled at great cost from around the coun­try, to seize and dis­man­tle UHW. At one infa­mous trustee­ship plan­ning meet­ing held in Las Vegas in Jan­u­ary 2008, she applaud­ed the soon-to-be UHW invaders as ​"war­riors" for the SEIU cause

Work­ing on the front lines of the con­tin­u­ing UHW trustee­ship has not made Mary Kay a more ​"sooth­ing" pres­ence since then. In fact, she's been a real ​"war­rior" her­self, albeit with spe­cial pro­tec­tion not afford­ed to most of the troops under her com­mand. (It was recent­ly dis­closed, in fed­er­al court, that SEIU paid for four months of cost­ly 24-hour guard­ing of her home, by a cor­po­rate secu­ri­ty firm, in case any irate UHW mem­bers stopped by, unin­vit­ed, for a chat last year.)
When Hen­ry has vis­it­ed UHW work­places where mem­bers are over­whelm­ing­ly opposed to the trustee­ship and have signed peti­tions to join SEIU's new rival — the Nation­al Union of Health­care Work­ers (NUHW) — she has been quick to invoke mar­tial law per­son­al­ly.

As PerezStern, the SEIU-watch­ing blog­ger report­ed last March, Hen­ry vis­it­ed Kaiser's Wal­nut Creek Med­ical Cen­ter with anoth­er staffer right after Lover Joyce, an African-Amer­i­can med­ical assis­tant at the hos­pi­tal, had been removed as stew­ard, along with a co-work­er. In response, their fel­low stew­ards had called an emer­gency meet­ing and passed a res­o­lu­tion refus­ing to rec­og­nize SEIU's dis­missal of elect­ed shop floor lead­ers. (That unprece­dent­ed statewide purge has now affect­ed hun­dreds of stew­ards at Kaiser, who have either quit in dis­gust or been removed for refus­ing to sign an SEIU-required ​"loy­al­ty oath.")

When Mary Kay showed up for the Wal­nut Creek stew­ards' next month­ly meet­ing, Lover came in to the hos­pi­tal, on his day off, so he could par­tic­i­pate as well. He was told he couldn't and the Wal­nut Creek Police Depart­ment was called for back-up. As Perez report­ed last March 20:
For­tu­nate­ly, the police had a far bet­ter under­stand­ing of union democ­ra­cy than Mary Kay or her assis­tant. After hear­ing what hap­pened, the police report­ed­ly told the SEIU staffers: ​'We can't arrest this guy. He works here at the hos­pi­tal. And he's a union mem­ber. How can we arrest him for com­ing to a union meeting?'
At a Labor Notes con­fer­ence the year before, Lover deliv­ered a very mov­ing speech to 1,000 oth­er trade union­ists about what the old UHW meant to him and many oth­er work­ers. In a prophet­ic pre-trustee­ship obser­va­tion, he not­ed that ​"when you have peo­ple who are appoint­ed to things, their loy­al­ty isn't to the mem­ber­ship, it's to the peo­ple who appoint­ed them."
On the ground this sum­mer at Kaiser, where NUHW will be com­pet­ing with SEIU for the hearts and minds of 45,000 work­ers like Lover Joyce, the mem­o­ry of Mary Kay Hen­ry may help car­ry the day for NUHW — regard­less of Henry's own upcom­ing win among top SEIU offi­cials in Wash­ing­ton.

Steve Ear­ly has been con­demned to SEIU-watch­ing, like oth­ers scru­ti­nize the Vat­i­can, for rea­sons that may have to do with his youth­ful fail­ings as an altar boy. His longer account of ​"Who Rules SEIU?" will appear as a chap­ter in The Civ­il Wars in U.S. Labor, forth­com­ing next win­ter from Hay­mar­ket Books. A union orga­niz­er, strike coor­di­na­tor, and con­tract nego­tia­tor in the tele­com indus­try for 27 years, he is also the author of Embed­ded With Orga­nized Labor: Jour­nal­is­tic Reflec­tions on the Class War at Home (Month­ly Review Press, 2009).
Steve Ear­ly worked for 27 years as an orga­niz­er and inter­na­tion­al rep­re­sen­ta­tive for the Com­mu­ni­ca­tions Work­ers of Amer­i­ca. He is the author of sev­er­al books, includ­ing Refin­ery Town: Big Oil, Big Mon­ey, and the Remak­ing of an Amer­i­can City (Bea­con Press).