Smokey the Bear, Anti-Fracking Insurgent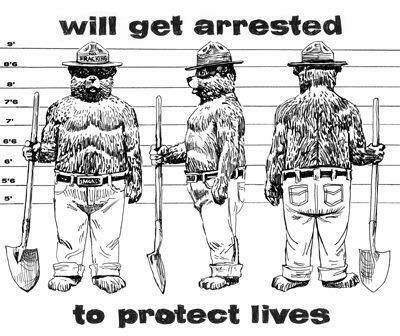 Reprint­ed with per­mis­sion from Wag­ing Nonviolence
Smokey the Bear thought he smelled a fire in the woods. But as he approached the clear­ing and saw a giant der­rick jut­ting out into the sky, he real­ized that what his nose had picked up was the scent of hydro­car­bons. It was anoth­er piece of evi­dence that the increas­ing­ly wide­spread method of oil and gas extrac­tion known as frack­ing was poi­son­ing the envi­ron­ment that he and his human friends depend on. He decid­ed some­thing must be done.
At least that's the way that artist, Occu­py Wall Street vet­er­an and envi­ron­men­tal activist Lopi LaRoe sees it. But last week she received a let­ter threat­en­ing her with jail time and thou­sands of dol­lars in fines for enlist­ing Smokey to the anti-frack­ing cause.
In the fall, LaRoe cre­at­ed an image of Smokey that altered his famous invec­tive ​"Only you can pre­vent for­est fires" to ​"Only you can pre­vent faucet fires" — a ref­er­ence to the phe­nom­e­non of flam­ing taps that occa­sion­al­ly occur near where frack­ing takes place. The adjust­ment seemed to her in line with the mes­sage of con­ser­va­tion Smokey has come to embody.
​"This is the rad­i­cal­iza­tion of Smokey the Bear," said LaRoe. ​"This is Smokey wak­ing up and say­ing, ​'Oh you didn't do that to my envi­ron­ment.' Smokey wants to fight the cor­po­ra­tions and pro­tect the air and the water and the plants and the ani­mals and the people."
Her par­o­dy went viral. She began print­ing T‑shirts at the insis­tence of friends on Face­book, but demand quick­ly sur­passed those in her imme­di­ate cir­cle of con­tacts. Soon she was pack­ing Smokey in FedEx envelopes and send­ing him off to Aus­tralia and oth­er far-flung ter­rains. There are also tote bags and patch­es with the Smokey meme avail­able at LaRoe's web­site. (The tote bags, she adver­tis­es, are ​"great for dump­ster div­ing.") LaRoe says she's not out to become rich and the mon­ey she charges cus­tomers goes toward cov­er­ing her costs so that she can keep spread­ing the mes­sage of faucet-fire pre­ven­tion far and wide.
​"It spread like wild­fire," she said, grin­ning ear to ear.
Not every­one is amused. LaRoe received a cease-and-desist let­ter from the Métis Group, which serves as legal coun­sel for the U.S. Depart­ment of Agriculture's For­est Ser­vice divi­sion. The let­ter informs LaRoe that Smokey, his char­ac­ter and his slo­gan are prop­er­ty of the U.S. gov­ern­ment and warns that she has until May 2 to halt the use of Smokey on her ​"prod­ucts" and to stop dis­trib­ut­ing elec­tron­ic copies of the meme. Oth­er­wise, she faces up to six months in prison and a penal­ty as high as $150,000.
​"Any time any­body uses Smokey's image for any­thing oth­er than wild­fire pre­ven­tion," said Helene Cleve­land, fire pre­ven­tion pro­gram man­ag­er for the For­est Ser­vice, ​"it con­fus­es the pub­lic. What we're try­ing to do is keep Smokey on mes­sage." Cleve­land added that the 1952 Smokey the Bear Act takes the char­ac­ter out of the pub­lic domain and ​"any change in that would have to go through Congress."
Two oth­er enti­ties besides the For­est Ser­vice claim joint rights to Smokey. The Nation­al Asso­ci­a­tion of State Foresters — a non-prof­it orga­ni­za­tion con­sist­ing of direc­tors of U.S. forestry agen­cies — and the Ad Council.
Remem­ber ​"This is your brain on drugs"? Or the Indi­an weep­ing over pol­lu­tion? They were the Ad Council's hand­i­work. A non-prof­it, it describes itself as a pro­mot­er of ​"pub­lic ser­vice cam­paigns on behalf of non-prof­it orga­ni­za­tions and gov­ern­ment agen­cies" with a focus on ​"improv­ing the qual­i­ty of life for chil­dren, pre­ven­tive health, edu­ca­tion, com­mu­ni­ty well being and strength­en­ing fam­i­lies." Smokey the Bear was born at the Ad Coun­cil, on the desk of abstract expres­sion­ist and Marx-influ­enced art crit­ic Harold Rosen­berg, who had a part time job there in the mid-1940s.
The Ad Council's board of direc­tors is a con­fla­gra­tion of rep­re­sen­ta­tives of the world's wealth­i­est cor­po­ra­tions, includ­ing rep­re­sen­ta­tives of such com­pa­nies as Gen­er­al Elec­tric, which announced plans last month to spend $110 mil­lion on a research lab devot­ed to the study of frack­ing, and finance giants such as Cit­i­group and JPMor­gan Chase. On its web­site, Citibank adver­tis­es an ​"exten­sive array of deposit, cash man­age­ment and cred­it prod­ucts" for oil and gas drillers, while a JPMor­gan Chase sub­sidiary boasts its ​"Oil & Gas Invest­ment Bank­ing group cov­ers the com­plete oil and gas val­ue chain, which includes explo­ration and pro­duc­tion, nat­ur­al gas pro­cess­ing and trans­mis­sion, refin­ing and mar­ket­ing, and oil­field services."
LaRoe believes that those who claim to own Smokey ​"don't care that I'm sell­ing a few T‑shirts. They're out to crush the meme."
Both the Ad Coun­cil and the Métis Group declined to com­ment for this story.
Despite the warn­ings in the cease-and-desist let­ter she received, the May 2 dead­line to shut down her site and retire her anti-frack­ing Smokey came and went; LaRoe has not ceased or desist­ed. Instead, she enlist­ed the help of her own legal coun­sel, who fired back with a let­ter to the Métis Group on Fri­day. In it, attor­ney Evan Sarzin argues that LaRoe ​'s cul­ture-jam appro­pri­a­tion of Smokey is per­mis­si­ble under the fair-use exemp­tion to exclu­sive copy­right own­er­ship and chides the the For­est Ser­vice for attempt­ing to infringe on LaRoe's First Amend­ment rights.
Sarzin also points out that this is not the first time the For­est Ser­vice has sought to silence envi­ron­men­tal­ists for appro­pri­at­ing Smokey's image. In the ear­ly 1990s, the For­est Ser­vice demand­ed repa­ra­tions from the Sante Fe-based con­ser­va­tion group LightHawk after it used Smokey's like­ness in ads crit­i­cal of the agency's prac­tice of auc­tion­ing off land to tim­ber com­pa­nies. (The For­est Ser­vice, as part of the Depart­ment of Agri­cul­ture, makes its land avail­able for com­mer­cial use.) Unlike LaRoe's Smokey, LightHawk's black bear appeared angry and wield­ed a chain­saw. ​"Say it ain't so, Smokey," read the ads.
With legal funds pro­vid­ed by the Sier­ra Club, LightHawk sued the For­est Ser­vice in 1992 for infring­ing on its free­dom of speech. The court even­tu­al­ly sided with the plain­tiffs, not­ing that ​"the satir­i­cal use of Smokey the Bear to crit­i­cize For­est Ser­vice man­age­ment tech­niques is unlike­ly to cause con­fu­sion or to dilute the val­ue of Smokey the Bear to help pre­vent for­est fires. Thus the For­est Ser­vice can­not have a com­pelling inter­est in pro­hibit­ing such use."
Sarzin also calls atten­tion to the fact the For­est Service's own research points to envi­ron­men­tal degra­da­tion caused by frack­ing. A 2011 study pub­lished in the Jour­nal of Envi­ron­men­tal Qual­i­ty by For­est Ser­vice researchers linked frack flu­id to the death of 150 trees in West Virginia's Monon­ga­hela Nation­al For­est. Despite their find­ings, the For­est Ser­vice is con­sid­er­ing approv­ing frack­ing leas­es in the near­by George Wash­ing­ton Nation­al Park. The South­ern Envi­ron­men­tal Law Cen­ter, which oppos­es the plan, says it rep­re­sents a threat to local wildlife — includ­ing the black bear.
A report released last month by the the Nation­al Parks Con­ser­va­tion Asso­ci­a­tion warns that frack­ing for oil is dec­i­mat­ing the ecosys­tem sur­round­ing Theodore Roo­sevelt Nation­al Park, named after the Repub­li­can pres­i­dent who found­ed the For­est Ser­vice. ​"Unless we take quick action," the report warns ​"air, water and wildlife will expe­ri­ence per­ma­nent harm in oth­er nation­al parks as well." Thus, Sarzin writes, LaRoe's Smokey meme ​"is a mes­sage that the For­est Ser­vice should endorse."
LaRoe hopes that by gain­ing pub­lic­i­ty she can force the For­est Ser­vice to take a stand against frack­ing. In order to con­tin­ue the fight, how­ev­er, she says she needs the sup­port of groups whose mis­sion it is to defend civ­il lib­er­ties or pro­tect the envi­ron­ment to pro­vide legal defense funds — just as the Sier­ra Club did for LightHawk.
​"This about more than me as an artist," LaRoe said. ​"This is about everybody's right to free­dom of speech and a healthy environment."
Her child­hood mem­o­ries of Smokey, she explains, are com­pelling her to keep rais­ing faucet-fire pre­ven­tion aware­ness despite the threat of jail time. ​"When we were lit­tle kids we were taught that there is this bear out there that wants to pro­tect our forests. Smokey is our bear. He belongs to the people."
Peter Rugh
is a facil­i­ta­tor for Occu­py Wall Street Envi­ron­men­tal Sol­i­dar­i­ty and chairs the Action Com­mit­tee of Shut Down Indi­an Point Now! He has writ­ten for The Indypen­dent, Ter​ra​s​pheres​.com, Com­mon Dreams and Social­ist Work­er. Pete blogs at EartoEarth​.org.