Social Democracy Can Only Tame Capitalism. We Need to Overcome It.
To achieve radical democracy, we need to rethink our undemocratic economic system.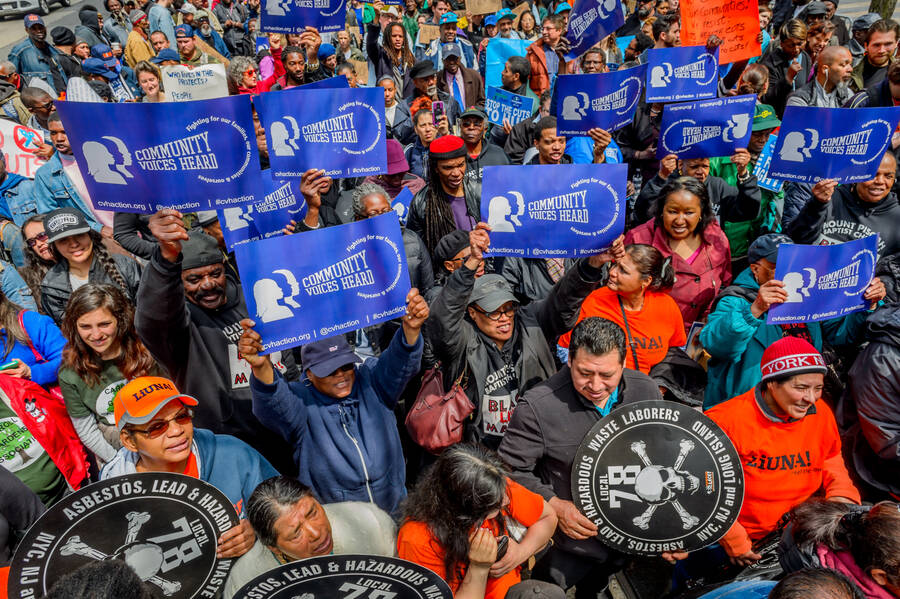 This arti­cle first appeared in Jacobin.
To chart a different course, we would need a militant labor movement and a mass socialist presence strengthened by accumulated victories, looking to not merely tame but overcome capitalism.
John Jud­is has all the right inten­tions. He's look­ing at the resur­gence of open­ly demo­c­ra­t­ic social­ist cur­rents in the Unit­ed States with a mix of excite­ment and trep­i­da­tion. Excite­ment, because he knows how des­per­ate­ly the country's work­ers need social reforms. Trep­i­da­tion, because he wor­ries that the new left might fall into the famil­iar traps of insu­lar­i­ty and sectarianism.
But while Jud­is wants us to change soci­ety for the bet­ter, his response to the fail­ures of twen­ti­eth-cen­tu­ry state social­ism would lead us into the dead end of twen­ti­eth-cen­tu­ry social democracy.
In his New Repub­lic essay ​"The Social­ism Amer­i­ca Needs Now," Jud­is makes a pas­sion­ate plea for the rebuild­ing of a social-demo­c­ra­t­ic move­ment — or what he calls ​"lib­er­al social­ism." He con­tends that the wel­fare state and demo­c­ra­t­ic reg­u­la­tion of a cap­i­tal­ist econ­o­my should be the end goal for social­ists, as past efforts at top-down nation­al­iza­tion and plan­ning yield­ed the repres­sive soci­eties and stag­nant economies of the Sovi­et bloc. In con­trast, Jud­is argues, the Scan­di­na­vian states are dynam­ic cap­i­tal­ist economies that are still far more equi­table and humane than the Unit­ed States.
For him, social­ism — demo­c­ra­t­ic con­trol over work­places and the econ­o­my — con­sists of ​"old nos­trums" whose days have past.
Of course, we urgent­ly need the reforms that Jud­is and the move­ment around Bernie Sanders advo­cate for. No demo­c­ra­t­ic social­ist could oppose efforts to guar­an­tee pub­lic pro­vi­sion of basic needs and take key aspects of eco­nom­ic and social life like edu­ca­tion, health care, and hous­ing out of the mar­ket. It would, as Jud­is writes, ​"bring immea­sur­able ben­e­fit to ordi­nary Americans."
But we have moral rea­sons to demand some­thing more. After all, we can't have real polit­i­cal democ­ra­cy with­out eco­nom­ic democ­ra­cy. Cor­po­ra­tions are ​"pri­vate gov­ern­ments" that exer­cise tyran­ni­cal pow­er over work­ers and soci­ety writ large. The cor­po­rate hier­ar­chy decides how we pro­duce, what we pro­duce, and what we do with the prof­its that work­ers col­lec­tive­ly make.
To embrace rad­i­cal democ­ra­cy is to believe that any deci­sion that has a bind­ing effect on its mem­bers — say, the pow­er to hire or fire or con­trol over one's work hours — should be made by all those affect­ed by it. What touch­es all, should be deter­mined by all.
At min­i­mum, we should demand an econ­o­my in which var­i­ous forms of own­er­ship (work­er-owned firms, as well as state-owned nat­ur­al monop­o­lies and finan­cial insti­tu­tions) are coor­di­nat­ed by a reg­u­lat­ed mar­ket — an econ­o­my that enables soci­ety to be gov­erned demo­c­ra­t­i­cal­ly. In an unde­mo­c­ra­t­ic cap­i­tal­ist econ­o­my, man­agers hire and fire work­ers; in a demo­c­ra­t­ic social­ist econ­o­my, work­ers would hire those man­agers deemed nec­es­sary to build a con­tent and pro­duc­tive firm.
They won't let us keep nice things.
This, how­ev­er, isn't a debate about the con­tours of the world we would like to see. While Jud­is rejects the desire of social­ists (and the his­toric goal of social democ­ra­cy itself) to cre­ate a rad­i­cal democ­ra­cy after cap­i­tal­ism, he does so large­ly on prag­mat­ic grounds. The old vision, for him, is ​"not remote­ly viable."
Yet his­to­ry shows us that achiev­ing a sta­ble wel­fare state while leav­ing capital's pow­er over the econ­o­my large­ly intact is itself far from viable. Even if we want­ed to stop at social­ism with­in cap­i­tal­ism, it's not clear that we could.
Since the ear­ly 1970s, the height of West­ern social democ­ra­cy, cor­po­rate elites have aban­doned the post­war ​"class com­pro­mise" and sought to rad­i­cal­ly restrict the scope of eco­nom­ic reg­u­la­tion. What cap­i­tal­ists grudg­ing­ly accept­ed dur­ing an excep­tion­al peri­od of post­war growth and ris­ing prof­its, they would no longer.
The past forty years has wit­nessed an ide­o­log­i­cal and polit­i­cal war against once-pow­er­ful labor move­ments and the wel­fare states they helped build. This bipar­ti­san class war advo­cat­ed for the four ​"d"s of neolib­er­al­ism: dereg­u­lat­ing the econ­o­my, decreas­ing pro­gres­sive tax­a­tion; decreas­ing the scope of pub­lic goods; and decreas­ing the pow­er of orga­nized labor.
Cor­po­ra­tions also moved their invest­ment in pro­duc­tion to new­ly indus­tri­al­iz­ing nations or low­er-wage regions and auto­mat­ed much of the high­er-skilled man­u­fac­tur­ing that remained. The focus of cor­po­rate prof­itabil­i­ty shift­ed to the FIRE econ­o­my (finance, insur­ance, and real estate), an econ­o­my based heav­i­ly on spec­u­la­tion and a low-wage ser­vice econ­o­my that most­ly serves the rich­est earners.
So did it have to end this way? Could the old wel­fare state not only have sur­vived but been expand­ed? Yes, but that would have required push­ing back against capital's pow­er to with­hold invest­ment. Sim­ply put, that would have required a more rad­i­cal socialism.
Many of the last generation's social democ­rats knew that cap­i­tal would dis­in­vest from soci­eties that enjoyed strong social rights. Back in the 1970s and ​'80s there were impor­tant attempts to gain greater con­trol over cap­i­tal to pre­vent just that.
Left social democ­rats in the Swedish labor fed­er­a­tion advanced the Mei­d­ner Plan, which would have taxed cor­po­rate prof­its over a twen­ty-five-year peri­od to achieve social own­er­ship of major Swedish cor­po­ra­tions. The Social­ist-led and Com­mu­nist-sup­port­ed gov­ern­ment in France under François Mit­ter­rand from 1981 to 1983 nation­al­ized 25 per­cent of French indus­try overnight and rad­i­cal­ly expand­ed labor rights (man­dat­ing col­lec­tive bar­gain­ing in firms of fifty work­ers or more).
Of course, these attempts and oth­ers were defeat­ed. France faced a real cap­i­tal strike, where­as the Swedish Social Democ­rats pulled back from adopt­ing the Mei­d­ner Plan out of fears of such a strike. The lag in cor­po­rate invest­ment cre­at­ed a reces­sion in France that led to a major con­ser­v­a­tive vic­to­ry in the 1985 par­lia­men­tary elec­tions. Mit­ter­rand had to dena­tion­al­ize firms and adopt bud­getary austerity.
Jud­is men­tions in pass­ing social democracy's right­ward lurch over the past thir­ty years. But he fails to men­tion the extent of its neolib­er­al­iza­tion or the his­tor­i­cal les­son we must draw: when cap­i­tal goes on the offen­sive, either labor must do the same or it will be forced to retreat.
In short, Jud­is writes out of his­to­ry the con­scious cor­po­rate offen­sive against con­straints on its pow­er. To sus­tain even the mod­est reforms he sees as the hori­zon of social­ism, we need to legit­i­mate a greater role for demo­c­ra­t­ic and state reg­u­la­tion of capital.
Pri­vate cap­i­tal sim­ply refus­es to invest in those goods need­ed to over­come rad­i­cal inequal­i­ty: afford­able hous­ing, mass tran­sit, alter­na­tive ener­gy, and job retrain­ing. Cap­i­tal is often reluc­tant to risk heavy invest­ment in nat­ur­al monop­o­lies that almost inevitably come under state reg­u­la­tion or own­er­ship (no com­pa­ny would invest in a com­pet­ing alter­na­tive ener­gy grid). Jud­is does not speak of the cli­mate cri­sis, yet there is no road to solv­ing it short of mas­sive pub­lic invest­ment and con­trol over utilities.
Of course, the Unit­ed States is the place where ​"social democ­ra­cy in one coun­try" would be the most eco­nom­i­cal­ly viable. Our domes­tic mar­ket is as large as the Euro­pean Union's, and we con­trol our own glob­al cur­ren­cy. We are a wealthy soci­ety that could eas­i­ly afford uni­ver­sal health, elder, and child care, as well as high qual­i­ty edu­ca­tion for all. But on the road to achiev­ing those nice things, cor­po­ra­tions would resist and deploy their most pow­er­ful tac­tic: the cap­i­tal strike.
Social democ­rats like Jud­is refuse to grap­ple with this, caus­ing them at key moments to sound the retreat and accom­mo­date cap­i­tal­ist forces, erod­ing the very reforms they hope to preserve.
To chart a dif­fer­ent course, we would need a mil­i­tant labor move­ment and a mass social­ist pres­ence strength­ened by accu­mu­lat­ed vic­to­ries, look­ing to not mere­ly tame but over­come cap­i­tal­ism. A social­ism that refus­es to deal with the ​"old nos­trums about own­er­ship and con­trol of the means of pro­duc­tion" will not only fall short of our demo­c­ra­t­ic expec­ta­tions of what a just soci­ety would look like — it will doom us to failure.
In These Times is proud to fea­ture con­tent from Jacobin, a print quar­ter­ly that offers social­ist per­spec­tives on pol­i­tics and eco­nom­ics. Sup­port Jacobin and buy a four-issue sub­scrip­tion for just $19.95.
Joseph M. Schwartz is the nation­al vice-chair of the Demo­c­ra­t­ic Social­ists of Amer­i­ca, and pro­fes­sor of polit­i­cal sci­ence at Tem­ple.Bhaskar Sunkara is the found­ing edi­tor of Jacobin.