The Denver Democratic Party Platform Now Has an Anti-Capitalist Plank, Thanks to Socialists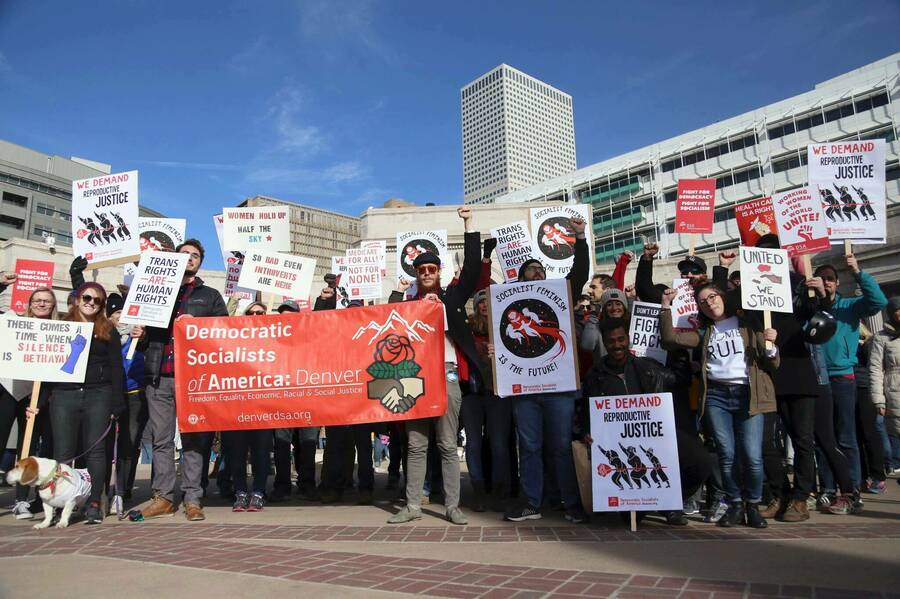 In a sign of how far left the polit­i­cal axis has shift­ed since Bernie Sanders' 2016 pres­i­den­tial run, on Sat­ur­day the Demo­c­ra­t­ic Par­ty of Den­ver offi­cial­ly rat­i­fied an anti-cap­i­tal­ist plank in its platform.
The move was spurred by mem­bers of the Den­ver chap­ter of the Demo­c­ra­t­ic Social­ists of Amer­i­ca (DSA) who peti­tioned Den­ver Coun­ty Demo­c­ra­t­ic Assem­bly del­e­gates to vote for an amend­ment to the offi­cial par­ty plat­form. The lan­guage states:
"We believe the econ­o­my should be demo­c­ra­t­i­cal­ly owned and con­trolled in order to serve the needs of the many, not to make prof­its for the few.
On March 24, the amend­ment passed with over­whelm­ing sup­port, and it will now be list­ed in the Demo­c­ra­t­ic Par­ty of Denver's plat­form pre­am­ble. Den­ver DSA chair Kristofer Dubbels tells In These Times that there was ini­tial­ly some open oppo­si­tion to the pro­pos­al, includ­ing a num­ber of del­e­gates who told him it ​"would nev­er pass." When the vote came up, how­ev­er, of the near­ly 1,000 del­e­gates present, rough­ly 90 per­cent raised their cards in approval.
Ear­li­er in the month, 15 mem­bers of Den­ver DSA were elect­ed as del­e­gates dur­ing the Demo­c­ra­t­ic Par­ty of Den­ver cau­cus, run­ning on a pledge to bring new enthu­si­asm to the par­ty and help spark more engage­ment from youth (near­ly all of the new­ly elect­ed del­e­gates are under 30). They say they were sur­prised by how lit­tle resis­tance they faced, and how open the local par­ty was to the empow­er­ing of a slate of socialists.
Once elect­ed, the DSA del­e­gates turned to amend­ing the par­ty plat­form to reflect a more rad­i­cal polit­i­cal vision. Dubbels says that mem­bers dis­cussed var­i­ous planks on issues rang­ing from munic­i­pal WiFi to the Boy­cott, Divest­ment and Sanc­tions move­ment against Israel. Ulti­mate­ly, explains Dubbels, they decid­ed on ​"some­thing along the lines of the orig­i­nal Clause IV of the British Labour Par­ty's con­sti­tu­tion, which explic­it­ly advo­cat­ed for com­mon own­er­ship of the means of production."
That clause, orig­i­nal­ly draft­ed in 1917 by British social­ist and co-founder of the Lon­don School of Eco­nom­ics Sid­ney Webb, read: ​"To secure for the work­ers by hand or by brain the full fruits of their indus­try and the most equi­table dis­tri­b­u­tion there­of that may be pos­si­ble upon the basis of the com­mon own­er­ship of the means of pro­duc­tion, dis­tri­b­u­tion, and exchange, and the best obtain­able sys­tem of pop­u­lar admin­is­tra­tion and con­trol of each indus­try or service."
The clause was adopt­ed by the Labour Par­ty in its 1918 offi­cial con­sti­tu­tion, in what com­men­ta­tors and media out­lets report­ed was the first time the par­ty had affirmed ​"def­i­nite­ly social­is­tic" principles.
The clause remained in Labour's con­sti­tu­tion until Tony Blair and his cen­trist New Labour coali­tion over­saw its removal in 1995, in order to make the par­ty more appeal­ing to ​"mid­dle England."
Dur­ing this same peri­od in the Unit­ed States, Bill Clin­ton and the New Democ­rats sought to realign the Demo­c­ra­t­ic Par­ty toward the cen­ter-right, enact­ing wel­fare ​"reform" and dereg­u­lat­ing the finan­cial industry.
Today, with Jere­my Cor­byn as Labour's leader, a cam­paign is mount­ing to bring back Clause IV, and Cor­byn has sig­naled an open­ness to adding in lan­guage pro­mot­ing pub­lic invest­ment in and con­trol over cer­tain indus­tries. The party's 2017 man­i­festo, mean­while, includes calls for pub­lic own­er­ship of rail­ways, ener­gy com­pa­nies and the mail sys­tem, along with a slew of redis­trib­u­tive pro­grams from hous­ing to social care.
Across the pond, orga­niz­ers from Cal­i­for­nia to Mass­a­chu­setts have over the past two years amend­ed local Demo­c­ra­t­ic Par­ty plat­forms to include calls for such pro­gres­sive poli­cies as a guar­an­teed fed­er­al jobs pro­gram, sin­gle-pay­er health­care, stu­dent loan debt for­give­ness, an end to for-prof­it pris­ons and tax­ing car­bon emis­sions. On a nation­al lev­el, in 2016, Sanders sup­port­ers suc­cess­ful­ly helped pass the most pro­gres­sive plat­form in the Demo­c­ra­t­ic Party's history.
The inclu­sion of demo­c­ra­t­ic con­trol over the econ­o­my in the Demo­c­ra­t­ic Par­ty of Den­ver plat­form stands out as the most rad­i­cal devel­op­ment yet in the grow­ing efforts to move the stat­ed posi­tions of local Demo­c­ra­t­ic par­ties to the left. And the mile­stone reflects the grow­ing pow­er of open social­ists in chart­ing the direc­tion of these parties.
Maria Svart, Nation­al Direc­tor of DSA — the largest social­ist orga­ni­za­tion in the coun­try — says: ​"What Den­ver DSA has done is show that demo­c­ra­t­ic social­ism is not a fringe per­spec­tive. Rather, an over­whelm­ing major­i­ty of Den­ver Coun­ty Demo­c­ra­t­ic Assem­bly del­e­gates affirmed that the econ­o­my should serve every­one, not the rich and pow­er­ful." (Full dis­clo­sure: The author is a mem­ber of DSA.)
A recent paper from Thomas Piket­ty, author of Cap­i­tal in the Twen­ty-First Cen­tu­ry, found that the strat­e­gy of trans­form­ing the Demo­c­ra­t­ic Par­ty through shift­ing plat­forms to the left is ​"actu­al­ly a win­ning elec­toral strat­e­gy that can help bring back dis­en­fran­chised work­ing-class vot­ers and less edu­cat­ed vot­ers who cur­rent­ly may not vote at all or iden­ti­fy with right-wing pop­ulism," as Kei­th A. Spencer writes in Salon.
While the plat­form in Den­ver isn't bind­ing, and Dubbels acknowl­edges that the amend­ment is ​"far to the left of every sin­gle elect­ed Demo­c­rat cur­rent­ly in office" in the city, he also says that it has plant­ed a flag for the party's left flank and proves that social­ist ideas ​"already have a built-in pop­u­lar­i­ty among the par­ty's grassroots."
Kaitlin Peter­son, a mem­ber of Den­ver DSA and new Den­ver Coun­ty Demo­c­ra­t­ic Assem­bly del­e­gate, says the pas­sage of the social­ist amend­ment ​"shows that the suc­cess of Bernie Sanders and his mes­sage wasn't a fluke. Peo­ple sin­cere­ly want a more demo­c­ra­t­i­cal­ly con­trolled econ­o­my and they are aware that many of the social injus­tices we see today are because of the pow­er that is giv­en to cor­po­ra­tions under our cur­rent polit­i­cal sys­tem. The Demo­c­ra­t­ic Par­ty estab­lish­ment needs to sit up and pay atten­tion to this if they want to survive."
After the March 24 vote, all 15 Den­ver DSA mem­bers signed up as del­e­gates to the Col­orado Demo­c­ra­t­ic Par­ty's State Assem­bly where, at an upcom­ing meet­ing on April 14, they hope to add the amend­ment to the state's Demo­c­ra­t­ic Par­ty platform.
And, accord­ing to Dubbels, the group will ​"con­tin­ue our efforts both to bring rad­i­cals into the Demo­c­ra­t­ic Par­ty and to rad­i­cal­ize every­one who is already there. A lot of peo­ple agree with us already and just need to be told they aren't alone."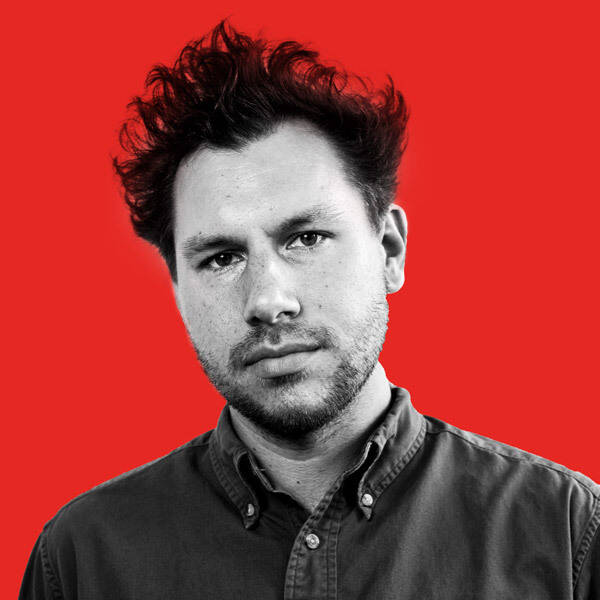 Miles Kampf-Lassin, a grad­u­ate of New York Uni­ver­si­ty's Gal­latin School in Delib­er­a­tive Democ­ra­cy and Glob­al­iza­tion, is a Web Edi­tor at In These Times. Fol­low him on Twit­ter @MilesKLassin