Soil is a world. A com­mu­ni­ty of beings as unbe­liev­able as you can imag­ine. If you could go out right now and look at the soil through an elec­tron micro­scope you'd see this kind of 4‑legged-aque­ous-cow crea­ture walk­ing along, splash­ing and eat­ing cil­ia and para­me­ci­um and all this oth­er stuff. Then, all of the sud­den from 10 o'clock, in runs this nar­whal 6‑legged thing who pierces the four-legged cow-look­ing thing and, fth­h­hh, sucks out the juices. And then while this aque­ous-cow-look­ing-4-legged crit­ter is sit­ting there, des­ic­cat­ing — being sucked into the straw by this nar­whal thing — in comes an 8‑legged crit­ter from 2 o'clock run­ning into the elec­tron micro­scope you're look­ing into. He has scis­sors on the top of his head and whacks off the head of the cow-look­ing thing and, thp thp thp thp thp thp thp, eats it up. And all this hap­pens in a frac­tion of a sec­ond in the elec­tron micro­scope while you're look­ing at it. This is what's going on. It's out there hap­pen­ing bil­lions and bil­lions of times a sec­ond. Every­where we step, every­where we are. And yet, who thought about this world in their show­er this morning?
That's the prob­lem. Who goes into a bank for a loan with a busi­ness plan and the banker sits back and says, ​"Hey, this is a real­ly good idea. In fact, it's such a good idea I think I wan­na be your paht­ner (I'm from the south, sor­ry) but before I give you this half a mil­lion dol­lar check for your cap­i­tal­iza­tion fund, I have one ques­tion: ​'What will this busi­ness do to the earth­worms and the myc­or­rhizae in our community?' "
Does any­body ever ask that? One of the prob­lems in our cul­ture is that we do not have an account­ing sys­tem that mea­sures the exter­nal­ized impacts of our deci­sions. In fact, we mea­sure our gross domes­tic prod­uct (GDP). If you ruin the soil and pol­lute the water and destroy our juve­niles so they all end up in jail, all the reme­di­a­tion efforts redound to a soci­etal asset called GDP. It's an insane account­ing practice.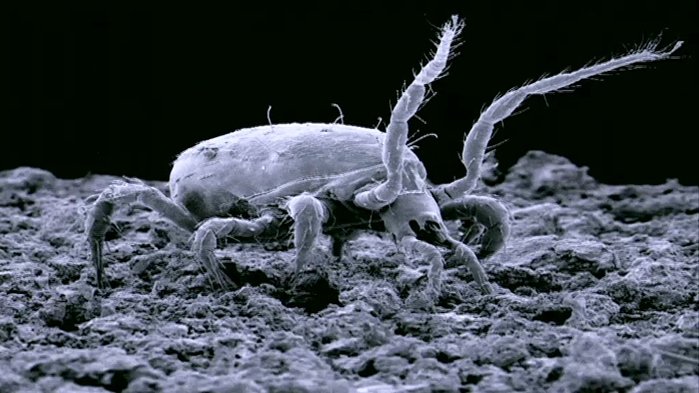 (Did some­body say $500,000? Google Images)
The Knights of the Gold­en Horseshoe
I'm from the Shenan­doah Val­ley in Vir­ginia, it's 80 miles long, 20 miles wide and east of the Blue Ridge Moun­tains. It was known as the bread­bas­ket of the Con­fed­er­a­cy dur­ing the Civ­il War. But if you go back, we had this gov­er­nor before the Rev­o­lu­tion­ary War named Alexan­der Spotswood. In the ear­ly 18th cen­tu­ry, the British had come and they'd land­ed on the east and they'd moved west, west, west into Char­lottesville. They hit the Blue Ridge Moun­tains and they didn't go beyond that. In the ear­ly 1700s a lot of riff-raff — these Ger­mans, Scots-Irish, you know — were com­ing down from Penn­syl­va­nia and New York (yeah we had Yan­kees then too) and set­tling in the Shenan­doah Val­ley. Spotswood was afraid he was going to lose the val­ley and what was beyond there. So in 1716, he sent about 10 bud­dies (he called them the Knights of the Gold­en Horse­shoe) across the moun­tain. He said, ​"go over to the val­ley and scope it out, tell me what you find." They went over to the val­ley and they wrote back: ​"Every­where we rode in the val­ley, we could take the grass and tie it in a knot above the horse's saddle."
It was a mag­nif­i­cent alpha soil sil­vopas­ture. Main­tained by the Native Amer­i­cans, and fire, and great migra­to­ry herds of buf­fa­lo, elk, prairie chick­ens, turkeys, pheas­ants, bird, her­bi­vore, with a lit­tle bit of cul­ti­va­tion from the three sis­ters — the beans, the squash, and the corn. And that was what built these soils. In fact, all the deep soils on the plan­et were not built under trees or under bush­es — they were built under grass with the help of her­biv­o­rous and preda­to­ry migra­to­ry patterns.
And so this grass grows in a sig­moid curve — an s‑curve. It starts slow then it grows fast and then it slows down and goes into senes­cence. I call the first part dia­per grass, the sec­ond part teenage grass, the third part nurs­ing home grass. The way nature works with the buf­fa­lo and oth­er her­bi­vores; the rea­son there are her­bi­vores all over the plan­et — from lla­mas and alpacas to zebras to cari­bou to buf­fa­lo to cows to goats to sheep — is because this s‑curved bio­mass, if left unpruned, sim­ply falls into senes­cent nurs­ing home stage and volatilizes its car­bon and doesn't get restart­ed into this rapid meta­bol­ic sun­beam con­ver­sion into car­bon sequestration.
Nature, in order to restart this rapid bio­mass accu­mu­la­tion has the her­bi­vore come along, right as it goes into senes­cence. That's when all the car­bo­hy­drates and sug­ars are high enough to feed these four big sauer­kraut vats in this four-legged portable mow­ing crit­ter. The her­bi­vore is a great big portable sauer­kraut vat that takes in this bio­mass, fer­ments it inside, and turns it into meat and milk and bone and hide and all sorts of things. For the Native Amer­i­cans the buf­fa­lo was a walk­ing super­mar­ket. It was their shel­ter, their instru­ments, their tools, their food — everything.
This is how nature works. And it's fun­da­men­tal­ly car­bon-cen­tric. When the Euro­peans came into the Shenan­doah Val­ley they saw this beau­ti­ful, tall grass and this beau­ti­ful alpha soil and they brought with them a grain-based, annu­al-based econ­o­my. They didn't take time to ask the Natives, ​"How have you built this for mil­len­nia?" They sim­ply translo­cat­ed their holy grail of grain. His­tor­i­cal­ly, grain has always been expen­sive. In the bible, it talks about a har­lot being sold for an ephah of bar­ley — it's not because har­lots were cheap. Tillage was very dif­fi­cult to main­tain, very dif­fi­cult to do, and it was very dif­fi­cult to then keep the grain away from rats and ver­min in a time before stor­age con­tain­ers, sheet met­al, mesh steel and those kinds of things. This is the first time in human his­to­ry grain has been cheap. The food of the com­mon­er (seafood in some cas­es) has always been her­bi­vore, ani­mal-based. This is because they are nutri­ent-dense and actu­al­ly move in real-time with­out requir­ing refrig­er­a­tion — thus allow­ing a fam­i­ly to move with­out car­ry­ing a bunch of lentils and grains in a pot. Trust me, when Daniel Boone went to vis­it Ken­tuck he wasn't car­ry­ing water­mel­ons and zuc­chi­nis on the back of his sad­dles, he was car­ry­ing meat. It's why all impov­er­ished cul­tures in the world have an ani­mal-based agrar­i­an foun­da­tion under them: When you're relo­cat­ed, when you're invad­ed and you have to move or you have to flee, you can take a cow with you or a goat and milk it in real-time for nutri­ents for your babies. When you don't have refrig­er­a­tion, you can't just car­ry a bunch of lentils and beans around. Ani­mals are critical.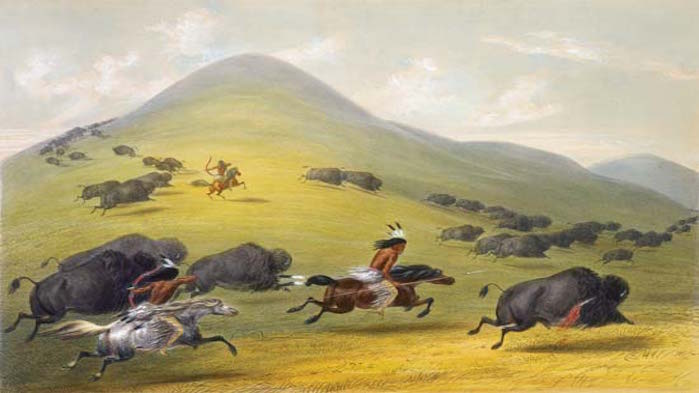 Native Amer­i­cans hunt bison in a paint­ing by George Catlin.
Ani­mals move
When we came to this farm it was gul­lied and worn-out — a rock­pile. It was the armpit of the com­mu­ni­ty. It only gen­er­at­ed about 10,000 dol­lars a year (a quar­ter of a salary) and couldn't pro­duce any­thing except maybe 20 cow-days per acre. So we looked at that piece of land and asked, ​"How does nature work?" We looked at these tem­plates in nature and saw that nature builds soil with peren­ni­als not annu­als. We real­ized an agri­cul­tur­al econ­o­my that actu­al­ly works should be cen­tered on peren­ni­als not annu­als. And yet every­thing about U.S. ag pol­i­cy pro­motes annu­als not peren­ni­als. Our entire agri­cul­tur­al sys­tem is fund­ing and con­ces­sion­iz­ing and sub­si­diz­ing land degradation.
Impor­tant: There is no ani­mal-less ecol­o­gy. There is no ecosys­tem that func­tions with­out ani­mals. We now have a vegetarian/​vegan rise that assumes that we can abdi­cate this ani­mal-cen­tric role in ecosys­tems and think that every­thing can just run on veg­etable mat­ter. It can't, it doesn't, it nev­er has. All func­tion­ing ecosys­tems have ani­mals. How do these ani­mals work? They move! Amaz­ing­ly, today in our cul­ture we don't think ani­mals are sup­posed to move. We think they're sup­posed to be locked up in a con­fine­ment fac­to­ry. But in ecosys­tems ani­mals move and har­vest bio­mass over here, poop it out over there and cre­ate democ­ra­tized fer­til­i­ty oppor­tu­ni­ties for the bio­mass area that they live in. Nature can't move fer­til­i­ty uphill except by a bird fly­ing up or an her­bi­vore walk­ing up there and poop­ing. It's a grav­i­ty defy­ing process.
There's a very vis­cer­al, sig­nif­i­cant role of ani­mals in nature to democ­ra­tize soil/​plant oppor­tu­ni­ty. How are you going to move the fer­tile val­leys to the hill­tops in nature? You're going to do it with preda­tors, both 2‑legged and 4‑legged, which cause her­biv­o­rous ani­mals to instinc­tive­ly want to eat down here and lounge up there so they can look out and see who's gonna get them. The preda­tor, the beau­ti­ful preda­tor-prey chore­og­ra­phy that sounds vio­lent to us, is actu­al­ly the nur­tur­ing caress of the womb hold­ing democ­ra­tized fer­til­i­ty in place.
Poly­face Farms: A reverse economy
So, we under­stood we had to have ani­mals and that they need­ed to move around. But how? On our farm, we're using high-tech elec­tric fenc­ing to bio­mim­ic the great migra­to­ry pat­terns of her­bi­vores through­out nature. Every day at 4 o'clock we move the herd — 500, 600, 800 strong — to the next pad­dock. We call this mob-stock­ing-her­biv­o­rous-solar-con­ver­sion lig­ni­fied-car­bon-seques­tra­tion-fer­til­iza­tion. And if every farm in Amer­i­ca that had live­stock would prac­tice this it would build so much soil, humus and organ­ic mat­ter that in few­er than 10 years we would sequester all the car­bon that's been emit­ted since the begin­ning of the indus­tri­al age.
Well, the next thing we asked was, ​"How do we build soil?" Soil's not built with 10−10−10 chem­i­cal fer­til­iz­er, it's built with car­bon. So we got a wood chip­per and began com­post­ing. But we don't com­post with big machin­ery. We add corn, the corn fer­ments in the bed­ding pack and we put the pigs in. If you look at any pig you'll see ​"will work for corn" writ­ten on its fore­head. The pigs seek the fer­ment­ed corn, aer­at­ing and oxy­genat­ing the whole pile. When you let the ani­mals do the work, they become not just bacon and eggs and t‑bones, but co-labor­ers and fel­low min­is­ters in a great land-heal­ing project. And the pigs don't need their oil changed — they don't need spare parts or social inse­cu­ri­ty — when you're done with them, you eat them. It's a won­der­ful relationship.
So, we used this com­post and we start­ed to see the grass grow. We saw the bare gul­lies heal over and the rock piles start to dis­ap­pear Soil builds up, it roils like over a wound. Over time, since 1961, the rock piles and gul­lies have healed. Some are still thin-soiled, but the whole farm has become a pro­duc­tive ver­dant area pro­duc­ing up to 400 cow-days per acre and gen­er­at­ing half a mil­lion dol­lars in income on the same acreage that half a cen­tu­ry ago could only pro­duce 10 cows and 10,000 dol­lars a year.
We call our­selves the reverse econ­o­my. We are pulling mon­ey out of the urban sec­tor and plug­ging it into the rur­al econ­o­my instead of the oth­er way around. Most economies work on deplet­ing the rur­al wealth to ingra­ti­ate the urban wealth. We're bring­ing it back the oth­er way. And we're bring­ing labor back to the farm. We have a team of 20 peo­ple involved in mov­ing all this stuff around. We are trad­ing drugs and cap­i­tal-inten­sive sta­tion­ary infra­struc­ture with labor, man­age­ment, and local cus­tomers. We don't apol­o­gize that our sys­tem takes more labor. It won't in the long run because there's noth­ing to heal from exter­nal­ized oopses. This sys­tem pro­vides real-time labor for real sacred min­istry in a real place anchored to a real umbil­i­cal in a vis­cer­al con­nect­ed­ness. That's what it does. And that enables both our team and our cus­tomers to par­tic­i­pate in eco­log­i­cal healing.
The mot­to on our lit­tle bag­gies is ​"heal­ing the land, one bite at a time." And ulti­mate­ly, our posi­tion is that we need to be envi­ron­men­tal­ists by par­tic­i­pa­tion not abandonment.
I get the guilt com­plex. The sto­ry of his­to­ry of civ­i­liza­tion is too often the sto­ry of abuse, con­quis­ta­dor men­tal­i­ty, rape and pil­lage. I under­stand that. But the answer is not to extri­cate humans from the land­scape. It is to take our big brain and mechan­i­cal abil­i­ty and view our land­scape and use our hands as a masseuse not a rapist. On our farm, the response has been mag­nif­i­cent. We have a men­tal­i­ty in our coun­try that sug­gests nature is some reluc­tant part­ner that we have to force and wrest and get in a head­choke to make grow. Our view is that nature is a benev­o­lent lover that responds to our suc­cess. This is not a place of scarci­ty. If we learn to respect and hon­or nature— come to it with the kind of humil­i­ty, respect and sacred­ness that it asks us to — we will dis­cov­er a place of unimag­in­able abundance.
This is not dif­fi­cult folks
Imag­ine, in your wildest imag­i­na­tion, if all the petro­le­um chem­i­cal fer­til­iz­er used in Vir­ginia were instead rechan­neled into a car­bon-cen­tric com­post­ing soil-build­ing pro­gram. Think of the job cre­ation, think of the wars we wouldn't have to fight to keep oil cheap, think of the petro­le­um that would stay in the ground, think of the hydra­tion that would hap­pen and the floods that would not hap­pen. One pound of organ­ic mat­ter holds 4 pounds of water and the best way to hydrate the land­scape (and we are in a place that needs land­scape hydra­tion let me tell you) is to increase organ­ic matter.
On our farm, we've gone from 1 per­cent organ­ic mat­ter to 8 per­cent in 50 years. All we have to do nation­wide is go from 1 per­cent to 2 per­cent and we would mit­i­gate all the car­bon that has been emit­ted since the begin­ning of the indus­tri­al age. This is not dif­fi­cult folks! The tragedy of our time is not that we're lazy and not that we're igno­rant. The tragedy is that we're busy about the wrong things. We've learned how to grow corn with GMO tech­nol­o­gy and GPS tech­nol­o­gy — dri­ver­less trac­tors manip­u­lat­ed by com­put­er banks a thou­sand miles away in a 5th floor office build­ing in the city — but nobody's ask­ing, ​"Why should we grow that corn?" We've become, as Stan Par­sons, author and founder of the Ranch­ing for Prof­it Schools, says, ​"extreme­ly good at hit­ting the bulls­eye at the wrong target."
Trust me, if all of the mon­ey and time and ener­gy that's gone into Los Alam­os had gone into per­ma­cul­ture, high pond build­ing, water mit­i­ga­tion and car­bon-cen­tric­i­ty agri­cul­ture, the south­west would be an Eden — flood­proof and drought­proof — and we could have led the world into a redemp­tive land­scape capac­i­ty. This is a goal and a vision that starts with soil and our con­nect­ed biol­o­gy. Every one of our cells has 3 bac­te­ria hooked up to it. We're real­ly inhu­man. And we're pret­ty insignif­i­cant in the big pic­ture of things. But we are the most sig­nif­i­cant hurter or heal­er depend­ing on how we extend our hands. May God help us to extend them as a friend, not as a foe.
In the meantime
May all of your car­rots grow long and straight. May your radish­es be large and not pithy. May toma­to blos­som and rot affect your Mon­san­to neighbor's toma­toes and not yours. May the coy­otes be struck blind at your pas­tured poul­try. May all of your culi­nary exper­i­ments be delec­tably palat­able. May the rain come gen­tly on your fields, the wind be always at your back, your chil­dren be wise and call you blessed and may we all make our nest a more mag­nif­i­cent place than we inherited.
(This essay was adapt­ed from a speech Joel Salatin deliv­ered at the 2015 Busi­ness Alliance for Local Liv­ing Economies (BALLE) con­fer­ence in Phoenix, Ari­zona. The speech can be viewed in its entire­ty here. Rur­al Amer­i­ca In These Times would like to thank Poly­face Farms and Anna Ghosh @ BALLE for their assistance.)