A Workers' Guide to the Messed-Up Economy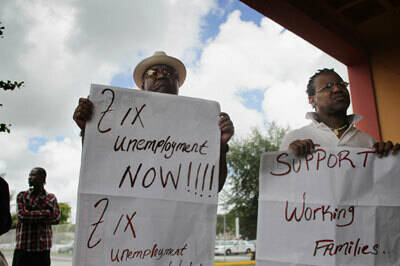 You feel over­whelmed by cam­paign ads throw­ing somber-sound­ing eco­nom­ic claims at you, right? You don't think Cor­po­rate Amer­i­ca has your back, but you can't exact­ly say why.
Well, I am here to serve you.
Here's a brief work­ers' guide to the messed-up econ­o­my that you can keep next to the tube while watch­ing those ads, roll up for handy ref­er­ence over lunch, or to send to friends. The data comes from recent research by the Eco­nom­ic Pol­i­cy Insti­tute and the Cen­ter for Labor Mar­ket Stud­ies at North­east­ern University.
Some­body got cheat­ed, and it wasn't Cor­po­rate Amer­i­ca.
Com­pa­nies are moan­ing about a slug­gish econ­o­my and the need to cut wages or ben­e­fits. Wait a minute…
Since late 2008, cor­po­rate prof­its have been steadi­ly climb­ing. They grew by $572 bil­lion, or 57 per­cent, from late 2008 to ear­ly this year, while wage and salary pay­ments to work­ers fell by $121 bil­lion, or 2 per­cent. In oth­er words, cor­po­ra­tions' share of income growth com­ing out of the bot­tom of the reces­sion is the high­est ever.
Work hard­er to make up for the miss­ing jobs in these tough times and Cor­po­rate Amer­i­ca will reward you.
The fact is that there's been a sharp rise in work­er pro­duc­tiv­i­ty, but there have been no real pay­check improve­ments. ​"Nev­er before in post­war his­to­ry did all of the nation­al income gains over a 15-month peri­od go to cor­po­rate prof­its," accord­ing to the Cen­ter for Labor Mar­ket Studies.
The econ­o­my must be get­ting bet­ter because the unem­ploy­ment rate stopped climbing.
That's fine, if you don't count ghosts. And the unem­ploy­ment stats don't. They don't include the work­ers who've giv­en up. As of August we had about 3.5 mil­lion so-called miss­ing work­ers. It's the same for the num­ber of folks col­lect­ing unem­ploy­ment checks. When their time runs out — and a lot have gone this route — the luck­less job­less van­ish from this count. Oh yeah. We are also about 7.6 mil­lion jobs short of when the reces­sion began.
Don't be a dum­my. If you get a col­lege degree, you are okay. You'll get pay rais­es. You'll be on the road to riches.
Maybe that was once true. But if you are count­ing dol­lars in terms of their real worth, then some­body uncou­pled col­lege degree hold­ers from pay rais­es in the last decade. In fact, the aver­age work­er with a col­lege degree was earn­ing a $1 less each day in 2009 than 2000.
Some­thing is wrong, you say. Well, you are right.
Stephen Franklin is a for­mer labor and work­place reporter for the Chica­go Tri­bune, was until recent­ly the eth­nic media project direc­tor with Pub­lic Nar­ra­tive in Chica­go. He is the author of Three Strikes: Labor's Heart­land Loss­es and What They Mean for Work­ing Amer­i­cans (2002), and has report­ed through­out the Unit­ed States and the Mid­dle East.