10 Things Secretary of Agriculture Sonny Perdue Should Do Right Away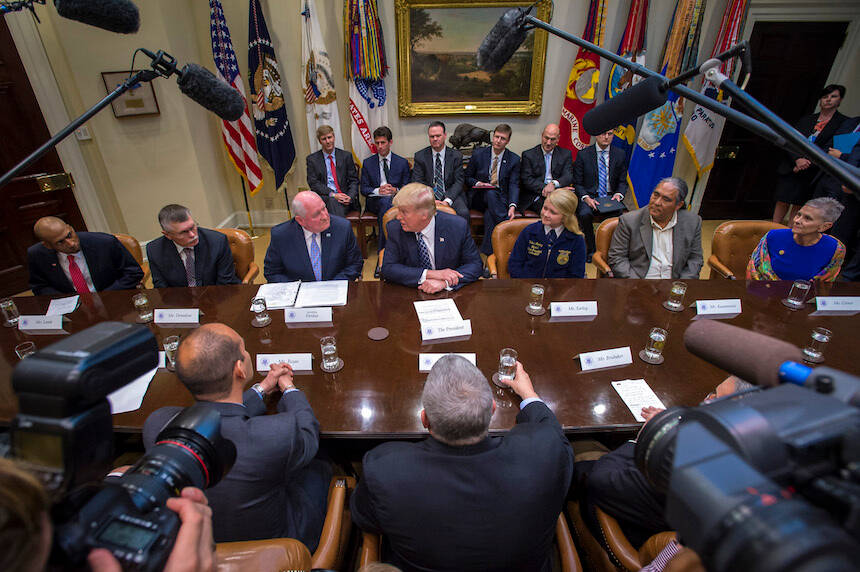 On his first day on the job as the long-await­ed new sec­re­tary of the U.S. Depart­ment of Agri­cul­ture (USDA), Son­ny Per­due, a for­mer two-term gov­er­nor of Geor­gia, addressed two very dif­fer­ent audi­ences. First, in his for­mal intro­duc­tion to USDA staff, Per­due laid out his gen­er­al vision for the department's next four years. Per­due said:
"The only lega­cy I seek is the one that any grand­par­ent seeks — that is to hand off our nation … our fields and our farms to the next gen­er­a­tion in bet­ter shape than we found it."
His sec­ond engage­ment was a meet­ing with Pres­i­dent Trump and 15 agri­cul­tur­al pro­duc­ers from around the coun­try. The round­table fea­tured most­ly large-scale meat, dairy, grain and spe­cial­ty crop pro­duc­ers, as well as the cur­rent North Car­oli­na Com­mis­sion­er of Agri­cul­ture, Iowa Sec­re­tary of Agri­cul­ture, and for­mer Cal­i­for­nia Sec­re­tary of Food and Agriculture.
Imme­di­ate­ly fol­low­ing the meet­ing, the pres­i­dent signed an exec­u­tive order estab­lish­ing an inter-agency Task Force on Pro­mot­ing Agri­cul­ture and Rur­al Pros­per­i­ty in Amer­i­ca. The Task Force, which Sec­re­tary Per­due will lead, is charged with study­ing the strug­gles of rur­al Amer­i­cans and iden­ti­fy­ing ​"leg­isla­tive, reg­u­la­to­ry, and pol­i­cy changes to pro­mote in rur­al Amer­i­ca agri­cul­ture, eco­nom­ic devel­op­ment, job growth, infra­struc­ture improve­ments, tech­no­log­i­cal inno­va­tion, ener­gy secu­ri­ty and qual­i­ty of life."
In Perdue's first two major out­ings we can already see signs of the push-pull that will no doubt influ­ence this administration's work on agri­cul­ture. On the one hand, the sec­re­tary has pledged to sup­port the diver­si­ty of Amer­i­can agri­cul­ture, includ­ing small, mid-sized, and organ­ic fam­i­ly farms, as well as young and begin­ning farm­ers and the grow­ing local/​regional food indus­try. He has also repeat­ed­ly made state­ments indi­cat­ing that land stew­ard­ship and nat­ur­al resource con­ser­va­tion would be cor­ner­stones of his tenure.
On the oth­er hand, Pres­i­dent Trump and Sec­re­tary Per­due have sur­round­ed them­selves almost exclu­sive­ly with large-scale, indus­tri­al com­mod­i­ty farm and busi­ness own­ers. They have yet to offer sub­stan­tive details about how they will address the grow­ing eco­nom­ic cri­sis in agri­cul­ture. At the same time, they've pro­posed huge bud­get cuts to pro­grams that assist farm­ers and rur­al busi­ness­es and communities.
If Sec­re­tary Per­due tru­ly wish­es to be a cham­pi­on for the entire Amer­i­can agri­cul­tur­al com­mu­ni­ty in all its breadth and diver­si­ty, these are the the things he should take lead­er­ship on right away:
1. Final­ize the Farmer Fair Prac­tices Rules and issue a plan for enforcement.
The Farmer Fair Prac­tices Rules (FFPR), which the Trump admin­is­tra­tion has already delayed sev­er­al times, are designed to bal­ance the pow­er between con­tract meat and poul­try pro­duc­ers and ver­ti­cal­ly inte­grat­ed pro­cess­ing com­pa­nies — a bal­ance that is cur­rent­ly skewed entire­ly in the favor of the cor­po­ra­tions. These rules would pro­vide con­tract farm­ers with basic pro­tec­tions, like the right to know how their pay is cal­cu­lat­ed, pro­tec­tion from retal­i­a­tion if they speak out against abu­sive prac­tices, and the right to seek jus­tice in court if they believe they have been treat­ed unfairly.
2. Pro­tect fam­i­ly farm­ers by reject­ing the president's pro­posed cuts to USDA, includ­ing the pro­posed elim­i­na­tion of the Rur­al Busi­ness Coop­er­a­tive Service.
Pres­i­dent Trump's ​"skin­ny bud­get" clear­ly showed that agri­cul­ture and rur­al Amer­i­ca were not a pri­or­i­ty for this admin­is­tra­tion. The dra­con­ic cuts pro­posed in the president's first bud­get pro­pos­al would slash USDA's bud­get by a whop­ping 21 per­cent and in some cas­es elim­i­nate entire suites of pro­grams and services.
Among the pro­grams cur­rent­ly on the chop­ping block are rur­al water and waste­water man­age­ment, coop­er­a­tive, and busi­ness pro­grams — pro­grams with a proven track record of suc­cess both in terms of busi­ness sur­viv­abil­i­ty rates and job cre­ation. To call such vital pro­grams ​'under­per­form­ing,' as the skin­ny bud­get does, reflects a lack of under­stand­ing of their func­tion and impact.
3. Pro­tect work­ing lands con­ser­va­tion pro­grams and con­ser­va­tion tech­ni­cal assistance.
Con­ser­va­tion pro­grams like the Con­ser­va­tion Stew­ard­ship Pro­gram (CSP) and the Envi­ron­men­tal Qual­i­ty Incen­tives Pro­gram (EQIP) con­fer sig­nif­i­cant ben­e­fits to farm­ers, ranch­ers, and for­est own­ers by pro­vid­ing pay­ments to help them improve and pro­tect their nat­ur­al resources and reduce the amount and cost of on-farm inputs. As an agri­cul­ture sec­re­tary who has repeat­ed­ly cit­ed his and his family's com­mit­ment to stew­ard­ship, we expect Sec­re­tary Per­due to stand against any attempt­ed cuts to CSP or EQIP dur­ing the appro­pri­a­tions process and to also fight for ade­quate fund­ing in the 2018 Farm Bill.
4. Cre­ate oppor­tu­ni­ties for the next gen­er­a­tion of farm­ers and ranchers.
Access to cred­it and financ­ing is crit­i­cal for farm­ers and ranch­ers, par­tic­u­lar­ly those just begin­ning their career in agri­cul­ture. His­tor­i­cal­ly, the demand for USDA's Farm Ser­vice Agency (FSA) loans — crit­i­cal for begin­ning farm­ers who often can­not access pri­vate loans because of their lack of cap­i­tal and pro­duc­tion his­to­ry — has great­ly out­stripped FSA's avail­able fund­ing. Sec­re­tary Per­due should be the voice of America's begin­ning farm­ers and ranch­ers by advo­cat­ing for ade­quate fund­ing lev­els for FSA loan pro­grams in FY 2017 and 2018.
5. Cre­ate jobs and spur indus­try growth by expand­ing local and region­al food infrastructure.
Invest­ing in region­al food sys­tem infra­struc­ture will boost eco­nom­ic growth by cre­at­ing jobs and open­ing new mar­kets in both rur­al and urban com­mu­ni­ties. It will also help farm­ers and ranch­ers become more resilient by help­ing them to diver­si­fy their oper­a­tions through new and non-tra­di­tion­al mar­ket oppor­tu­ni­ties. Last­ly, greater invest­ment in local/​regional food infra­struc­ture will also help to address our country's obe­si­ty epi­dem­ic by increas­ing access to healthy food in rur­al and urban food deserts.
6. Strength­en our food secu­ri­ty and cli­mate resilience by scal­ing up and strength­en­ing agri­cul­tur­al research programs.
Nobody is born know­ing how to farm or raise ani­mals. Farm­ers and ranch­ers learn best prac­tices the same way pro­fes­sion­als in oth­er fields do, through tri­al and error, advice from peers and indus­try research. As such, USDA's com­pet­i­tive grant pro­grams for research, exten­sion, and edu­ca­tion are crit­i­cal parts of a robust and resilient future for food and agri­cul­ture. Sec­re­tary Per­due should be a cham­pi­on for these pro­grams by advo­cat­ing for increased fund­ing and sup­port in the FY 2017 and 2018 appro­pri­a­tions bills and in the 2018 Farm Bill.
7. Get USDA's house in order by issu­ing over­due Requests for Appli­ca­tions immediately.
Numer­ous agen­cies with­in USDA are cur­rent­ly sit­ting on over­due Requests for Appli­ca­tions (RFAs). RFAs are the means by which farm­ers, farm advo­cates, and researchers access USDA funds for com­pet­i­tive pro­grams. Cur­rent­ly, two major RFAs for fis­cal year (FY) 2017 are overdue:
Val­ue Added Pro­duc­er Grant pro­gram (VAPG): Pro­vides com­pet­i­tive grants to pro­duc­ers for work­ing cap­i­tal, fea­si­bil­i­ty stud­ies, busi­ness plans, and mar­ket­ing efforts to estab­lish viable val­ue-added businesses.
Out­reach and Assis­tance for Social­ly Dis­ad­van­taged Farm­ers and Ranch­ers Pro­gram (aka ​

"

Sec­tion

2501

"): Pro­vides grants to col­leges and uni­ver­si­ties and com­mu­ni­ty based orga­ni­za­tions to pro­vide out­reach and assis­tance to social­ly dis­ad­van­taged and vet­er­an farm­ers and ranch­ers to over­come the unique chal­lenges they face in agriculture.
8. Focus on sub­stan­tive improve­ments to pro­grams and poli­cies, not on reshuf­fling USDA to make room for a new Under Secretary.
In his writ­ten respons­es to ques­tions from mem­bers of the Senate's Agri­cul­ture Com­mit­tee, Sec­re­tary Per­due indi­cat­ed he would want to cre­ate a new posi­tion to deal with trade issues — the Under Sec­re­tary for Trade. With so much crit­i­cal work to get done in 2017, Sec­re­tary Per­due should focus his efforts on improv­ing USDA pol­i­cy and pro­grams rather than cre­at­ing a new, duplica­tive position.
9. Expand low-income fam­i­lies' access to fresh, local food by expand­ing and improv­ing EBT func­tion­al­i­ty at farm­ers' markets.
In the mid-1990s the Sup­ple­men­tal Nutri­tion Assis­tance Pro­gram (SNAP), for­mer­ly known as food stamps, tran­si­tioned from a paper to an elec­tron­ic ben­e­fits sys­tem (EBT). In the years fol­low­ing the tran­si­tion SNAP pur­chas­es at farm­ers mar­kets have steadi­ly declined, pri­mar­i­ly due to a lack of equip­ment and tech­nol­o­gy to accept and process the elec­tron­ic ben­e­fits. USDA has made numer­ous attempts to resolve this issue, but to date the department's respons­es has been incre­men­tal and ad hoc at best.
Giv­en the com­plex­i­ty and impor­tance of resolv­ing this issue, Sec­re­tary Per­due should move for­ward expe­di­tious­ly with the devel­op­ment of a com­pre­hen­sive, depart­ment-wide strategy.
10. Ensure that Food Safe­ty Mod­ern­iza­tion Act (FSMA) reg­u­la­tions are help­ing, not hurt­ing, small and mid-sized fam­i­ly farm operations
FSMA estab­lished sweep­ing food safe­ty require­ments for farm that pro­duc­ing fruits and veg­eta­bles, among oth­er require­ments for par­tic­i­pants across the food sup­ply chain. Though all of the sev­en major FSMA rules have now been final­ized, there remains wide­spread con­fu­sion in the food-pro­duc­ing com­mu­ni­ty about which rules apply to whom, and how to com­ply. In order to ensure that these new rules are pro­tect­ing the pub­lic while not undu­ly bur­den­ing small and mid-sized fam­i­ly farm oper­a­tions, Sec­re­tary Per­due should:
Pri­or­i­tize Food Safe­ty Out­reach Pro­gram (FSOP) appli­ca­tions from orga­ni­za­tions that rep­re­sent or work direct­ly with farm­ers to ensure appro­pri­ate­ly tai­lored and acces­si­ble out­reach, train­ing and tech­ni­cal assistance.
Cre­ate a depart­ment-wide ini­tia­tive that high­lights USDA ser­vices and pro­grams that sup­port farm­ers in com­ply­ing with FSMA requirements.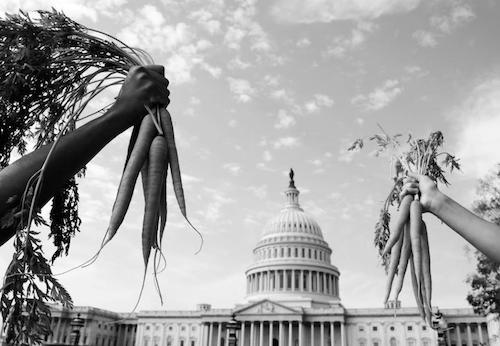 This arti­cle was adapt­ed from a longer ver­sion on the Nation­al Sus­tain­able Agri­cul­ture Coalition's web­site and is repost­ed with per­mis­sion from the author. (Image: sus​tain​ablea​gri​cul​ture​.net)
Reana Koval­cik
is the Asso­ciate Direc­tor for Com­mu­ni­ca­tions and Devel­op­ment at the Nation­al Sus­tain­able Agri­cul­ture Coali­tion (NSAC) — an alliance of grass­roots orga­ni­za­tions that advo­cates for fed­er­al pol­i­cy reform to advance the sus­tain­abil­i­ty of agri­cul­ture, food sys­tems, nat­ur­al resources and rur­al communities.