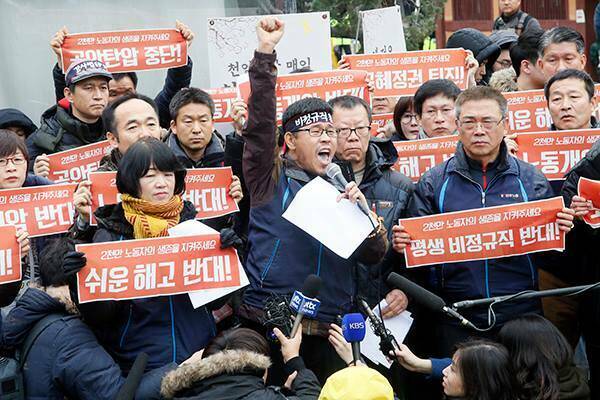 This post first appeared at Labor Notes.
Last week South Kore­an pros­e­cu­tors called for an eight-year jail term for Han Sang-gyun, leader of the country's 800,000-strong inde­pen­dent union fed­er­a­tion. The request is out­landish even in a coun­try that was once mov­ing toward democ­ra­cy but is now rapid­ly erod­ing back to authoritarianism.
All eight charges against Han cen­ter on traf­fic and pub­lic-safe­ty vio­la­tions in con­nec­tion with unau­tho­rized ral­lies the Kore­an Con­fed­er­a­tion of Trade Union (KCTU) called between April and Novem­ber 2015. The gov­ern­ment was forced to use a tech­ni­cal­i­ty — traf­fic vio­la­tions — to inter­fere with the con­sti­tu­tion­al­ly guar­an­teed free­dom of assembly.
Nev­er­the­less, the pros­e­cu­tion is seek­ing a heavy jail term. It claims Han attempt­ed to incite vio­lence at a Novem­ber 14 ral­ly in cen­tral Seoul when he yelled, ​"Let's advance towards the Pres­i­den­tial Palace."
The ral­ly indeed turned vio­lent, not because of the tens of thou­sands of work­ers and cit­i­zens who were protest­ing two-tier-wage leg­is­la­tion and gov­ern­ment aus­ter­i­ty mea­sures, but because riot police cor­doned off the streets and water-can­noned the oth­er­wise peace­ful protesters.
A high-pres­sure streak of cap­saicin solu­tion from a water can­non felled Baek Nam-ki, a 69-year-old farmer activist. Baek remains comatose with irre­versible brain damage.
After the ral­ly, Han, already want­ed on an arrest war­rant, took sanc­tu­ary at Jogye Bud­dhist tem­ple, in cen­tral Seoul, where he stayed for 24 days before turn­ing him­self in to the police. The gov­ern­ment sum­moned about 1,500 oth­er ral­ly par­tic­i­pants for investigation.
Elect­ed on a Pledge to Fight
In Decem­ber 2014, Han was elect­ed KCTU pres­i­dent in the first-ever non-del­e­gate, direct vote in the federation's 19-year his­to­ry. He was also the first pres­i­dent elect­ed on a pledge to orga­nize a gen­er­al strike. ​"They [the gov­ern­ment and busi­ness own­ers] were aim­ing to anni­hi­late the KCTU, and we had lit­tle option but to fight back," Han said in court June 13, explain­ing why he had run.
Under Han's lead­er­ship, the KCTU twice called for a gen­er­al strike. But both calls end­ed in only sym­bol­ic stop­pages, adding to a grim pic­ture for South Kore­an labor.
The country's unions, once one of the best orga­nized and mil­i­tant seg­ments of the glob­al labor move­ment, have suf­fered a series of set­backs since the late 1990s, when the gov­ern­ment made it eas­i­er for employ­ers to lay off work­ers and hire casu­als. Few­er than one in 10 work­ers is now union­ized, the country's low­est lev­el ever, includ­ing in the 1970 – 80s when Korea was under a harsh mil­i­tary dictatorship.
One in sev­en work­ers in effect takes home less than the legal min­i­mum wage of about $5.15 an hour, because they are casu­al work­ers and thus not ful­ly pro­tect­ed by law.
These defeats, cou­pled with the ongo­ing eco­nom­ic reces­sion, have divid­ed union lead­ers and demor­al­ized members.
Much of the reli­gious estab­lish­ment, once shel­ter for polit­i­cal dis­si­dents, has turned a blind eye to labor's agony. Han ini­tial­ly planned to orga­nize a gen­er­al strike while in sanc­tu­ary at Jogye tem­ple, home to the Bud­dhist sect that is the country's largest.
But from day one of Han's sanc­tu­ary, the lead­er­ship of the sect, impli­cat­ed in a series of cor­rup­tion scan­dals, qui­et­ly mobi­lized a group of loy­al­ists to evict him. Dur­ing his 24-day sanc­tu­ary, Han often scuf­fled with these hench­men who, on one occa­sion, stripped him almost naked.
A Dictator's Daughter
South Kore­ans are see­ing the clock rapid­ly turned back on the democ­ra­cy they won in the late 1980s after three decades of cam­paign­ing against mil­i­tary rule.
Since she took office in 2013, Pres­i­dent Park Geun-hye, daugh­ter of the deceased mil­i­tary strong­man Park Chung-hee who ruled 1961 – 79, has dis­solved a small left-lean­ing par­ty for its flim­sy link with North Korea.
She also out­lawed a 200,000-strong teach­ers union for finan­cial­ly sup­port­ing 20 union­ists fired from their jobs for union activity.
Park's elec­tion was wide­ly believed to be aid­ed by the Nation­al Intel­li­gence Ser­vice, the country's intel­li­gence agency, which ran mas­sive online cam­paigns to tilt the elec­toral bal­ance in her favor. Revamped under Park's régime, the NIS has alleged­ly placed much of Kore­ans' tex­ting under real-time surveillance.
One of Park's aides fun­neled funds from a big-busi­ness lob­by to a far-right group that rou­tine­ly mount­ed counter-protests to ral­lies by union and polit­i­cal activists.
Newest Gov­ern­ment Aggression
Faced with an ever-slow­ing econ­o­my, the South Kore­an gov­ern­ment has cho­sen to ratch­et up pres­sure on labor.
This month it said it would raise $95 bil­lion in pub­lic funds to bail out ship­builders, the country's cash cow hit hard­est by the glob­al reces­sion. Not a sin­gle dime was ear­marked for job pro­tec­tion. Mass lay­offs are expected.
Busi­ness­es are attempt­ing to impose a wage ceil­ing for employ­ees aged 55 and old­er, on the pre­text of address­ing youth unem­ploy­ment — a brazen scheme to slash wages for both first-time job seek­ers and senior workers.
Rank-and-file anger in the union move­ment and frus­tra­tion from below in soci­ety are so pal­pa­ble that peri­od­ic ral­lies by the KCTU and oth­er oppo­si­tion groups draw tens of thou­sands of cit­i­zens and workers.
South Korea's gov­ern­ment and busi­ness lead­ers want to put Han away because he rep­re­sents a piv­otal seg­ment of what is left of labor mil­i­tan­cy. Indeed, the 54-year-old Han is one of a hand­ful of indi­vid­u­als who have not just wit­nessed but also led crit­i­cal moments in South Korea's volatile labor his­to­ry, in which anger and frus­tra­tion turned into action.
Boy Mili­tia
Han was born and raised in the out­skirts of Kwangju, the south­west­ern city where stu­dents and work­ers rose up in May 1980 against a mil­i­tary coup led by anoth­er dic­ta­tor, Chun Doo-hwan. In a coun­try where until 1992 régime changes hap­pened only through coups or mar­tial law, coup orga­niz­ers could gen­er­al­ly silence oppo­si­tion with mass arrests and vio­lent crack­downs on protests.
Kwangju in 1980 was dif­fer­ent. In May stu­dents and work­ers fought a crack force of para­troop­ers for five days and even­tu­al­ly drove them from the city. Some pro­test­ers formed a mili­tia with firearms they seized from city armories. Han, then a 17-year-old high school stu­dent, joined that mili­tia, which con­trolled the city for five days before being bru­tal­ly crushed by the military.
"I was feisty and young and could not sit by when the bloody car­nage was under­way," Han said in a press inter­view. ​"Although I was young, I knew it was wrong [of the para­troop­ers] to kill inno­cent people."
The upris­ing end­ed in mas­sacre. The num­ber of civil­ian dead has nev­er been deter­mined but is believed to lie between 200 and 600, includ­ing at least 40 high school stu­dents. By any count, more work­ers were killed than stu­dents, attest­ing to who waged the upris­ing to the last.
Inde­pen­dent Auto Union, Fac­to­ry Occupation
In the sum­mer of 1987 Han again found him­self at a crit­i­cal moment in South Korea's labor his­to­ry. Mass protests won major con­ces­sions from the Chun gov­ern­ment and trig­gered an inde­pen­dent union move­ment that formed 2,600 new unions in three months.
Han was one of the found­ing orga­niz­ers of the union at SSangy­ong Motor. In 2008, when he was elect­ed chair, Ssangy­ong was in cri­sis. The country's num­ber-one pro­duc­er of SUVs, the com­pa­ny had launched no new mod­els since 2004, when it was sold to SAIC Motor Corp. of Chi­na. The new own­er did not seem to want to cap­i­tal­ize on the glob­al SUV boom, but instead shipped sen­si­tive tech­nol­o­gy to its head­quar­ters in Chi­na. Indeed, in 2008, SAIC launched Roewe, a knock­off of SSangyong's pop­u­lar SUV, in China.
In 2009, Ssangy­ong sought receiver­ship and said it would lay off 2,646 work­ers — 37 per­cent of the work­force. In response Han and 1,700 fel­low union­ists took over the plant. The occu­pa­tion last­ed for 77 days until it end­ed in a bloody crack­down by the police.
Han was arrest­ed and served a three-year jail term. Man­age­ment had to make con­ces­sions, too. It put 48 per­cent of the 2,646 on unpaid leave — with uncom­mit­ted promis­es to hire them back when busi­ness picked up.
For Ssangy­ong work­ers, and oth­er South Kore­ans in a sim­i­lar sit­u­a­tion, lay­off was painful because it meant they lost not only jobs but also com­pa­ny-sub­si­dized hous­ing and oth­er ben­e­fits. Their des­per­a­tion was epit­o­mized in their two slo­gans dur­ing the strike: ​"Lay­off kills" and ​"Let's sur­vive together."
The 77 days of occu­pa­tion were dead­ly stress­ful. The last 700-plus occu­piers were black­list­ed and could no longer find jobs in the indus­try. About 28 SSangy­ong work­ers have since com­mit­ted sui­cide or died of PTSD-relat­ed conditions.
Sit-in at Top of Elec­tric Tower
In Novem­ber 2012, upon being released from prison, Han staged a sit-in at the top of a 124,000-volt elec­tric trans­mis­sion tow­er near the Ssangy­ong plant, 164 feet from the ground, for 171 days, demand­ing the rein­state­ment of his fel­low workers.
It took yet anoth­er three years of cam­paign­ing before, in Decem­ber 2015, Ssangy­ong, now part of India's Mahin­dra Group, final­ly agreed to rein­state 179 laid-off work­ers over the next two years and to pri­or­i­tize those affect­ed by the 2008 cuts over oth­er can­di­dates when fill­ing future vacan­cies. The com­pa­ny also dropped law­suits against the union and cre­at­ed a $1.5 mil­lion fund to help laid-off work­ers and their families.
At a Crossroads
Han stands once again at a crit­i­cal moment in Korea's labor his­to­ry. He and his fel­low KCTU mem­bers have tak­en on the task of defend­ing both labor and democ­ra­cy from the Park Geun-hye gov­ern­ment. They need our solidarity.
Han's sen­tenc­ing is sched­uled for July 4.
How can you help? Protest to Pres­i­dent Park via email or Face­book. You can also fol­low the KCTU on its Eng­lish Face­book page.
Yi San
is a free­lance writer based in New York.