Specter In Pittsburgh: Punishment and Reward at AFL-CIO Convention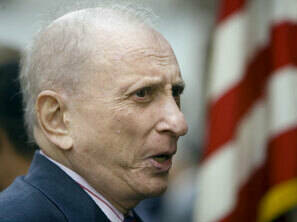 "More than ever before, we need to be a labor move­ment that stands by our friends, pun­ish­es its ene­mies, and crit­i­cizes those who, well, can't seem to decide which side they're on." –Rich Trum­ka, in the Wash­ing­ton Post Sept. 7, 2009

PITTS­BURGH — When the his­to­ry of the bi-par­ti­san under­min­ing of the Employ­ee Free Choice Act (EFCA) is writ­ten, Penn­syl­va­nia Repub­li­can-turned-Demo­c­rat Arlen Specter will be assigned a piv­otal role.

Back on March 24, when he was still in the GOP, Specter announced that he was no longer going to be the much-prized 60th vote for ​"clo­ture" on EFCA. That's the pro­ce­dure Sen­ate Democ­rats will have to employ some­time lat­er this year to over­come a Repub­li­can fil­i­buster, and make what retir­ing AFL-CIO Pres­i­dent John Sweeney was still pre­dict­ing on Sun­day would be ​"the great­est advances in labor law reform in 70 years."

In 2007, Specter sup­port­ed bring­ing EFCA to the floor for a Sen­ate vote, after it was passed over­whelm­ing­ly in the House. But accord­ing to the same Sen­a­tor in March, ​"the prob­lems of the reces­sion" make this year ​"a par­tic­u­lar­ly bad time to enact Employ­ees Free Choice."
In orga­niz­ing cam­paigns, where NLRB elec­tions have been by-passed and ​"card check" used instead to demon­strate major­i­ty sup­port for union­iza­tion, Spec­tre said ​"there has been ​"wide­spread intim­i­da­tion" by ​"union offi­cials" when the lat­ter ​"vis­it work­ers' homes with strong-arm tac­tics and refuse to leave until cards are signed."
To deal with this alleged coer­cion, Specter rec­om­mend­ed mak­ing it an unfair labor prac­tice for any ​"union offi­cial" to vis­it ​"an employ­ee at his/​her home with­out pri­or con­sent for any pur­pose relat­ed to a rep­re­sen­ta­tion campaign."
While let­ting every­one know in March that he was no longer for clo­ture, Specter also posi­tioned him­self to play a key role bro­ker­ing a com­pro­mise with col­leagues like Tom Harkin and Chuck Schumer, who might ​"choose to move on and amend the NLRA" in ways more accept­able to Arlen.

With a labor law reform record like this, Specter would seem to be just the kind of politi­cian who needs a lit­tle labor ​"pun­ish­ment" to send a mes­sage to the rest of his waver­ing breed — par­tic­u­lar­ly since he now faces a Demo­c­ra­t­ic pri­ma­ry chal­lenge next year by a pro-EFCA congressman.
In sev­er­al recent inter­views, new AFL-CIO pres­i­dent Rich Trum­ka indi­cat­ed that he favored hold­ing politi­cians more account­able, ​"so they don't lis­ten to the mon­ey­man and con­tin­ue to erode away or nego­ti­ate away" key labor goals, a trend most evi­dent late­ly in health­care reform.

Nev­er­the­less, here we are at the Pitts­burgh Con­ven­tion Cen­ter, on day three of the AFL-CIO's qua­dren­ni­al meet­ing, lis­ten­ing to that same Rich Trum­ka give a warm wel­come to none oth­er than Arlen Specter. From Trum­ka, we learn that his friend Arlen has been a rare ​"pro-labor Repub­li­can" for years.
From the wrin­kled, frail-look­ing 79-year old Specter, we get a quick recita­tion of his past respon­sive­ness to top union offi­cials when job safe­ty and health enforce­ment, or some oth­er fed­er­al gov­ern­ment func­tion of ben­e­fit to work­ers, was under siege by the string of Repub­li­can pres­i­dents that he helped elect (two Bush­es and a Rea­gan).

Today, the sen­a­tor not­ed, he was work­ing for a ​"robust pub­lic option in health­care," sanc­tions on import­ed Chi­nese tires, and emis­sion stan­dards that wouldn't jeop­ar­dize jobs in coal min­ing, steel mak­ing, or oth­er man­u­fac­tur­ing.

On the mat­ter of what he called ​"employ­ees' choice," Specter reas­sured his audi­ence that his lat­est posi­tion — spelled out in lit­tle detail — met the three stan­dards set forth by Trum­ka, in a Sept. 5 New York Times arti­cle head­lined ​"Union Head Would Back Bill With­out Card Check." (That was a ref­er­ence to Sweeney's own Labor Day week­end expres­sion of will­ing­ness ​"to accept a fast elec­tion cam­paign instead of card check."

As described by Specter, Trunka's three min­i­mum require­ments for ​"labor law reform" now include ​"prompt cer­ti­fi­ca­tion," ​"tough penal­ties," and ​"bind­ing arbi­tra­tion" of first con­tracts. Accord­ing to Specter, a half dozen Sen­a­tors, plus him­self, Harkin, and Schumer, are work­ing on a new ver­sion of EFCA that will ​"be total­ly sat­is­fac­to­ry to labor."

Specter both ref­er­enced —and was aid­ed in his per­for­mance— by a local head­line today announc­ing an impend­ing Right-to-Work Com­mit­tee ​"ad blitz" direct­ed at him and the now aban­doned ​"card check" method he crit­i­cized, much like the RTWC, back in March. A full-page ad in yesterday's Post-Gazette, run by the busi­ness-backed ​"Coali­tion for a Demo­c­ra­t­ic Work­place," still urged Specter to ​"oppose any ver­sions of the job-killing" EFCA that would ​"shift pow­er from work­ers to union boss­es" or give ​"gov­ern­ment-appoint­ed bureau­crats more con­trol in set­ting wages."

These cost­ly exer­tions by the anti-EFCA lob­by reflect quite a dif­fer­ent stance than ele­ments of cor­po­rate Amer­i­ca have tak­en vis-à-vis health care. In that ongo­ing ​"reform process," labor defend­ers and facil­i­ta­tors of com­pro­mise (like SEIU leader Den­nis Rivera) can at least point, as Pres­i­dent Oba­ma does, to what they con­sid­er to be pos­i­tive move­ment on the part of some man­age­ment play­ers. When the sub­ject is labor law reform —either as orig­i­nal­ly con­ceived or sans card check— the labor con­ces­sions made so far, bro­kered by the likes of Specter, have yet to be matched by any­one speak­ing for the employ­er side.

In the mean­time, Pres­i­dent Oba­ma, who also addressed the con­ven­tion today, is fly­ing off to Philadel­phia with his arm around Specter. They'll be there togeth­er tonight at a big Specter re-elec­tion fundrais­er, where Oba­ma will be offer­ing the same kind of reward for Specter's par­ty-switch that the AFL-CIO is pre­pared to give as well, in the hopes of get­ting EFCA-Lite in return.
Steve Ear­ly worked for 27 years as an orga­niz­er and inter­na­tion­al rep­re­sen­ta­tive for the Com­mu­ni­ca­tions Work­ers of Amer­i­ca. He is the author of sev­er­al books, includ­ing Refin­ery Town: Big Oil, Big Mon­ey, and the Remak­ing of an Amer­i­can City (Bea­con Press).