Camp Raid Begins as Standing Rock Eviction Deadline Passes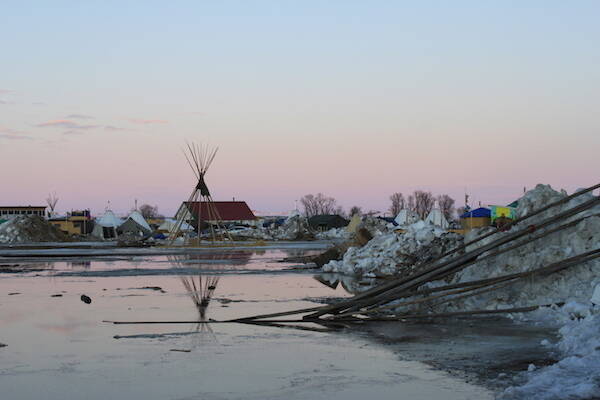 For weeks the pin­cer of police, pri­vate secu­ri­ty and Nation­al Guard sur­round­ing the main resis­tance camp at Stand­ing Rock, in Mor­ton Coun­ty, N.D., has been slow­ly clos­ing. On Thurs­day morn­ing, about 13 days after con­struc­tion resumed on the final sec­tion of the Dako­ta Access Pipeline (DAPL), these state and fed­er­al forces moved in to begin clear­ing Oceti Sakowin, the main camp where thou­sands of Native Amer­i­cans and their sup­port­ers, who call them­selves water pro­tec­tors, have gath­ered for months to oppose the project. Sev­er­al dozen peo­ple remained in camp, how­ev­er, vow­ing to stand their ground.
As the dead­line loomed on Wednes­day some peo­ple set fire to some of the remain­ing struc­tures in the camp and gath­ered on the high­way where riot police bear­ing batons had formed a line. Police did not make mass arrests and appeared not to enter the camp itself. Instead they picked out and arrest­ed peo­ple one at a time, includ­ing at least one per­son who was live stream­ing the inci­dent. Accord­ing to a state­ment from the North Dako­ta Joint Infor­ma­tion Cen­ter police made ​"approx­i­mate­ly 10 arrests."
On Thurs­day morn­ing, how­ev­er, at least a dozen mil­i­tary Humvees and at least three large armored mil­i­tary-style vehi­cles assem­bled on high­way 1806 along the west­ern edge of the camp. As a heli­copter from the Depart­ment of Home­land Secu­ri­ty cir­cled low over­head, a mas­sive force of police in riot gear and Nation­al Guard, flanked by armored vehi­cles and bull­doz­ers, marched into the camp. On the oth­er side of camp nine peo­ple could be seen join­ing hands around a sweat lodge where a prayer cer­e­mo­ny was appar­ent­ly tak­ing place.
How a com­mu­ni­ty formed in opposition
The Oceti Sakowin camp formed in August last year and quick­ly became the front line in the fight against DAPL. It served as the base for most of the direct actions that slowed con­struc­tion of the pipeline and drew inter­na­tion­al media atten­tion to the strug­gle. At the height of the protests the main entrance to the camp was lined by hun­dreds of flags from the dif­fer­ent Native tribes across the Amer­i­c­as who had pledged their sup­port. In Decem­ber, faced with an ear­li­er evic­tion threat, the camp drew thou­sands of sup­port­ers, includ­ing mil­i­tary vet­er­ans who promised to cre­ate a ​"human shield" around water pro­tec­tors to defend them from police weapons that includ­ed rub­ber bul­lets, tear gas and a water can­non in below freez­ing temperatures.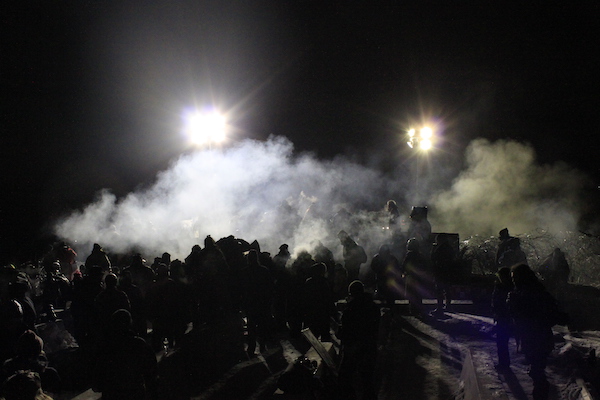 Tear gas mix­es with smoke from a sage smudge behind the police bar­ri­cade on high­way 1806 on Jan­u­ary 18, 2016. Water pro­tec­tors had gath­ered at the bar­ri­cade a half mile north of the main Oceti Sakowin camp to demand that the road be opened. (Pho­to: Joseph Bullington)
Instead of a forced evic­tion, on Dec. 4, 2017, the U.S. Army Corps of Engi­neers (USACE) announced it would not issue an ease­ment for the pipeline com­pa­ny to drill beneath the Mis­souri Riv­er until a full Envi­ron­men­tal Impact State­ment (EIS) of the project could be pre­pared. The next day Stand­ing Rock trib­al chair­man Dave Archam­bault II cel­e­brat­ed the deci­sion and asked water pro­tec­tors to leave camp: ​"They're pur­pose has been served," he told NPR. ​"Noth­ing will hap­pen this win­ter." Most peo­ple left the camps.
Oth­ers, how­ev­er, doubt­ed that the pipeline com­pa­ny and incom­ing Trump admin­is­tra­tion would respect the deci­sion. Hun­dreds opt­ed to stay through the harsh North Dako­ta win­ter. When I trav­elled to Stand­ing Rock in late Novem­ber there were still sev­er­al thou­sand peo­ple liv­ing in the camp. A sys­tem of com­mu­nal kitchens was serv­ing sev­er­al thou­sand meals every day. When you said ​"thank you" to the peo­ple serv­ing the food they would respond ​"thank you for the work you're doing out there." That's what there was for an econ­o­my at Oceti Sakowin.
It was hard to cross the camp with­out being drawn in to work on a project. This was not a ​"hip­pie protest" as some peo­ple tried to cast it — appar­ent­ly with­out ever hav­ing set foot in North Dako­ta. This was a rur­al-based resis­tance move­ment. Peo­ple there drove trucks and knew how to run heavy machin­ery, pow­er tools and chain­saws. They kept hors­es and knew how to rig up wood stoves and solar pan­els. I went to work one day help­ing some car­pen­ters hang ply­wood sheath­ing on the 2 by 4 frame of what can only be described as a small, two-sto­ry house. The build­ing, which was to be a women's space, was designed, framed, walled and roofed in a mat­ter of a few days. The Oceti Sakowin camp was a Native-led, autonomous­ly orga­nized com­mu­ni­ty on a scale I had nev­er before seen.
The Fort Laramie Treaties of
1851

and

1868

Accord­ing to maps from the State His­tor­i­cal Soci­ety of North Dako­ta, the land on which the camp sits — along with most of present day South Dako­ta and much of North Dako­ta, Mon­tana, Wyoming, and Nebras­ka — was reserved for the Lako­ta (the umbrel­la name for the Lako­ta, Dako­ta, and Nako­ta peo­ples usu­al­ly referred to as the Sioux) and oth­er local tribes in the hard-won Fort Laramie Treaties of 1851 and 1868. The 1868 treaty des­ig­nat­ed ​"the coun­try north of the North Plat­te Riv­er [in Nebras­ka] and east of the sum­mits of the Bighorn Moun­tains [in Mon­tana]" as Unced­ed Indi­an Ter­ri­to­ry. In this coun­try, the treaty reads, ​"no white per­son or per­sons shall be per­mit­ted to set­tle … or with­out the con­sent of the Indi­ans … to pass through the same…."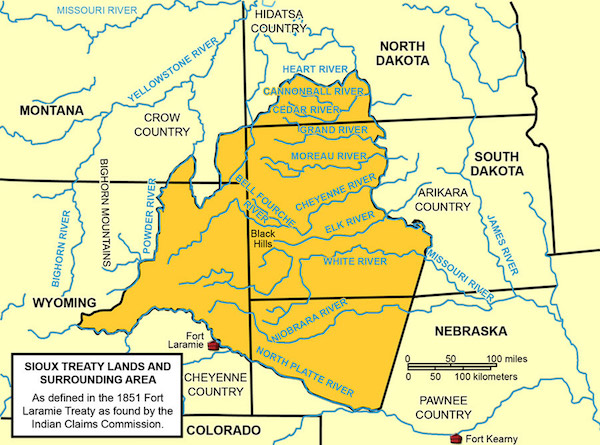 The Treaty of 1851 did not estab­lish a reser­va­tion, but began the process of defin­ing ter­ri­to­ry in which the Sioux could live and hunt. The treaty was sup­posed to reduce war­fare among the Indi­an tribes of the north­ern Great Plains. (Image / Cap­tion: ndstud​ies​.gov)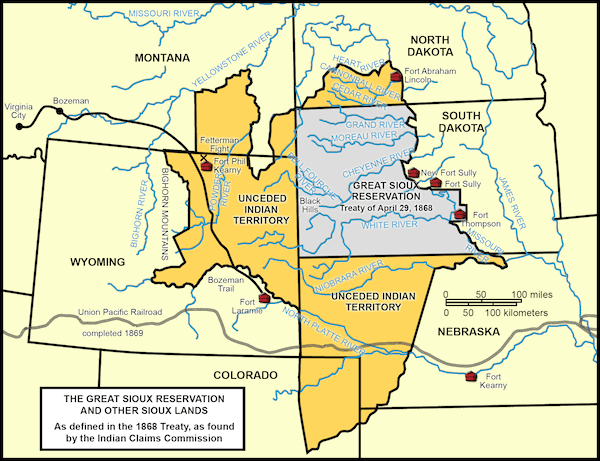 The Fort Laramie Treaty of 1868 cre­at­ed the Great Sioux Reser­va­tion (in gray). Unced­ed lands (in yel­low) in Wyoming, Nebras­ka and Dako­ta Ter­ri­to­ry were reserved for hunt­ing. A por­tion of the unced­ed lands in north­ern Dako­ta Ter­ri­to­ry became part of the Great Sioux Reser­va­tion (lat­er Stand­ing Rock Reser­va­tion) fol­low­ing an agree­ment between the fed­er­al gov­ern­ment and the Sioux lead­ers in Sep­tem­ber 1876. (Image / Cap­tion: ndstud​ies​.gov)
In the 1950s, the fed­er­al gov­ern­ment seized more land from the Stand­ing Rock Sioux when it built the Oahe dam on the Mis­souri Riv­er. The result­ing lake flood­ed more than 200,000 acres of the Stand­ing Rock reser­va­tion and the Cheyenne Riv­er reser­va­tion just to the south. The tribes lost 90 per­cent of their tim­ber and much of their best agri­cul­tur­al land. Now, in order for the project to be com­plet­ed, DAPL must tun­nel under the Oahe reservoir.
The land under dis­pute at Stand­ing Rock, the Oceti Sakowin camp and the land through which the pipeline pass­es on its way to and under Lake Oahe, lies with­in the bounds of this unced­ed treaty territory.
Chase Iron Eyes, a Stand­ing Rock Sioux trib­al mem­ber and an unof­fi­cial leader at the camp, told Democ­ra­cy Now! that the land was lost as ​"the result of an ille­gal annex­a­tion of treaty ter­ri­to­ry by the Unit­ed States against not just the Stand­ing Rock Nation, but the entire Lako­ta Nation."
On Feb­ru­ary 3, 10 days after Pres­i­dent Trump cleared the way for the pipeline via exec­u­tive order, USACE ordered the evac­u­a­tion of the camp by Feb­ru­ary 22, cit­ing safe­ty con­cerns and ​"the high poten­tial for flood­ing." Four days lat­er USACE announced it would for­go the EIS and issue the final ease­ment to com­plete the pipeline.
"The Army Corps said that they would declare us tres­passers on our own land," said Iron Eyes, refer­ring to the Feb­ru­ary 22 evic­tion dead­line. ​"The same as when the Unit­ed States Army said they would declare us hos­tile if we didn't return to the reser­va­tions in 1875."
Below is some of the lat­est footage from Stand­ing Rock:
(Video: Hon­or the Earth / YouTube)
To view Uni­corn Riot's full livestream of the most recent raid, click here.
[If you like what you've read, help us spread the word. ​

"

Like" Rur­al Amer­i­ca In These Times on Face­book. Click on the ​

"

Like Page" but­ton below the bear on the upper right of your screen. Also, fol­low RAITT on Twit­ter @RuralAmericaITT]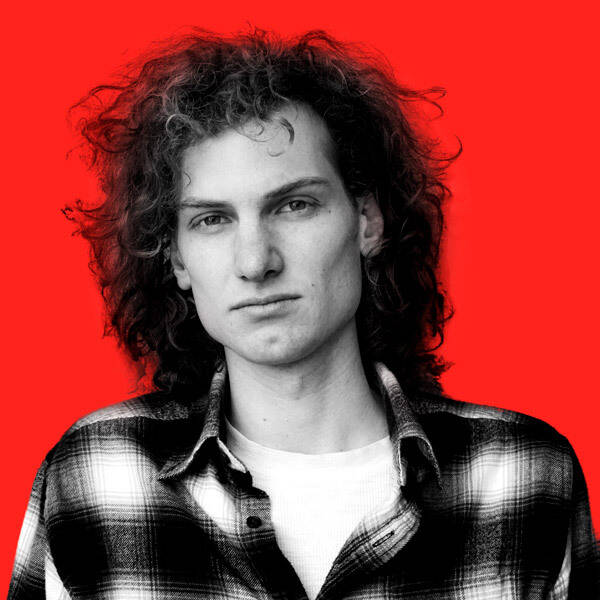 Joseph Bulling­ton
grew up in the Smith Riv­er water­shed near White Sul­phur Springs, Mon­tana. He lives now in Liv­ingston, where he works as an inde­pen­dent jour­nal­ist, part-time ranch hand and the edi­tor of Rur­al Amer­i­ca In These Times.