Standing Rock Felony Defendants Take Plea Deals, Still Face Years in Prison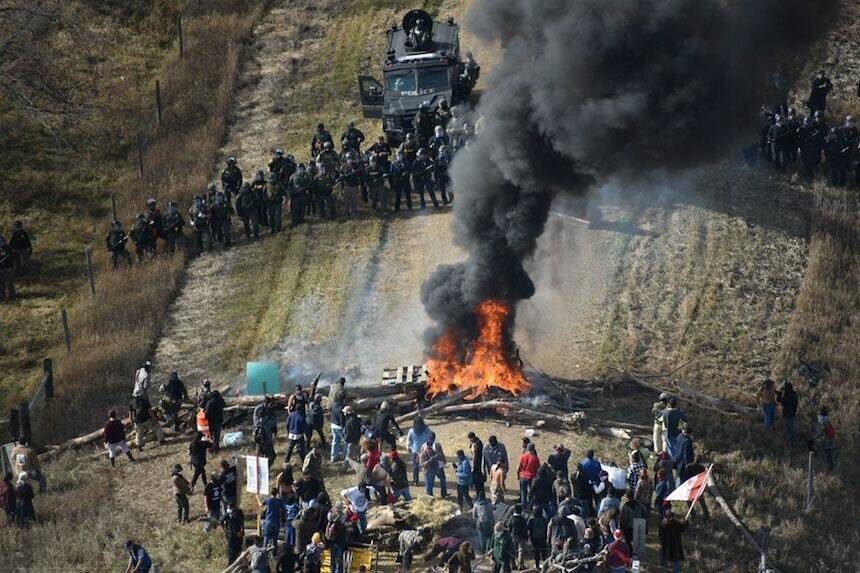 In recent weeks, three Native Amer­i­can water pro­tec­tors, each fac­ing mul­ti­ple fed­er­al felony charges and over a decade in prison, have accept­ed non-coop­er­at­ing plea agree­ments rather than stand tri­al in North Dakota.
Red Fawn Fal­lis, Michael ​"Rat­tler" Markus, and Michael ​"Lit­tle Feath­er" Giron are among the six peo­ple indict­ed for fed­er­al felonies — the harsh­est charges so far filed against par­tic­i­pants in the month­s­long strug­gle to stop the Dako­ta Access Pipeline (DAPL) from cross­ing the Mis­souri Riv­er just north of the Stand­ing Rock Lakota's reser­va­tion in North Dakota.
All the fed­er­al felony charges stem from Octo­ber 27, 2016 — a day that would turn out to be deci­sive in the bat­tle over the pipeline.
In late Octo­ber, as pipeline con­struc­tion approached the Mis­souri Riv­er from the west, many pipeline oppo­nents moved a mile north from the main Oceti Sakowin and Sacred Stone camps to a front line camp built direct­ly in the pipeline's path. There, they erect­ed teepees and tents and pre­pared to dig in for the winter.
The camp was sit­ed on land known these days as the Can­non­ball Ranch, which Ener­gy Trans­fer Part­ners, the com­pa­ny behind the DAPL, had pur­chased in Sep­tem­ber 2016. As the water pro­tec­tors point­ed out, how­ev­er, the land had been reserved for the Lako­ta under the 1851 and 1868 Fort Laramie treaties.
In the 1860s, the Lako­ta, led by the Oglala chief Red Cloud, fought a bit­ter war to stop white set­tlers from mov­ing through their land. In 1868 the U.S. gov­ern­ment capit­u­lat­ed and agreed to remove the forts along the Boze­man Trail. Only then did Red Cloud ride into Fort Laramie and sign the 1868 treaty, which closed the trail to white set­tlers and estab­lished the Great Sioux Reser­va­tion, a vast tract of land that com­prised the entire west­ern half of present-day South Dako­ta. The treaty also defined a mas­sive ​"unced­ed Indi­an Ter­ri­to­ry," which ​"no white per­son … shall be per­mit­ted to set­tle upon" or ​"with­out the con­sent of the Indi­ans … to pass through…." The unced­ed ter­ri­to­ry con­tained large swaths of present-day Nebras­ka, Wyoming, Mon­tana and North Dako­ta — includ­ing the land south of the Heart Riv­er and north of the Can­non­ball Riv­er where, in Octo­ber 2016, the water pro­tec­tors were camped in the path of the DAPL.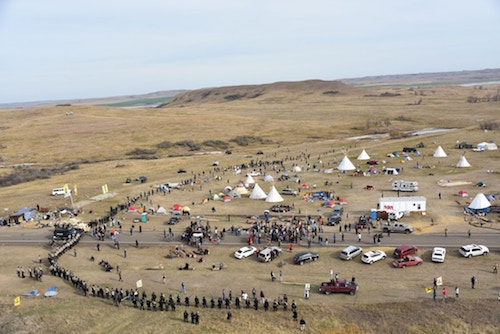 A pin­cer of police clos­es in on the water pro­tec­tor camp built on unced­ed Indi­an land and in the path of the Dako­ta Access Pipeline on Octo­ber

27

,

2016

.
(Image: Law Enforce­ment Pho­to / The Intercept)"
At around noon on Octo­ber 27, a hun­dreds-strong mil­i­ta­rized police force approached the camp along High­way 1806 with plans to evict the Lako­ta and their allies — for tres­pass­ing. The force was heav­i­ly armored and armed with batons, bean­bag shot­guns, pep­per spray and assault rifles, and sup­port­ed by mil­i­tary humvees, snipers, APCs (Armored Per­son­nel Car­ri­ers) mount­ed with LRADs (Long Range Acoustic Devices), and a sur­veil­lance heli­copter. To the west, Dako­ta Access con­struc­tion equip­ment and per­son­nel could be seen at work on the pipeline route, ready to move on toward the riv­er once police cleared the camp.
As they moved south along the high­way toward the camp, the police encoun­tered an obsta­cle: pipeline oppo­nents had con­struct­ed a road­block from logs, tires, pal­lets, and dis­abled vehi­cles. As police advanced, blar­ing the LRAD, the bar­ri­cades were set on fire. Miles away to the west, police trav­el­ling on Coun­ty Road 134 also encoun­tered a water pro­tec­tor road­block. That bar­ri­cade, too, was set ablaze in an attempt to slow the police advance and pre­vent them from flank­ing the 1806 road­block and enter­ing the camp.
By night time, how­ev­er, the police had cleared the camp. They had arrest­ed more than 140 peo­ple and dri­ven the oth­ers south along 1806 as far as Back­wa­ter Bridge. There, using the nar­row bridge as a strate­gic choke­point, they estab­lished a road­block. Secu­ri­ty forces set up a line of flood­lights, razor wire, and sur­veil­lance points that stretched for miles along the pipeline route — a mil­i­ta­rized buffer zone that, for months after­ward, made it near­ly impos­si­ble for water pro­tec­tors to reach the con­struc­tion site.
Law enforce­ment mov­ing into the Oceti Sakowin Treaty Camp with pep­per spray, less-lethal rounds, batons, LRADs, and tasers on Octo­ber

27

,

2016

.
(Source: Uni­corn Riot)
Rat­tler, an Oglala Lako­ta man who grew up on the Pine Ridge Reser­va­tion in South Dako­ta, and Lit­tle Feath­er, a mem­ber of the Coastal Band of the Chu­mash Nation raised in San­ta Bar­bara, Calif., were each charged in Feb­ru­ary 2017 with two fed­er­al felonies — Civ­il Dis­or­der and Use of Fire to Com­mit a Fed­er­al Felony Offence — for their alleged actions to hin­der police from clear­ing the front­line camp on Octo­ber 27.
In exchange for guilty pleas to the Civ­il Dis­or­der charges, the pros­e­cu­tion has agreed to rec­om­mend 3 year sen­tences and drop entire­ly the Use of Fire charges, which car­ry a manda­to­ry min­i­mum penal­ty of 10 years in prison. Rat­tler and Lit­tler Feath­er are sched­uled to be sen­tenced on May 29 and May 30, respec­tive­ly, in Bis­mar­ck, N.D.
Rat­tler and Lit­tle Feath­er decid­ed to take plea deals rather than stand tri­al in part because they faced a hos­tile jury pool, accord­ing to press state­ments from the Water Pro­tec­tor Legal Col­lec­tive. A study com­mis­sioned by the defense found that 77 per­cent of poten­tial jurors in Mor­ton Coun­ty and 85 per­cent in Burleigh Coun­ty had already decid­ed that the defen­dants were guilty and that many have con­nec­tions to law enforce­ment and the oil indus­try. This study was sub­mit­ted to the court to sup­port Lit­tle Feather's motion for a change of venue, but the court denied the motion.
Of the six fed­er­al felony defen­dants, Red Fawn, an Oglala Lako­ta woman from Den­ver, faces the most seri­ous charges. In Jan­u­ary 2017, a fed­er­al grand jury indict­ed her on three counts: Civ­il Dis­or­der, Dis­charge of a Firearm in Rela­tion to a Felony Crime of Vio­lence, and Pos­ses­sion of a Firearm by a Con­vict­ed Felon — charges that car­ry a min­i­mum sen­tence of 10 years and the pos­si­bil­i­ty of life in prison. The arrest affi­davit alleges that as secu­ri­ty forces pushed water pro­tec­tors south along 1806 on Octo­ber 27, police ​"took Fal­lis to the ground" to arrest her for ​"being an insti­ga­tor and act­ing dis­or­der­ly." The affi­davit alleges that, while pinned face-down beneath the arrest­ing offi­cers, Red Fawn fired a gun into the dirt (the affi­davit says the gun went off twice, but video of the inci­dent appears to show three shots fired), injur­ing no one, and that police then wrest­ed from her hand a Ruger .38 Spe­cial revolver. That gun, it turns out, belonged not to Red Fawn but to her boyfriend, Heath Har­mon — a paid FBI infiltra­tor.
In exchange for a plea of guilty to Civ­il Dis­or­der and ille­gal firearm pos­ses­sion, the pros­e­cu­tion has agreed to rec­om­mend sev­en years in prison and drop the most seri­ous Dis­charge of a Firearm charge. Red Fawn is sched­uled to be sen­tenced on May 31, in Bismarck.
In a Decem­ber 2017 motion, the defense asked Judge Daniel Hov­land of the North Dako­ta Dis­trict Court to com­pel gov­ern­ment pros­e­cu­tors to turn over all infor­ma­tion ​"rel­e­vant to the government's use of a paid FBI infor­mant who infil­trat­ed the Water Pro­tec­tor camps" and any oth­er infor­mants used by police or pri­vate secu­ri­ty con­trac­tors. The gov­ern­ment respond­ed that it had turned over what it had about the FBI infor­mant in the dis­cov­ery exchange of May 5, 2017. They also con­firmed that they planned to call the infor­mant as a wit­ness against Red Fawn and that he would be paid a $40 per day wit­ness fee. Judge Hov­land ruled in favor of the pros­e­cu­tion: ​"The Defendant's dis­plea­sure in the ​'sparse sum­maries' con­tained in the pre­vi­ous­ly-dis­closed dis­cov­ery respons­es, and her spec­u­la­tion that more ​'detailed reports' must exist is not sufficient."
The defense also argued that the pros­e­cu­tion was required to turn over any evi­dence that the vio­lent acts on which the Civ­il Dis­or­der charges were pred­i­cat­ed were ​"influ­enced, encour­aged, facil­i­tat­ed, or oth­er­wise pro­mot­ed" by peo­ple employed by fed­er­al, state or local law enforce­ment or by pri­vate secu­ri­ty agents. The pros­e­cu­tion respond­ed that none of the law enforce­ment agen­cies it con­tact­ed had any such evi­dence. They argued, how­ev­er, that they were not com­pelled to search the records of the pri­vate secu­ri­ty firms that col­lab­o­rat­ed close­ly with police dur­ing the DAPL protests, and Judge Hov­land agreed.
In a press release explain­ing Red Fawn's deci­sion to take a plea deal, the WPLC wrote that "[r]ulings against Red Fawn at every step of pro­ceed­ings have left the defense with insuf­fi­cient infor­ma­tion about the paid FBI infor­mant who became her boyfriend and who plans to tes­ti­fy against her at tri­al." Fur­ther, the state­ment reads, ​"The gov­ern­ment has refused to pro­vide full dis­clo­sure of even poten­tial­ly excul­pa­to­ry sur­veil­lance and oth­er records in the pos­ses­sion of Tiger­Swan and oth­er pri­vate secu­ri­ty firms who coor­di­nat­ed with law enforce­ment dur­ing the encamp­ments at Stand­ing Rock and had tar­get­ed Red Fawn as a leader."
The Dis­trict of North Dako­ta office of U.S. Attor­ney Christo­pher Myer, who is pros­e­cut­ing the Red Fawn case, declined to com­ment for this story.
Three oth­er indige­nous water pro­tec­tors—Dion Ortiz, Bren­nan ​"Bra­vo One" Nasta­cio, and James ​"Angry Bird" White—still face fed­er­al felony charges of Civ­il Dis­or­der and Use of Fire to Com­mit a Fed­er­al Felony Offense. If they do not take plea deals, they will face tri­al in the com­ing months. In addi­tion to the fed­er­al felony cas­es, 832 peo­ple were arrest­ed and charged in North Dako­ta state crim­i­nal court dur­ing the 11-month strug­gle against the DAPL. Of those cas­es, 332 have so far been dis­missed or acquit­ted at tri­al, and 314 are on-going.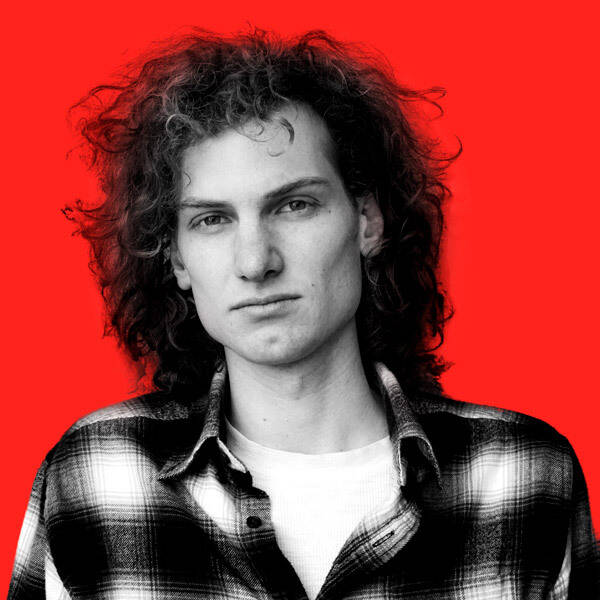 Joseph Bulling­ton
grew up in the Smith Riv­er water­shed near White Sul­phur Springs, Mon­tana. He lives now in Liv­ingston, where he works as an inde­pen­dent jour­nal­ist, part-time ranch hand and the edi­tor of Rur­al Amer­i­ca In These Times.