As Winter Arrives, Gov. Dalrymple Orders a Mandatory, Immediate Evacuation of Water Protectors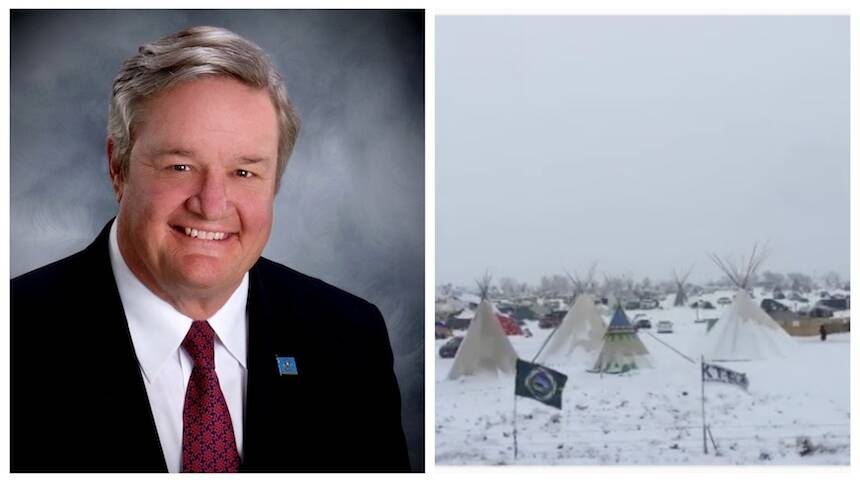 Reader donations, many as small as just $1, have kept In These Times publishing for 45 years. Once you've finished reading, please consider making a tax-deductible donation to support this work.
Three days after the Army Corps of Engineers told the Standing Rock Sioux Tribe that on December 5, public access to the land on which thousands of people are protesting the Dakota Access Pipeline (DAPL) would be closed, North Dakota Gov. Jack Dalrymple ® ordered the ​"mandatory evacuation of all persons located in areas under the proprietary jurisdiction of the United States Army Corps of Engineers located in Morton County" — effective immediately.
Spokespeople for both the Corps and the governor, however, have since said that they do not plan to ​"forcibly remove" water protectors from the land. Meanwhile many in the Oceti Sakowin camp, the largest of the water protector encampments, say they plan on staying.
The governor's executive order, released Monday, cites ​"harsh winter conditions," unsuitable dwellings and a lack of emergency preparedness on the part of the camps as his primary reasons for the decision. Ironically, the greatest need for medical and emergency services at Standing Rock camps has come following hostile encounters with law enforcement officers from multiple states.
Dalrymple's official declaration, signed November 28, reads:
WHEREAS, Morton County is currently experiencing severe winter weather storm conditions, and it is anticipated harsh winter conditions will continue until next spring; and

WHEREAS, winter conditions have the potential to endanger human life, especially when they are exposed to these conditions without proper shelter, dwellings, or sanitation for prolonged periods of time; and

WHEREAS, large populations have chosen to stay in areas of Morton County managed by the United States Army Corps of Engineers south of the Cantapeta Creek and the Cannonball River (The areas include the confluence with Cantapeta Creek east, east of North Dakota Highway 1806, north of the Cannonball River, and west of the Missouri River) in tents, vehicles, temporary and semi-permanent structures which have not been inspected and approved by Morton County as proper dwellings suitable for winter habitation; and

WHEREAS, the aforementioned areas of Morton County are not zoned for dwellings suitable for living in winter conditions, and also do not possess proper permanent sanitation infrastructure to sustain a living environment consistent with proper public health; and

WHEREAS, the United States Army Corps of Engineers has ordered the aforementioned area of Morton County which they manage to be vacated due to public safety concerns related to the inability to effectively provide emergency, medical, fire response services, and law enforcement services …

NOW, THEREFORE, I, Jack Dalrymple, Governor of the State of North Dakota, order a mandatory evacuation of all persons located in areas under the proprietary jurisdiction of the United States Army Corps of Engineers located in Morton County, and defined as a prohibited area in Exhibit A of the United States Army Corps of Engineers memorandum provided to the Morton County Sheriff on November 25th, 2016 and attached to this order. This definition of the evacuation area shall remain in effect even if the United States Army Corps of Engineers redefines or removes these prohibited areas. These persons are ordered to leave the evacuation area immediately, and are further ordered not to return to the evacuation area.

All persons in the evacuation area shall take all their possessions with them upon their evacuation.

Any action or inaction taken by any party which encourages persons to enter, reenter, or remain in the evacuation area will be subject to penalties as defined in law. …

Any person who chooses to enter, reenter, or stay in the evacuation does so at their own risk, and assumes any and all corresponding liabilities for their unlawful presence and occupation of the evacuation area. …..
(To view the signed PDF of Gov. Dalrymple's executive order click here.)
Winter storm warning
The National Weather Service has issued a Winter Storm Warning for most of western and central North Dakota through Wednesday evening and such conditions can be dangerous, particularly for those unfamiliar with the region's climate. But Standing Rock Sioux officials, camp organizers and onsite medical personnel — who all agree public safety is a top priority — say they knew winter was coming and are prepared to help those who need it. They also maintain that if Dalrymple is truly concerned for public safety, he will not force prepared campers to leave their shelters in freezing conditions.
The weekly weather forecast for Cannon Ball, N.D., calls for snow and low-temps in the single digits. (Infographic: Google Public Alerts)
Late Monday night, Standing Rock Sioux tribal leader, Dave Archambault II, released the following statement:
Today, Gov. Dalrymple issued an executive order calling for mandatory evacuation of all campers located on U.S. Army Corps of Engineers (USACE) lands, also known as the Oceti Sakowin camp. This state executive order is a menacing action meant to cause fear, and is a blatant attempt by the state and local officials to usurp and circumvent federal authority. The USACE has clearly stated that it does not intend to forcibly remove campers from federal property. The Governor cites harsh weather conditions and the threat to human life. As I have stated previously, the most dangerous thing we can do is force well-situated campers from their shelters and into the cold. If the true concern is for public safety than the Governor should clear the blockade and the county law enforcement should cease all use of flash grenades, high-pressure water cannons in freezing temperatures, dog kennels for temporary human jails, and any harmful weaponry against human beings. This is a clear stretch of state emergency management authority and a further attempt to abuse and humiliate the water protectors. The State has since clarified that they won't be deploying law enforcement to forcibly remove campers, but we are wary that this executive order will enable further human rights violations.
Michael Knudsen, logistics coordinator for the Standing Rock Medic & Healer Council, which has provided emergency services at the camps told the Guardian that the governor's edict was ​"completely morally reprehensible" and that that Dalrymple's actions have consistently shown he ​"has absolutely no empathy or care for the lives of the campers." Knudsen also told reporters that emergency medical service providers in Standing Rock are not counting on help from the North Dakota government:
"We have never counted on the state's help, because we know that ultimately the state health department is controlled by the power of the governor who has proven time and time again he does not want this encampment and therefore does not care about the wellbeing of the people."
Highly-critical of Dalrymple's financial ties to the oil companies funding the Dakota Access Pipeline and in support of the Standing Rock Sioux, Greenpeace responded with the following statement:
According to the 1851 Treaty of Ft. Laramie, the Oceti Sakowin camp is on treaty land, which means the camp can remain in place. The Governor has overstepped his authority with this executive order. It's not surprising that a Governor who received money from the companies behind the pipeline, and who has himself invested in fossil fuel companies, would be quick in attempts to clear the camp and pave the way for oil profits. Ironically, the same Governor who ignored the use of rubber bullets and water cannons in sub-freezing temperatures against protectors now claims to want to remove them for their wellbeing through the winter. If Governor Dalrymple or the Army Corps of Engineers truly cared about the health and wellbeing of water protectors, they would put an end to the pipeline once and for all.
On Monday morning, before the evacuation order, Dallas Goldtooth, Keep It In The Ground Campaign Organizer for the Indigenous Environmental Network, posted this video from Oceti Sakowin on Twitter as snow began to fall:
On another note, Veterans for Standing Rock—an organization comprised of military veterans from all branches of service who support the Sioux's stand against the Dakota Access Pipeline — are still planning to assemble a peaceful, unarmed militia at the Standing Rock Indian Reservation on December 4. According to this report, so many veterans were interested in travelling to North Dakota that ​"organizers were forced to cap the number of participants at 2,200." The veterans, who will stay through December 7, will wear their military uniforms in hopes of drawing additional media attention. Michael A. Wood, Jr., a Marine Corps veteran and former Baltimore police officer who is helping organize the event, told Snopes​.com, ​"This is literally what we swore to do — to protect the citizens of America from enemies both foreign and domestic. Just because someone pretties it up with a badge and uniform doesn't mean it isn't violence against our people."
This post will be updated as more information becomes available.
Update: ​"North Dakota law enforcement to block pipeline protesters' supplies" — Reuters is reporting that deliveries containing building materials, propane tanks and other supplies will be turned away from the camps following the governor's evacuation order.
[If you like what you've read, help us spread the word. ​

"

Like" Rural America In These Times on Facebook. Click on the ​

"

Like Page" button below the bear on the upper right of your screen. Also, follow RAITT on Twitter @RuralAmericaITT]
Your donation makes In These Times possible
This blog's mission is to provide the public service of helping make the issues that rural America is grappling with part of national discourse.