Inside DuPont and Monsanto's Migrant Labor Camps
Our investigation reveals that multibillion-dollar Big Ag corporations routinely use labor recruiters who crowd migrant workers in housing riddled with health and safety violations.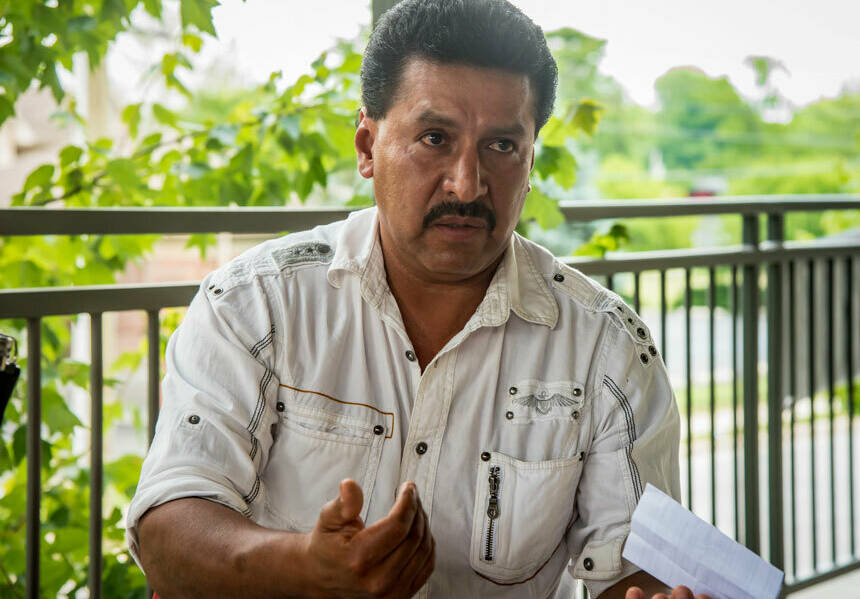 In 2012, sev­en migrant farm­work­ers sued the agri­cul­tur­al giant Mon­san­to, charg­ing that the $4‑per-acre piece rate they were paid for corn detas­sel­ing in Indi­ana was sub­stan­tial­ly less than the fed­er­al min­i­mum wage.
Employers have increasingly tried to slip past the inspection process by housing migrant workers in facilities inspectors don't know about or don't have the authority to inspect.
That was not the only way they were cheat­ed, accord­ing to the ini­tial com­plaint filed by the non­prof­it Texas RioGrande Legal Aid: Her­mi­lo Can­tu Jr., a labor recruiter for Mon­san­to — also named as a defen­dant — promised the farm­work­ers free hous­ing with kitchen facil­i­ties. But the work­ers were instead housed in a cramped motel, then moved to a for­mer nurs­ing home and charged $300 per room. The ​"kitchen" was a school bus that had been out­fit­ted with stoves and refrig­er­a­tors, but lacked prop­er ven­ti­la­tion or ade­quate space to accom­mo­date the more than 30 migrant farmworkers.
Asked for com­ment, Mon­san­to spokesper­son Char­la Lord said, ​"We are com­mit­ted to work­ing quick­ly and col­lab­o­ra­tive­ly with state legal aid groups to address any work­er con­cerns, as we did with this case. … We expect that all hous­ing pro­vid­ed for use by work­ers pro­vid­ing ser­vices to Mon­san­to meets all required fed­er­al, state and local safe­ty and health stan­dards." The law­suit was set­tled for an undis­closed amount in 2013 and dis­missed with prejudice.
Mil­lions of migrants who pick and process America's fruits and veg­eta­bles face dif­fi­cult and dan­ger­ous work­ing con­di­tions, includ­ing high risks of heat­stroke, dehy­dra­tion and expo­sure to tox­ic pes­ti­cides. The Mon­san­to law­suit high­lights that their plight often doesn't end there. When work­ers leave the fields, many return to hous­ing rid­dled with health and safe­ty haz­ards — hous­ing that's often owned or arranged by employ­ers or employ­ers' agents.
An inves­ti­ga­tion by In These Times and the Mid­west Cen­ter for Inves­tiga­tive Report­ing reveals that both smallscale farm­ers and multi­bil­lion-dol­lar Big Ag cor­po­ra­tions — DuPont Pio­neer and Mon­san­to among them — rou­tine­ly use third-par­ty labor recruiters who crowd work­ers in trail­ers, dilap­i­dat­ed motels and ram­shackle apart­ments. While state and fed­er­al offi­cials are charged with over­see­ing migrant hous­ing, thou­sands of inspec­tion records obtained from eight states under the Free­dom of Infor­ma­tion Act show that some facil­i­ties con­tin­ue rack­ing up hous­ing vio­la­tions year after year. Fear­ful of com­plain­ing, migrant farm­work­ers often spend months liv­ing in the sub­stan­dard hous­ing, some even pay­ing sub­stan­tial rent fees out of their mea­ger paychecks.
A pub­lic data­base of inspec­tion records built by the Mid­west Cen­ter reveals the scope of the prob­lem. The data­base con­tains more than 1,900 indi­vid­ual vio­la­tions across about 470 hous­ing facil­i­ties in the major farm states of Illi­nois, Indi­ana, Iowa, Mis­souri, Michi­gan, Ohio, Texas and Wis­con­sin between 2012 and 2016.
When state inspec­tors vis­it migrant hous­ing, they find health and safe­ty vio­la­tions as much as 60 per­cent of the time. But a frac­tured reg­u­la­to­ry sys­tem leaves state agen­cies with lit­tle pow­er to com­pel repairs. Extreme hous­ing prob­lems doc­u­ment­ed in the Mid­west Center's data­base include cas­es of black mold, pest infes­ta­tions and over­flow­ing sewage. At a Galve­ston, Ind., facil­i­ty, inspec­tors not­ed a roach infes­ta­tion and the pres­ence of 15 fer­al cats. More com­mon prob­lems includ­ed torn win­dow screens, faulty doors, bro­ken show­ers or inad­e­quate laun­dry facilities.
Inter­views with more than two dozen work­ers fur­ther detailed the shod­dy and dan­ger­ous liv­ing conditions.
"I've stayed in hous­ing that is very sim­i­lar to barns for ani­mals," says Bal­tazar Arvizu, a 50-year-old migrant farm­work­er in Indi­ana, speak­ing through a trans­la­tor. After arriv­ing in the Unit­ed States from Gua­na­ju­a­to, Mex­i­co, in 1983, he's worked migrant jobs across the East Coast and Midwest.
"We used to live 80 in a barn," he recalls of one job in North Car­oli­na. ​"We just had two bath­rooms for 80 peo­ple." Arvizu has had enough bad expe­ri­ences that he now finds hous­ing through friends or stays in hotels. But many migrant work­ers find it dif­fi­cult or impos­si­ble to nav­i­gate the pri­vate rental mar­ket, thanks to secu­ri­ty deposit and cred­it require­ments, hefty rents or out­right dis­crim­i­na­tion by land­lords. The result is that most con­tin­ue to rely on migrant labor camps, where con­di­tions have improved lit­tle despite decades of pol­i­cy reforms.
Reform, but lit­tle change
More than 50 years ago, the ground­break­ing CBS inves­tiga­tive report Har­vest of Shame intro­duced view­ers to the dis­mal con­di­tions fac­ing migrant work­ers in the Unit­ed States. Edward R. Mur­row and his team spoke to work­ers who said they earned as lit­tle as a dol­lar a day pick­ing beans before return­ing to labor camps where they slept in makeshift tents and shacks. The wide­ly viewed tele­vi­sion spe­cial, which aired the day after Thanks­giv­ing in 1960, helped spark a wave of pol­i­cy reforms, includ­ing fed­er­al and state reg­u­la­tions estab­lish­ing min­i­mum stan­dards for migrant labor camps.
Many large grow­ers began to turn to third-par­ty recruiters and pri­vate land­lords to arrange accom­mo­da­tions. Those third par­ties are the ones inspec­tors typ­i­cal­ly cite for hous­ing vio­la­tions. As a result, many migrants must take their com­plaints to the court­room to hold their employ­ers accountable.
In 2014, dozens of migrant farm­work­ers in Michi­gan did just this in a law­suit against GMO pro­duc­er Pio­neer Hi-Bred Inter­na­tion­al (now DuPont Pio­neer). The com­plaint, filed on the work­ers' behalf by Farm­work­er Legal Ser­vices of Michi­gan, alleged that Pio­neer, through a farm labor con­trac­tor, arranged hous­ing for work­ers and fam­i­ly mem­bers that was over­crowd­ed and had a gas leak. Kara Moberg, the plaintiff's attor­ney, says the hous­ing was poor­ly con­struct­ed and lacked air con­di­tion­ing and win­dow screens.
"They were basi­cal­ly oper­at­ing as an oven and absorb­ing the heat," she says.
The case was set­tled for about $190,000 and attorney's fees. DuPont Pio­neer declined to com­ment for this article.
Sub­stan­dard hous­ing ​"expos­es farm work­ers to phys­i­cal risk and men­tal stress," says Vir­ginia Ruiz, direc­tor of occu­pa­tion­al and envi­ron­men­tal health for the advo­ca­cy group Farm­work­er Jus­tice. For exam­ple, a farmworker's risk of heat exhaus­tion in the fields is inverse­ly linked to their time spent cool­ing off at home at night, Ruiz says. If work­ers can­not open win­dows to cool off, they are at greater risk of heat exhaus­tion the next day.
Ruiz also points out that migrant farm­work­ers nor­mal­ly spend long days work­ing with pes­ti­cides, includ­ing glyphosate, which the World Health Organization's research arm declared a pos­si­ble car­cino­gen in 2015. When work­ers return to their tem­po­rary homes, they bring those tox­ic chem­i­cals with them on their clothes and skin. A lack of ade­quate laun­dry or show­er facil­i­ties may great­ly increase their risk of get­ting sick.
Inspec­tion reports con­tain numer­ous instances of such basic prob­lems. In Sep­tem­ber 2015, for exam­ple, Texas inspec­tors report­ed that a migrant work­er hous­ing facil­i­ty did not have win­dow screens, fire extin­guish­ers or work­ing water for the bath­room sink. Five work­ers had to share three beds.
Hous­ing issues per­sist thanks to a weak reg­u­la­to­ry sys­tem. The fed­er­al H‑2A visa pro­gram for tem­po­rary agri­cul­tur­al work­ers requires employ­ers to pro­vide free, safe hous­ing. But these doc­u­ment­ed work­ers account for just 2 to 5 per­cent of all migrant work­ers — the rest are domes­tic or undoc­u­ment­ed work­ers. While fed­er­al leg­is­la­tion pro­vides some stan­dards for hous­ing these groups, the stan­dards are vague and dif­fi­cult to enforce — espe­cial­ly giv­en the pro­lif­er­a­tion of camp operators.
In the absence of strong fed­er­al enforce­ment, respon­si­bil­i­ty for hous­ing stan­dards for migrant work­ers most­ly trick­les down to the state lev­el, where agen­cies issue legal oper­at­ing licens­es and inspect facil­i­ties that house migrant work­ers. Over­sight is com­pli­cat­ed by a glar­ing absence of uni­for­mi­ty across states. Staffing lev­els, enforce­ment author­i­ty and even the def­i­n­i­tion of a migrant labor camp vary. Mis­souri, for exam­ple, does not reg­u­late any facil­i­ties oth­er than those hous­ing H‑2A work­ers, as required by fed­er­al law. Iowa inspects migrant hous­ing only after work­ers file complaints.
Home is where the bugs are
In June, the Mid­west Cen­ter met Leonor and Tomas Pizana, a cou­ple who trav­eled more than 1,500 miles from their home in San Ben­i­to, Texas, to work for Michi­gan-based flori­cul­ture com­pa­ny Sawyer Nurs­ery, which employs between 100 and 150 migrant farm­work­ers. Through­out the sum­mer, the Pizanas lived with dozens of work­ers in a bed bug-infest­ed apart­ment com­plex for which they paid $35 a week, deduct­ed from their pay­checks. The Pizanas explain that, because there was no show­er faucet, they bathed by dump­ing buck­ets of water over their heads.
Three months before the Pizanas and oth­er work­ers moved into the hous­ing in March 2016, state inspec­tors had doc­u­ment­ed 10 crit­i­cal vio­la­tions, includ­ing mice, cock­roach­es and a lack of smoke detec­tors. Inspec­tors informed the hous­ing own­er, blue­ber­ry com­pa­ny Brook­side Farms — which owns mul­ti­ple migrant hous­ing prop­er­ties — that it need­ed to fix the prob­lems before receiv­ing an oper­at­ing license. A review of state licens­ing records, though, shows the build­ing was still unli­censed when Sawyer Nurs­ery sub­let the apart­ment and sent the Pizanas and oth­er work­ers to live there. After local legal advo­cates filed a com­plaint about the con­di­tions in April, Michigan's inspec­tion agency even­tu­al­ly fined Brook­side $4,000 for oper­at­ing with­out a license and ordered it to make anoth­er $4,000 in repairs. But the agency grant­ed tem­po­rary licens­es, and the camp stayed open despite the problems.
Bill Fritz, who runs Brook­side with his broth­er, told the Mid­west Cen­ter that inspec­tions ​"are a lot stricter than they used to be" and that he exceed­ed the amount of repairs required by buy­ing a heat machine that kills bed bugs. Sawyer Nurs­ery did not respond to requests for comment.
The Mid­west Cen­ter found dozens of sim­i­lar instances in which state inspec­tors repeat­ed­ly cit­ed the same vio­la­tions with­out camp oper­a­tors address­ing them. That's unsur­pris­ing, giv­en that inspec­tion agen­cies typ­i­cal­ly have lim­it­ed author­i­ty and resources. Michigan's licens­ing pro­gram, for exam­ple, has only sev­en inspec­tors and a $1.2 mil­lion bud­get to cov­er the state's rough­ly 900 licensed hous­ing camps.
To com­pli­cate mat­ters fur­ther, employ­ers in recent years have increas­ing­ly tried to slip past the inspec­tion process by cap­i­tal­iz­ing on juris­dic­tion loop­holes, hous­ing migrant work­ers in facil­i­ties inspec­tors don't know about or don't have the author­i­ty to inspect, state offi­cials say.
'

Noth­ing to lose'

Some states have made efforts to improve liv­ing con­di­tions for migrant work­ers. Ore­gon, for exam­ple, offers tax cred­its to investors who build migrant hous­ing. In March, Texas law­mak­ers said they would push for tougher enforce­ment mea­sures and addi­tion­al fund­ing for the state's inspec­tion pro­gram, after an inves­ti­ga­tion in the Amer­i­can States­man high­light­ed a group of farm­work­ers liv­ing in unven­ti­lat­ed ship­ping con­tain­ers and revealed that state agen­cies had not issued any fines to grow­ers since 2005.

The big pic­ture is that states must hire more inspec­tors, impose hefti­er fines and allo­cate fund­ing to build bet­ter hous­ing for farm­work­ers, says Kristin Hoff­man, direc­tor of the Indi­ana Migrant Farm­work­er Law Cen­ter. Until then, says Hoff­man says, ​"employ­ers have noth­ing to lose by break­ing the law."
Robert Hol­ly cov­ers agri­cul­ture for the Mid­west Cen­ter for Inves­tiga­tive Report­ing and Big​-AgWatch​.org. He has report­ed on migrant farm­work­er hous­ing since
2014
.