Stop & Shop Workers Vote to Ratify Contract—Although Benefits Will Shrink for New Part-Timers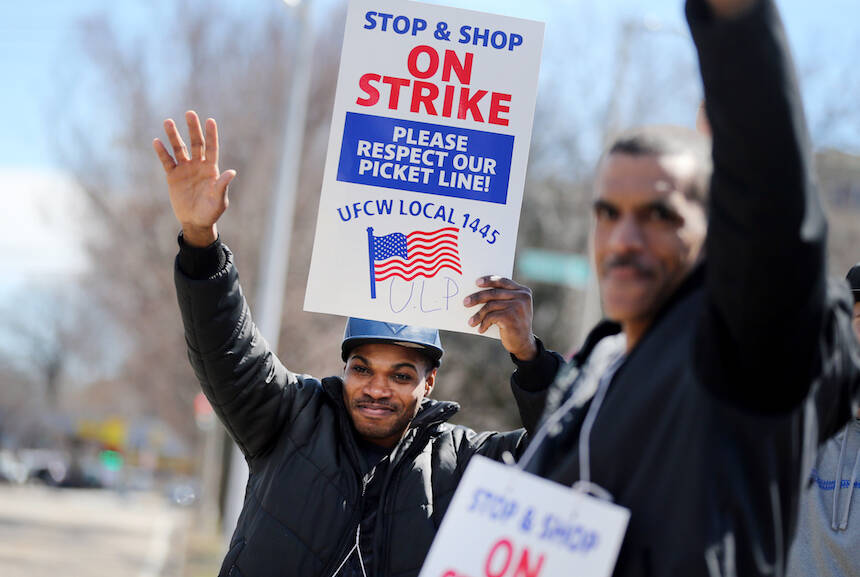 On Wednes­day, May Day, the last of five Unit­ed Food and Com­mer­cial Work­ers (UFCW) locals rat­i­fied a new three-year con­tract with Stop & Shop, fol­low­ing a 10-day strike — one of the largest the U.S. pri­vate sec­tor has seen in years. Work­ers at Local 1459 in Spring­field, Mass., vot­ed over­whelm­ing­ly in favor of the new con­tract — in line with near-unan­i­mous approvals by four oth­er locals since the strike end­ed April 21.
The strike began in the week lead­ing up to East­er, when 31,000 UFCW union mem­bers across New Eng­land walked off the job after Stop & Shop said it need­ed to ​"adapt to mar­ket con­di­tions" to com­pete with behe­moths like Wal­mart and Whole Foods/​Amazon. Not­ing it is the only ful­ly union­ized gro­cery chain in New Eng­land, one with a pen­sion plan and above-indus­try wages, the com­pa­ny pro­posed rais­ing health­care pre­mi­ums, freez­ing over­time rates for part-time work­ers (who make up 75% of its work­force) and reduc­ing pen­sion ben­e­fits for non-vest­ed employees.
UFCW mem­bers viewed these pro­pos­als as steps toward a two-tiered work­force, with full-time Stop & Shop employ­ees at one lev­el and part-time work­ers at another.
"I don't think it's right — it should all be equal," says Mike Landry, an assis­tant meat man­ag­er who's worked for 37 years at the Northamp­ton store. ​"That's why the union is fighting."
Giv­en the East­er hol­i­day, one of the year's busiest weeks for gro­cery shop­ping, the tim­ing of the strike was par­tic­u­lar­ly rough for Stop & Shop, owned by Dutch retail giant Ahold Del­haize. The com­pa­ny report­ed­ly lost between $90 mil­lion and $110 mil­lion in sales, or about 3% of pro­ject­ed 2019 profits.
At one Stop & Shop in Northamp­ton, Mass., the super­mar­ket was vir­tu­al­ly emp­ty while pick­eters held signs out­side, dis­cour­ag­ing shop­pers from enter­ing the store. Inside, the bak­ery was closed, along with the deli, meat and seafood coun­ters. The pro­duce selec­tion was hit or miss. A sin­gle-dig­it skele­ton crew of work­ers out­num­bered cus­tomers, and only self-ser­vice check­out was avail­able. To keep the lights on at the company's 246 stores in Rhode Island, Con­necti­cut and Mass­a­chu­setts, Stop & Shop brought in replace­ment work­ers and sent cor­po­rate office employ­ees to man the stores.
The gro­cery chain also hired tem­po­rary truck dri­vers and ware­house work­ers after about 1,000 Team­sters union mem­bers refused to cross UFCW pick­et lines. Man­age­ment had to scram­ble to get food into stores and trash out the doors.
Ratch­et­ing up pres­sure on the com­pa­ny was pos­si­ble thanks to pick­et line pro­tec­tion lan­guage in Team­ster con­tracts, says Sean O'Brien, pres­i­dent of Team­sters Local 25. ​"We enforced that lan­guage — we will nev­er cross a pick­et line," O'Brien says. ​"After their shifts were over, hun­dreds upon hun­dreds of Team­sters would go down and walk the pick­et lines."
Out on the pick­et line in Northamp­ton, Susan Jacob­sen, 72, a mem­ber of UFCW Local 1459, and her col­leagues saw sol­i­dar­i­ty first­hand: Local elect­ed offi­cials and cus­tomers joined in. Rab­bis across the region told con­gre­ga­tions it's ​"not kosher" to shop at Stop & Shop ahead of Passover. A hand­ful of U.S. pres­i­den­tial can­di­dates joined pick­et lines, too. And mem­bers of a slew of unions — teach­ers, nurs­es, build­ing trades work­ers and pub­lic sec­tor work­ers — all helped sup­port strik­ing work­ers by join­ing pick­et lines and pro­vid­ing resources, O'Brien says.
"It's been absolute­ly fab­u­lous," says Jacob­sen. A bak­ery work­er with Stop & Shop for 21 years, this was her first-ever strike. She pick­et­ed every day.
"If you firm­ly believe in the prin­ci­ples you're stand­ing for, there's noth­ing oner­ous about it," Jacob­sen says. ​"Peo­ple need to stand up for what's right."
When asked whether he would vote to rat­i­fy a new con­tract, David Morse, a UFCW Local 371 mem­ber in the Northamp­ton store's seafood depart­ment, said he'd be dis­ap­point­ed if future part-time hires see frozen over­time pay or reduced pen­sion ben­e­fits. But, ​"it won't stop me from vot­ing for it," he said. ​"We went through hell just to get what we have."
When the strike end­ed, there was plen­ty for the UFCW to cel­e­brate. Stop & Shop gave up its push to force employ­ees' spous­es to take any health insur­ance offered by their own employ­er. The union also said Stop & Shop ​"kept health­care afford­able" with ​"low deductibles and out-of-pock­et max­i­mums." The new con­tracts also hold the line on all sick time, per­son­al days and paid hol­i­days for cur­rent and future employ­ees — Stop & Shop had want­ed to reduce paid hol­i­days and sick days for future employees.
But the com­pa­ny got some of what it want­ed as well. New part-time work­ers won't see time-and-a-half pay on Sun­days and hol­i­days, as cur­rent employ­ees do. Instead, they'll get a pre­mi­um (e.g., an extra $1.50 per hour the first year) that will grow to a time-and-a-half rate after three years of employ­ment. And then there's this: The new con­tracts sig­nif­i­cant­ly reduce pen­sion ben­e­fits for new part-time hires. While a cur­rent part-timer gets $225 per month after work­ing 10 years, a new part-time would get $100, the Worces­ter Telegram & Gazette report­ed.
"It came down to, we had to get peo­ple back to work," Tim Melia, pres­i­dent of Local 328 of the Unit­ed Food and Com­mer­cial Work­ers Inter­na­tion­al, told the Worces­ter Telegram & Gazette. ​"There were a few things we weren't that hap­py with. At the end of the day," he said, ​"we had to accept this con­tract, and it was worth bring­ing back to the members."
But across the coun­try, union­ized chains are still on the defen­sive. ​"There's noth­ing left of Shaw's, A&P, Path­mark, Waldbaum's, Tops and Grand Union," indus­try ana­lyst Burt Flickinger told the Hart­ford Courant. ​"The Wal­mart bear is eat­ing all the union competition."
"I did this for oth­er people's chil­dren, for my grand­chil­dren," Jacob­sen says as she restocks a shelf with cakes on her first day back at work. ​"We have got to stop this, putting peo­ple in tiny wages with no benefits."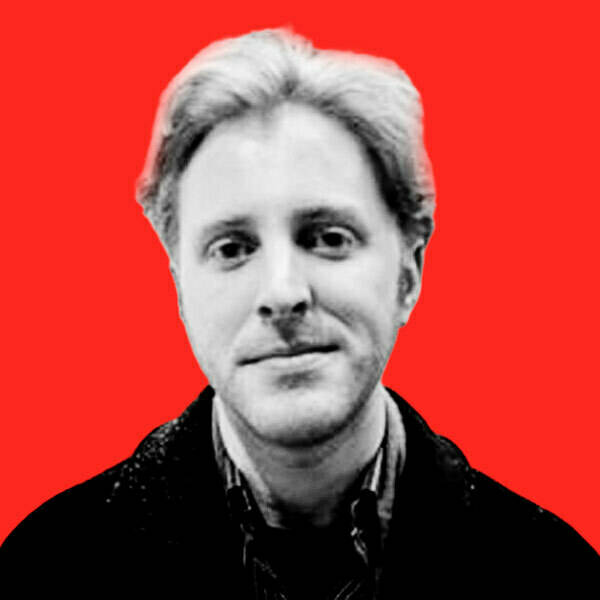 Jere­my Gantz is a con­tribut­ing edi­tor at the mag­a­zine. He is the edi­tor of The Age of Inequal­i­ty: Cor­po­rate America's War on Work­ing Peo­ple (2017, Ver­so), and was the Web/​Associate Edi­tor of In These Times from 2008 to 2012.