Storm Warning for Grocery Union As Huge Supervalu Chain Falters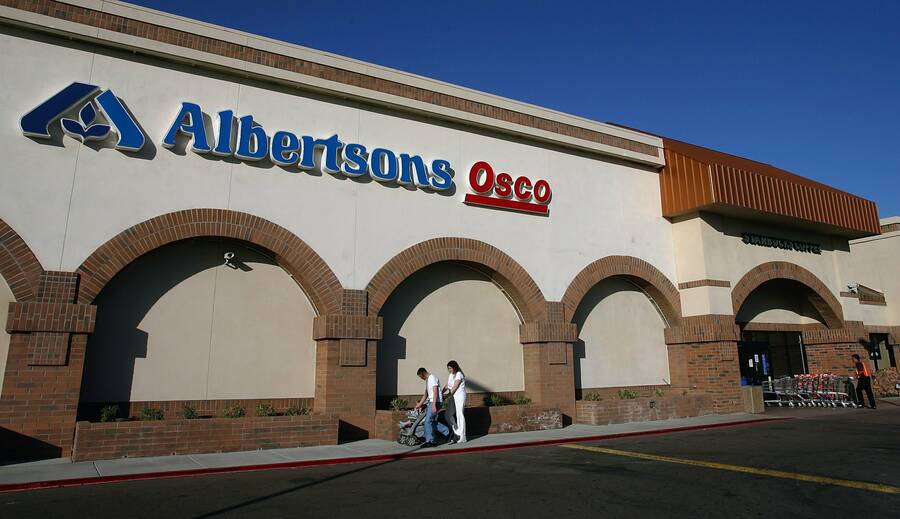 Some 84,000 unionized grocery workers spread out across the country have new reason for apprehension this month as it became clear the nation's third-largest operator of supermarket chains is financially wounded and planning to make dramatic changes.
Supervalu Inc. let the first shoe drop on July 11 when it announced it was bringing in outside help to devise ​"strategic alternatives," a term widely understood to mean the sale or dismemberment of the sprawling operation. The seriousness of the situation was reinforced this week when Supervalu CEO Craig Herkert was summarily fired.
The financial turmoil is bad news for the company's 130,000 workers, about 84,000 of who are represented by the United Food & Commercial Workers (UFCW). Union members work at several regional supermarket chains owned by Supervalu, including Alberstons in the Western states, Jewel-Osco in the Chicago area, Acme in the Mid-Atlantic, and Shaw's in New England. Several of these chains have already felt the pressure of job reductions, and more cost-cutting appears to be on the horizon.
Minneapolis-based Supervalu – the third largest national grocery chain after Kroger and Safeway – currently operates 1,102 traditional unionized supermarkets and also a large number of non-union Save-A-Lot discount stores, largely in the South.
For the UFCW, a worst-case scenario would see Supervalu following the path of New Jersey-based grocery chain A&P, which filed for bankruptcy in 2010. As part of that bankruptcy proceeding, A&P has closed more than 100 stores and forced a long string of UFCW locals into major economic concessions.
The news from Supervalu does not come as any surprise to UFCW leaders who have been dealing regularly with the company over local labor agreements and other day-to-day issues. Tom McNutt, president of Landover, Md.-based UFCW Local 400, just finished tense contract negotiations with Shoppers Food & Pharmacy, a Maryland-Virginia regional chain owned by Supervalu.
​"We will not let Shoppers dump its financial problems on our members' backs," McNutt said at the outset of contract talks earlier this year. ​"The solution to the company's problems…lie exclusively in the executive suite."
Supervalu executives came to the negotiating table pleading poverty, McNutt says, and issued an outrageous list of concessions. Supervalu wanted contract changes that would effectively cut the take-home pay for most of the 4,000 union clerks and meat cutters working at Shoppers stores, McNutt says. This was totally unacceptable, according to McNutt, and job actions seemed possible before a compromise contract was ironed out in early July.
The outcome for Local 400 was a compromise, but far better than the situation facing UFCW locals in southern California and Nevada. There, the Supervalu subsidiary Albertsons last month eliminated about 2,500 jobs spread across 247 separate stores. ​"A decision of this nature is never easy, but it is the necessary step for us to take to…accelerate our turnaround," Albertsons President Dan Sanders stated in announcing the cuts June 6. The cuts were implemented in accordance with the severance and seniority provisions of UFCW contracts, but are exceedingly painful nevertheless, said Mickey Kasparian, president of UFCW Local 135 in San Diego.
The worker cutbacks at Albertsons followed a pattern set early last year at Supervalu's Acme chain, based in suburban Philadelphia but with 117 stores spread across Pennsylvania, New Jersey, Delaware and Maryland. About 900 jobs were eliminated out of a e total of 14,000. Most of the jobs eliminated were part-time checkout clerks, according to information posted on the web site of UFCW Local 1776, which represents grocery workers throughout eastern Pennsylvania.
Commenting on the abrupt dismissal of Supervalu boss Herkert, Local 400's McNutt said the move ​"was long overdue. He is part of the problem, so it could be a good sign" for a turnaround at the company that Herkert will be replaced.
McNutt adds that it was disturbing that Supervalu's recent history bears a strong resemblance to the experience of bankrupt A&P. In both cases, a financially stable retailer made a large acquisition of another grocery company, thus loading up on debt.
​"Everything that is happening to Supervalu is almost identical to A&P," McNutt says. ​"They bought Albertsons (in 2006) just like A&P bought Pathmark. The heavy debt made the stock price go down, so you then had chaos among the executives as they were under pressure to deal with the stock price. It starts a downward spiral."
McNutt notes that there is fear among some that Supervalu is also headed into bankruptcy. ​"I'm not predicting that they will go under, but I have to observe that the subject keeps coming up whenever knowledgeable people talk about it," he says.
The union will be well be prepared if that is the case, McNutt adds. UFCW President Joe Hansen ​"has been very proactive in getting the different locals coordinated and prepared for anything that might happen," he says. That includes assembling financial and legal experts to protect the union members as much as possible. ​"We're watching daily what is happening and hoping for the best."
Bruce Vail
is a Baltimore-based freelance writer with decades of experience covering labor and business stories for newspapers, magazines and new media. He was a reporter for Bloomberg BNA's Daily Labor Report, covering collective bargaining issues in a wide range of industries, and a maritime industry reporter and editor for the Journal of Commerce, serving both in the newspaper's New York City headquarters and in the Washington, D.C. bureau.