Strike Threat Proves Powerful For East Coast Longshore Union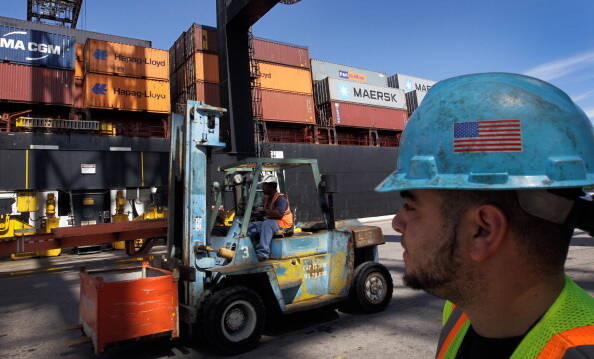 The threat of an end-of-year dock strike across the East Coast and the Gulf of Mexico succeeded in breaking an impasse in contract negotiations for some 14,500 members of the International Longshoremen's Association (ILA). Although the new contract was not finalized, a federal mediator reported that a critical sticking point had been resolved in favor of the union. Meanwhile, the moderator says, the existing contract has been extended to Feb. 6 while remaining details are hammered out.
The mediator's report suggests that the ILA has scored an important victory through the skillful use of the strike threat. ILA President Harold Daggett has been wielding such threats for months, sending waves of anxiety rippling through the businesses that rely on waterfront labor peace for their profits. The anxiety had led even to calls on President Barak Obama to intervene to prevent a strike.
The ILA and waterfront employers were at loggerheads over a demand by shipping companies that so-called ​"container royalty" payments be frozen, and ultimately reduced or eliminated. These payments, amounting to a total of $211 million last year, are used to supplement the income of some longshore workers, and help fund other union benefits.
​"The container royalty payment issue has been agreed upon in principle by the parties, subject to achieving an overall collective bargaining agreement," announced moderator George H. Cohen, director of the Federal Mediation & Conciliation Service (FMCS). Although declining to discuss the terms of the agreement, Cohen remarked that ​"the agreement on this important subject represents a major positive step forward toward achieving an overall collective bargaining agreement."
Both the union and the employer group United States Maritime Alliance (USMX) have remained tightlipped about contract talks since negotiations began in March 2012. There has been little public comment, for example, about perennial issues such as wage increases, healthcare or staffing levels at container terminals. Since July, both sides have honored a request from FMCS to refrain from public statements on the talks.
However, the Longshore Workers' Coalition, a dissident group within the ILA, published details of the negotiations in the Summer 2012 edition of its newsletter ​"Pier Pressure." LWC reported that management demands included random drug and alcohol tests, less overtime and controls on the cost of healthcare, while the ILA had asked for wage increases, better fringe benefits and guarantees that workers would not lose their jobs to automation.
Timothy Simpson, a spokesperson for the giant shipping company Maersk, told Working In These Times that the company would have no comment on the contract talks. Maersk senior vice president Anthony Scioscia is a key member of the USMX leadership group.
The ILA strike threats point to a broader restlessness by workers at ports in other parts of the country. Just last month, members of a clerical workers local of International Longshore & Warehouse Union (ILWU) picketed container terminals in Los Angeles, nearly bringing that port to a standstill. No sooner had the clerical workers strike been settled than ILWU dockworkers faced off with employers over a contract covering grain export elevators in the Pacific Northwest.
Support progressive media
As a nonprofit, reader-supported publication, In These Times depends on donations from people like you to continue publishing. Our final, end-of-year fundraising drive accounts for nearly half of our total budget. That's why this fundraising drive is so important.
If you are someone who depends on In These Times to learn what is going on in the movements for social, racial, environmental and economic justice, the outcome of this fundraising drive is important to you as well.
How many readers like you are able to contribute between now and December 31 will determine the number of stories we can report, the resources we can put into each story and how many people our journalism reaches. If we come up short, it will mean making difficult cuts at time when we can least afford to do so.
If it is within your means, please make a tax-deductible donation today, to ensure that In These Times can continue publishing in the year ahead.

Bruce Vail
is a Baltimore-based freelance writer with decades of experience covering labor and business stories for newspapers, magazines and new media. He was a reporter for Bloomberg BNA's Daily Labor Report, covering collective bargaining issues in a wide range of industries, and a maritime industry reporter and editor for the Journal of Commerce, serving both in the newspaper's New York City headquarters and in the Washington, D.C. bureau.
This is important
As a nonprofit, reader-supported publication, In These Times depends on our end-of-year fundraising drive for nearly half of our total budget. That's how important this fundraising drive is. If you support progressive media, please consider making a tax-deductible donation today to ensure that In These Times can continue publishing in the year ahead.