A few years ago a Cana­di­an hunter came across a fox with arthro­gry­po­sis, a con­di­tion that left the fox with fore­short­ened and weak limbs. The hunter assumed the fox was deformed and in pain, so shot him; as is com­mon in respons­es to dis­abil­i­ty, pity was twinned with destruc­tion. Yet, a post-mortem exam­i­na­tion showed the fox had a full stom­ach: His dis­abil­i­ty had not pre­vent­ed him from becom­ing a com­pe­tent hunter.
Taylor recounts anecdotes of elephants, chickens, primates, ducks, whales, pigs and dogs who help their disabled family members or simply are patient with their slower pace.
Sunau­ra Tay­lor, too, was born with arthro­gry­po­sis. She includes this anec­dote in her recent book, Beasts of Bur­den: Ani­mal and Dis­abil­i­ty Lib­er­a­tion, to stress how the wide­spread prej­u­dice against dis­abil­i­ty lies at the root of humanity's rela­tion­ship to oth­er ani­mals. Tay­lor reminds the read­er to con­sid­er an animal's expe­ri­ence on its own terms, rather than on an abled human's con­cep­tion of a good life. The sto­ry of the fox is one of many gems gleaned from per­son­al anec­dotes, sci­en­tif­ic research and cul­tur­al frag­ments that Tay­lor then realigns into a remark­ably orig­i­nal med­i­ta­tion on ani­mal ethics, and one pos­sess­ing great polit­i­cal impli­ca­tions. Its insights pro­vide an oppor­tu­ni­ty to over­throw util­i­tar­i­an­ism from its long-held dom­i­nant posi­tion in the ani­mal rights debate.
The ini­tial impe­tus for the book occurred in 2006, when Tay­lor rumi­nat­ed on the many trucks stuffed with chick­ens that passed along the streets of Geor­gia, where she grew up. When she dis­cov­ered that the poul­try ​"pro­cess­ing plant" was actu­al­ly quite near her home, she want­ed to see it for her­self. She was blocked from enter­ing, so asked an acquain­tance who worked at the fac­to­ry to take pho­tographs. He did so, but was caught and fired, high­light­ing the pre­car­i­ty of work­ers with­in this secre­tive industry.
Tay­lor used these pho­tographs for a series of paint­ings, and real­ized that most of them were dis­abled, hob­bled by severe injuries caused by their liv­ing con­di­tions. ​"The more I looked, the more I found that the dis­abled body is every­where in ani­mal indus­tries," she recalls. ​"A thought struck me. If ani­mal and dis­abil­i­ty oppres­sion are entan­gled, might not that mean their paths of lib­er­a­tion are entan­gled as well?"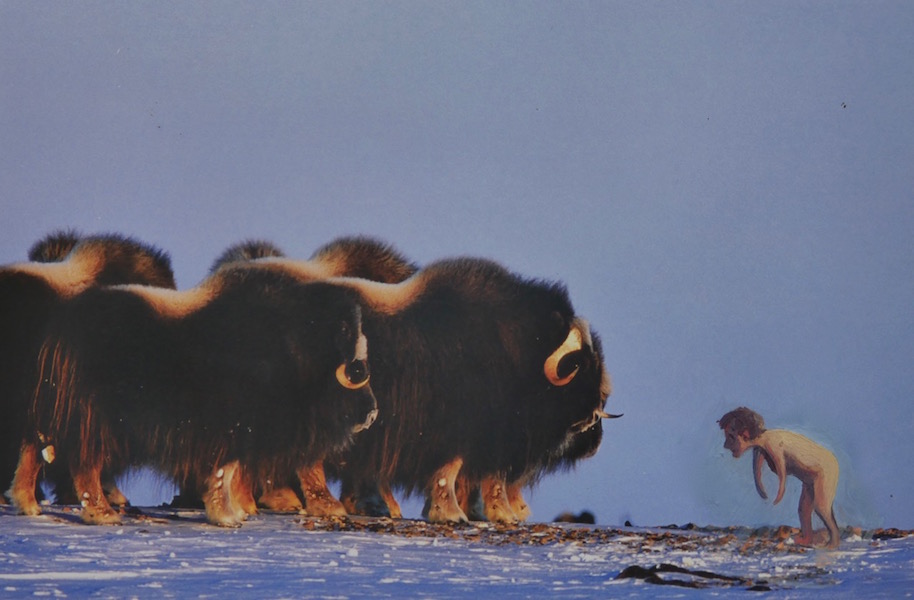 Bison Greet­ing by Sunau­ra Tay­lor (detail from Wildlife, 2014, oil paint on wildlife pho­tog­ra­phy book, Apx 12" x 12" x 2", cour­tesy of the artist)
Re-exam­in­ing ani­mal ethics through the prism of dis­abil­i­ty stud­ies — the heart of Taylor's con­tri­bu­tion — is an extreme­ly fraught task giv­en the trou­bled rela­tion­ship between these two move­ments. This trou­ble began 42 years ago when Peter Singer, a util­i­tar­i­an, penned Ani­mal Lib­er­a­tion, which became the foun­da­tion­al text of con­tem­po­rary ani­mal ethics. Singer argues, based on the shared capac­i­ty to suf­fer, that ​"equal con­sid­er­a­tion" be giv­en to humans and non­hu­man ani­mals. Any­thing less, he charges, is ​"speciesist" — unjus­ti­fi­ably pri­or­i­tiz­ing one species above oth­ers, akin to oth­er forms of discrimination.
The sec­ond half of Singer's argu­ment, how­ev­er, is deeply dis­turb­ing. He argues that infants, intel­lec­tu­al­ly dis­abled peo­ple and most ani­mals should not be con­sid­ered full ​"per­sons" because they can­not imag­ine a future. With this one sim­ple step, he changes the empha­sis of his eth­ic from the abil­i­ty to suf­fer to ratio­nal­i­ty. He stress­es that because many dis­abled lives are marred by suf­fer­ing, their lives are less worth liv­ing, and ulti­mate­ly less worth pro­tect­ing — as with the farmer and the fox, his pity is linked to destruc­tion. ​"If Singer had left his argu­ment in its sim­pler form," Tay­lor laments, ​"with the prin­ci­ple of equal con­sid­er­a­tion based on sen­tience, Ani­mal Lib­er­a­tion would have been a remark­ably anti-ableist book."
Ani­mal Lib­er­a­tion had been one of Taylor's favorite books when she was a child, but she lat­er rec­og­nized that ​"for intel­lec­tu­al­ly dis­abled peo­ple, it offers lit­tle except risk.'' She quotes promi­nent dis­abil­i­ty activists who are not only hos­tile to Singer's work, but ani­mal rights more broad­ly, which they see as a threat to their own per­son­hood. Dur­ing a debate with Singer, dis­abil­i­ty activist Har­ri­et McBryde John­son point­ed­ly draped a sheep­skin on her wheel­chair and defend­ed her ​"bliss­ful igno­rance" about the exploita­tion of farm ani­mals. For John­son, the stakes are high because Singer is a ''man who wants me dead.'' She refus­es to ele­vate ani­mals to per­son­hood if such a log­ic could imper­il her own right to life.
Rather than sim­ply deny­ing the rights of ani­mals, Tay­lor effec­tive­ly attacks Singer on his home turf by charg­ing that his log­ic is speciesist. She address­es his empha­sis on the sup­pos­ed­ly unique human abil­i­ty to imag­ine a future: ​"Argu­ments that com­pare ani­mals to intel­lec­tu­al­ly dis­abled peo­ple miss the more impor­tant point that a focus on spe­cif­ic human and neu­rotyp­i­cal ​'moral­ly rel­e­vant abil­i­ties' harms both pop­u­la­tions," Tay­lor con­tends. The ele­va­tion of ratio­nal­i­ty, Tay­lor shows, has its own dark his­to­ry of being used to jus­ti­fy the dom­i­na­tion of abled white men over women and peo­ple of color.
A tru­ly non-speciesist posi­tion, she sug­gests, would acknowl­edge that ​"ani­mal minds are com­plex in their own right," and that ​"the kind of moral con­sid­er­a­tion that sen­tience demands should not negate that oth­er forms of life and non­life also deserve an eth­i­cal response, even if of a very dif­fer­ent nature." Tay­lor dis­cards Singer's cen­tral con­cept of speciesism and instead employs ableism — the belief that some bod­ies should be more high­ly val­ued than oth­ers because they seem healthy, nat­ur­al and whole — to under­stand how ani­mal oppres­sion is jus­ti­fied, and how this oppres­sion is linked to the plight of dis­abled peo­ple. In doing so, she has cre­at­ed a new frame­work to under­stand ani­mal lib­er­a­tion with­out jeop­ar­diz­ing the rights of any human communities.
Ableism, as Taylor's quick his­to­ry shows, is cul­tur­al­ly pro­duced and hard­ly ​"nat­ur­al": She recounts anec­dotes of ele­phants, chick­ens, pri­mates, ducks, whales, pigs and dogs who help their dis­abled fam­i­ly mem­bers or sim­ply are patient with their slow­er pace. Babyl, for exam­ple, a dis­abled ele­phant who lived in Kenya's Sam­bu­ru Reserve, had a fam­i­ly that would not walk too far ahead of her and whose matri­arch would feed her with her own trunk. Then there are the inter­net celebri­ties Baks and But­tons, a blind dog guid­ed by an empa­thet­ic goose.
Tay­lor deems these ani­mals fel­low ​"crips," a com­rade­ly term that forces ​"us to ques­tion our ideas about how bod­ies move, think and feel and what makes a body valu­able, exploitable, use­ful or disposable."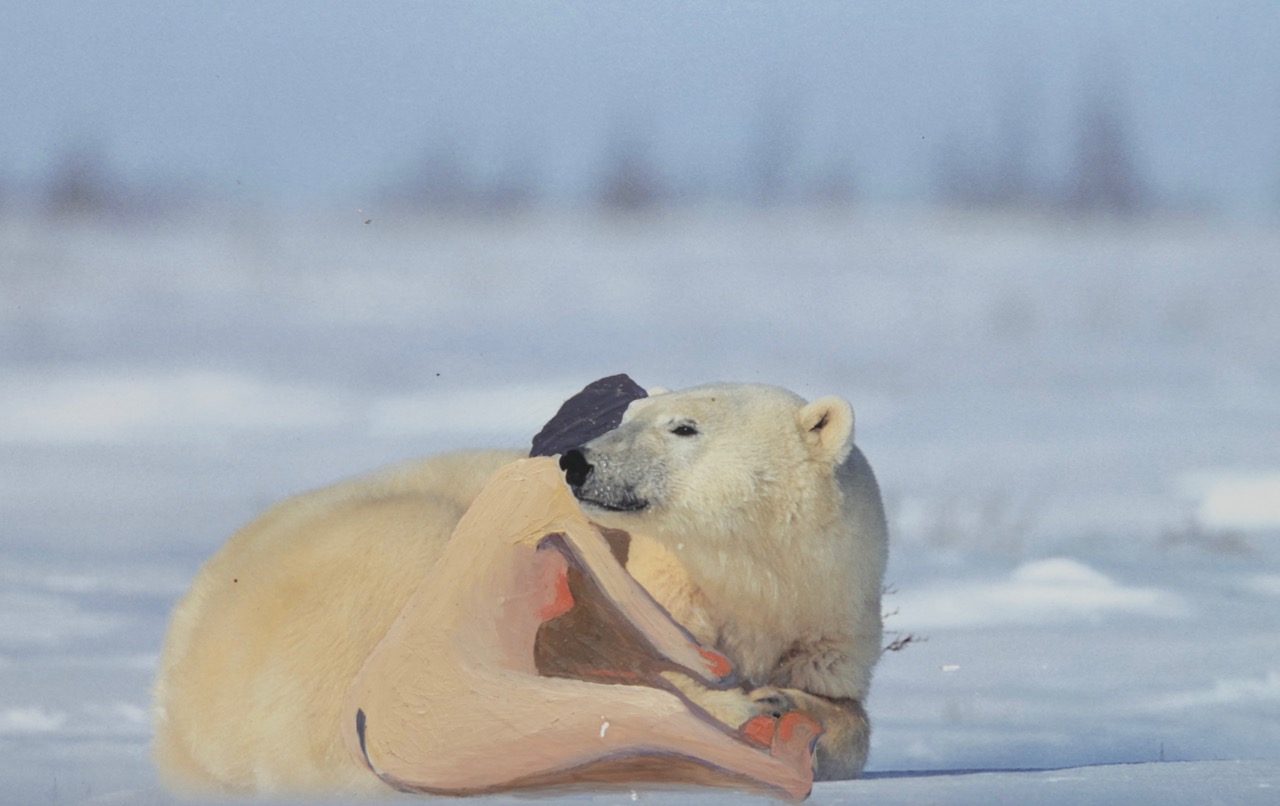 Bear Hug by Sunau­ra Tay­lor (detail from Wildlife, 2014, oil paint on wildlife pho­tog­ra­phy book, apx 12" x 12" x 2", cour­tesy of the artist)
If ani­mals seem to be strik­ing­ly un-ableist, it is per­haps because humans seem to be unique in cre­at­ing dis­abil­i­ty. Taylor's paint­ing of the chick­en truck led her to read wide­ly on the prac­tices of indus­tri­al live­stock rear­ing and slaugh­ter. Not only are ani­mals dis­abled in almost mun­dane ways by their envi­ron­ment — debeaking, beat­ings caus­ing bro­ken bones, poor diets, dehy­dra­tion — but many farm ani­mals are bred to be dis­abled. Bel­gian Blue cat­tle are so mus­cu­lar they can bare­ly walk and must under­go cae­sare­ans because their mus­cles press so heav­i­ly on their vagi­nal canal. ​"What does it mean to speak of a ​'healthy' or ​'nor­mal' chick­en, pig or cow," Tay­lor asks, ​"when they all live in envi­ron­ments that are pro­found­ly disabling?"
Humans dis­abil­i­ties, too, are often the result of cap­i­tal­ist indus­try or hier­ar­chi­cal social struc­tures rather than genet­ic flukes. Taylor's own con­di­tion of arthro­gry­po­sis, she writes, was caused by tox­ic waste dumped by con­trac­tors at a near­by army base, which con­t­a­m­i­nat­ed the water that her moth­er drank while preg­nant. ​"Pol­lu­tion is a dis­abil­i­ty issue," Tay­lor stress­es, and one that afflicts the poor and oppressed minori­ties to a dis­pro­por­tion­ate degree.
The poor and peo­ple of col­or are also the most like­ly to work in the most dan­ger­ous indus­try in the Unit­ed States: agri­cul­ture. ​"Indus­tri­al­ized agri­cul­ture, fac­to­ry farms and meat­pack­ing plants are dis­abil­i­ty issues,'' Tay­lor writes. Work­ers in abat­toirs are six times more like­ly to be hurt than a coal min­er. In addi­tion to spec­tac­u­lar acci­dents — limbs caught in meat grinders, work­ers burnt after by falling into vats of ani­mal fat — repet­i­tive stress injuries are inevitable. The dis­as­sem­bly lines pass so quick­ly that a sin­gle work­er can make 20,000 cuts or more with the same motion each day. As flesh and bone dulls the knife, the work­er must apply ever greater force and risk strain­ing her­self. This is leav­ing aside the doc­u­ment­ed psy­cho­log­i­cal toll of so much killing.
Taylor's solu­tion is to abol­ish the indus­try. ​"When ani­mal com­mod­i­fi­ca­tion and slaugh­ter is jus­ti­fied through ableist posi­tions, veg­an­ism becomes a rad­i­cal anti-ableist posi­tion that takes seri­ous­ly the ableism embed­ded in the way we sus­tain our cor­po­re­al­i­ty — social­ly, polit­i­cal­ly, envi­ron­men­tal­ly and in what we con­sume." She demo­nizes not the work­ers, who suf­fer along­side the bil­lions of ani­mals they slaugh­ter, but rather the prej­u­dice that judges ani­mals unwor­thy of empa­thy, and the mas­sive cor­po­ra­tions that prof­it from this sentiment.
Although con­struc­tions of ​"ani­mal­i­ty" have men­aced the per­son­hood of Tay­lor and her dis­abled peers, she uses the chal­lenge of ani­mal ethics to broad­en polit­i­cal coali­tions and deep­en rad­i­cal cri­tique. Her will­ing­ness to com­bine empa­thy with philo­soph­i­cal dar­ing has led to the sig­nif­i­cant achieve­ment of a new pol­i­tics, sur­pass­ing the lim­i­ta­tions of util­i­tar­i­an­ism. While Taylor's will not be the last word in this debate, it is a debate the Left must get involved in. She shows that the val­ues of the dis­abil­i­ty move­ment — ​"inter­de­pen­dence, agency and com­mu­ni­ty" — are essen­tial to pro­tect­ing ani­mals, land­scapes and oppressed peo­ples, mak­ing new coali­tions pos­si­ble. These, too, are the val­ues of the Left.