To Fix the Looming Supply Chain Crisis, Nationalize Amazon
Dealing with the coronavirus pandemic demands a novel solution: placing the e-commerce giant under public control.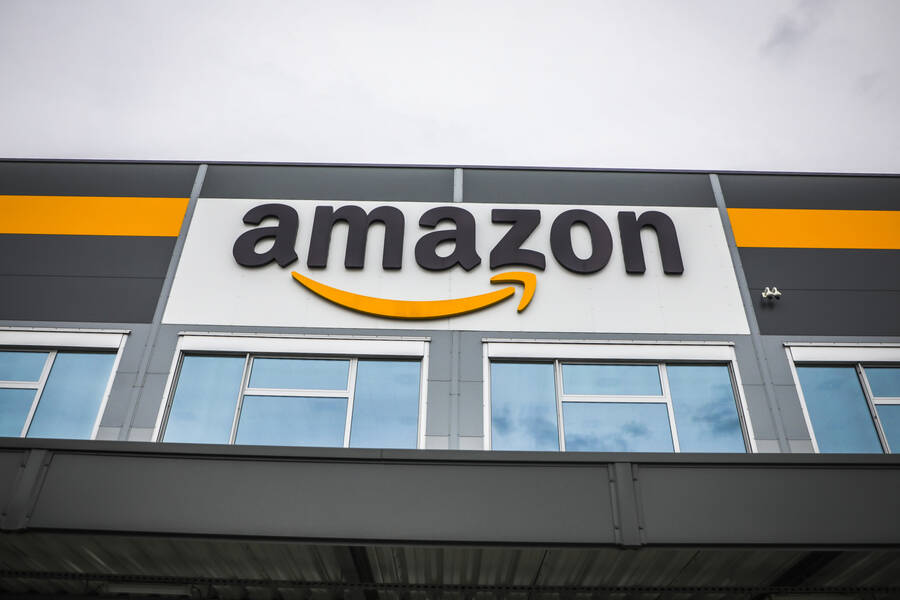 With every pass­ing day, it becomes increas­ing­ly clear that COVID-19 won't allow things to go back to nor­mal any­time soon — regard­less of how intent­ly Trump and his Repub­li­can death cult are pre­pared to risk mil­lions of lives in ser­vice of the stock mar­ket. The lengthy dis­rup­tion will force gov­ern­ments to con­sid­er nov­el ways to get nec­es­sary sup­plies to peo­ple with­out requir­ing every­one to go to the store them­selves — espe­cial­ly those most vul­ner­a­ble to the virus, and the grow­ing num­bers of poor and unem­ployed who sim­ply won't have the money.
Taking Amazon into public ownership would quickly enhance the government's ability to respond to the COVID-19 and economic crises, while allowing it to rectify the negative aspects of the juggernaut.
So, where to turn? The U.S. Postal Ser­vice (USPS) boasts an effec­tive logis­tics infra­struc­ture but lacks the sup­ply chain to quick­ly start deliv­er­ing those essen­tial goods. Yet we already have a monop­o­lis­tic enti­ty with a strong sup­ply chain that could be repur­posed to serve social goals instead of pri­vate prof­it: Amazon.
The e‑commerce giant has already seen demand surge as stores have shut down around the coun­try and as a result the com­pa­ny is hir­ing 100,000 new work­ers to staff its U.S. ful­fill­ment cen­ters. How­ev­er, this isn't sim­ply benev­o­lence on the part of Ama­zon. The com­pa­ny is mak­ing a con­cert­ed push to increase its mar­ket share to dom­i­nate even more of the econ­o­my when things go back to nor­mal, and is cut­ting out third-par­ty mer­chants that like­ly won't sur­vive with­out access to its plat­form in the process.
The sto­ries of Amazon's mis­treat­ment of its ware­house work­ers are noth­ing new — from pee­ing in bot­tles and being denied air con­di­tion­ing to hav­ing every sec­ond of their shifts close­ly tracked with penal­ties if they don't hit their tar­gets. But now the virus has made things worse.
As orders have flood­ed in, work­ers are expect­ed to clock over­time, even as they say the com­pa­ny isn't doing enough to keep them safe from COVID-19. So far cas­es have been iden­ti­fied in at least ten U.S. ful­fill­ment cen­ters and three in Europe. But work­ers say they haven't been giv­en the prop­er pro­tec­tive equip­ment, often aren't informed when a co-work­er tests pos­i­tive until they con­front man­age­ment, and are being told to keep three feet from each oth­er, even though the Cen­ters for Dis­ease Con­trol and Pre­ven­tion rec­om­mends six feet. Not all of the ware­hous­es where cas­es have been iden­ti­fied were even closed for cleaning.
The gov­ern­ment needs to act not just to pro­tect those front­line work­ers, but to ensure it has an infra­struc­ture to respond to the needs of peo­ple across the coun­try as the pan­dem­ic sit­u­a­tion dete­ri­o­rates. The response should be to nation­al­ize Ama­zon and inte­grate it with USPS.
The key task of a pub­licly-owned Ama­zon in this moment of cri­sis would be to main­tain the sup­ply chain so it can con­tin­ue deliv­er­ing the neces­si­ties that peo­ple rely on, with pri­or­i­ty giv­en to those items. How­ev­er, it should also begin prepar­ing for the large-scale deliv­ery of pack­ages con­tain­ing food sta­ples and essen­tial items to every home in the coun­try, mak­ing use of the com­bined labor pow­er of USPS and Ama­zon deliv­ery work­ers, but also the infra­struc­ture that only USPS has: post offices all across the coun­try, even in small rur­al com­mu­ni­ties that aren't eco­nom­i­cal for pri­vate pack­age-deliv­ery com­pa­nies to service.
Nation­al­iz­ing the com­pa­ny would also allow Ama­zon work­ers to get cov­ered by the same union as postal work­ers final­ly giv­ing work­ers a voice at the table to nego­ti­ate for improved work­ing con­di­tions, prop­er clean­ing and pro­tec­tive equip­ment, and the wages and ben­e­fits they deserve for doing such essen­tial work.
Such a move wouldn't just ben­e­fit the Unit­ed States. Ama­zon has online plat­forms in 17 dif­fer­ent coun­tries. While the U.S. infra­struc­ture would be inte­grat­ed into USPS, the infra­struc­ture in those oth­er coun­tries could be worked into their respec­tive postal ser­vices and the inter­na­tion­al coor­di­na­tion between them could be han­dled by the same body that has reg­u­lat­ed inter­na­tion­al postage since 1874, the Uni­ver­sal Postal Union (UPU) — which Trump almost pulled the Unit­ed States out of last year. Each of those nation­al postage sys­tems could rebrand and rework the dig­i­tal aspect of the Ama­zon plat­forms they take over. And, along with the UPU, they could also pro­vide sup­port for oth­er coun­tries to cre­ate their own dig­i­tal infra­struc­ture and estab­lish sup­ply chains to access nec­es­sary goods.
But Ama­zon isn't just an online e‑commerce mar­ket­place. The com­pa­ny has also built and bought many oth­er ser­vices over the years that could be use­ful dur­ing this time of cri­sis. Ama­zon Web Ser­vices (AWS) is a cloud com­put­ing plat­form that hosts the dig­i­tal foot­prints of many major com­pa­nies and insti­tu­tions, includ­ing Net­flix and sev­er­al U.S. fed­er­al gov­ern­ment depart­ments and agen­cies. Nick Srnicek, the author of ​"Plat­form Cap­i­tal­ism," has writ­ten that the cloud should be placed under pub­lic own­er­ship. Tak­ing con­trol of AWS would allow the gov­ern­ment to ensure that key dig­i­tal infra­struc­tures don't go down dur­ing the cri­sis. It would also allow the gov­ern­ment to ensure the cloud plat­form is serv­ing the pub­lic good, and not try­ing to help oil and gas com­pa­nies extract more fos­sil fuels.
Ama­zon also bought super­mar­ket behe­moth Whole Foods in 2017. Plac­ing the chain under pub­lic own­er­ship would help ensure access to food for hun­gry Amer­i­cans, as well as pro­vide access to spaces for food prepa­ra­tion to scale up social pro­grams like Meals on Wheels. With 3.3 mil­lion peo­ple hav­ing filed for unem­ploy­ment last week and the unem­ploy­ment rate expect­ed to rise as high as 30%, the demand for such ser­vices could increase very quick­ly — and peo­ple will not be allowed to stand in food kitchens or bread lines due to the virus.
One of the oth­er valu­able ser­vices that would be obtained from a nation­al­ized Ama­zon is Pill­Pack, an online phar­ma­cy the com­pa­ny bought in 2018. There are many elder­ly and vul­ner­a­ble peo­ple who will still need access to their med­ica­tions while hav­ing to stay indoors, and nation­al­iz­ing the ser­vice could allow the Unit­ed States to start serv­ing those peo­ple, ship­ping their pre­scrip­tions in indi­vid­ual dose pack­ages to reduce any con­fu­sion that peo­ple might have about what to take and when. Addi­tion­al­ly, by tak­ing the prof­it motive out of the equa­tion, those drugs could be pro­vid­ed free of charge.
Tak­ing Ama­zon into pub­lic own­er­ship would quick­ly enhance the government's abil­i­ty to respond to the COVID-19 and eco­nom­ic crises, while allow­ing it to rec­ti­fy the neg­a­tive aspects of the jug­ger­naut: its abuse of its work­ers, fuel­ing of cli­mate change, and attempts to fur­ther monop­o­lize the econ­o­my under the con­trol of CEO Jeff Bezos. Com­bin­ing Ama­zon with the exist­ing postal infra­struc­ture pro­vides fur­ther oppor­tu­ni­ties to cre­ate a pub­lic insti­tu­tion that responds to people's needs with ser­vices that make their lives bet­ter. A reimag­ined post office could also be expand­ed to include postal bank­ing in ser­vice of those who have less access to tra­di­tion­al bank­ing ser­vices. It could also serve as the dis­tri­b­u­tion point for oth­er neces­si­ties such as SIM cards rely­ing on a pub­lic telecom­mu­ni­ca­tions infra­struc­ture and inex­pen­sive eye­glass­es, for example.
In the face of this expand­ing cri­sis, get­ting such infra­struc­ture in place soon­er rather than lat­er is essen­tial. Instead of let­ting Ama­zon con­tin­ue as a pri­vate monop­o­list or try­ing to build a pub­lic alter­na­tive from scratch in record time, the com­pa­ny should be nation­al­ized and reori­ent­ed to serve the pub­lic good instead of preda­to­ry cap­i­tal­ism, while enhanc­ing the infra­struc­ture of the post office. We have a rare oppor­tu­ni­ty to fun­da­men­tal­ly alter the econ­o­my to serve the needs of peo­ple instead of pri­vate prof­it, and its time to seize it.