Supporting Young Thinkers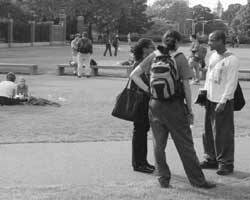 Right-wing foundations understand how to create dedicated ideologues. They target budding freshmen conservatives from their move-in day and support their progeny up through—and beyond—their TV talking-head appearances.

"They teach them how to frame arguments in ways that serve their political purposes," says Jeremy Smith, founder of the Independent Press Association's Campus Alternative Journalism Project (CAJP). This project seeks to provide progressives the same kind of strategic success that conservative groups, which created right-wing campus media, have enjoyed. But for progressives, says Smith, "it is not simply propagandizing but creating a culture of dissidence and criticism."

Marlena Gangi, editor of Portland State University's Rearguard, agrees. "That's what's different about us," she says. "We're not just writing about it, we're out there in the streets. … If you are passionate and consistent enough, you can get the word out."

While conservative groups like the Collegiate Network pour nearly $1 million a year into starting and sustaining right-wing campus publications, lefty college 'zines struggle on without thousands of foundation dollars.

Roughly half of these scrappy publications survive on student-fee money, making them easy targets for conservative campus groups that attack by taking over student finance committees or pressuring administrators to stop funding political speech. The rest scrape by with garage sales, benefit concerts, even their own cash: not an easy path for a publication's longevity—or participants' morale.

But the biggest challenge for campus publications is student turnover. This is an issue for conservative papers, too, but their strong infrastructure maintains the quality of their papers over time. The CAJP is trying to find funds to hold conferences and training sessions to help progressive campus publications improve standards and tactics, thereby increasing credibility and consistency. "A lot of them are operating in this vacuum, making it up as they go along," Smith says. The group hopes to fill that void with practical resources to teach campus journalists how to run their publications more professionally. The group also runs a Campus Alternative Journalism Awards program to raise awareness of high-quality work.

"The hard part is motivating people to see [the paper] as a place to do serious, analytical work, and convince them not just to give in and watch Fox TV," says Kate Sheppard, managing editor of Buzzsaw Haircut, Ithaca College's alternative paper. Gangi says juggling school, jobs, activism and deadlines also is tough for her writers.

Campus publications and support networks like CAJP need philanthropic support because other sources are too unstable, yet foundations provide few funds to continually infuse progressive media with fresh blood. Such funding for radical campus publications is complicated, moreover, because tax-exempt nonprofits are not allowed to fund strictly political work, despite conservatives' obvious flouting of the law.

"Do we cheat, too, or do we forever consign ourselves to losing the discourse debate?" asks Rob Levine, editor of mediatransparency.org.

The funding crisis in lefty campus publications mirrors the perennial poverty of their older siblings, like The Progressive, The Nation, Bitch and Z Magazine. Experience and a deepened commitment to progressive media could be fostered through apprenticeships. Most left-wing publications offer internships, but very few have sufficient funds to pay interns even a modest wage, let alone provide fellowships. This further limits structured opportunities for emerging writers who can't afford to work for free.

"We can't afford it," says Bitch publisher Lisa Jervis. "I wish we could, but there's a lot of things I wish about our budget."

Progressive policy think tanks also offer fewer and less lucrative research opportunities than their conservative counterparts. The Heritage Foundation, by contrast, offers 50 paid internships each summer.

Consequently, would-be deep thinkers are forced to work in other fields, the left's idea pipeline leaks, and fewer smart composers are trained to counter Washington's one-note tunes.

Mischa Gaus
is an editor of
Labor Notes
magazine, the largest independent union publication in the United States.