The Supreme Court's Latest Anti-Worker Decision Deals a Major Blow to the #MeToo Movement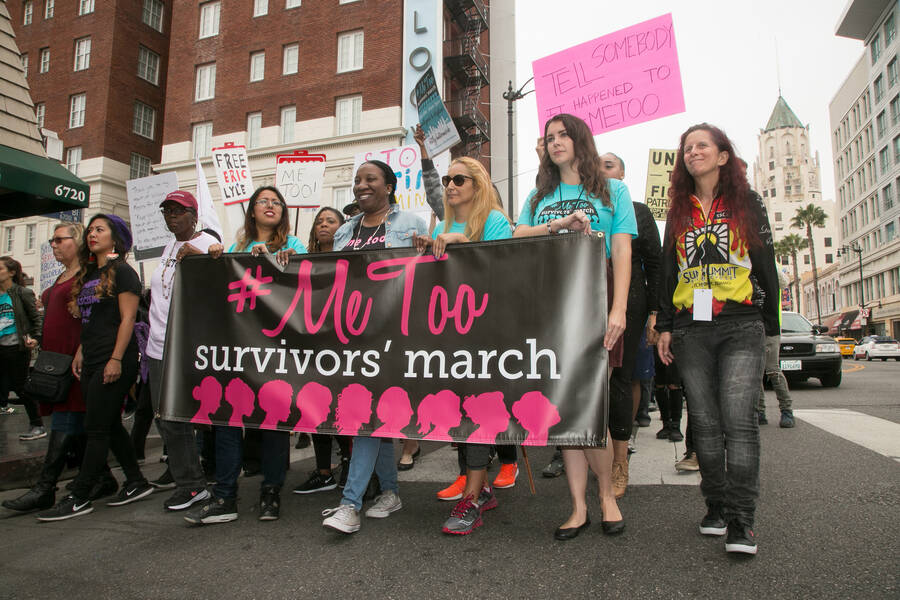 After months of sus­tained pub­lic pres­sure tar­get­ing sex­u­al harass­ment in work­places across the Unit­ed States, the U.S. Supreme Court on Mon­day sig­nif­i­cant­ly under­mined the pow­er of work­ers to col­lec­tive­ly chal­lenge dis­crim­i­na­tion and abuse at the hands of their employ­ers. In a 5 – 4 deci­sion on the Epic Sys­tems Corp. v. Lewis case, the Court ruled that pri­vate-sec­tor employ­ees do not have the right to enter into class-action law­suits to chal­lenge vio­la­tions of fed­er­al labor laws.
"[T]he Supreme Court has tak­en away a pow­er­ful tool for women to fight dis­crim­i­na­tion at work," said Fati­ma Goss Graves, pres­i­dent and CEO of the Nation­al Women's Law Cen­ter, in a press state­ment. ​"Instead of band­ing togeth­er with cowork­ers to push back against sex­u­al harass­ment, pay dis­crim­i­na­tion, preg­nan­cy dis­crim­i­na­tion, racial dis­crim­i­na­tion, wage theft and more, employ­ees may now be forced behind closed doors into an indi­vid­ual, cost­ly — and often secret — arbi­tra­tion process. This will stack the deck in favor of the employer."
The case con­cerns tens of thou­sands of employ­ees at three com­pa­nies — Epic Sys­tems Corp., Ernst & Young LLP and Mur­phy Oil USA Inc. — who were forced to sign away their right to join class-action law­suits against their employ­ers as a pre­con­di­tion to being hired.
The work­ers argued that their right to file class-action law­suits over alleged wage and hours vio­la­tions is pro­tect­ed by the Nation­al Labor Rela­tions Act (NLRA), which was passed in 1935 to offer employ­ees greater lever­age to col­lec­tive­ly chal­lenge unjust treat­ment on the job. But, echo­ing the employ­ers' argu­ments, Jus­tice Neil Gor­such — who was appoint­ed by Trump — wrote in the major­i­ty opin­ion that the 1925 Fed­er­al Arbi­tra­tion Act super­sedes the NLRA.
The rul­ing means that work­ers do not have the right to take boss­es to court over alleged vio­la­tions of fed­er­al labor laws. It also means boss­es can force work­ers to arbi­trate com­plaints indi­vid­u­al­ly instead of col­lec­tive­ly, which over­whelm­ing­ly slants in favor of employ­ers. This rul­ing is poised to impact a large swath of the U.S. work­force, where 41 per­cent of pri­vate-sec­tor employ­ees have already signed away their right to class-action legislation.
These work­ers include those who are push­ing against wage and hour vio­la­tions, as well as fight­ing pat­terns of racism, sex­ism and oth­er forms of harass­ment in the work­place. Work­ers' rights advo­cates say they are con­cerned that the rul­ing could poten­tial­ly be detri­men­tal to the #MeToo move­ment, which has relied on pow­er in num­bers to con­front sex­u­al assault in work­places from Hol­ly­wood to toma­to fields. Some warn that, for those fac­ing sex­u­al harass­ment in the work­place, the choice between employ­er-con­trolled arbi­tra­tion or con­tin­u­ing on in silence is a choice between two bad options.
"#MeToo has shown us that the abuse of pow­er is not one ​'rot­ten apple in a bar­rel': It is wide­spread and sys­temic, espe­cial­ly in low-wage indus­tries," Palak Shah, social inno­va­tions direc­tor for the Nation­al Domes­tic Work­ers Alliance, told In These Times. ​"We need checks on pow­er — like col­lec­tive action — to counter abus­es of pow­er when they hap­pen. While unchecked pow­er imbal­ances exist between employ­ers and work­ers, we can be sure abus­es like sex­u­al harass­ment will continue."
Arbi­tra­tion is often kept secret and, employ­ees fre­quent­ly foot the bill for the arbi­tra­tion process. Experts warn that this secre­cy would pro­tect employ­ers respon­si­ble for harm­ful work envi­ron­ments by not allow­ing space for work­ers to col­lec­tive­ly address wide­spread pat­terns of harassment.
"In the case of sex­u­al harass­ment, say there was a group of employ­ees who claimed that they'd been sex­u­al­ly harassed, they can't pro­ceed togeth­er. They'd have to go indi­vid­u­al­ly [to arbi­tra­tion] and they can't go to court," Alexan­der Colvin, a labor rela­tions schol­ar at Cor­nell Uni­ver­si­ty, told In These Times.
Accord­ing to Graves, the stakes are ​"par­tic­u­lar­ly high" for women who ​"often face dis­crim­i­na­tion that is dif­fi­cult to detect, like pay dis­crim­i­na­tion, or suf­fer from sex­u­al harass­ment and face retal­i­a­tion for report­ing it."
Writ­ing the dis­sent­ing opin­ion, Jus­tice Ruth Bad­er Gins­burg argued that the 1925 law exem­pli­fied a dif­fer­ent age for labor rela­tions, and that employ­ees should not be forced into ​"take-it-or-leave-it" agree­ments in order to find gain­ful employment.
The case is one of sev­er­al cur­rent­ly being con­sid­ered by the Supreme Court that could severe­ly under­mine work­ers' rights. Much like the pend­ing deci­sion in Janus v. AFSCME, which could pre­vent unions from col­lect­ing union dues from non-union mem­bers, it fur­thers the ongo­ing anti-work­er agen­da pushed by the Trump administration.
"As manda­to­ry arbi­tra­tion is forced on grow­ing num­bers of employ­ees as a con­di­tion of employ­ment," Graves added, ​"the Supreme Court should strength­en rather than under­mine the rights of work­ers to chal­lenge insid­i­ous and often wide­spread civ­il rights violations."
Rima Parikh is a sum­mer
2018
edi­to­r­i­al intern at In These Times and an incom­ing MSJ can­di­date at North­west­ern Uni­ver­si­ty. Tan­ner Howard is a free­lance jour­nal­ist and In These Times edi­to­r­i­al intern. They're also a mem­ber of the Demo­c­ra­t­ic Social­ists of America.