How SWAT Team Expos Are Militarizing Police Departments Across the Country
Instead of disaster preparedness and storm relief, resources are being funneled into violent police trainings and arms exchanges.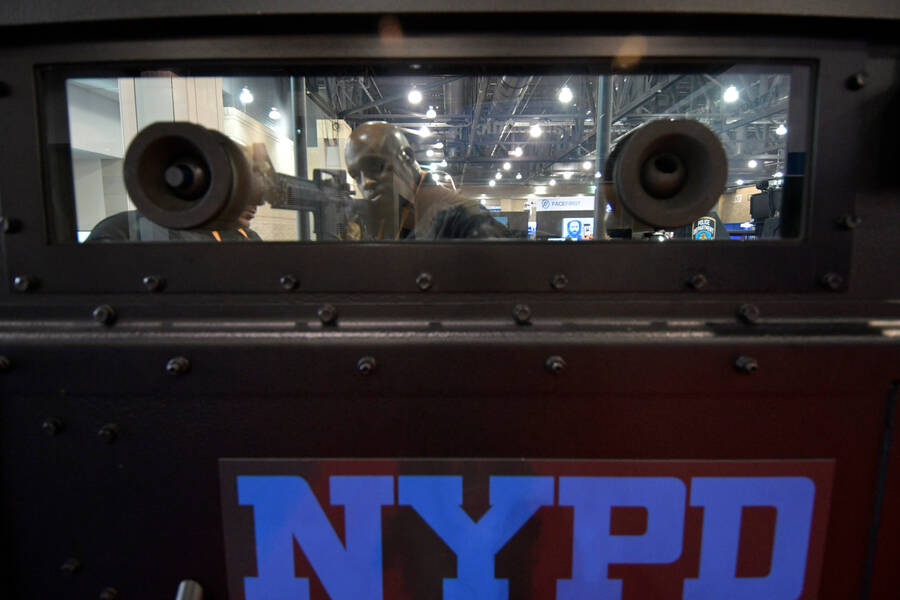 Last week, the Florida SWAT Association hosted the ​"35th Annual SWAT Round-Up International Competition and Vendor Trade Show" in Orlando. The event brought together law enforcement and military personnel from around the world to compete against each other, train in new tactics and technologies, and buy new weapons from arms dealers. At a time when Florida residents are acutely aware of the need for climate disaster and emergency preparedness, this use of resources to further escalate policing tactics is not only wasteful, but demonstrates the increasingly dangerous power of defense industry ​"solutions."
Instead of solutions to, or preparation for, the many crises we face, we continue to see resources poured into police militarization across the country, making escalated policing the only resource for emergencies, instead of firefighters, mental health workers and relief agencies.
As a national organizer for the War Resisters League's ​"No SWAT Zone" campaign, I know firsthand that communities around the country are concerned about the dangerous effect such police militarization gatherings have on all policing. Last week's SWAT Round-Up schedule included competition days between participating SWAT teams, vendor expos featuring ballistic weapons for purchase, workshops and competition exercises. Weapons exhibitors included teargas giant The Safariland Group, Smith and Wesson guns, and Lenco armored vehicles. Also present were companies that self-identify as ​"philosophy" or ​"lifestyle" brands, aiming ​"to better our brotherhood first and foremost." Among them is SWAT LIFE: Brothers for Adversity, a company that celebrates and promotes warrior mentalities. Civilian and hiking companies such as VISTA outdoors, Timberland and Benchmade Knife Company were also present at the expo, exemplifying the seeping of militarism into everyday life.
Most conference and competition participants hailed from police departments in southern and central Florida, but they also came from across the state and country. Last year's SWAT Round-Up featured national winners from Texas to California. Alameda County Sheriff Marcus Cox won the distinction of 12th best ​"Super SWAT" cop. SWAT officers from Hungary, Brazil, Sweden and Jamaica also competed last year — a reminder that these U.S.-based trainings and expos facilitate the exchange of tactics and arms across national borders. This year, representatives from the United Arab Emirates attended, in order to ​"see how other people are doing," in the words of Col. Masoud Alhammad.
SWAT Round-Up also offered educational trainings — most of which inevitably escalate police interactions via militarized equipment, technologies and mentalities. Of the 13 workshops advertised for the week, not one featured de-escalation tactics for responding officers. One workshop, ​"What SWAT Must Do Today," focused on damage control, advertising itself as training officers in ​"how to survive the media, the U.S. Department of Justice-Civil Rights section and your local critics."
SWAT Round-Up did not return a request for comment.
From years of organizing against SWAT trainings and weapons expos like SWAT Round-Up across the country, I have seen time and again that such trainings rely heavily on cultural norms of hypermasculinity and white-supremacy. Trainings reproduce battlefield mentalities, whether it's racist stereotypes used in training curricula, an ​"us versus them" narrative about cops and civilians, or the idea that military weapons are the go-to solution for complicated situations like mental health crises.
As police budgets increase nationally, and the 1033 military-weapons transfer program that was formerly blocked by Obama is reinstated under Trump, this country is experiencing an increase in domestic militarization. This development is paired with a steep uptick in the intensity of U.S. bombings in an expanding number of countries, from Yemen to Afghanistan. SWAT trainings and war weapons expos such as SWAT Round-Up happen across the country all year long, often hosted by statewide or national Tactical Officer Associations.
Additionally, tactical trainings are often funded by Department of Homeland Security's Urban Areas Security Initiative (UASI) grant program, a $630 million grant for the federal year of 2018. In 2017, UASI allocated $5.3 million to Miami and Fort Lauderdale and $2.8 million to Tampa Bay for training and infrastructure in counter-terrorism efforts.
One training federally funded by the UASI program is Urban Shield — one of the largest SWAT training exercises in the world — hosted every year in the Bay Area. UASI's funding requires a ​"nexus to terrorism," meaning that police forces participating in UASI programs acquire highly militarized weapons, tactics and technologies that are geared toward counterterrorism — but are primarily used in everyday policing against Black, Latinx and poor communities.
As Mohamed Shehk, a member of the Stop Urban Shield Coalition in the Bay Area, put it to In These Times, ​"The Alameda County Sheriff's Office hosts Urban Shield, and numerous Bay Area jurisdictions participate. Many of these cities and counties, including Alameda County, San Francisco, and Berkeley have committed themselves to be ​'sanctuaries' in resistance to the new administration — a commitment that is made essentially meaningless when they simultaneously participate in Urban Shield, a program that mirrors Trump's own law-and-order, xenophobic and militaristic vision for society."
Instead of solutions to, or preparation for, the many crises we face, we continue to see resources poured into police militarization across the country, making escalated policing the only resource for emergencies, instead of firefighters, mental health workers and relief agencies. SWAT trainings and expos like SWAT Round-Up help drive the warrior mentality underlying police murders and aggression, and they expand the power of the global arms trade in our local communities. Floridians have an opportunity to join with people across the country in speaking out against this phenomenon — and to demand resources be put where they are most needed: schools, affordable housing, mental health resources and climate change preparation.
As War Resisters League member Ana Conner of Polk County puts it, ​"The only way to stop prioritizing war profiteering over human needs is to build power across communities facing militarism, whether that looks like police with tanks or an occupying army. Shifting resources away from SWAT competitions and towards storm preparedness is a good place to start."
Socialism ... Seriously
"The most fun and accessible introduction to socialist ideas I've ever read."—Anand Gopal
For a limited time, when you donate $20 or more to support In These Times, we'll send you a copy of the new, expanded edition of Socialism ... Seriously by Danny Katch.

Tara Tabassi
is the National Organizer with War Resisters League in New York City. Besides dismantling the arms trade and police militarization one weapons expo at a time, Tara believes in the power of community gardens, healing with plant medicine and telling stories through graphic illustration.