How SWAT Team Expos Are Militarizing Police Departments Across the Country
Instead of disaster preparedness and storm relief, resources are being funneled into violent police trainings and arms exchanges.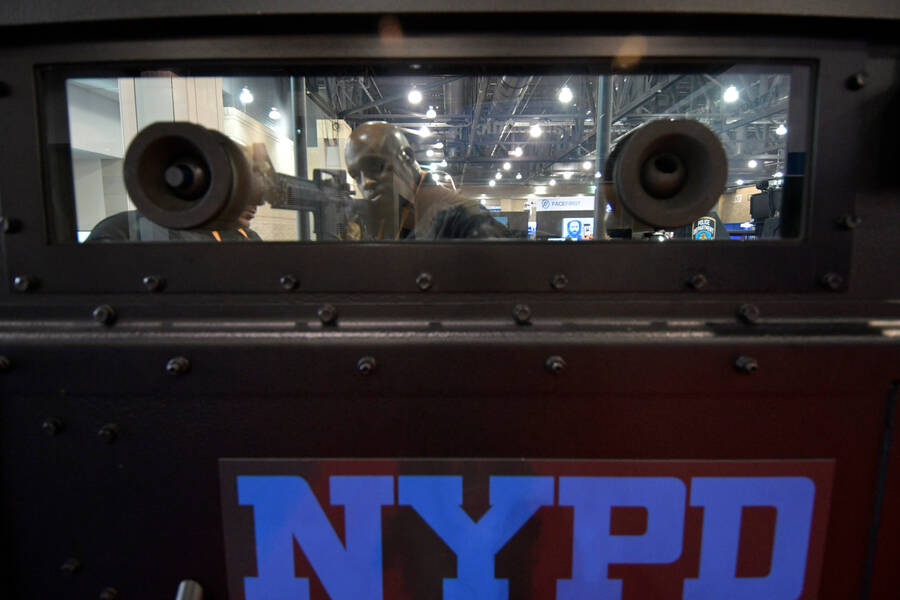 Last week, the Flori­da SWAT Asso­ci­a­tion host­ed the ​"35th Annu­al SWAT Round-Up Inter­na­tion­al Com­pe­ti­tion and Ven­dor Trade Show" in Orlan­do. The event brought togeth­er law enforce­ment and mil­i­tary per­son­nel from around the world to com­pete against each oth­er, train in new tac­tics and tech­nolo­gies, and buy new weapons from arms deal­ers. At a time when Flori­da res­i­dents are acute­ly aware of the need for cli­mate dis­as­ter and emer­gency pre­pared­ness, this use of resources to fur­ther esca­late polic­ing tac­tics is not only waste­ful, but demon­strates the increas­ing­ly dan­ger­ous pow­er of defense indus­try ​"solu­tions."
Instead of solutions to, or preparation for, the many crises we face, we continue to see resources poured into police militarization across the country, making escalated policing the only resource for emergencies, instead of firefighters, mental health workers and relief agencies.
As a nation­al orga­niz­er for the War Resisters League's ​"No SWAT Zone" cam­paign, I know first­hand that com­mu­ni­ties around the coun­try are con­cerned about the dan­ger­ous effect such police mil­i­ta­riza­tion gath­er­ings have on all polic­ing. Last week's SWAT Round-Up sched­ule includ­ed com­pe­ti­tion days between par­tic­i­pat­ing SWAT teams, ven­dor expos fea­tur­ing bal­lis­tic weapons for pur­chase, work­shops and com­pe­ti­tion exer­cis­es. Weapons exhibitors includ­ed tear­gas giant The Safar­i­land Group, Smith and Wes­son guns, and Lenco armored vehi­cles. Also present were com­pa­nies that self-iden­ti­fy as ​"phi­los­o­phy" or ​"lifestyle" brands, aim­ing ​"to bet­ter our broth­er­hood first and fore­most." Among them is SWAT LIFE: Broth­ers for Adver­si­ty, a com­pa­ny that cel­e­brates and pro­motes war­rior men­tal­i­ties. Civil­ian and hik­ing com­pa­nies such as VISTA out­doors, Tim­ber­land and Bench­made Knife Com­pa­ny were also present at the expo, exem­pli­fy­ing the seep­ing of mil­i­tarism into every­day life.
Most con­fer­ence and com­pe­ti­tion par­tic­i­pants hailed from police depart­ments in south­ern and cen­tral Flori­da, but they also came from across the state and coun­try. Last year's SWAT Round-Up fea­tured nation­al win­ners from Texas to Cal­i­for­nia. Alame­da Coun­ty Sher­iff Mar­cus Cox won the dis­tinc­tion of 12th best ​"Super SWAT" cop. SWAT offi­cers from Hun­gary, Brazil, Swe­den and Jamaica also com­pet­ed last year — a reminder that these U.S.-based train­ings and expos facil­i­tate the exchange of tac­tics and arms across nation­al bor­ders. This year, rep­re­sen­ta­tives from the Unit­ed Arab Emi­rates attend­ed, in order to ​"see how oth­er peo­ple are doing," in the words of Col. Masoud Alhammad.
SWAT Round-Up also offered edu­ca­tion­al train­ings — most of which inevitably esca­late police inter­ac­tions via mil­i­ta­rized equip­ment, tech­nolo­gies and men­tal­i­ties. Of the 13 work­shops adver­tised for the week, not one fea­tured de-esca­la­tion tac­tics for respond­ing offi­cers. One work­shop, ​"What SWAT Must Do Today," focused on dam­age con­trol, adver­tis­ing itself as train­ing offi­cers in ​"how to sur­vive the media, the U.S. Depart­ment of Jus­tice-Civ­il Rights sec­tion and your local critics."
SWAT Round-Up did not return a request for comment.
From years of orga­niz­ing against SWAT train­ings and weapons expos like SWAT Round-Up across the coun­try, I have seen time and again that such train­ings rely heav­i­ly on cul­tur­al norms of hyper­mas­culin­i­ty and white-suprema­cy. Train­ings repro­duce bat­tle­field men­tal­i­ties, whether it's racist stereo­types used in train­ing cur­ric­u­la, an ​"us ver­sus them" nar­ra­tive about cops and civil­ians, or the idea that mil­i­tary weapons are the go-to solu­tion for com­pli­cat­ed sit­u­a­tions like men­tal health crises.
As police bud­gets increase nation­al­ly, and the 1033 mil­i­tary-weapons trans­fer pro­gram that was for­mer­ly blocked by Oba­ma is rein­stat­ed under Trump, this coun­try is expe­ri­enc­ing an increase in domes­tic mil­i­ta­riza­tion. This devel­op­ment is paired with a steep uptick in the inten­si­ty of U.S. bomb­ings in an expand­ing num­ber of coun­tries, from Yemen to Afghanistan. SWAT train­ings and war weapons expos such as SWAT Round-Up hap­pen across the coun­try all year long, often host­ed by statewide or nation­al Tac­ti­cal Offi­cer Associations.
Addi­tion­al­ly, tac­ti­cal train­ings are often fund­ed by Depart­ment of Home­land Security's Urban Areas Secu­ri­ty Ini­tia­tive (UASI) grant pro­gram, a $630 mil­lion grant for the fed­er­al year of 2018. In 2017, UASI allo­cat­ed $5.3 mil­lion to Mia­mi and Fort Laud­erdale and $2.8 mil­lion to Tam­pa Bay for train­ing and infra­struc­ture in counter-ter­ror­ism efforts.
One train­ing fed­er­al­ly fund­ed by the UASI pro­gram is Urban Shield — one of the largest SWAT train­ing exer­cis­es in the world — host­ed every year in the Bay Area. UASI's fund­ing requires a ​"nexus to ter­ror­ism," mean­ing that police forces par­tic­i­pat­ing in UASI pro­grams acquire high­ly mil­i­ta­rized weapons, tac­tics and tech­nolo­gies that are geared toward coun­tert­er­ror­ism — but are pri­mar­i­ly used in every­day polic­ing against Black, Lat­inx and poor communities.
As Mohamed Shehk, a mem­ber of the Stop Urban Shield Coali­tion in the Bay Area, put it to In These Times, ​"The Alame­da Coun­ty Sheriff's Office hosts Urban Shield, and numer­ous Bay Area juris­dic­tions par­tic­i­pate. Many of these cities and coun­ties, includ­ing Alame­da Coun­ty, San Fran­cis­co, and Berke­ley have com­mit­ted them­selves to be ​'sanc­tu­ar­ies' in resis­tance to the new admin­is­tra­tion — a com­mit­ment that is made essen­tial­ly mean­ing­less when they simul­ta­ne­ous­ly par­tic­i­pate in Urban Shield, a pro­gram that mir­rors Trump's own law-and-order, xeno­pho­bic and mil­i­taris­tic vision for society."
Instead of solu­tions to, or prepa­ra­tion for, the many crises we face, we con­tin­ue to see resources poured into police mil­i­ta­riza­tion across the coun­try, mak­ing esca­lat­ed polic­ing the only resource for emer­gen­cies, instead of fire­fight­ers, men­tal health work­ers and relief agen­cies. SWAT train­ings and expos like SWAT Round-Up help dri­ve the war­rior men­tal­i­ty under­ly­ing police mur­ders and aggres­sion, and they expand the pow­er of the glob­al arms trade in our local com­mu­ni­ties. Florid­i­ans have an oppor­tu­ni­ty to join with peo­ple across the coun­try in speak­ing out against this phe­nom­e­non — and to demand resources be put where they are most need­ed: schools, afford­able hous­ing, men­tal health resources and cli­mate change preparation.
As War Resisters League mem­ber Ana Con­ner of Polk Coun­ty puts it, ​"The only way to stop pri­or­i­tiz­ing war prof­i­teer­ing over human needs is to build pow­er across com­mu­ni­ties fac­ing mil­i­tarism, whether that looks like police with tanks or an occu­py­ing army. Shift­ing resources away from SWAT com­pe­ti­tions and towards storm pre­pared­ness is a good place to start."
Tara Tabassi
is the Nation­al Orga­niz­er with War Resisters League in New York City. Besides dis­man­tling the arms trade and police mil­i­ta­riza­tion one weapons expo at a time, Tara believes in the pow­er of com­mu­ni­ty gar­dens, heal­ing with plant med­i­cine and telling sto­ries through graph­ic illustration.