Switzerland Rejects Minimum Wage, While Germany Prepares To Introduce First Ever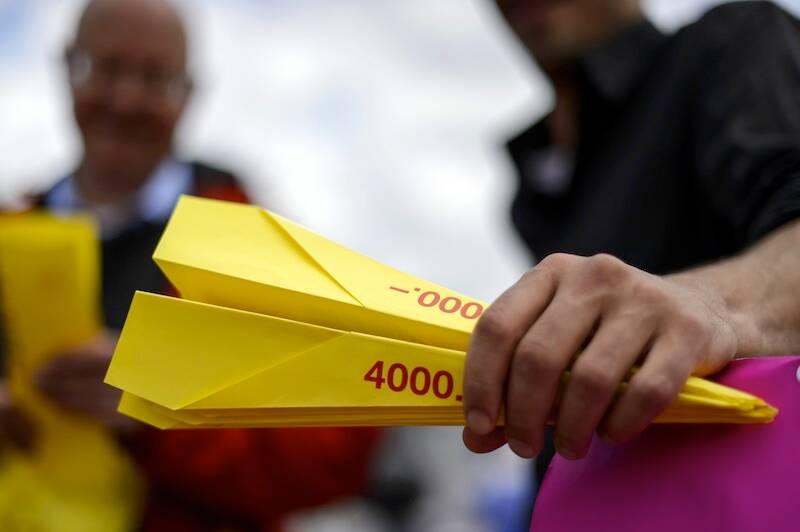 In two of Europe's richest countries, campaigns to institute a national minimum wage have accelerated in recent months — and yielded sharply different results.
Germany and Switzerland are among the last countries in Western Europe without laws outlining standards for fair pay. Germany, though, is close, with a law that will guarantee workers a minimum of nearly $12 per hour set to go into effect at the beginning of 2015, pending parliamentary approval this fall. But in Switzerland, a nationwide referendum on Sunday, May 18 — rejected by a whopping 76.3 percent of voters — stamped out what would have been the first minimum wage law in the prosperous nation.
The failed referendum campaign would have instituted the world's highest hourly minimum wage, of about $25. (Cost of living in Switzerland is very high, even by European standards.)
The minimum-wage campaigns in both countries were led by labor unions and supported by politicians from center-left parties. Their opponents — employers' associations, chambers of commerce and conservative politicians — cited nearly identical concerns, arguing that introducing legal guidelines would lead to a spike in unemployment and damage the countries' strong economies.
Since the Swiss campaign's clear electoral failure, the Swiss Federation of Trade Unions (SGB), the major organizer of the referendum, stresses that voters sympathized with the problem of income inequality. Thomas Zimmermann, an SGB spokesperson, told In These Times, ​"I'm convinced that people want unions and employers to negotiate solutions, to guarantee fair wages for people. I would definitely not say this is a vote for people to be paid unfairly." In light of the referendum, Zimmermann says the SGB will focus on trying to facilitate collective bargaining in industries that previously refused to engage in these wage negotiations, such as retail and telemarketing.
During the Swiss campaign for the minimum wage, the SGB and its partners awarded businesses with a weekly prize to draw attention to the low salaries their employees are paid. According to Zimmermann, large companies like H&M, the supermarkets Aldi and Lidl and other retailers announced in the months before the referendum that they would begin paying employees at least the hourly minimum wage proposed by the SGB. Still, supporters of the campaign say that 330,000 people in Switzerland, with a total population just over 8 million, still earn below that amount.
Faith in collective bargaining
One possible reason these wealthy countries have yet to institute minimum wage has to do with public trust in collective bargaining. For decades, collective bargaining between unions and employers has helped establish working conditions and wages in both Switzerland and Germany, with salaries above the recently proposed minimum wages in some sectors.
Unions and politicians alike speak of collective bargaining as the ​"social partnership" that negotiates salaries without government intervention. Leading up to the Swiss referendum, the success of collective bargaining seemed to be a point of pride for opponents to minimum wage. One opposition website lists the strength of collective bargaining as a reason minimum wage is unnecessary — and as an example of how a new law may guarantee only mediocre working conditions. The website reads: ​"A legal minimum wage sabotages the established social partnership in industries and businesses. This could result in the beneficial regulations of collective bargaining (more vacation, special conditions for early retirees or training courses) falling victim to a state minimum wage."
While opponents of the Swiss minimum wage praised the success of collective bargaining, German union representatives stress that a decline in negotiations between unions and employers in Germany made the minimum wage necessary. ​"There used to be a strong social partnership and strong, binding collective bargaining. But with the development of a large low-wage sector and the decline of collective bargaining, the call for a minimum wage grew more urgent," says Claudia Falk, a spokesperson for the German Confederation of Trade Unions (DGB). Before last year's parliamentary election, reports on the Social Democrats' proposed minimum wage showed low wages in the service industry and high income disparity between eastern and western Germany, largely the result of the decades-long divide between socialist East Germany and the American-allied West until the unification of the two states in 1990.
​"It's a sad state of affairs, especially for such an economically strong country like Germany, that such a large low paid sector can exist. You could say that companies got rich off their employees because it was possible to pay these low wages," Falk says.
Both Germany and Switzerland have in their post-war history relied on collective bargaining with little government oversight. But even after the recent failed referendum in Switzerland, the debates over a minimum wage in Germany, and now over the universal basic income in Switzerland, are part of a reshaping of the labor market in those two European countries. Germany's turn to implementing a minimum wage is the result of its voters' attitudes, which – -in comparison to Switzerland's – -have frequently favored a stronger social state over concerns that its government may be intervening in issues that private business could regulate better.
Up next for the Swiss: Universal Basic Income?
In Switzerland, the minimum-wage push is likely dead for the time being, but in two to three years, a different referendum will again test Swiss voters' positions on government regulation of income. The campaign for an ​"Universal Basic Income" submitted its application to hold a referendum last year and will set a date for a nationwide vote following government assessments of its proposal. The current proposal would require a government-provided base salary for all documented residents of Switzerland — independent of additional income earned through labor. Organizers of the campaign say the details must still be worked out, but Swiss media have reported that the income would be about $2,800 per month for adults.
Daniel Straub, coordinator of the universal basic income campaign, thinks the minimum wage defeat may help the universal basic income campaign gain support from unions. ​"It could stimulate them to open up and look for alternatives," he says. While Straub says it was productive that the minimum wage campaign got people talking about income fairness, ultimately the movement is a ​"Band-Aid" for an economic system that needs more fundamental reform.