How the Syrian Civil War is Creating a Nation of Exiles
Assad's strategy of sieges, bombings and civilian evacuations means many will never see their homes again.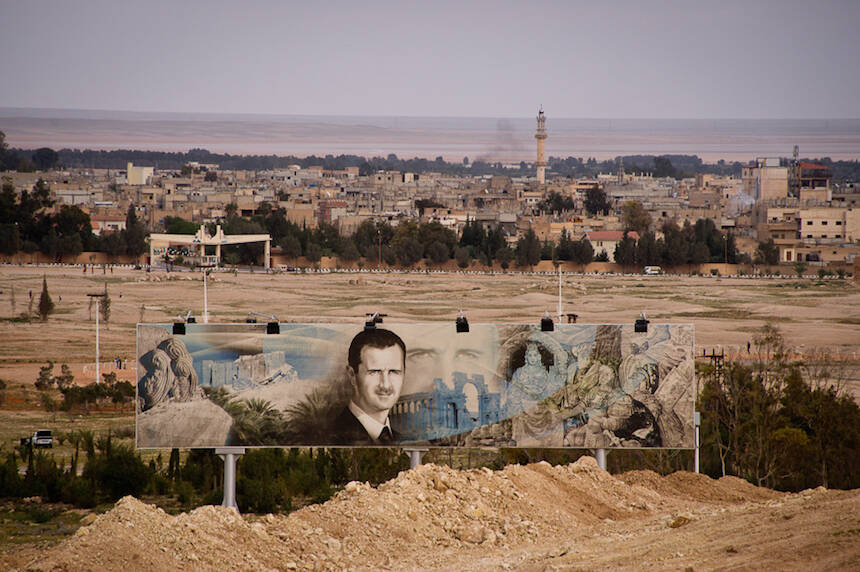 The world watched, through­out Novem­ber and Decem­ber 2016, as con­di­tions in the rebel-held area of Alep­po became unbear­able. There, amid heavy snow­fall, thou­sands of res­i­dents were forcibly dis­placed from their homes. Most were sent to rebel-held Idlib, where the régime is con­cen­trat­ing its oppo­nents and may soon con­cen­trate its mil­i­tary might. Some of those sent to régime-held west Alep­po were report­ed­ly arrest­ed, includ­ing Ahmad Mustafa, a jour­nal­ist with Hal­ab Today, and Abdul­ha­di Kamel, a vol­un­teer with the Syr­ia Civ­il Defense. Oth­ers were forcibly con­script­ed by the régime army.
The regime is re-conquering territory through displacing a civilian population it can never hope to rule through consent.
Alep­po is only the lat­est oppo­si­tion strong­hold to fol­low a now-famil­iar pat­tern. Pro-Assadist ground troops, often Iran­ian-backed Shia mili­tia from Lebanon, Iraq or Afghanistan, enforce a siege on the rebel-held area. No one is allowed to exit; those that try are detained or shot by snipers. Noth­ing is allowed to enter, includ­ing basic food items or med­ical sup­plies. Bashar al-Assad's régime grants few requests by human­i­tar­i­an agen­cies to access besieged com­mu­ni­ties. The sieges, which amount to the delib­er­ate star­va­tion of the civil­ian pop­u­la­tion, are accom­pa­nied by a cam­paign of intense régime and Russ­ian bomb­ing. Inter­na­tion­al­ly pro­hib­it­ed bar­rel bombs, chem­i­cal and incen­di­ary weapons are dropped on res­i­den­tial areas. Agri­cul­tur­al lands, med­ical facil­i­ties and res­cue work­ers are delib­er­ate­ly and sys­tem­at­i­cal­ly tar­get­ed. Weak­ened and exhaust­ed, the besieged pop­u­la­tion is then forced to capit­u­late in a ​"local truce deal" often accom­pa­nied by the evic­tion of the whole, or part of, the pop­u­la­tion. And final­ly, the régime sends green bus­es to evac­u­ate civil­ians, who may nev­er see their homes again.
A recent report by Siege Watch esti­mates that as of Octo­ber 2016 there were more than 1.3 mil­lion peo­ple trapped in at least 39 besieged com­mu­ni­ties across Syr­ia. Of the 1.3 mil­lion, 91 per­cent are besieged by the Assad régime and its allies. The excep­tions include Deir el-Zour, where the siege is pri­mar­i­ly enforced by ISIS — although the régime is impos­ing addi­tion­al restric­tions inter­nal­ly, such as reg­u­lat­ing human­i­tar­i­an aid dis­tri­b­u­tion and restrict­ing free­dom of move­ment for civil­ians. In Idlib, Islamist rebel groups have besieged the pre­dom­i­nant­ly Shia towns of Foua and Kfraya, using civil­ians as a nego­ti­a­tions tool — these civil­ians were also evac­u­at­ed from their homes in the Decem­ber Alep­po deal. All those trapped in these open-air pris­ons are vul­ner­a­ble to dis­place­ment. The régime's ​"starve or sur­ren­der" pol­i­cy can mutate at any time to ​"sur­ren­der or risk anni­hi­la­tion." In Octo­ber, Syr­i­an and Russ­ian planes dropped leaflets over east­ern Alep­po read­ing: ​"If you do not leave this area imme­di­ate­ly you will be fin­ished. You know that every­one has giv­en up on you. They left you alone to face your doom."
Through­out its strat­e­gy of sieges and dis­place­ment, the régime is re-con­quer­ing ter­ri­to­ry through evac­u­at­ing a civil­ian pop­u­la­tion it can nev­er hope to rule through con­sent. On Decem­ber 30 and Jan­u­ary 6, fol­low­ing a reduc­tion in hos­til­i­ties, Syr­i­ans were once more on the streets in Alep­po, Idlib, Homs and Dam­as­cus, demon­strat­ing their con­tin­u­ing oppo­si­tion to Assad's rule. And the régime can­not hold re-con­quered ter­ri­to­ry alone. As the city's res­i­dents left east­ern Alep­po, Russ­ian occu­pa­tion forces moved through desert­ed streets. Fears now abound for those dis­placed, who have been forced into ever-decreas­ing oppo­si­tion-held ter­ri­to­ry, or into camps of exile in the win­ter cold.
Around the cap­i­tal, rev­o­lu­tion­ary strong­holds have faced a sim­i­lar fate to Alep­po's. Daraya, for exam­ple, a sub­urb of Dam­as­cus, fell to the régime in August 2016. This town, a mod­el of non-vio­lent civ­il resis­tance and demo­c­ra­t­ic self-orga­ni­za­tion, was a liv­ing exam­ple of what a post-Assad Syr­ia could look like. Fol­low­ing a 1,368-day siege, and bom­bard­ment with napalm and bar­rel bombs — rough­ly 9,000 of the lat­ter, accord­ing to local activists — Daraya's res­i­dents were forced to sur­ren­der. As part of the truce deal nego­ti­at­ed between rebel groups and the régime army, the entire remain­ing pop­u­la­tion was forcibly dis­placed. Assad's sol­diers chant­ed pro-régime slo­gans as Daraya's res­i­dents board­ed the bus­es under Unit­ed Nations super­vi­sion. Fight­ers were sent to rebel-held Idlib and civil­ians to régime-held areas of Dam­as­cus province.
Soon after, in Octo­ber, rebels and the régime nego­ti­at­ed a truce deal in Moad­amiyeh to end the four-year siege and aer­i­al bom­bard­ment there. Moad­amiyeh was one of the towns in the Ghou­ta region hit in the August 2013 sarin attack, where hun­dreds were gassed to death. Fight­ers and their fam­i­lies, but not civil­ians, were trans­ferred to Idlib, and régime secu­ri­ty re-entered the town after its long absence. As the UN had received heavy crit­i­cism for assist­ing the forcible trans­fer of Daraya's pop­u­la­tion, they refrained from assist­ing in sub­se­quent evac­u­a­tions. There is no inde­pen­dent mon­i­tor­ing of areas that have come back under régime con­trol, and res­i­dents of Moad­amiyeh have report­ed recent arrests and dis­ap­pear­ances since the return of Assad's tyranny.
In west­ern Dam­as­cus, the town of Khan al-Shih (which con­tains the ​"Al Awda" camp for Pales­tin­ian refugees) has also seen recent evic­tions. Despite the efforts of Al Awda res­i­dents to remain neu­tral dur­ing the rev­o­lu­tion and war, they were sub­ject­ed to arrest cam­paigns and reg­u­lar shelling. Over the sum­mer, régime and Russ­ian airstrikes inten­si­fied in renewed clash­es with rebel groups in the Khan al-Shih area, and the camp's schools and hos­pi­tals were tar­get­ed. All main access roads to the camp were sealed, trap­ping 12,000 res­i­dents (out of what was once 30,000) inside. Fac­ing dwin­dling food sup­plies as well as pow­er and water short­ages, they reached a deal to ease con­di­tions in the camp in return for the evac­u­a­tion of fight­ers and their fam­i­lies — as well as many activists, jour­nal­ists and oth­er civil­ians, accord­ing to on-the-ground reports gath­ered by the Action Group for Pales­tini­ans of Syr­ia. In Novem­ber and Decem­ber, res­i­dents board­ed the green bus­es to Idlib. For those who had fled Pales­tine in 1948, this was a sec­ond Nakba.
In Al-Waer neigh­bor­hood, the last remain­ing rev­o­lu­tion­ary strong­hold of the city of Homs, oppo­si­tion fight­ers and the régime reached an agree­ment in August to evac­u­ate rebels and their fam­i­lies to Idlib in return for an end to the siege and aer­i­al bom­bard­ment and the release of — or update on the fate of — some 7,300 local detainees. Since then, over 600 rebel fight­ers and their fam­i­lies have left, yet only 194 detainees have been released, stalling fur­ther evac­u­a­tions. Those who have left will join the 6.6 mil­lion Syr­i­ans who are no longer liv­ing in their own homes but have been inter­nal­ly dis­placed by the con­flict, not count­ing the five mil­lion who have fled the coun­try as refugees since 2011.
Those who leave may nev­er return. Old Homs, once called the ​"cap­i­tal of the rev­o­lu­tion," returned to régime con­trol in 2014. Over two years lat­er, offi­cial sta­tis­tics say only 40 per­cent of the esti­mat­ed 300,000 that fled the city have returned. Many will not return to régime-con­trolled areas for fear of reprisals, arrests or forced mil­i­tary con­scrip­tion. Oth­ers no longer hold prop­er­ty doc­u­ments or are afraid of going to state depart­ments to val­i­date them. Even to rent a prop­er­ty today can require secu­ri­ty clear­ance from thir­teen dif­fer­ent depart­ments. In some cas­es those who have returned find new fam­i­lies liv­ing in their homes. Oth­ers may find their home in ruins. Accord­ing to Human Rights Watch, thou­sands of hous­es in oppo­si­tion strong­holds in Dam­as­cus and Hama have been demol­ished by the régime, using explo­sives and bull­doz­ers, effec­tive­ly eras­ing entire neigh­bor­hoods from the map.
Through these evac­u­a­tions Assad is able to regain con­trol over lost ter­ri­to­ry. The régime's first pri­or­i­ty is to emp­ty rebel strong­holds of the fight­ers who defend them, enabling it to con­cen­trate its mil­i­tary resources else­where. Assad also knows he can­not win the loy­al­ty of dis­sent­ing com­mu­ni­ties that have suf­fered so much at the hands of his régime, so civil­ians, too, are often evict­ed. Many are sent to rebel-held Idlib, where the huge influx is plac­ing increas­ing pres­sure on oppo­si­tion bod­ies to pro­vide for the pop­u­la­tion despite lim­it­ed resources. The dom­i­nance of extrem­ist groups such as Jab­hat Fatah al-Sham (pre­vi­ous­ly known as Jab­hat al-Nus­ra) — al-Qaeda's for­mer affil­i­ate — in Idlib pro­vides a ready excuse for régime assault in the name of its ​"War on Terror."
There's an eth­nic dimen­sion to Assad's cleans­ing of oppo­si­tion strong­holds as well. Oppo­si­tion com­mu­ni­ties are main­ly com­prised of Sun­ni Arabs, which make up the major­i­ty of Syria's pop­u­la­tion, whilst most minor­i­ty com­mu­ni­ties, par­tic­u­lar­ly from the Alaw­ite sect to which the pres­i­dent belongs, have stayed loy­al to the régime. When Old Homs was ​"evac­u­at­ed" in 2014, reports emerged of Alaw­ite and Shia loy­al­ists from near­by vil­lages being moved into vacant Sun­ni homes. For­eign set­tlers have also moved into areas cleansed of locals. Around 300 Iraqi Shia fam­i­lies have report­ed­ly relo­cat­ed to Daraya and Moad­amiyeh, report­ed­ly pro­vid­ed with a house and finan­cial incen­tives. Iran has been buy­ing real estate around the cap­i­tal and in Homs, includ­ing the homes of those who have been dis­placed, pric­ing locals out of the mar­ket. Even in the old city of Dam­as­cus, which nev­er slipped régime con­trol, Chris­t­ian res­i­dents have com­plained about the pres­ence of large num­bers of Iran­ian, Iraqi and Lebanese Shia mili­tia chang­ing local demographics.
Through such demo­graph­ic engi­neer­ing the Syr­i­an régime is attempt­ing to ensure a loy­al con­stituen­cy in the areas it deems use­ful. Some observers have wel­comed local truces as a pre­lude to peace. Yet the accom­pa­ny­ing acts of forced pop­u­la­tion trans­fer and the implan­ta­tion of set­tlers should be con­sid­ered war crimes. The inter­na­tion­al com­mu­ni­ty must place real diplo­mat­ic and eco­nom­ic pres­sure on the régime and its allies to end the bomb­ing and lift the sieges, allow­ing free­dom of move­ment for civil­ians and access for urgent­ly need­ed human­i­tar­i­an aid. This will not be pos­si­ble with­out sus­tained pres­sure from a glob­al pub­lic stand­ing in sol­i­dar­i­ty with the oppressed Syr­i­an peo­ple and call­ing on respon­si­ble par­ties to end their suf­fer­ing. Any just peace must also include the right of return, so Syria's mil­lions of dis­placed peo­ple can safe­ly return to their homes.
Leila Al Sha­mi
is a British-Syr­i­an activist who has worked with the human rights move­ment in Syr­ia and else­where in the region. She is co-author of
Burn­ing Coun­try: Syr­i­ans in Rev­o­lu­tion and War
(
2016
).